Read Time:
2 Minute, 7 Second
What do you call a shop with 4 wheels? And can you imagine a moving or mobility shop around which might appear in the vicinity of your office or house? Well, that's what happened yesterday at my office in Bangsar South where a familiar body care brand popped out in nowhere.  Was very surprised to see a mobility Body Shop here and phew…. this is the first time i have ever seen a moving shop in Malaysia.
I guess nowadays the popular keyword of our daily life is "Mobility" and everything around us seemed to be on-to-go. From mobile phones to notebook or tablets, now comes the concept of moving shops around. It is quite an interesting concept and definitely brings some surprises to the people nearby.
Anyway, i am not really a fan of body care or Body Shop but this concept of theirs really make it a topic on my mind. Here's some pictures where i snapped yesterday.
Well, seem like these are the carrots being thrown: Exclusive discounts whereby you can only find in the mobility shop. They called their shop The Body Shop On Wheels!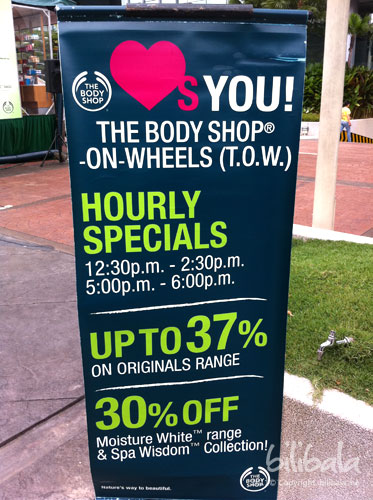 Don't underestimate the mobility shop, it comes with fully air-conditioned for the shopper comfort while inside. They also set up some P.A. system (with emcee) to blast out their delights to the nearby potential customers.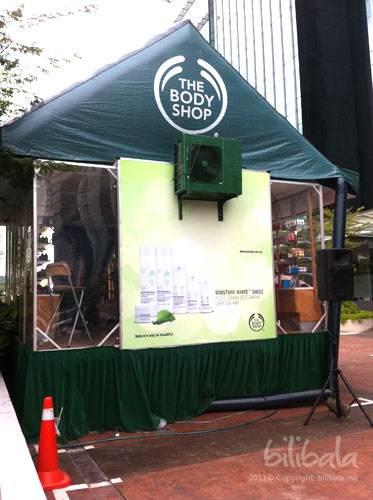 This is the front of the shop with transparent "window" display and racks to put the products.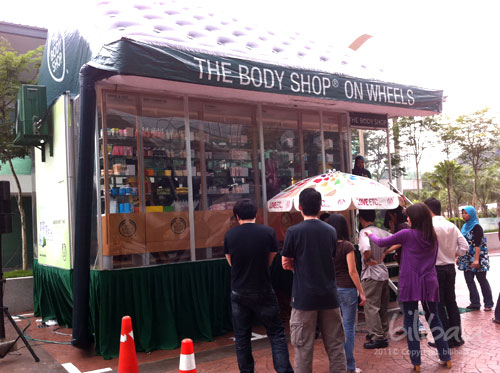 Another view of the shop and you can notice there's a stair into the shop itself. Cool.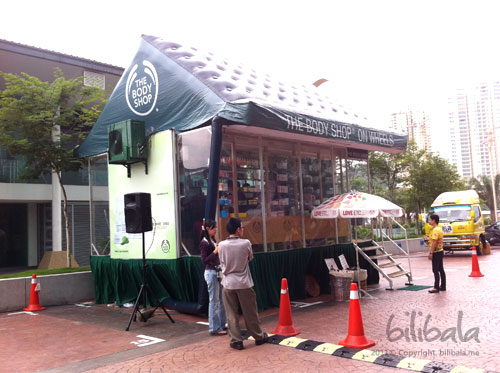 This is the only interior picture that i can snap off as there are too many customers inside the shop. Guess it is not that convenient to take more picture as some of them are watching me while i make this shot. Figures.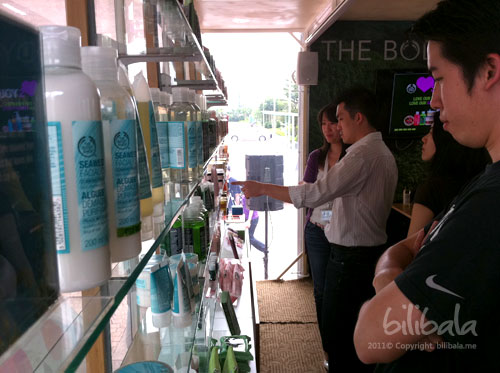 Well, the prices for the merchandises are actually the same as what it is being sold at the shop. However, with the advent of discounts (such as hourly special as gimmicks), it does attract people to buy over the mobility shop. And what's more, it is very convenient and without the need of driving out to get your favourite body care stuff IF you are in need.
How effective is this kind of mobility approach? I guess that's the question i really am interested to find out. But I do hope to see more familiar brand having their own mobility shop concept around soon. Maybe one day, you might not be surprised to see a mobility KFC/McDonald's shop nearby 🙂