Reveal The Shield G2 Optimus Prime
Read Time:
4 Minute, 54 Second
Optimus Prime, the leader of Autobot has make a comeback! This time, it has a new sculpt which is more likely based on G2 "Laser" Optimus Prime design and it has been released under Reveal the Shield line. Got mine in Hasbro version 2 weeks back. Not very sure they will come out in Takara Tomy or not, but i guess Hasbro version is good enough for my collection for the time being.
Okay, you might not be familiar with G2 or even the "Laser" Optimus Prime, which i did as i am not really a Transformers cartoon fan. If you are really interested to dig out more about the G2 "Laser" Optimus Prime, here's a good place to learn more: link 1 and link 2. More picture on the original G2 "Laser" Optimus Prime also can be found here as well. More explanation on "G2" can also be found here in wiki.
Vehicle: Not-The-So-Old Truck
First look of it, it does really give me a weird impression of an old granny truck which is very much different from the G1 or any other Optimus alternate mode. However, it is being painted with a similar pattern as with the Transformers movies Optimus truck and of course, with the same Optimus color : red, dark blue and light blue. Other colors like black color which add in around 20% and light whitish grey make up another 20% of the overall color composition of the Optimus.
Since this G2 Optimus Prime comes in deluxe class, do expect the truck is small in size. One thing to note about this new G2 Optimus is that it uses a lot of transparent Orange colored plastic. Some are translucent, some are transparent. You can notice it for the front headlight, windscreen and front grill of the vehicle in the picture below.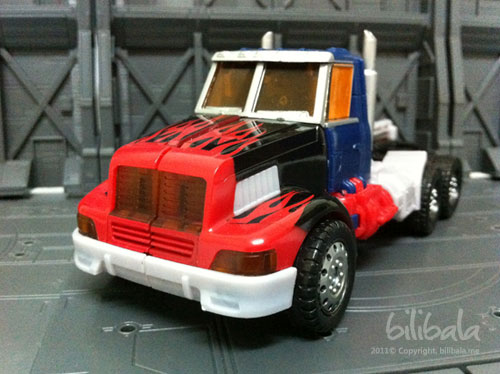 Notice the fiery pattern which is quite similar to the Transformers movie Optimus Truck. Too bad that Hasbro doesn't have much of chrome coloring. IF they can do chrome coloring to replace those light grey part, it will be much more nicer.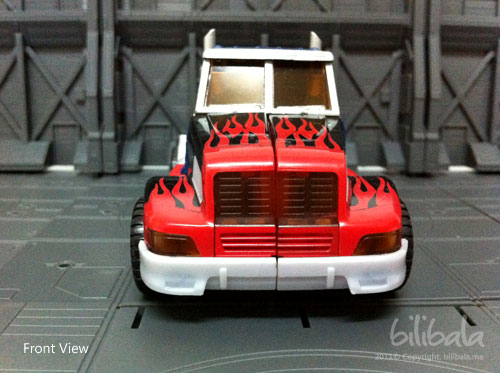 Here's one part which i particularly find it weird. Notice that the side window is half in transparent orange plastic and the other half is in painted orange instead. Don't know if this is a design or not, but i just feel that if we have full transparent orange plastic, it would be nicer.
However, Hasbro used chrome metallic finishes for all the rims. There are quite some details on the tires and rim as well. You can see threads on the tires and as normal, Hasbro uses hard plastic for them.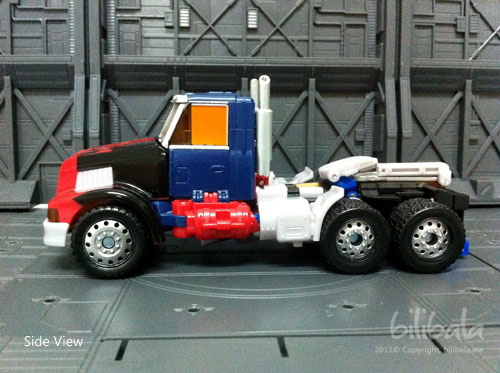 I particularly like the light blue color used here. It is quite outstanding out of the rest of the part.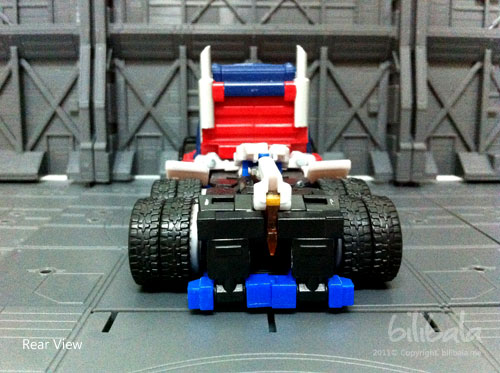 If you can count it properly, there are actually 10 wheels for the trucks. I guess this is the one and only 10 wheels transformer i have. All my previous Optimus trucks only have 6 wheels and this is the 1st to make it to the 10 wheel benchmark!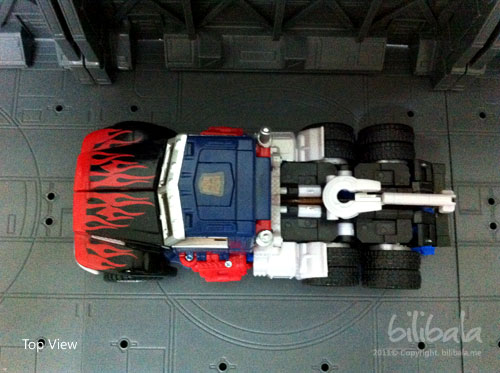 You can notice the Autobot insignia on top of the truck. Okay, i have to stress out a bit here. This is actually a Reveal The Shield transformer line. What is special about this line is, the insignia comes in originally a black color without revealing either an Autobot or Decepticon. It can only be revealed by "touching" (something like heat activated) the black color insignia. It is quite cool gimmick for the robot, BUT, to certain end, it get spoiled easily. That's what happened to my G2 Optimus here as you can see the insignia even without touching it. And the best part of it? I got this problem since day 1 i opened my box and laid my touch on the insignia for 2 times! Now, it is permanently there. Guess is QC issue again.
Robot Mode: G2 Optimus Prime
First impression on the G2 Optimus is, he is like a Knight of Autobot with the cool sword as the main weapon. And to the fact that it is being sculpted based on the original G2 "Laser" Optimus, they bear quite some similarities which you can compare as below.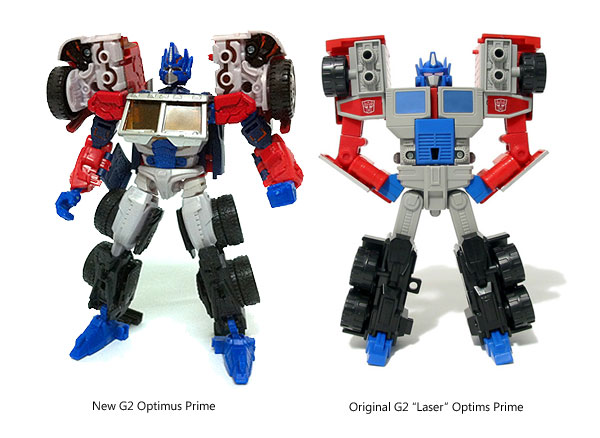 The new G2 Optimus does have more nicer curve and features as compared to the original one.
One part i like the G2 Optimus Prime is the weapon. It is made with an orange transparent plastic and being the fact it is "transformable", it does add into the value as a gimmick for the toy. I will touch more on this on the gimmick section below.
One particular design which i personally feel weird is the 2 pairs of "holes" on both of the shoulders. It is like a lego block connector. The fact is,  they are the shoulder cannon for G2 Optimus. Figure.
You can notice that the leg section has an "extender" which gives more support to the whole figure.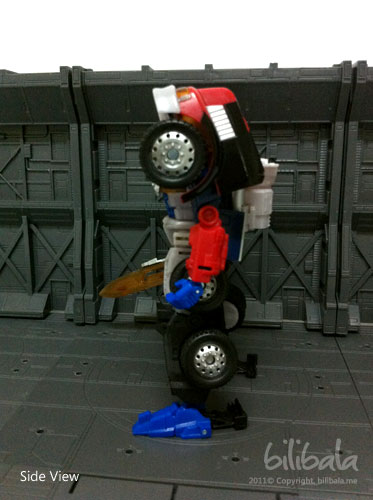 The "back pack" of the robot seem like the sword holder for the robot mode. It is not official though. I just do that for my own 🙂
A close up to the face of G2 Optimus Prime. The orange part for the eye and the head piece is actually "light-piped".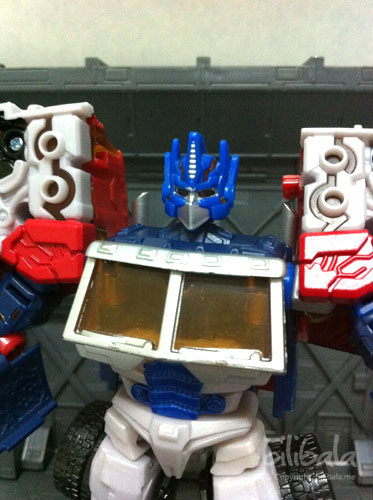 Transformation Process
The transformation is quite intermediate and straightforward. Nothing much complicated.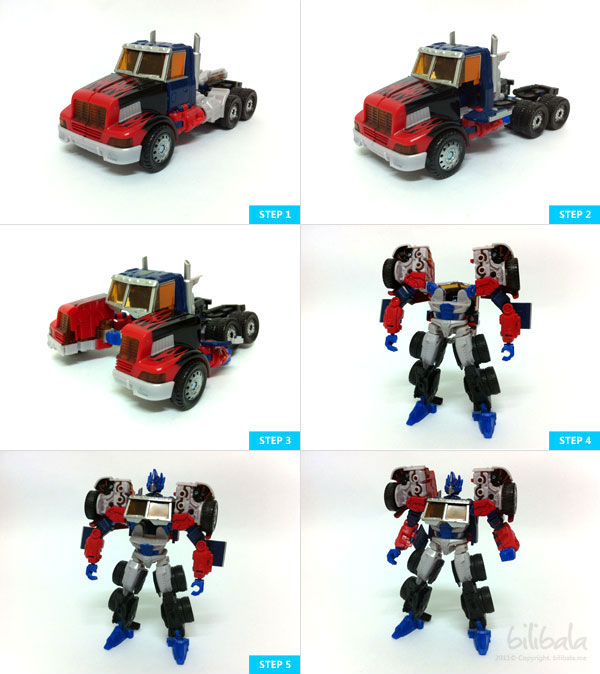 Gimmicks, gimmicks, gimmicks…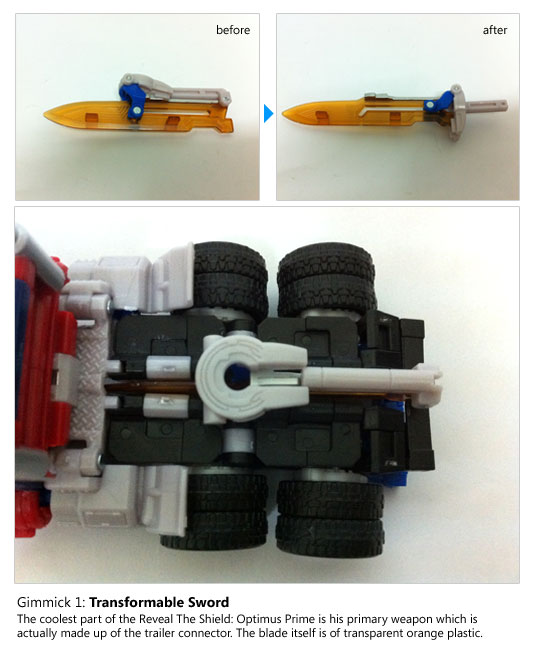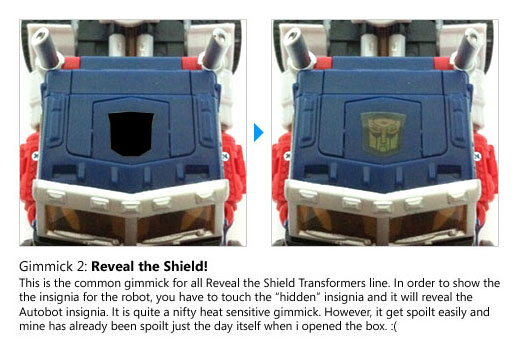 Conclusion
This G2 Optimus is quite a cool robot to own. Too bad it only comes in deluxe class which i found it quite small for Optimus Prime. One thing to note that is: Hasbro did really improve a lot on the coloring and quality for the newer Transformers toys which is really a bliss to Transformers Toys collector.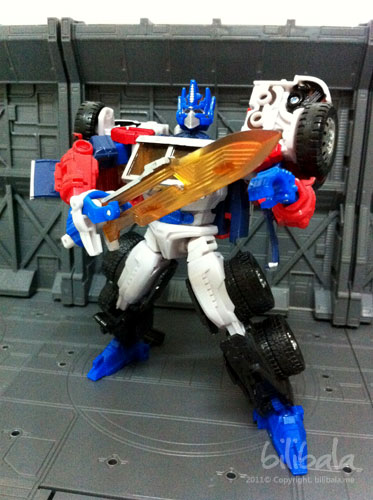 My personal rating is 8.5/10. Go grab yours now if you are interested and it is selling like hot cake in the market now! If you see one, grab it! 🙂