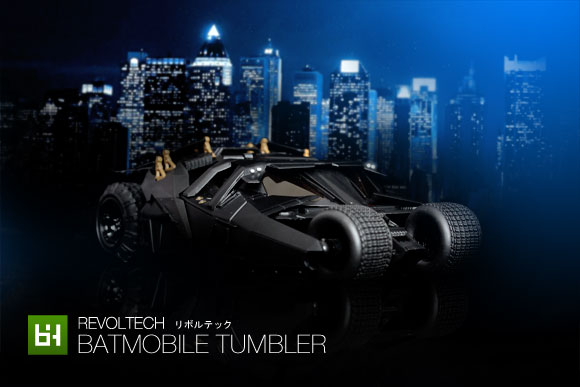 Batmobile Tumbler (Bat Tumbler) : Revoltech
Read Time:
4 Minute, 55 Second
Batman is my most favorite hero of all time. Not because of his wealth or soaky voice, but mainly of his cool gadgets/items. Come to think of it, not all the heroes has James Bond like gadgets and Batman is one of the few. One particular item which sparks my deepest interest is the Dark Knight's ride around the Gotham City. Be it a heavily camouflaged car or a plane, they never fail to impress me on how the sleekness design of them can be. To own them (toys, that is) is another joyful excitement and sadly to say that I have only a very handful of Bat mobiles in my collection. This Revoltech Batmobile Tumbler (Bat Tumbler) is one of it.
Bat Tumbler is probably the most released toy molds among its predecessor models. Ranging from the biggest, high priced and unbelievable detailed Hot Toys version down to the smallest Tomica 6cm sized, they are plenty to impress. I particularly have 2 versions of the same Bat Tumbler but in different sizes. For today, I will focus on reviewing the more detailed, more gimmick packed but yet smaller version of it. The one from Kaiyodo Revoltech that is!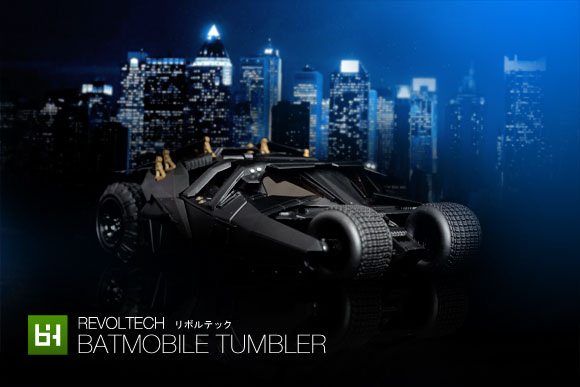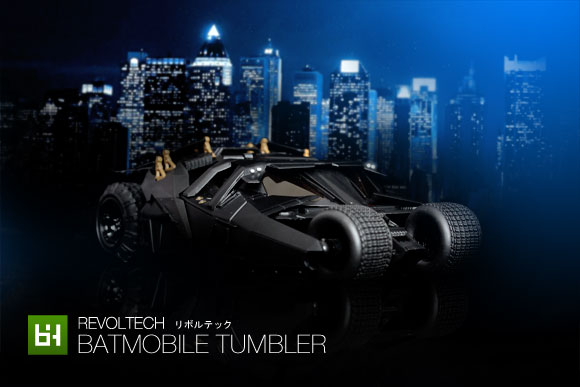 (A) Introduction & The Packaging
If you are into figurine collection, Revoltech from Kaiyodo toy company is not a stranger to you at all. In fact, they have been in the Japanese figure market for long time. Their proprietary joint system (the "Revolver Joint") has earned them a high reputation and acclamation. Well, to put their innovative a bit further, they have implemented their joint system into vehicle just recently. Bat Tumbler is being one of the few released Revoltech based vehicle.
It isn't hard to differentiate them from the packaging as they are recycling the same design format for their newly released vehicle based figure. Actually, they are just releasing them under their Sci-Fi Revoltech subline apart from being their own "vehicle" line. Such endeavor might be seemed as a test water for them to venture on the vehicle figurine. My guess is, there will only be a very limited or small amount of vehicle figurine being released.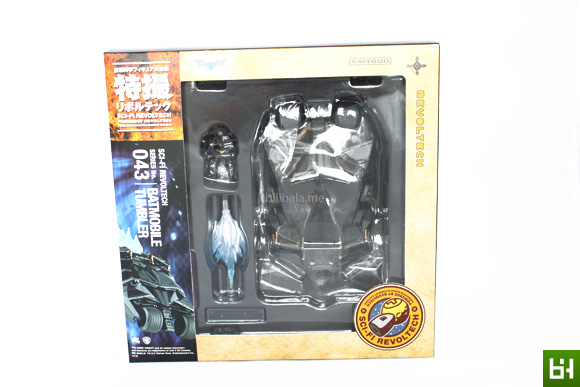 The well designed and structured packaging highlights all the facts (or gimmicks) you need to know about the toy. Even if you don't really understand Japanese, the visuals are well enough to get you overwhelm.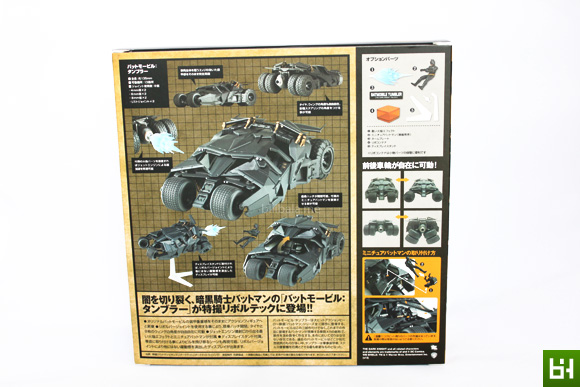 (B) Alternate Mode
Let's move on to the main subject of the day. The vehicle itself spans 13.5cm in width. They are no official scale provided but my rough guess will be in the 1:24 mark.
When you think size does matter, this small Bat Tumbler strives to excel in details despite being small. Kaiyodo has done a lot of effort in keeping the details intact while maintaining the smaller scale approach.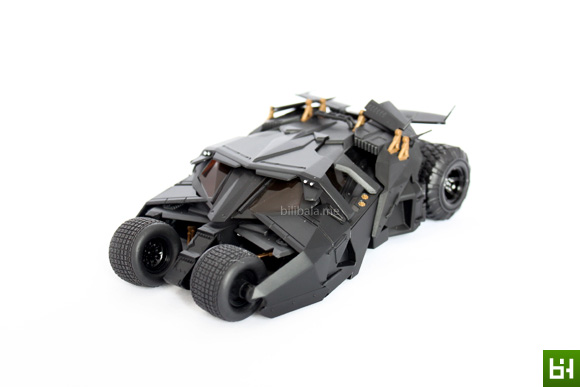 Small details can been seen such as the lights, wheel treads, fins, windscreen, etc. Paint application is of top notch and plastic quality isn't that bad. The small thing does weight as well.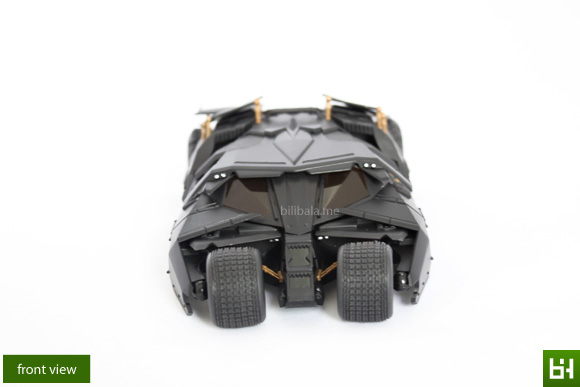 Every bit of the details try to follow as closely to the movie. I particularly like how the treatment on the soft rubber tyres. They have realistic treads. The only complaint that I have is that all the wheels are not rotatable. Well, you can't spin them in other words and they are pretty much locked down. However, you still can position the wheel up and down or in different directions thanks to the Revolver Joints implemented there. We will explore more in the gimmicks down below.
Smaller detail can be seen is the petrol cap located on the side of the vehicle.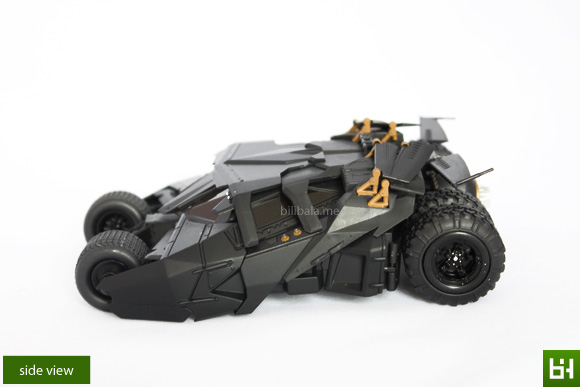 The detail doesn't stop there. At the rear, there's a nicely silver painted afterburner to greet you. Along with it is a pair of spring absorbers mounted on both sides. They are just being aesthetic and none of the absorbers actually spring.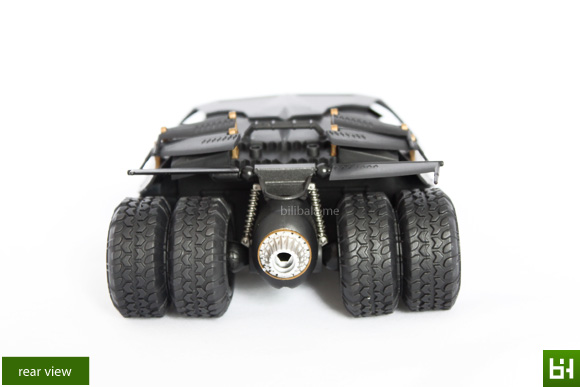 There are actually 3 pairs of movable spoiler fins spread across the rear section of the vehicle.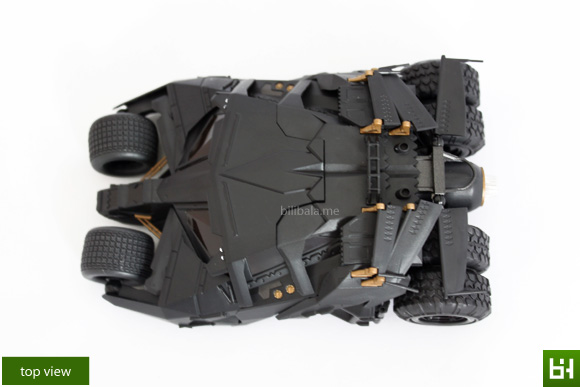 Despite the terrific details on top, the bottom suffers from otherwise. In fact, it's actually very bare and consider zero details at all. At the bottom, you will notice a hole. That hole is actually the port insertion for the stand.
There's a noticeable "T"  structure located at the mid section of the vehicle. This is actually the bottom of the detachable steering unit. It is there for the ease of "push and release" when you need to remove the steering for the purpose of putting in the figure.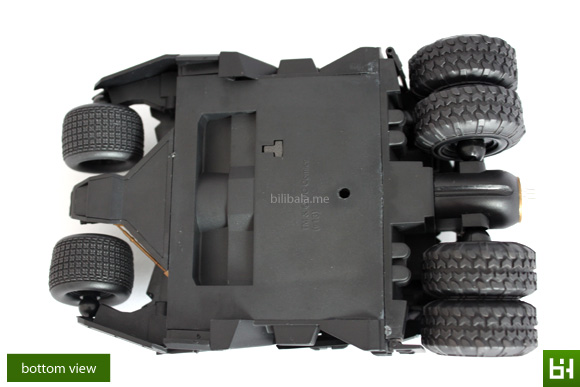 More details: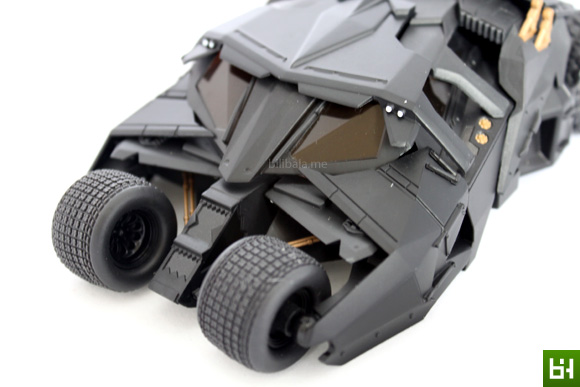 Really impressed on the detail on the soft rubber tyres. (sorry about the glue residue on one of the tyre).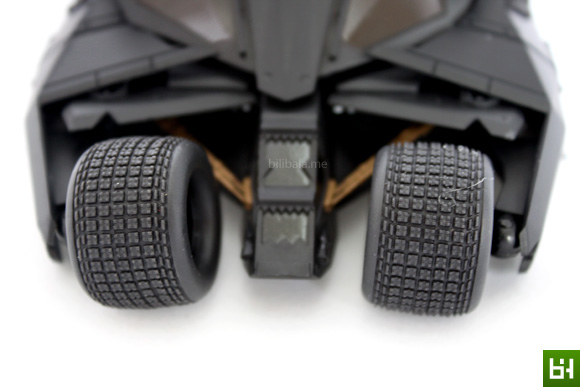 Closer view on the aesthetic spring absorber.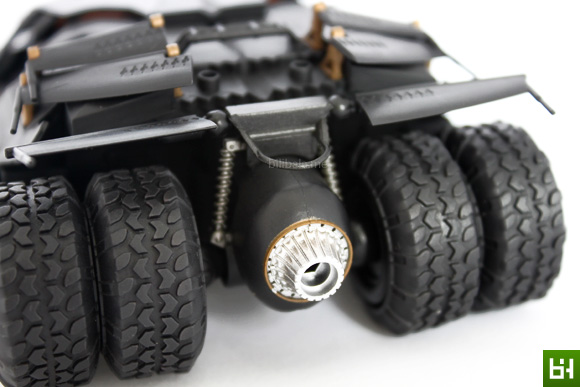 Yes. It's metallic black paint on the rims and that's not all, you will have the silver paints on those "screws" as well.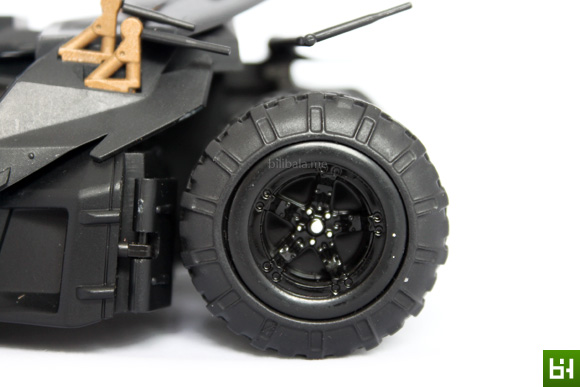 The petrol cap that has been mentioned above. Hm… these are petrol caps rite?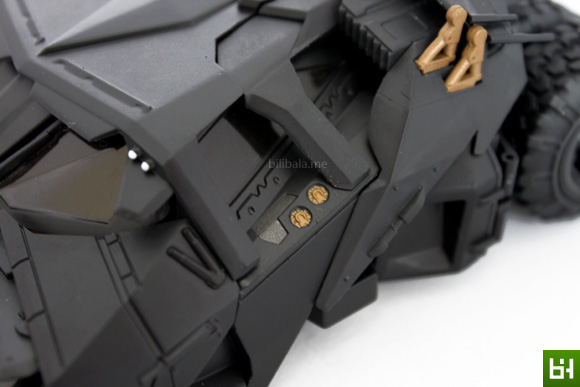 (C) Gimmicks



(D) Comparison
Here's a side by side comparison with my 1:18 Mattel Bat Tumbler. Despite the size, the Revoltech has more stand out details.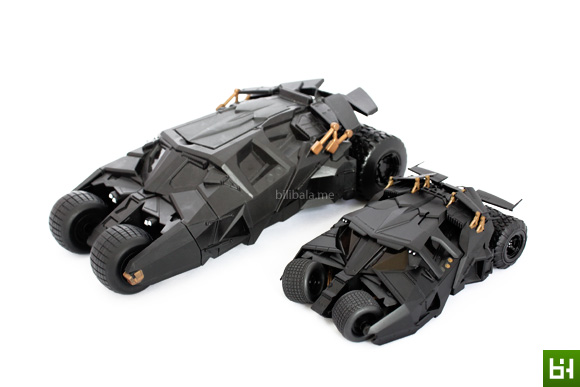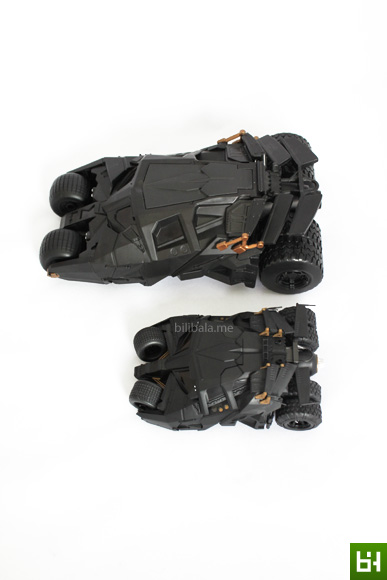 Here's a comparison to the Mattel 4″ Batman. Definitely not in scale.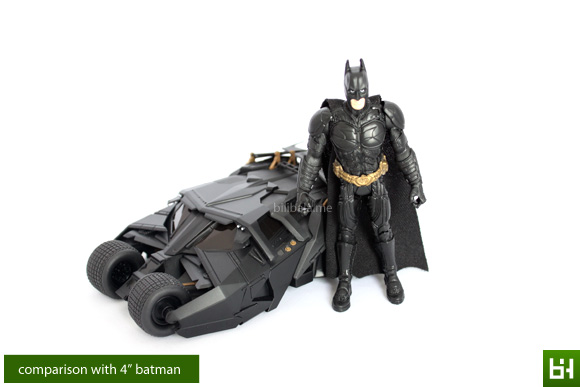 (E) Gallery of Goodies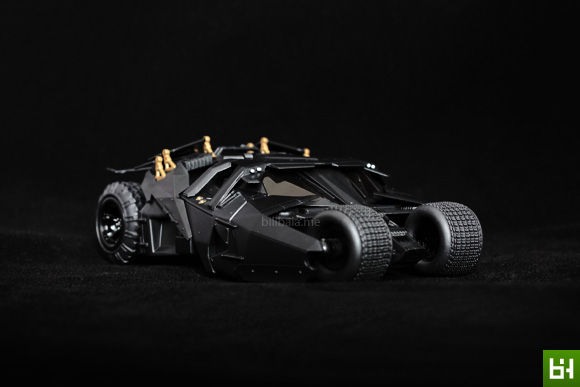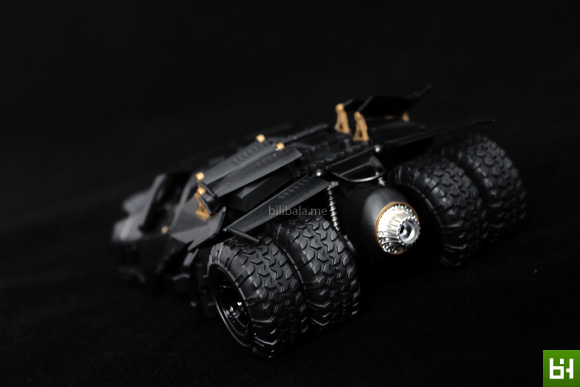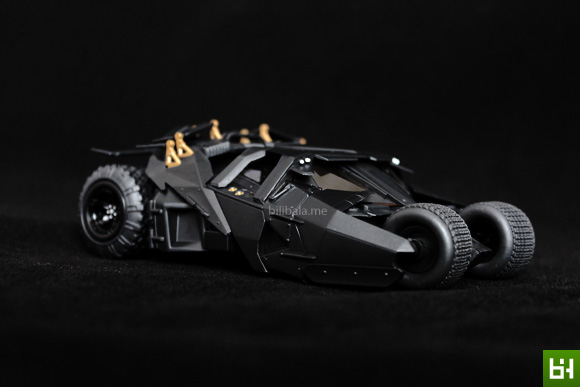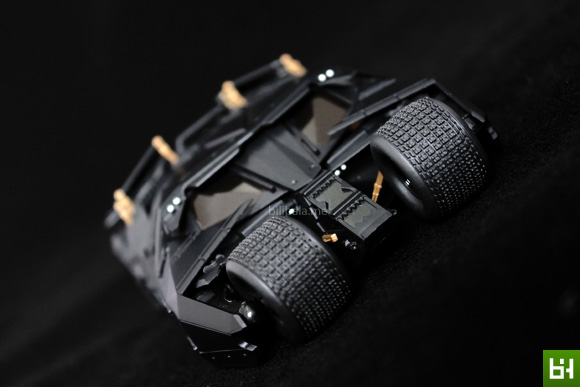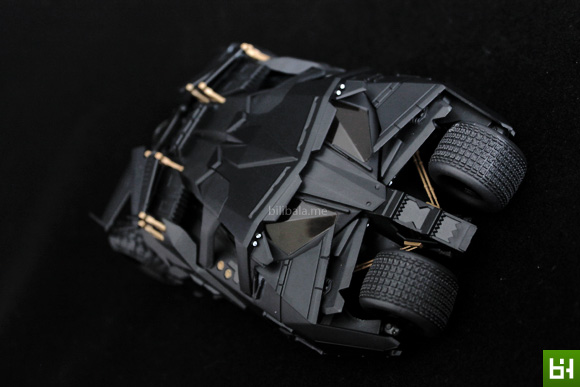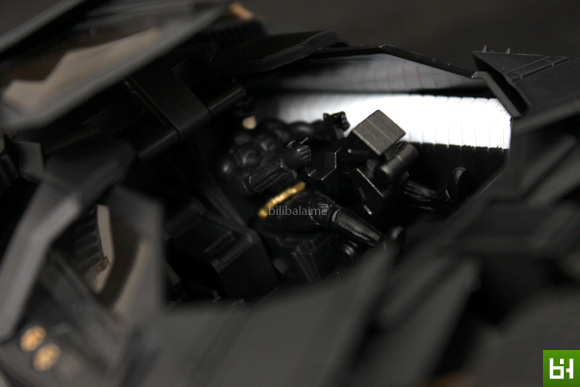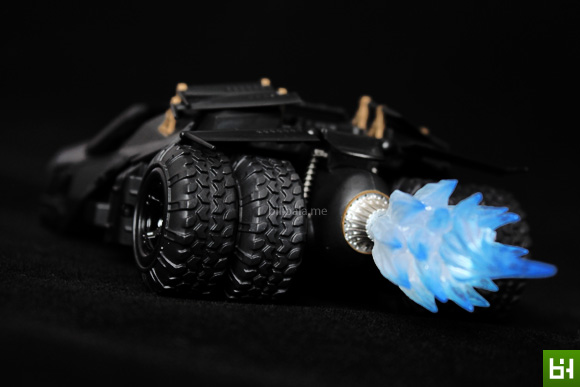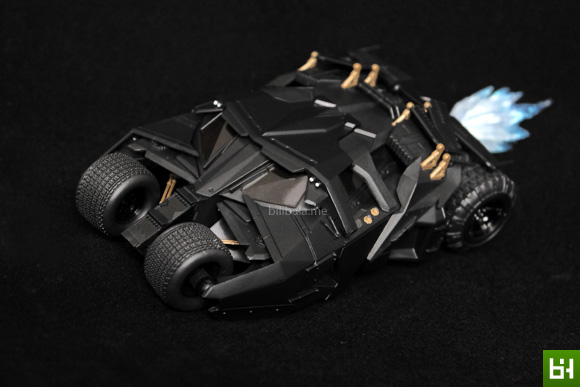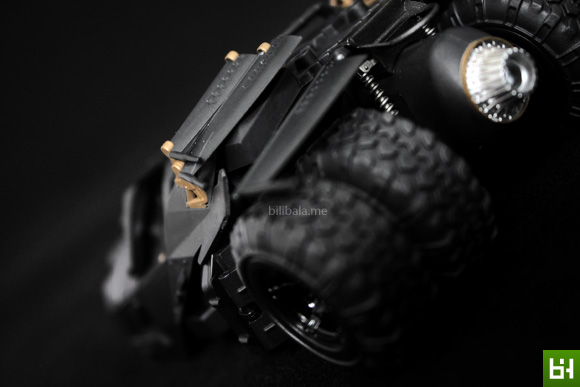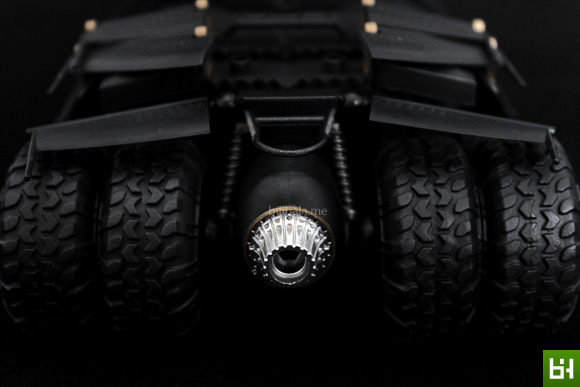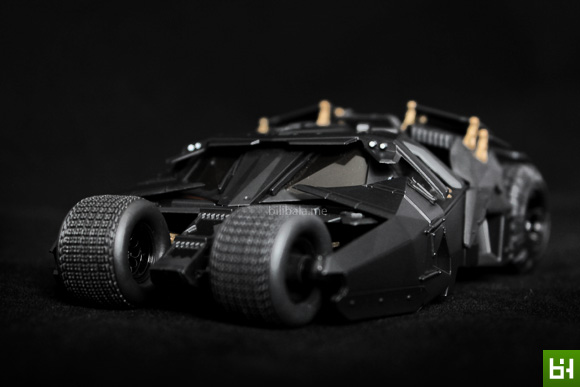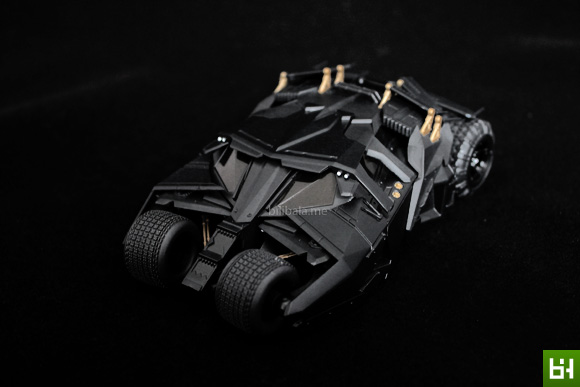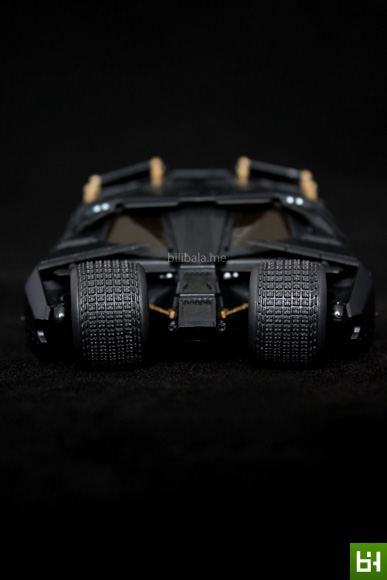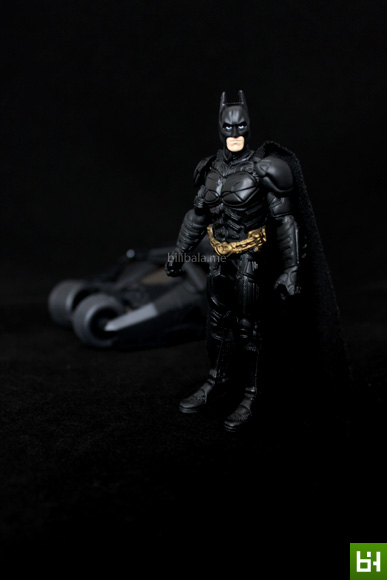 (F) Conclusion
It is great to see Kaiyodo has put so much effort in making their Bat Tumbler comes alive. It is a cheaper (and smaller) alternative to those more expensive sets considering the details are great for its class. Definitely a must get for Batmobile fans and the only comment that I have is: Revoltech, please release a BIGGER version of it! So that i can fit in my 4″ Batman! yeah!
My PCR for him: 9/10
What I like – Great details overall; driver seat's gimmick; small figure.
What I dislike?– Non rotatable tyres; vehicle door closing mechanism.
Until then, enjoy hunting and hauling!
Don't forget to subscribe to our newsfeed to get the latest scoop of Bilibala here:
Subscribe now!