Feel like eating in the toilet?
Read Time:
4 Minute, 0 Second
Have you ever thought of eating inside a toilet? Or just sitting on a toilet bowl and eating something that looks like a dung? Yesterday, my friends and i finally given our stomach a challenge by visiting this concept restaurant in Sungai Wang called the "T.Bowl"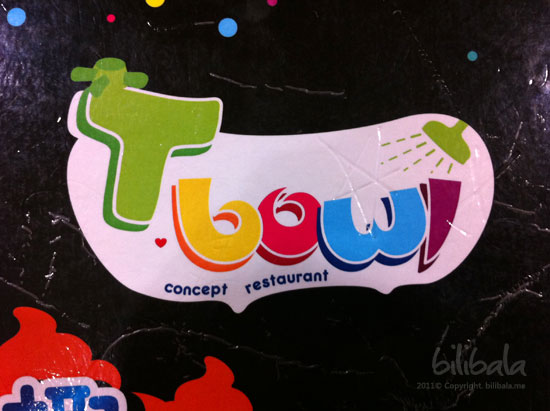 What's so great about this restaurant is that, it is using toilet as a theme. Toilets? you may ask. Yes. they are actually using toilet bowl as the chair and washing basin as the table instead.  But of course, their toilet bowl is not something like your typical at home toilet bowl. It is being decorated nicely with different pictures on top of the sturdy little toilet bowl. Mind you, these are REAL toilet bowls except that you can't really do big business on them as there are not properly linked to the drainage system :p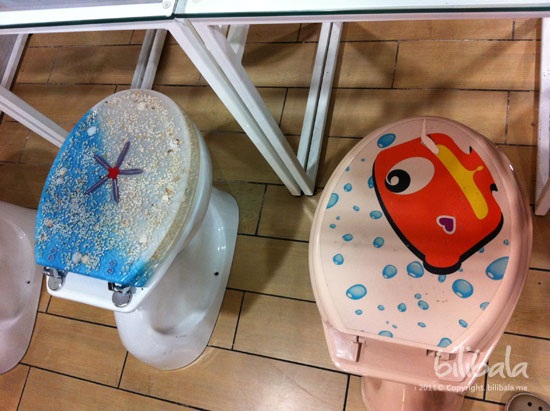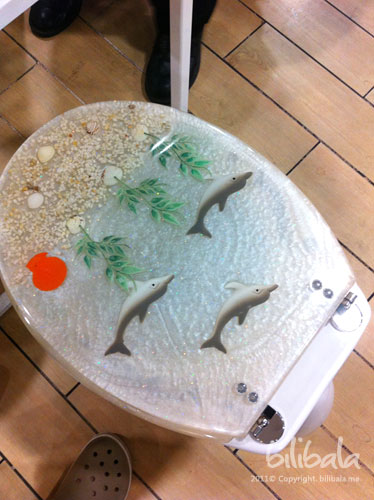 Not only that, the food that is provided also "looks" like a body wastage. But luckily the taste isn't that bad anyhow. I have grabbed some of the toilet delicacies photo that we have ordered and share to you all. Let's see what you can relate the food below to some of the common stuff that we dispose in the toilet everyday 🙂
I have ordered this so called "Dragon Fruit Ice blended Desert"  – Can't really remember the name though. They use a bath tub to contain those stuff though. Looks cute and it gives me the resemblance of bloody disposal with milk in a bath. Yuck. But the taste isn't as bad though. Just the look that was deceiving.
This is what i have ordered for main course. Looks like dung color to me. It is a Steam Pork Rib Rice. Taste not bad if you ask me :p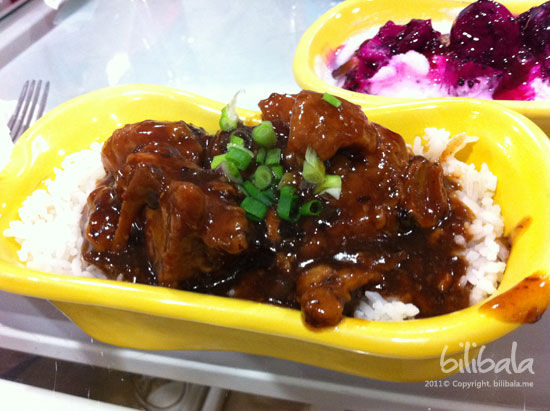 This is what my friend has ordered. Another form of "plates" they used beside the bath tub. Instead, it is a small toilet bowl that is holding the teppanyaki beef set on top. Nothing special resemblance of the food though.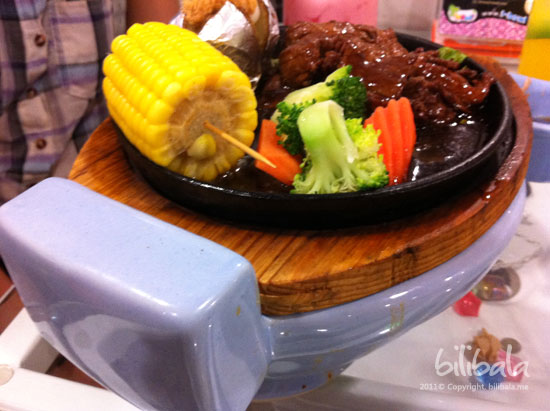 Another "shitty" dish which is being served in the mini toilet bowl. It is a minced mushroom chicken mee and it DOES look like those vomited stuff to me. No offence. Just my personal feeling :p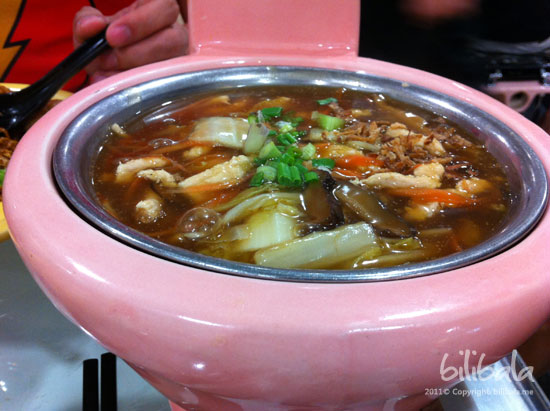 NOW, this is the classic. I forgot what it is being called. The 1st impression of it gives me the look of "chicken dung". It is being covered with yellow mustard and the overall look DOES give you the creep. But i did go ahead and try one piece of it. And you know what? The taste is "special" and really not that bad with a unique blend of fried chicken, chocolate chip and yellow mustard. It will make you bite another piece to actually want to feel how it really tastes like. If you are visiting this joint, be sure to give it a try 🙂
Another teppenyaki chicken set being served on the mini bowl. Nothing special here :p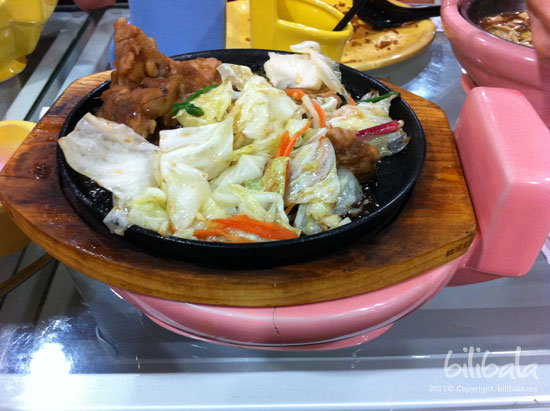 Now, this is something cool. Bet you can't figure what is this. This is actually a cheese baked rice. What can you relate it with? I will leave the imagination and creativity to you.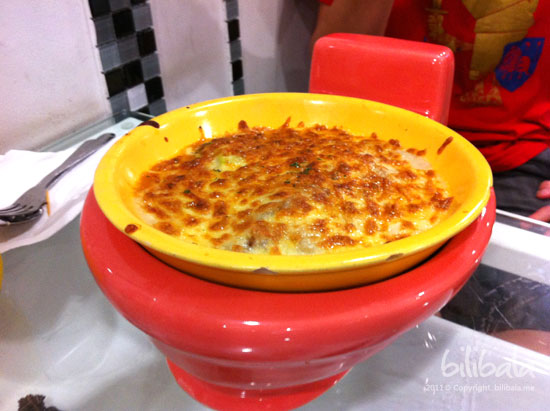 The last of all, the Lone Ranger Drumstick in a pool of chinese herbal soup. This is what i can make of it. Just having the funny feeling that a naked chicken drumstick taking a dip in the bath tub. Cool and wicked. hahaha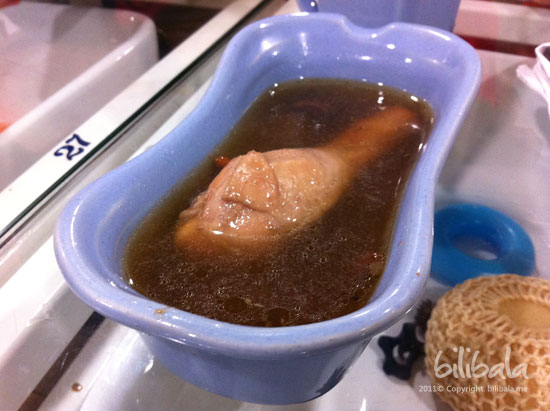 Jeng jeng jeng….
Now, the following stuffs will be something you wont see everyday.
This is called "Soap water". From the look of it, it does look like one with those white coloured stuff being the bubble. I dont know how it tastes though as it is being ordered by my friend. But i guess they are actually using soda water with a mixture of blue colourant to give the look and feel of it.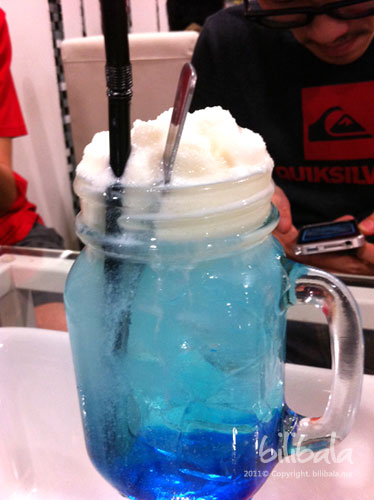 Yes. The legendary "shit" ice cream being served in a cute and small toilet bowl. Looks bad, but taste nice 🙂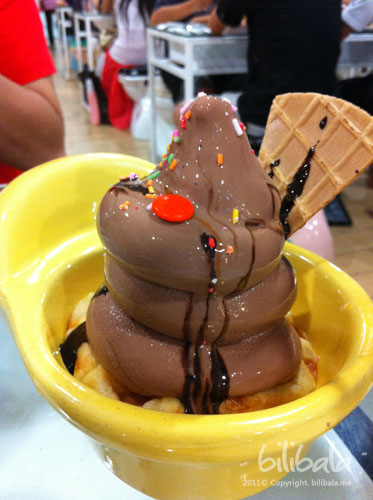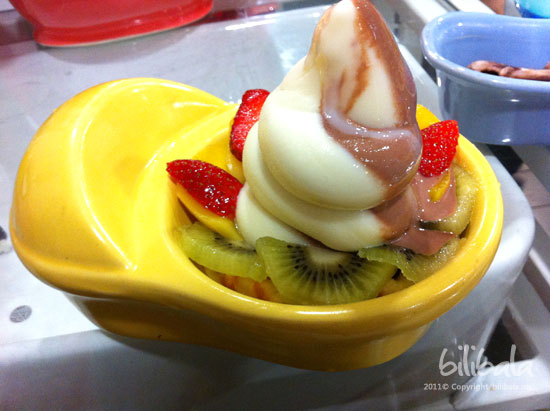 Conclusion…
The overall experience during the lunch is quite fun. Having those resemblances with our daily life disposal and what is being eaten at that point is really a not-to-be missed experience. The food is not bad there but the portion itself is a small to medium serving. If you have a hungry stomach, better order for more stuff.
And one other thing to stress out, to certain point that the picture in the menu doesn't really reflect the actual product itself. Like the "Lone Ranger" Drumstick below.
You can be the judge of it. 🙂
Anyhow, have your "shitty" experience with T.Bowl today! If you are interested, check out their website here.
Enjoy!
p/s: Apologize for the vulgar language being used. But there is no better word to describe the word starts with the "S'. Yea!