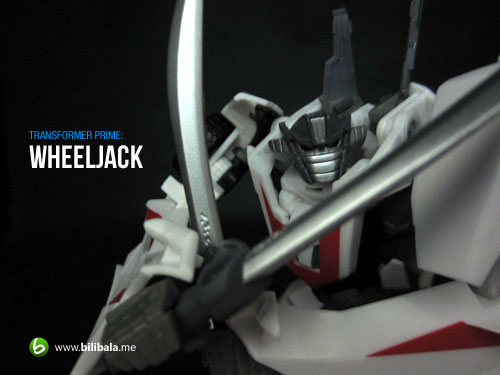 Transformers Prime: Wheeljack
Read Time:
5 Minute, 23 Second
There are always ideas of blending Samurai essence into the Transformers toys. To name a few, Bludgeon (or Banzaitron), Generation Drift, etc. Not really a surprise that Hasbro has again blended in with one of the character in the Transformers Prime toy series. Yes, he is Wheeljack. Forget all those descriptions of him being a nerdy mechanical engineer and scientist of the Autobots, he has made a comeback in the same Castrol colored G1 like form which you will be far intrigued by what he is going to offer. And seriously, this IS the Wheeljack we are looking for if compared to the Einstein-bald looking Autobot that appears in the Transformers Dark of the Moon known as Que.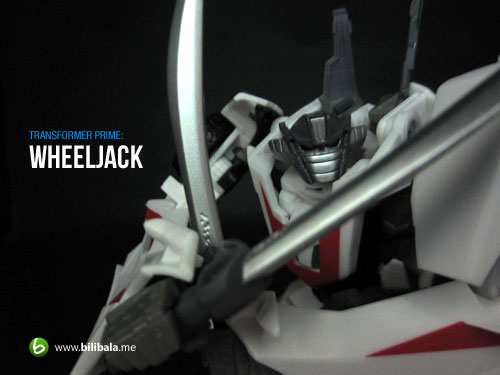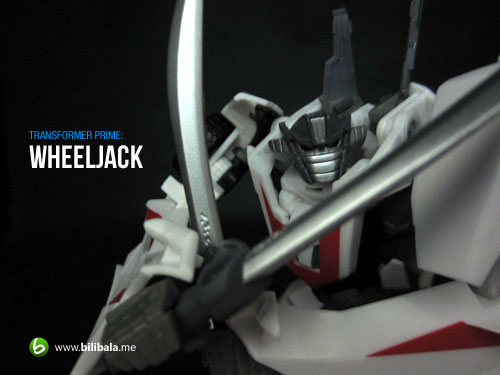 (A) What's with the Packaging?
For all Transformers Primes: Robot in Disguise toys, the packaging of Wheeljack will appear in white color as opposed to the original black color as observed in the First Edition.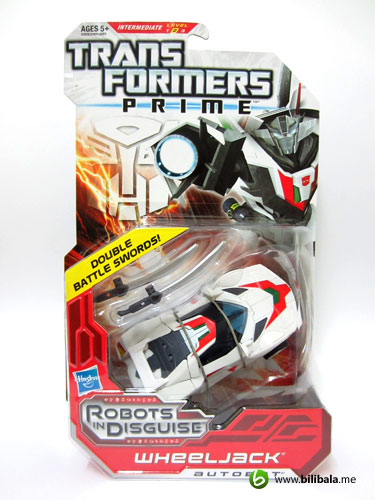 Similar treatment throughout all Transformers line. A bit of write up about the character and the gimmicks it has.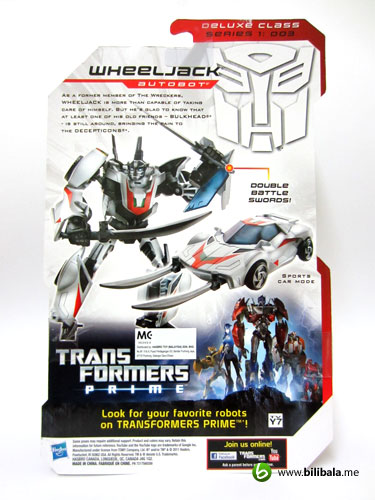 Here's the traditional technical data of Wheeljack which now comes with his face and like the Soundwave earlier, you can cut out this portion to become a biocard.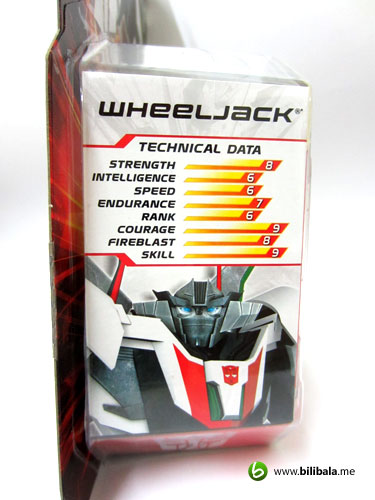 (B) Alternate Mode
Wheeljack made a come back with a very stylish and sleek sport car much like a Lamborghini Gallardo with the unique Castrol colored stripe over the white body. To be frank, I always have this love and hate feeling about white colored toys as they do look good yet they easily turn yellowish over time.
The car is quite solid looking with moderately light weighted plastic. You can also notice there is a transparent light blue plastic being used for the windscreen of the vehicle. Definitely, you won't be seeing driver seat or any dashboard details inside the screen.
Overall great color printing/painting on the figures and very minimum paint chips can be seen. Another thing I have noticed, those red and green colors are actually something like thermal printed which of course is much more accurate.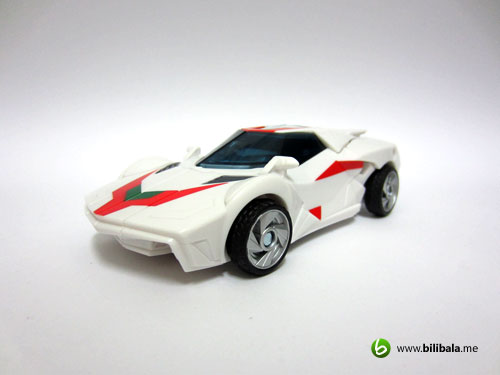 The front of the vehicle exhibits 2 very hollow spaces which seem like incomplete. In fact, that 2 slots are actually for the purpose of pegging in the twin katanas (blades) in front to form something like a weaponised alt mode. Will elaborate more on this in the gimmick section.
Nothing fancy being done on the car headlights.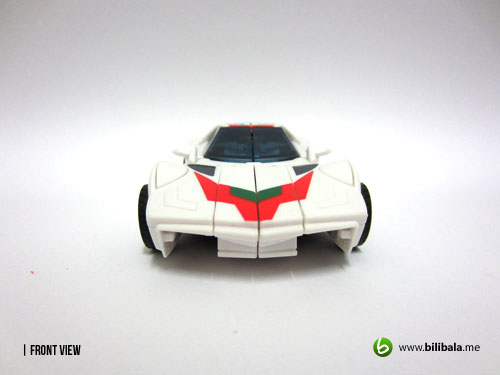 The side profile is quite simple with minimum details. What you able to see is they have used silver metallic color for all the tyre rims.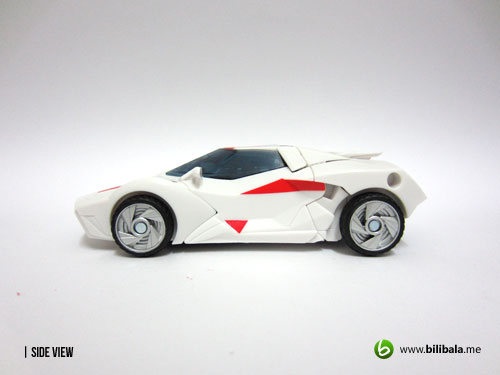 The rear lights of the vehicle are being painted with red and yellow paints.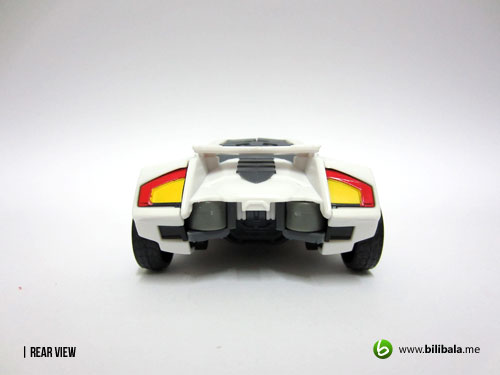 From top down you can notice more details on some of those "ventilation" vents. The red/green color combinations do stand out with the white background which gives a great futuristic feel.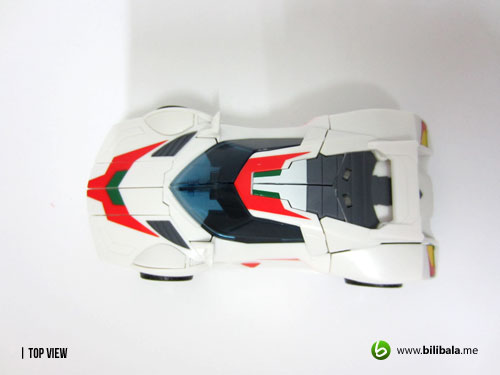 Another point which worth mentioning, similar to Soundwave, there is no Autobot insignia can be seen in alt mode. I wonder the "Robot in Disguise" does mean non of their insignia is being shown off. Figures.
(C) Robot Mode
My 1st impression on Wheeljack robot mode, he does have a samurai looking headpiece and he does looks very menacingly cool.
Well, there do have some points which I am not really fancy of: i) the very long arms of his which is nearly comparable with Soundwave's. ii) the flipped windscreens as the inner arm does really look weird as well and not really visually pleasing. They should have done an extra joints there to retract the screens near to the arm position to hide them instead of just laying off just like that.
Articulation is quite standard for most limbs but however, with additional articulations like the ball-hinge joints for both of his hand and the extra ball joint for his ankles, it definitely makes this figure pose-able with endless possibility.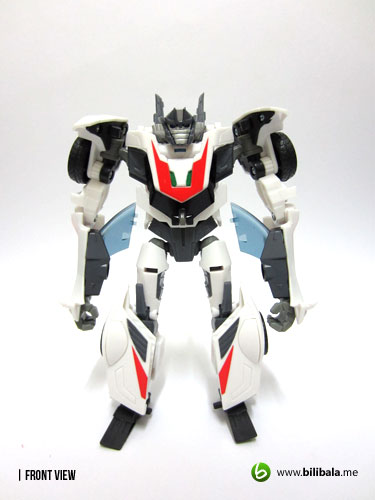 He is definitely back kibbles-free with sleek proportional figure.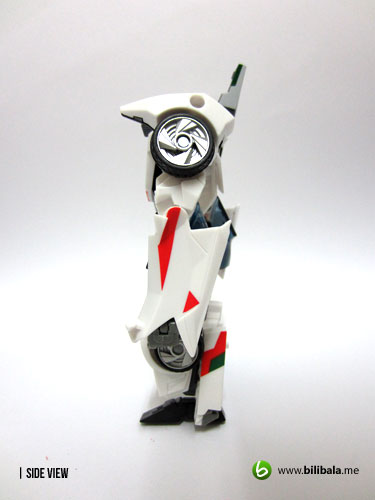 Though it looks nice in front, the back part of him does look quite annoying with honeycomb like design to the leg portion.
The 2 antenna thinggy here looks like an extra swords. It is overwhelming taller than everything else. I wonder if lightning strikes, he will be the first to be stroke of.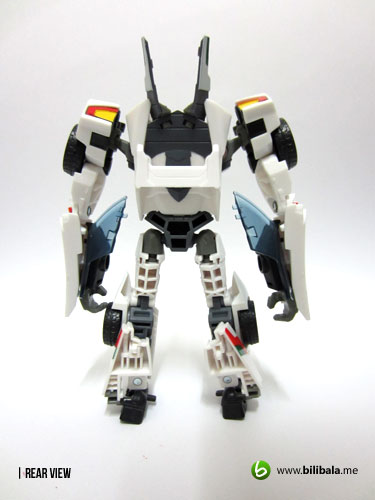 I personally like the head sculpture of him. There are abundant of silver metallic colors being used to highlight the headpiece. The light piping here works moderately well.
Then again, no Autobot insignia can be seen in robot mode as well. Very much "robot in disguise".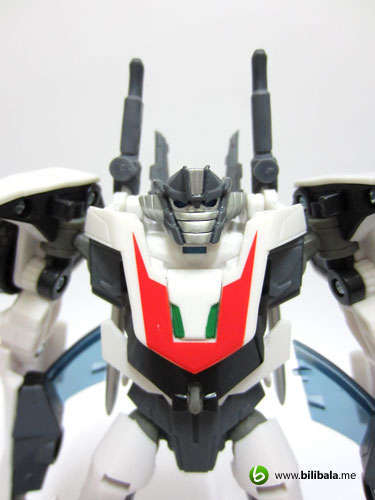 (D) Transformations
Personally I find transforming Wheeljack is very fun. The mold and transform mechanism is very well designed and definitely involving. The parts are quite straightforward twist and turn without really confusing process.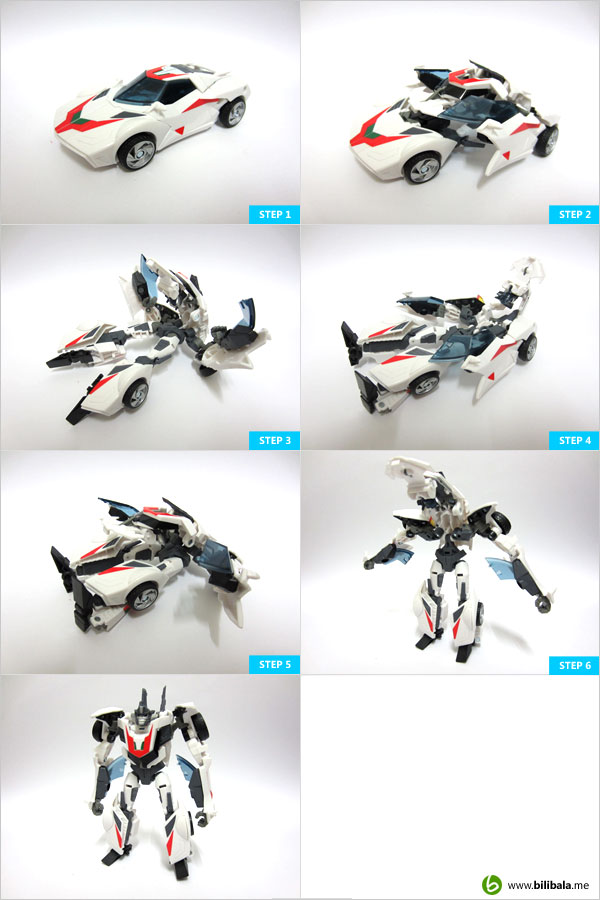 (E) Gimmicks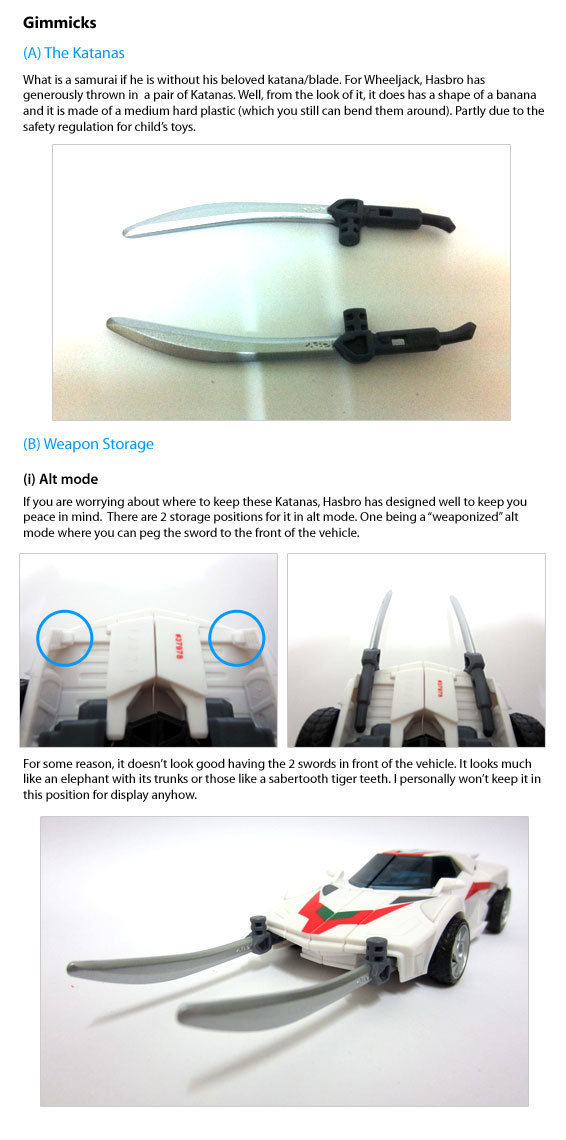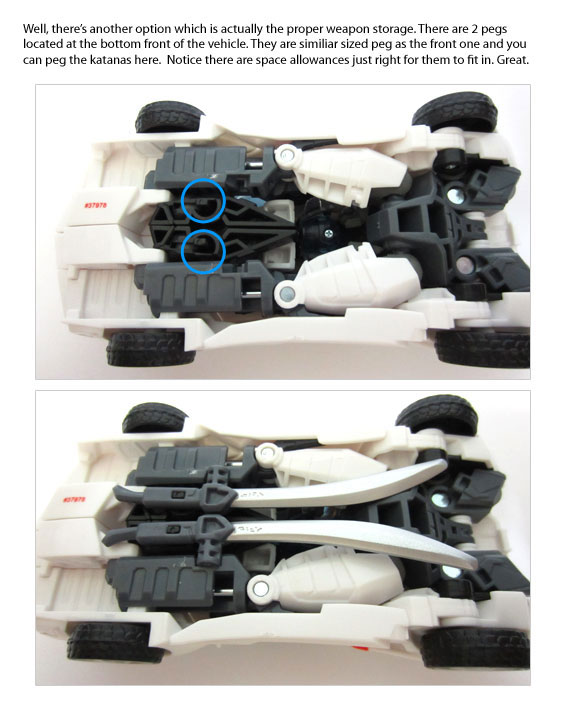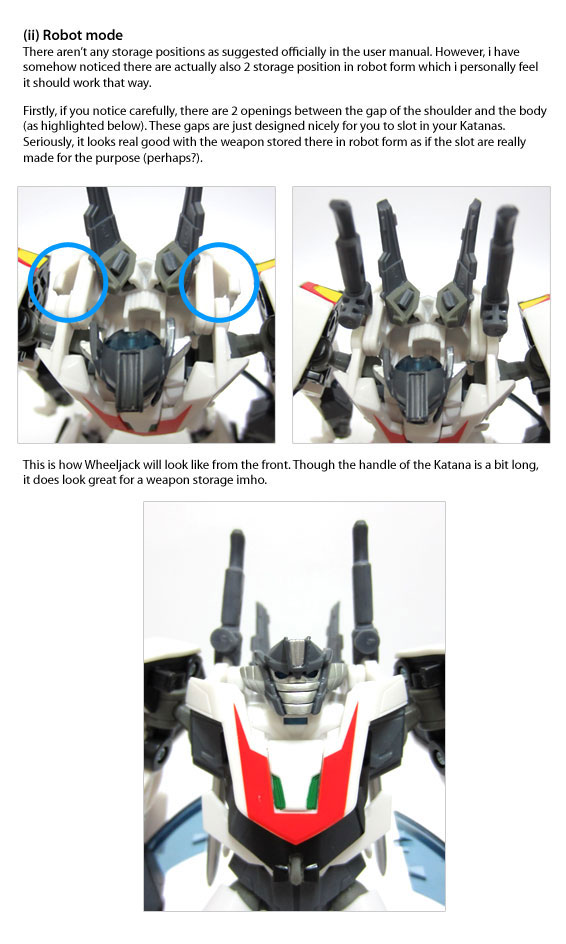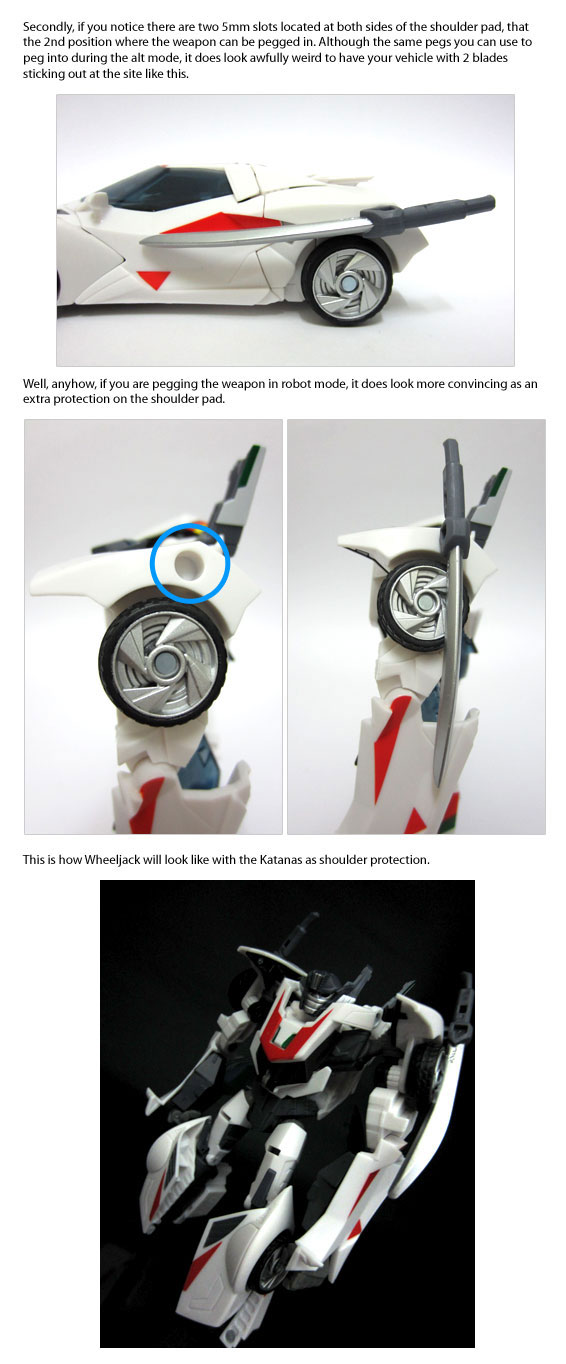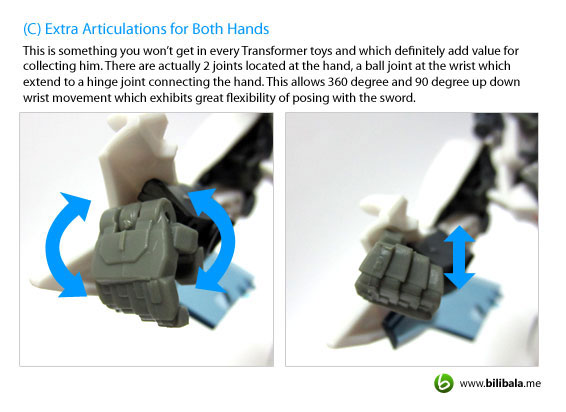 (F) Comparison
Here's a quick comparison with the deluxe Cliffjumper.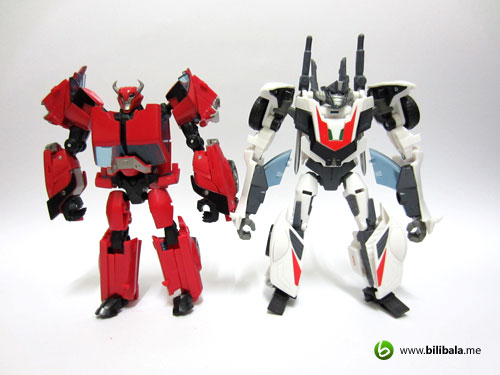 Another size comparison with the voyager Bulkhead.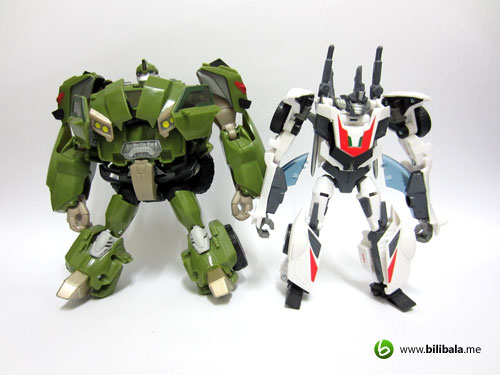 (G) Gallery of Goodies
Here are some eye candies to rest your eyes with. Start off with the weaponised alt mode.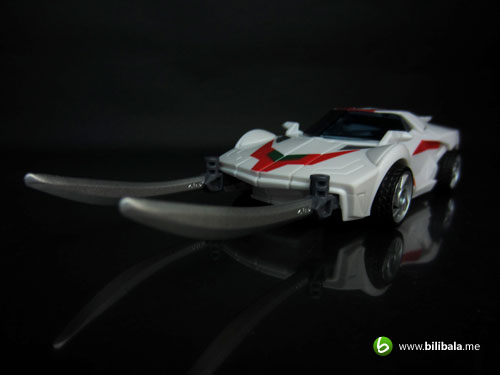 Fancy some sleek futuristic Lamborghini shots?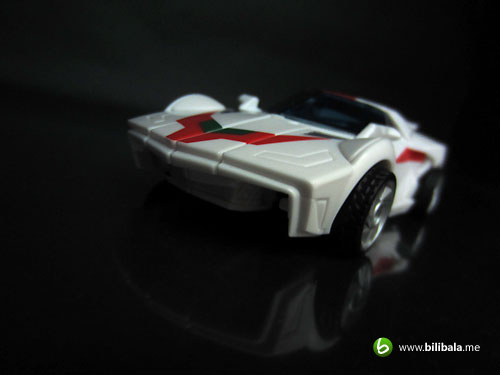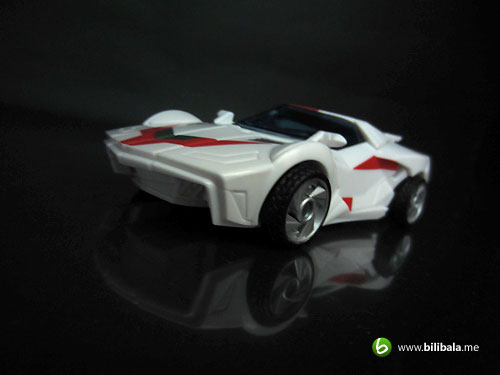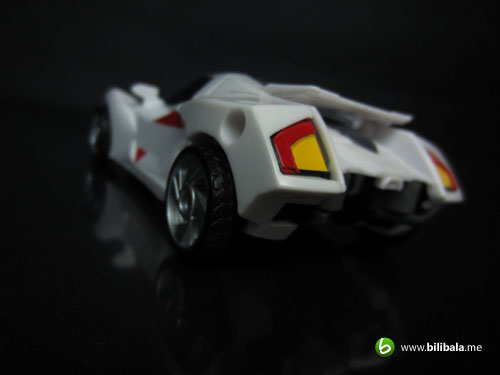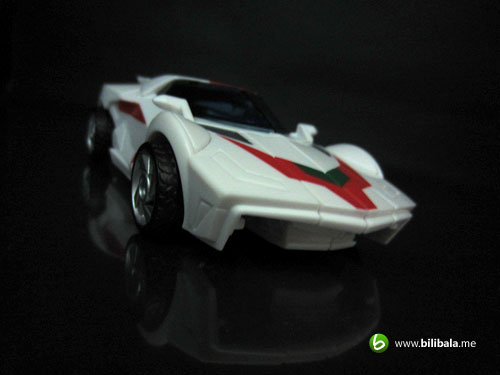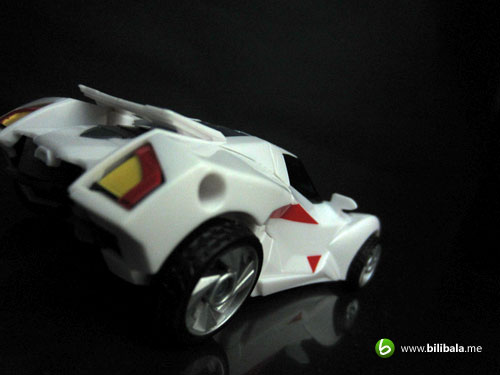 Close up on the rims.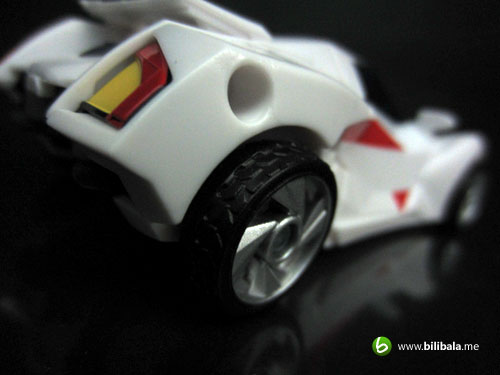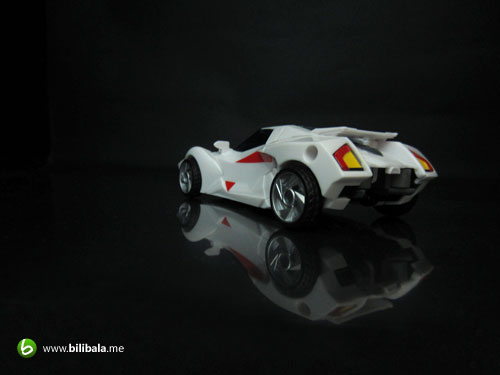 I personally like this shot.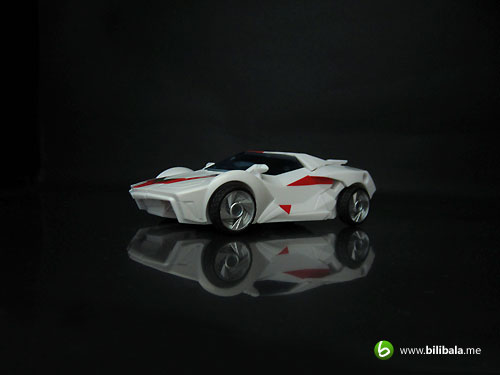 A side profile shooting angle.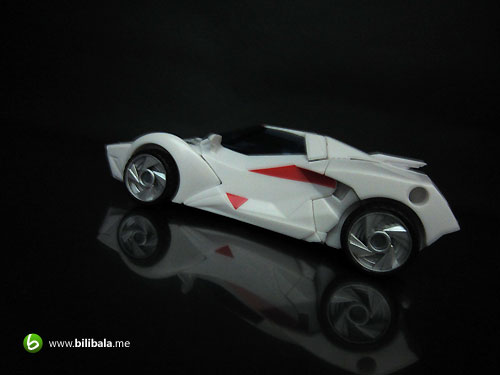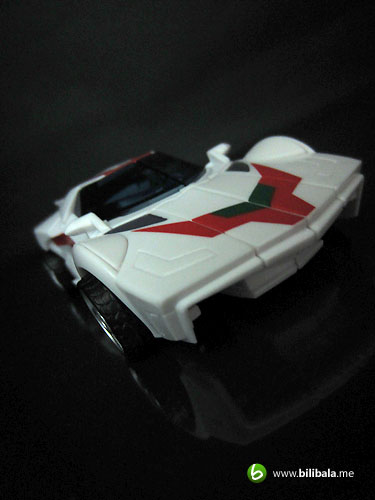 Now off with some great robot mode shots.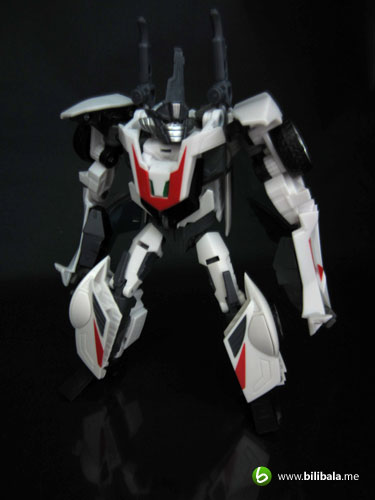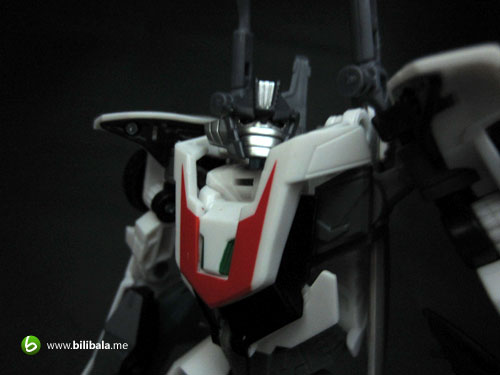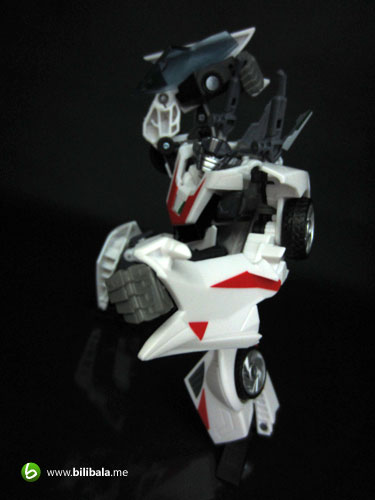 Double blades awesomeness! My most favorite shot of him.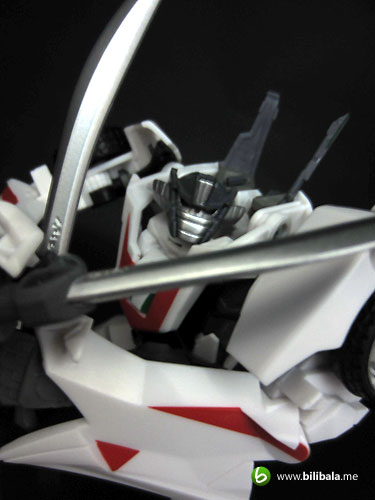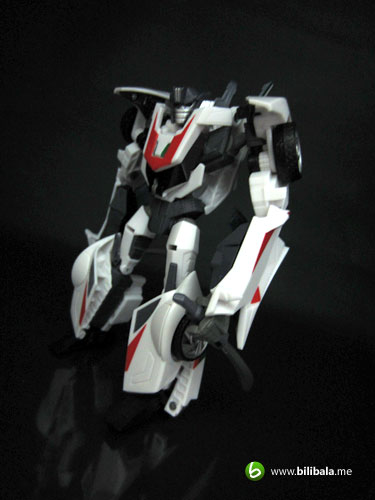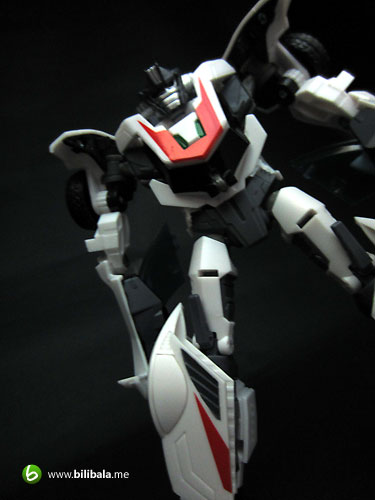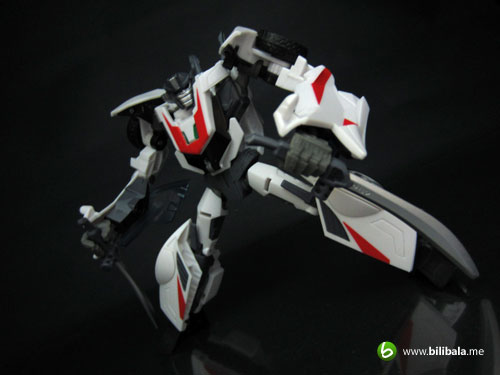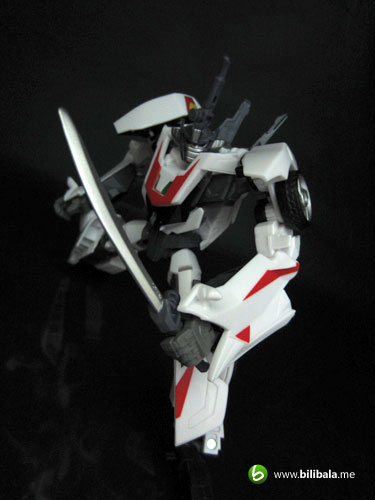 With both Katanas as shoulder protection.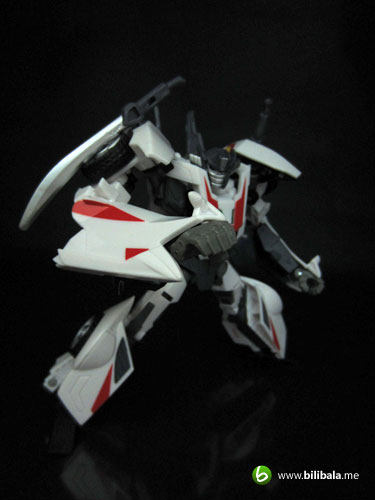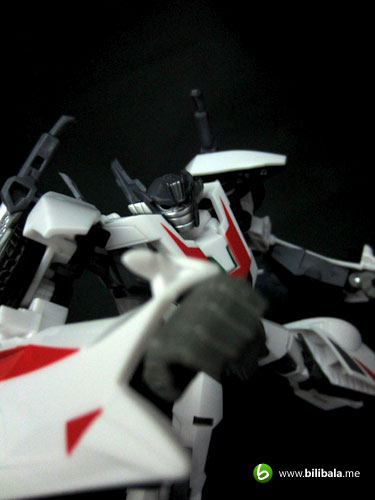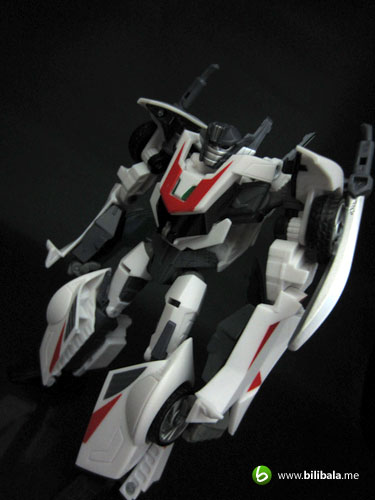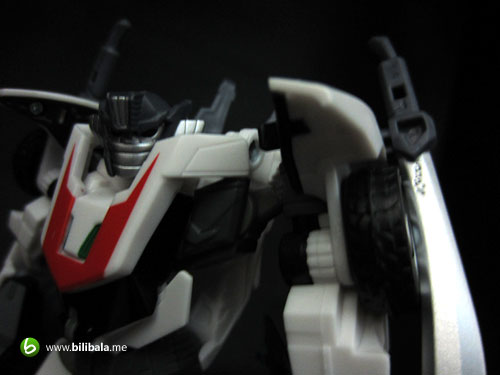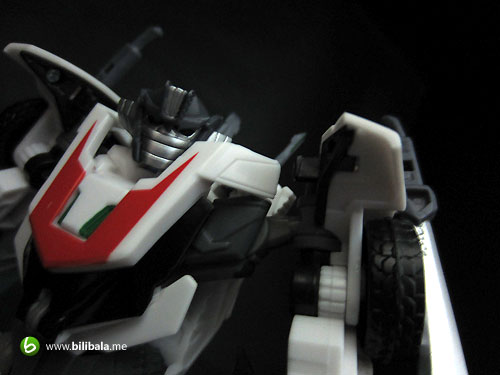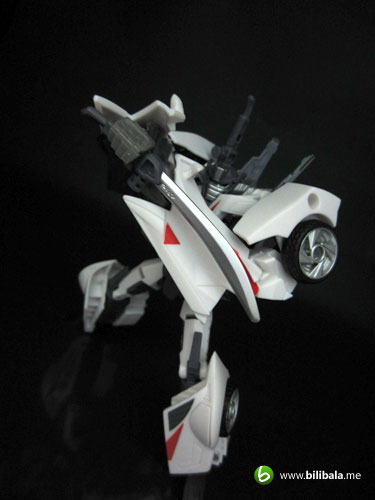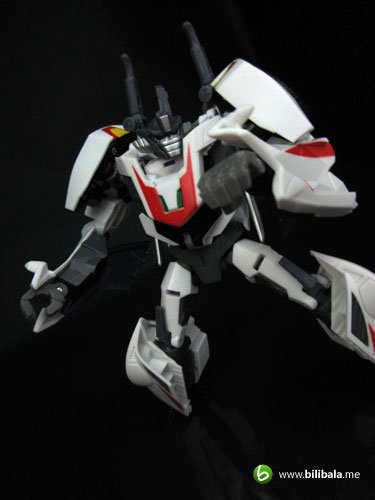 Another favorite angle shot of him. Looks just like a white samurai waiting for his foe Decepticon to be slashed like fruit ninja!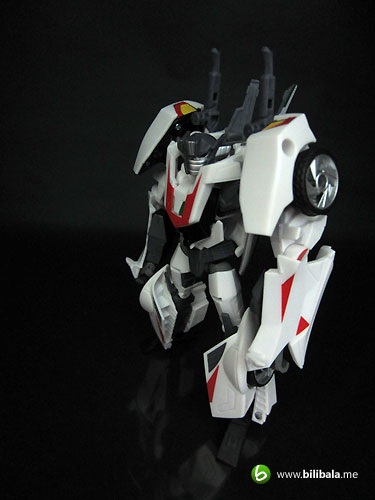 (H) Conclusion
I really like this Wheeljack personally. It really has great mold and very fun transformation. Moreover, there are really some easter eggs around for you to look out for (not really listed down in instruction manual), such as the sword holder positions, the extra articulations and so on. Definitely a must grab!
My PCR (Personal Collection Rating) for him: 8.5/10
What I like – Cool double katanas (though it looks like bananas); plenty of easter eggs around for you to look out for (such as different weapon storing position in both alt and robot mode); extra articulations such as the ball joints at the arms and ankles; fun transformation which not really mind bogging but yet involving.
What I dislike?– White colored body which tends to become yellowish after some time; Windscreen position in robot mode; the so called weaponised alt mode which looks much like an elephant instead of looking cool.
Until then, enjoy hunting and hauling! Be sure to like my post and spread the poison around ya :p