Transformers Prime: Vehicon
Read Time:
6 Minute, 6 Second
If Patlabor ever has an evil twin brother, it might be Vehicon. That's at least what I think of him. Well, if you are familiar with the Transformers Prime anime series, you will know him by the few of the Decepticons which has numerous duplicates of themselves as drones. That's what gives the cue of the name being vehicle + drone = Vehicon. Not to mention, the sleek Batmobile like alt mode gives temptation for collectors to lay their hands on this must-have.
But sadly for the time being, this First Edition of Vehicon only available for Asian market distributed under Takara Tomy. If you would like to get the Hasbro version, you will have to wait for the Robot In Disguise which features a new mold. Anyhow, let's just get a hands on what this First Edition of Vehicon can offer to the collectors.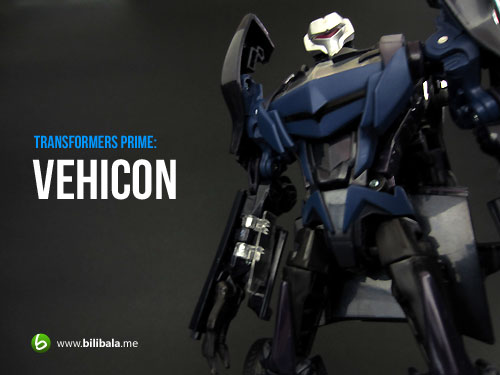 (A) What's in the Package?
There is not much different from the Takara version of packaging as compared to Hasbro's. However, Takara Tomy version does not come with the paper stand which does give the exclusiveness back to Hasbro's First Edition releases.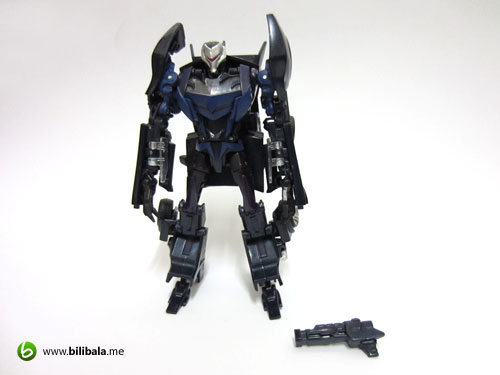 Well, instead of the paper stand, Takara does include some minor goodies which Hasbro normally won't. Yes. Leaflets with bold, exclamation marks filled Japanese style to promote the line of toys in full great colors. Nothing much to brag about. But then, there's something in the smaller leaflet that contains some information which is quite interesting.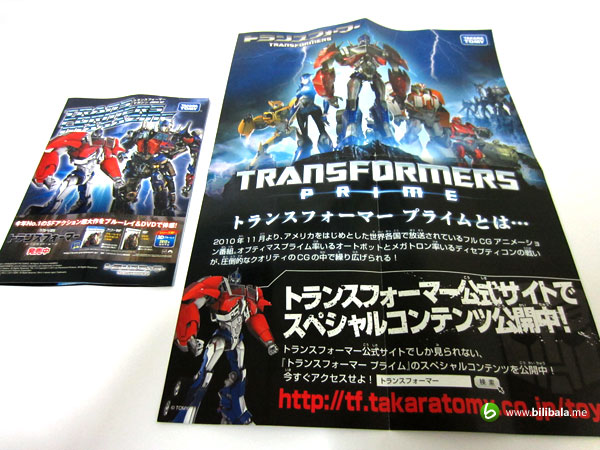 Well, here's an except of what's in the smaller leaflet. The evolution of convoys & cartoons from G1 till the latest Prime series. Quite a sentimental valued piece of timeline we get to see but hardly understand as it is in Japanese.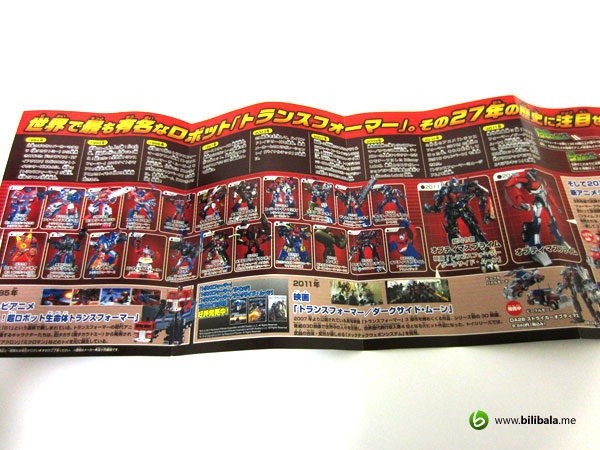 (B) Alternate Mode
Off we go with the alt mode of Vehicon which comes in a sleek, duo tone looking Batmobile. The plastic is solid with glossy reflective type of surface which are prone to dust and scratches. The vehicle itself exhibits very exciting details such as clear plastic used in all car screens. Similar plastic treatment being used in headlight enclosure with silver metallic painted for the lights as well.
Albeit solid looking, the weight is surprisingly light. Minimum paints can only be seen for those decals of the vehicle.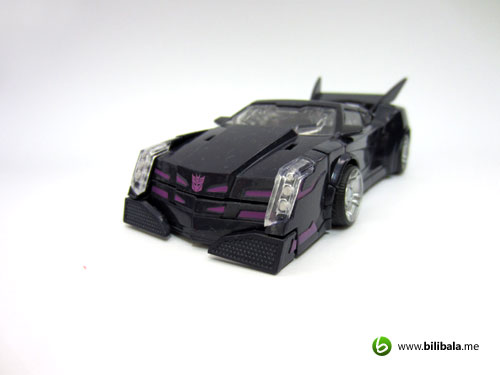 The Decepticon insignia painted clearly on the middle front of the bonnet. The purple color you are seeing here is being painted nicely and carefully without paint chips despite the hollow spaces in between gaps.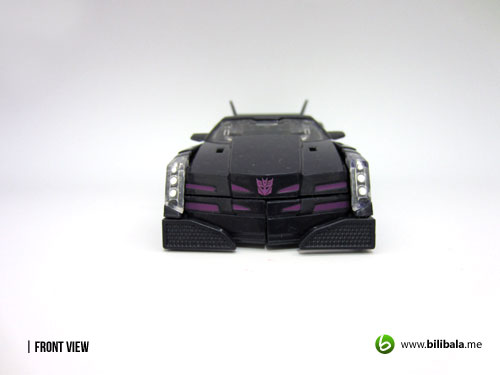 All the rims are being painted with silver metallic color. I do like the side profile of the vehicle. It looks even more stylish and much resemblance to the Batmobile. Especially the overwhelming structure of the spoiler section which out-stands the rest of the parts.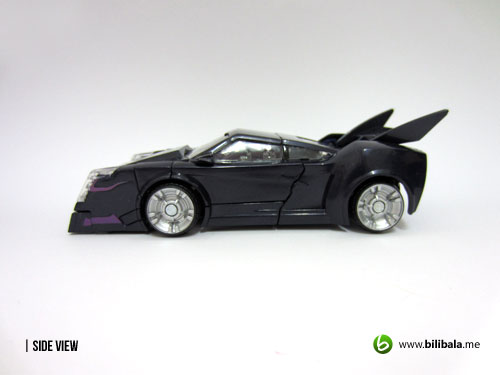 Does the rear view reminds you of the 2 bat ears? Again, the nicely painted purple color to highlight the rear lights and some "body stripes" . Great finishing with no paint chips and "out-of-line" painting so far.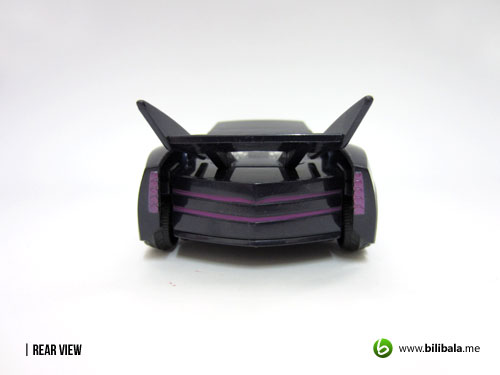 Despite sleek and stylish, the overall shape of the alt mode is actually squarish with some clear sharp edges and corner here and there.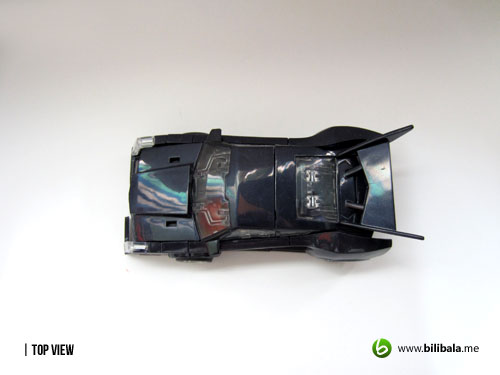 (C) Robot Mode
As opposed to the duo tone alt mode, Vehicon appears to have 2 extra colors (dark blue and a dark purple) to it. Personally I really like the color combination for this guy, kinda like an espionage in the dark corner of Cybertron.
Articulations are quite standard but there's one articulation missing, i.e. the elbow swivel joints, which creates nuisance while you wanted to turn the whole lower arm sideways.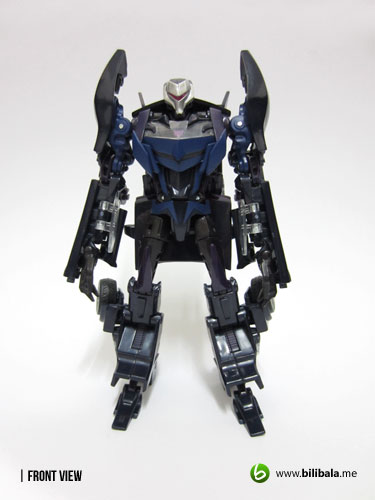 Another thing is the back kibble for him, it is not that heavy and it doesn't really drag the whole figure to the back. With additional support to the leg piece (which looks like a 3 legged high heel shoe), you will surely expect him to stand sturdily.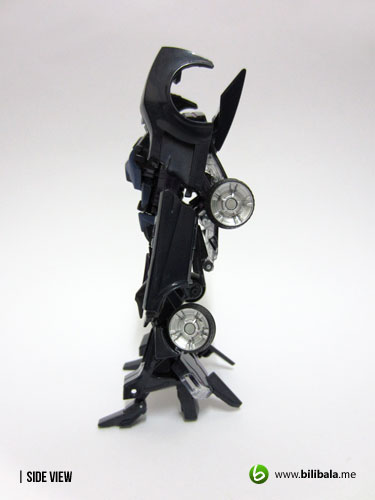 From the back, you will see the whole piece of the back kibble which covers his back side. Kinda like acting like a mantle.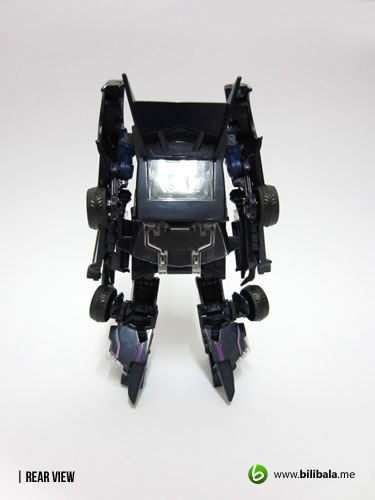 A closer look at him, he does has a very nice head sculpture with metallic silver painting. The cool looking magenta color visor is light piped and perform nicely when you direct some lightings to it.
Personally I really like how the chest is being designed nicely with complicated multi-layered panels and mixture of colors. You will get to see the 2nd Decepticon insignia enclosed in his upper chest with a transparent plastic. Frankly, seldom see such treatment being done on Transformers toys.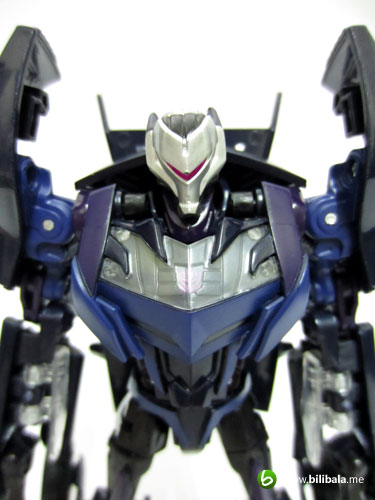 That's how the lighted visor looked like.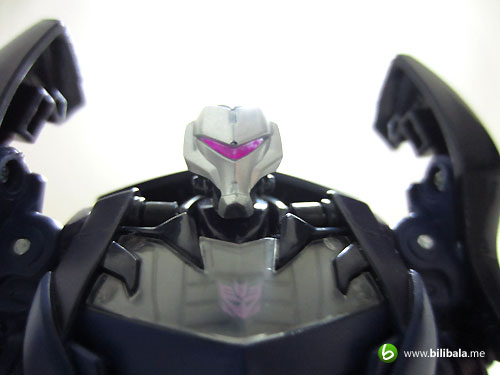 A very quick and simple comparison with the First Edition Cliffjumper. Size are almost the same despite the Vehicon is a bit taller.
(D) Transformations
I have to admit it, the transformation of Vehicon is the most complicated amongst all Transformers Prime deluxe toy. There are parts to turn and twist and figuring how certain parts need to retract. I especially annoyed with the part where you need to turn the whole top hood of the car to the back to form the back kibble while maintaining the same arm position (Step 5 to Step 6). Very challenging yet annoying. Another part i disliked much is when transforming back to vehicle (Step 2 to Step 1), there's a need to slide/slot in the side doors into position. This takes much effort as you need to figure out how to peg in the appropriate parts. Definitely intimidating and definitely not suitable for a child play.
But then again, for hard core Transformers collector, I guess this is where the fun and challenging part is.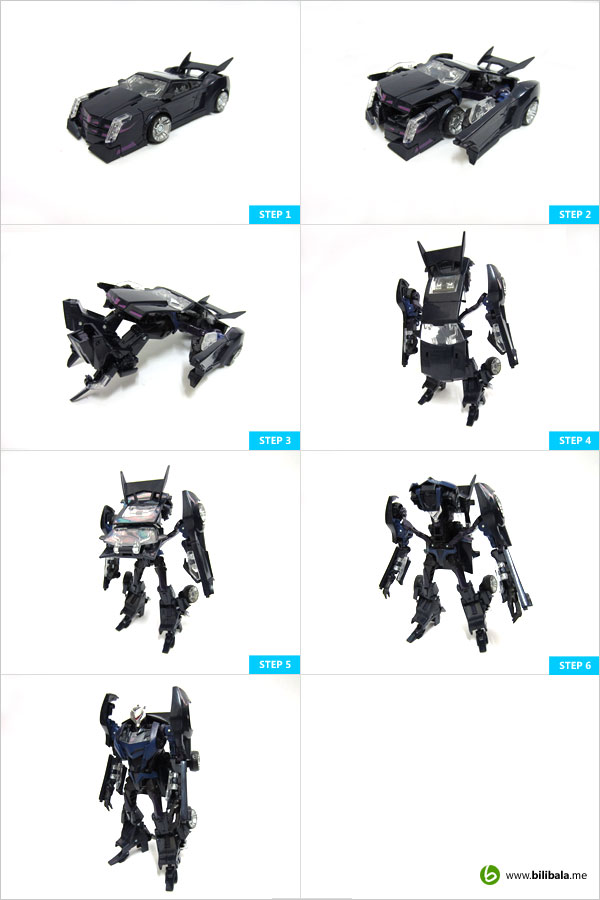 (E) Gimmicks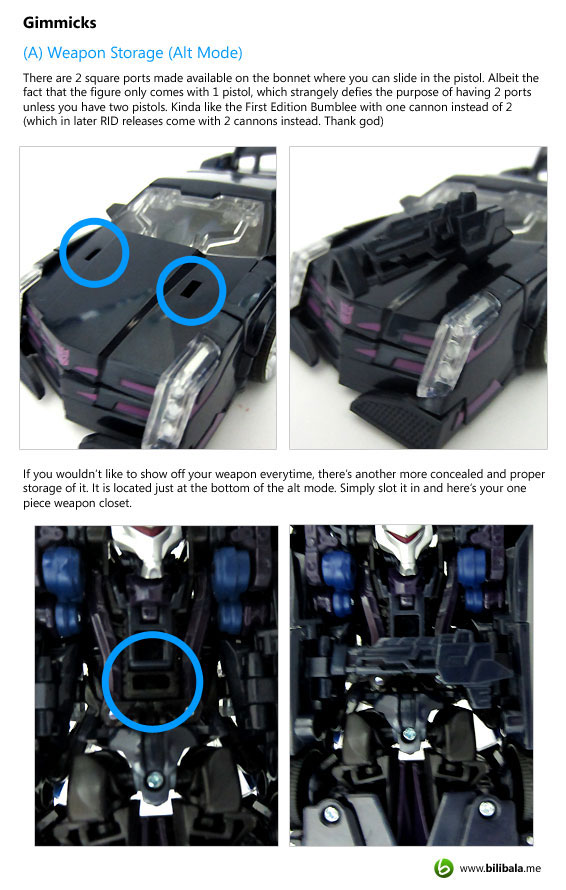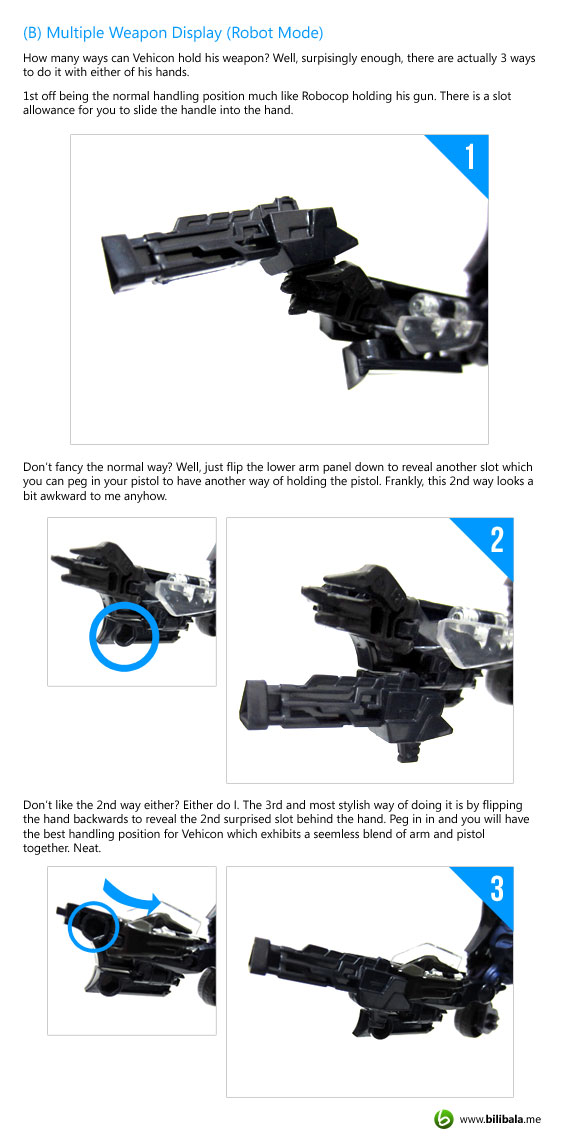 (F) Gallery of Goodies
Here's some eye candies for the cool looking Batmobile looking alt mode.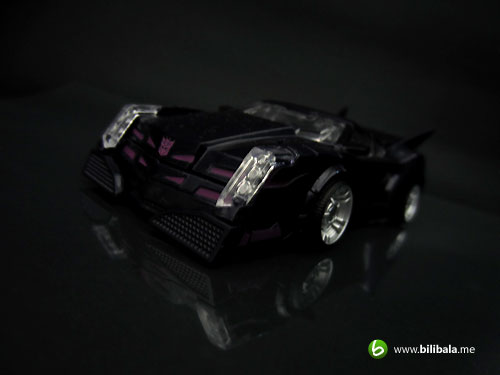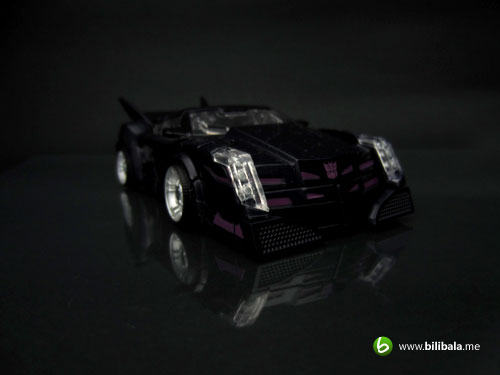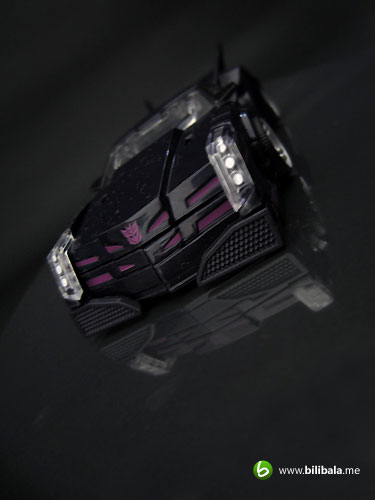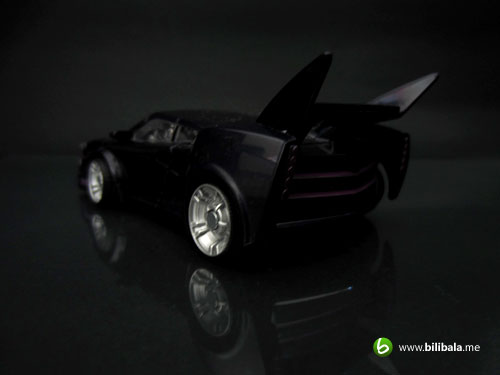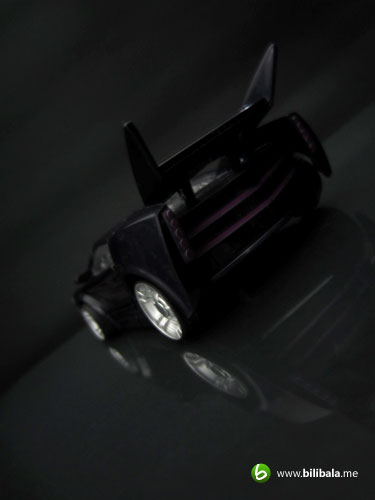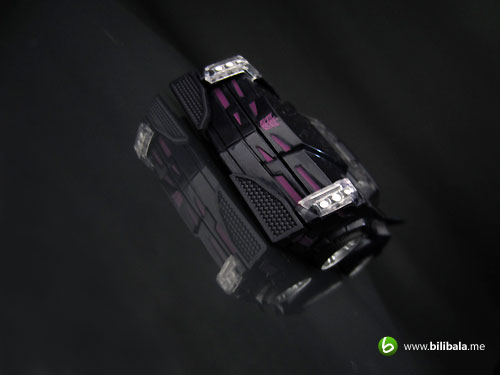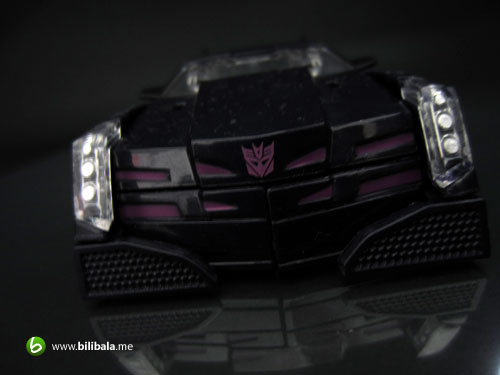 My favorite angle shot of alt mode. Vroommm…..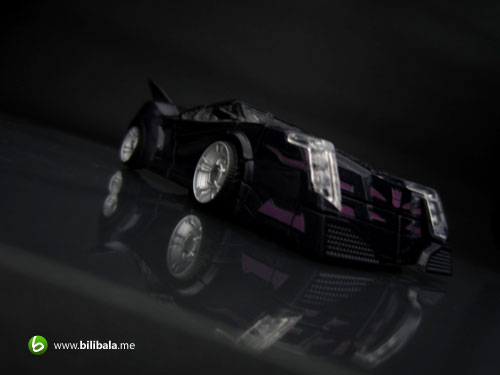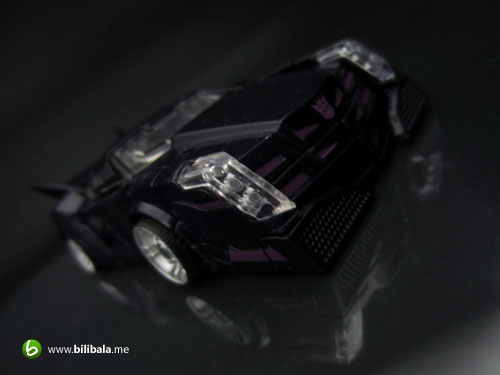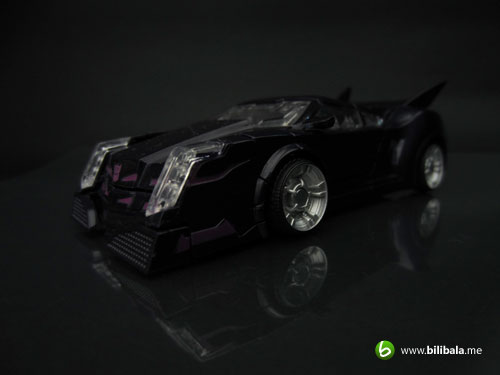 Here are some shots on him in robot mode.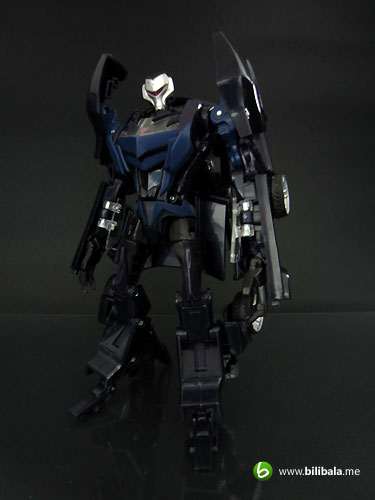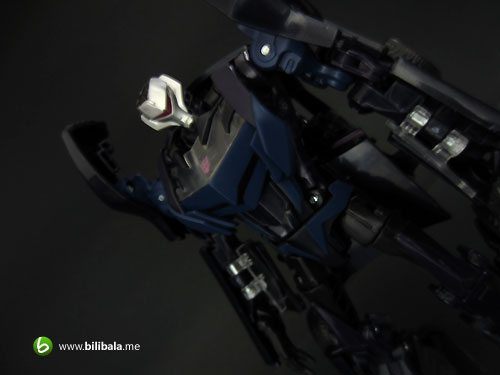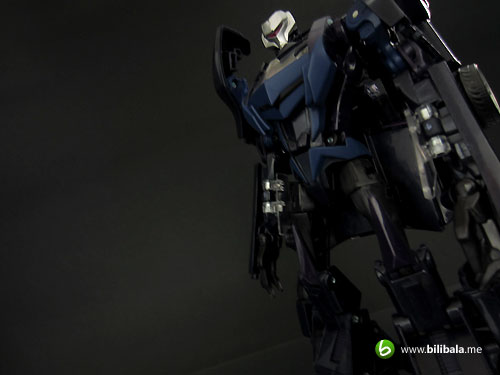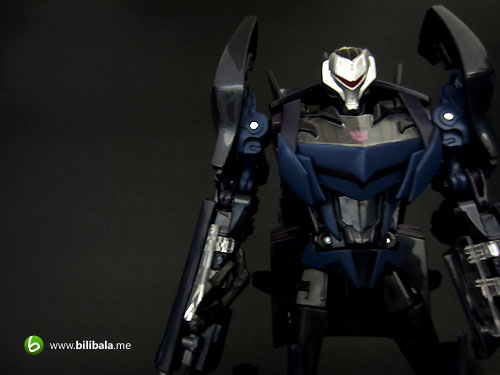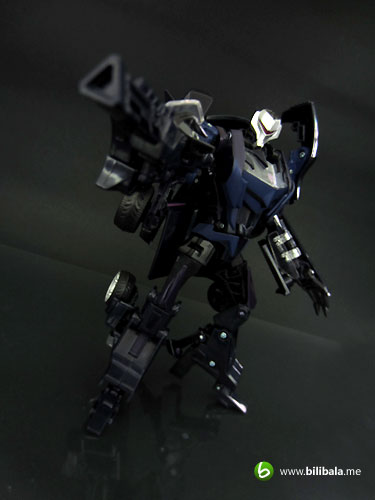 My favorite shot of the post :p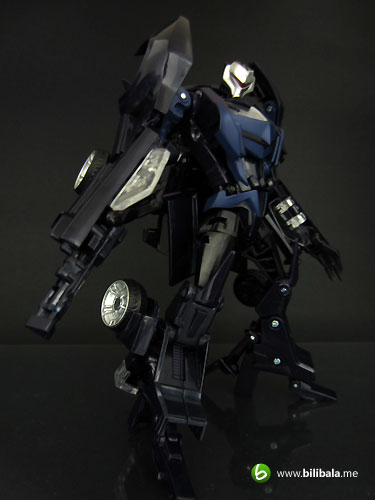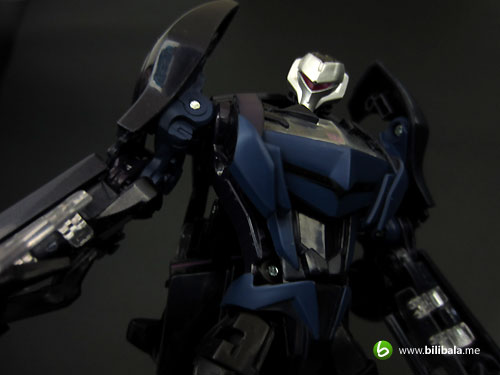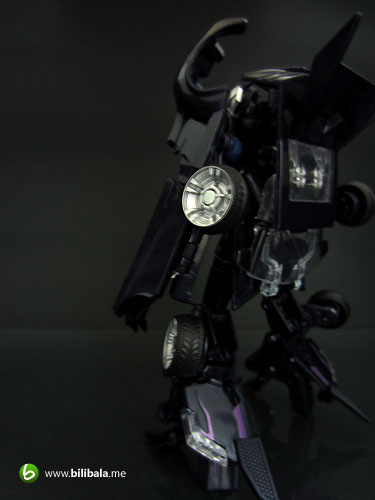 An extra shot in alt mode with the attached pistol to the front bonnet.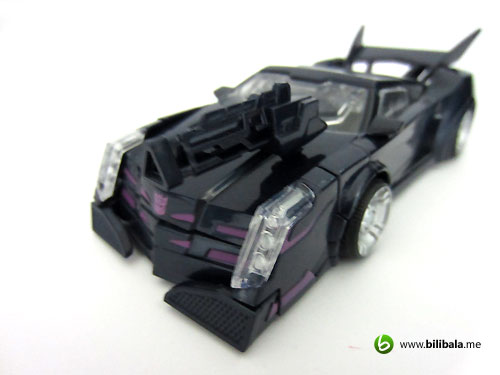 (G) Conclusion
First Edition Vehicon has exhibits great details with mass usage of transparent plastic for several parts. Colors treatment are of top notch and even with hollow painting, you will not see paint chip or unaligned paints here and there. Although the transformation is quite challenging for newcomer, it might pose some fun for those hard core collector as well. What I must say is, this is a great mold and definitely worth collecting. And if for those who are not fond of the back kibble of him, you might need to wait for the official release of him from Hasbro which features a totally new mold which I am looking forward to as well.
My PCR (Personal Collection Rating) for him: 8/10
What I like – Great color combination; nice usage of transparent plastic for several parts; good details; top notch paints; nice robot and alt mode design.
What I dislike?– Glossy plastic which are prone to dust and scratches; no elbow swivel joints which marred some of the posing; challenging transformation which newcomers might find it mind blogging ; quite pricey tag as compared to Hasbro with no extra gimmicks; one pistol with 2 holes at the bonnet?!
Until then, enjoy hunting and hauling! Be sure to like and spread the poison around :p