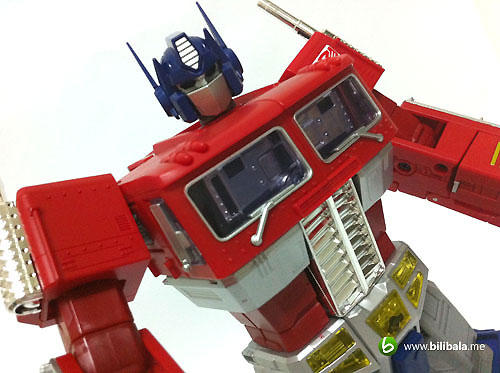 Transformer Masterpiece MP10: Optimus Prime
Read Time:
17 Minute, 3 Second
Masterpiece, the helm of Transformers toy collection which targets to more hardcore Transformers collectors (and not to mention about their fat wallets too). The latest in line would be the MP10 which released last year 2011 and surprisingly, again, is the Optimus Prime. Kinda like a turn off when you are expecting new characters like Galvatron and others to show up instead of the all-the-familiar Cullen voiced Optimus Prime. And much more, it makes a comeback with trailer again (just like MP04) but with a price tag higher than the previous yet with the smaller size. Well, before we just tag him as "white elephant" collection, you might change you mind after reading this long piece of image extensive ( over 150+ images) exclusive review of MP10: Optimus Prime.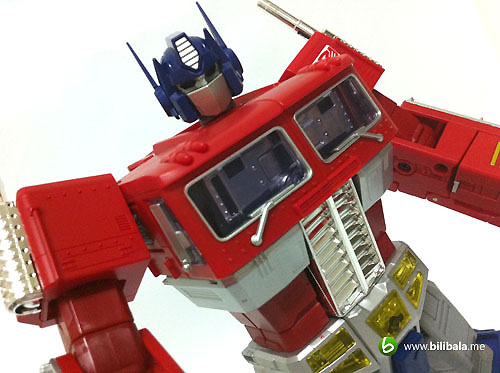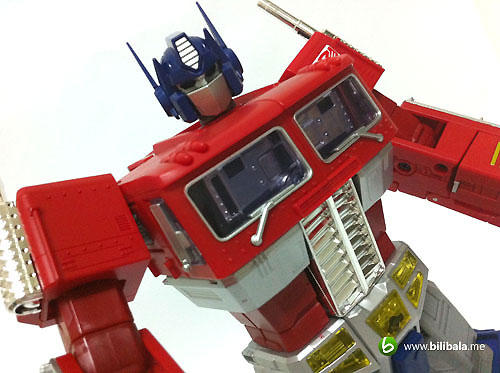 My Dilemma Pre-Feeling of MP10
A little more foreword to add in: Well, to be frank, before i decided to buy in this RM700 (roughly USD230) piece which definitely IS the most expensive individual piece amongst my collection, I wanted to know whether is it worth. As I already have the old MP01L (still MIB till now) lying around, why should I get another MP Optimus Prime again with the higher price? Not to mention, a SMALLER and less die cast made one too. And moreover, the QC problem haunted the thoughts of buying him as well. But in the end, i just couldn't resist the temptation but to turn in. Well, if you were in the same position as I did, do read on and you will find what's the attraction behind him and well, you might consider getting him on your collection shelves too.
Anyhow, do grab a coffee and read on with the long review. I promise, you won't be seeing the same old Optimus Prime like the old ones.
(A) The Packaging
Much like older Masterpiece and not to mention the MP09, they have the same packaging resemblance of beautifully printed and massive box. Well, massive indeed and be expected to see bundles of goodies inside the box.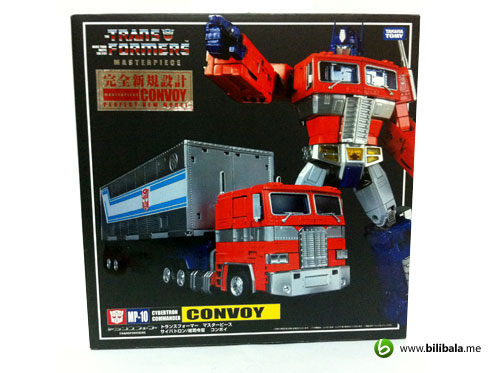 Some eye candies of what this baby can do and much like a "prospectus" of what this collection offers to his investor-cum-collector.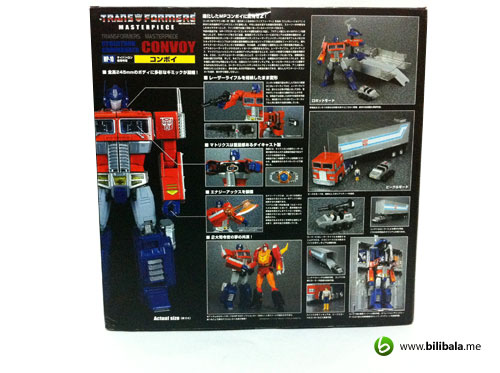 And something they wanted to let all of us know, this piece is labelled as "Perfect New Model" which well, it does have a new great mold, but the word "perfect", I will leave it to you to judge it.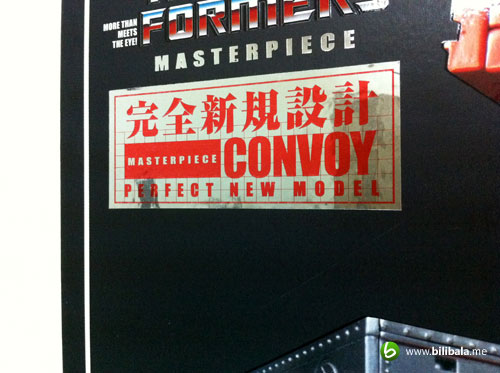 (B) What's in the Package?
Big box comes with big contents. How big? Say 9 items in all. Wouldn't you be excited to check out more? Well, here's a quick check list of what is inside the box (from the left and right) :
(i) The instruction manual; (ii) Optimus Prime; (iii) Mr. Spike Witwicky; (iv) Trailer; (v) Roller; (vi) Collector's coin; (vii) Bio Card; (viii) Plasma Cannon Rifle; and (ix) Energon Axe.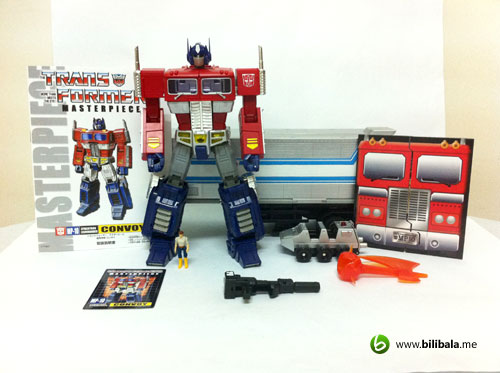 (i) The Instruction Manual
The instruction manual comes in A3 size. The usual would be highlighting gimmicks and common how-to transform stuff inside.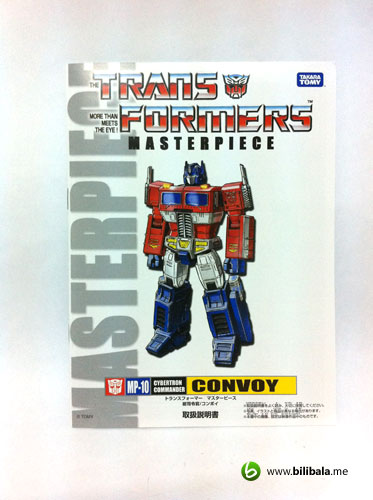 Well, the extraordinary bit of it would be the History of Convoy which is at the back cover. Speaking of die hard convoy collector, how many of these are in your possession?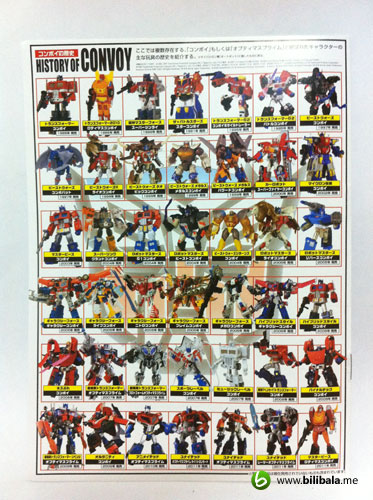 (ii) Bio Card
Another bio card for your character card collection (if you ever have one). Never a fan for card collection anyhow.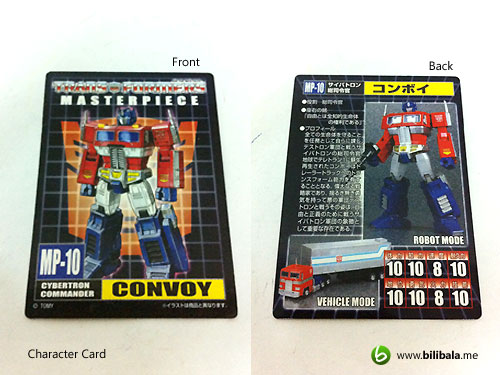 (iii) Collector's Coin
Guess what? The coin is back, in STYLE! Yes, I am not sure whether is this limited edition (like in MP09) or not, but it does come with a nicely design enclosure. Instead of the normal flip-to-open casing, you will now have a slide-to-open which much like reviewing the matrix inside the Optimus Prime. Pretty neat and definitely add values to the MP10 you have.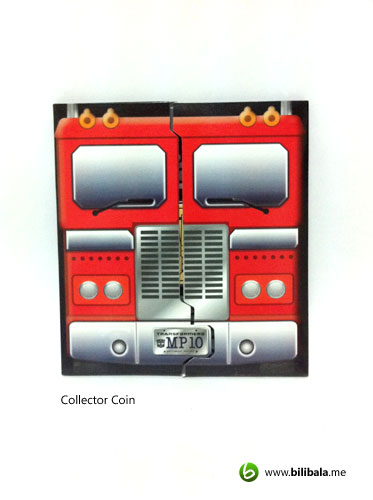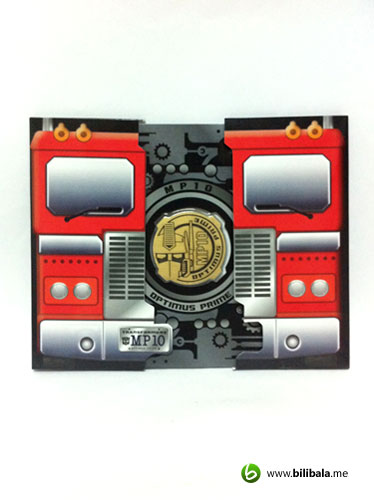 (iv) Mr. Spike Witwicky
Here's the part which other old Masterpieces don't have, the MP10 comes with a small figure and is none other than Mr. Spike Witwicky. I kinda like the idea of having a Human Alliance G1 Optimus Prime and this definitely a plus point.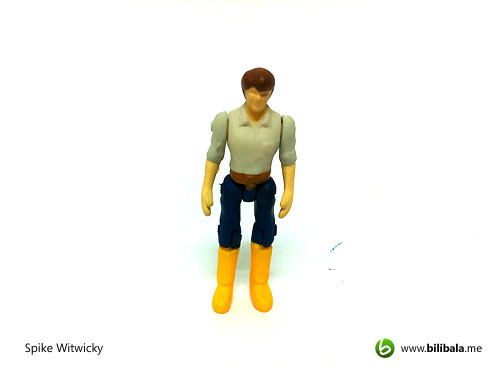 Well, being small, the figure has limited articulations: no head & waist turning and no elbow bending. Besides, he does have a very blurry head sculpture which you can really call him "Phua Chu Kang" with the brown hair or even construction worker with any Tom, Dick or Harry name if you like. Now, that's a joke 🙂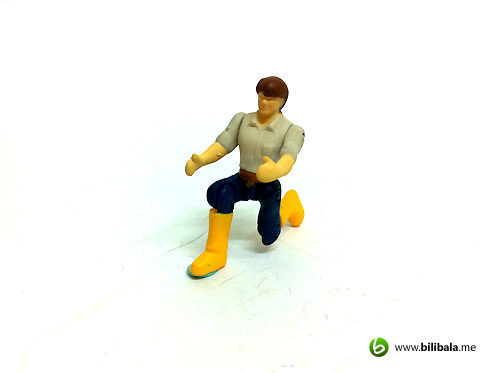 From picture, he does look like a big fella. Well, let's throw in a comparison with a bigger scaled Human Alliance BASIC figure. Hardly a competition at all. But anyhow, he definitely is in perfect scaled with the Optimus Prime which you will see later on in upcoming pictures.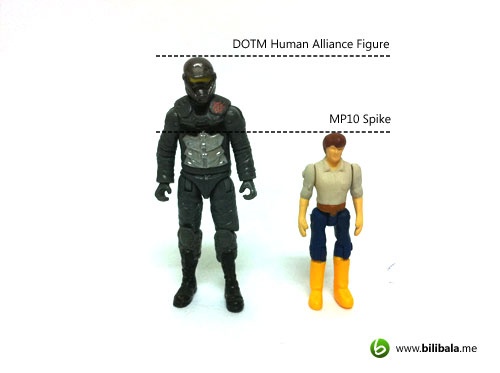 But before that, let's throw in some vehicles for him to compare with as well.
First off, comparison with an Alternity class. The figure does looks small and not very in scaled.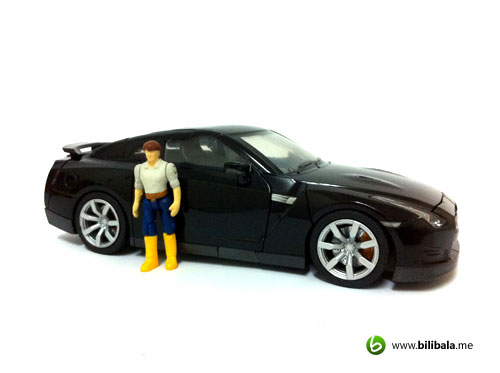 However, he does look okay when he is inside of the vehicle. Fits in just nicely and cosy.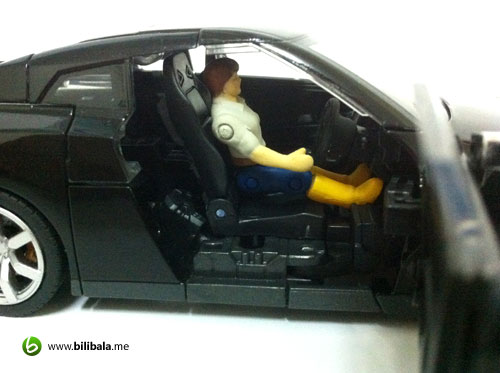 Well, comparison with the Henkei Rodimus Prime. Not much different from the size of Alternity.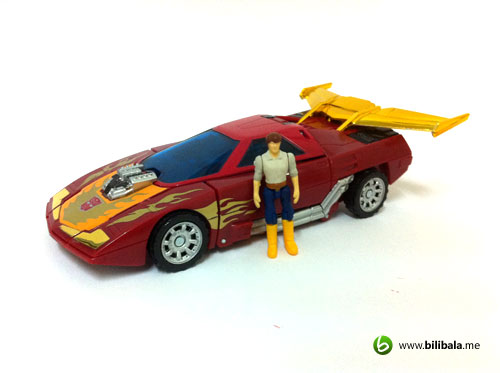 (v) Weapons
Well, the usual weapons you have for MP01/MP04, now you will be having the same in MP10 but with a redesign. The Energon axe now fits in nicely into the hand of the Optimus Prime instead of the need of swapping with the hand as in the previous MP OP.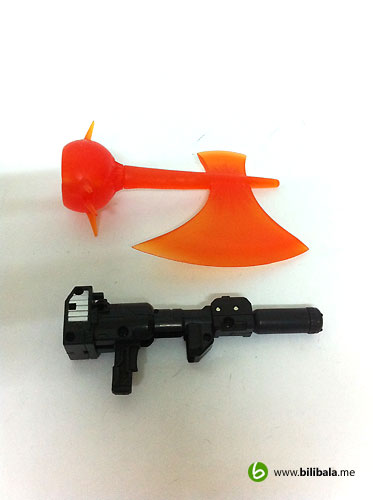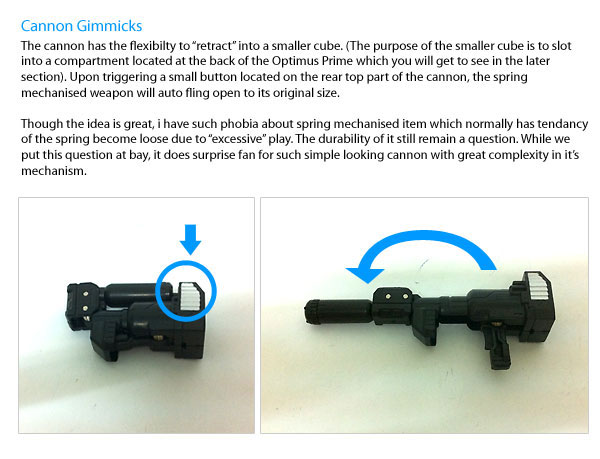 (C) The Roller
Remember in the cartoon, when Optimus Prime finished transformation and the trailer is suddenly went out of the screen? Well, this explains how. The roller that is. For what i know is MP04 doesn't come with this unless you buy the bootleg KO version or even the iGear trailer which comes with the roller.
Guess Takara Tomy heard the call for the need of roller in this release and they throw it in along with some gimmicks!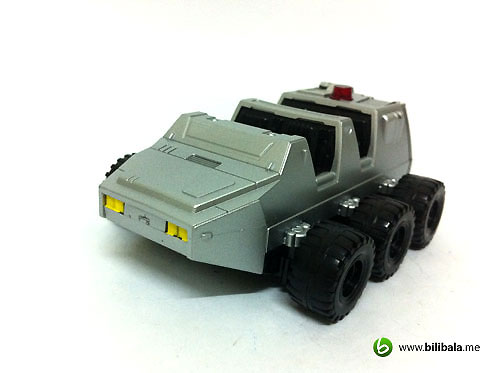 Despite being small, the roller exhibits much details and gimmicks. You will see the overall silver metallic finishing for the vehicle along with minimal yellow color painting for the headlights.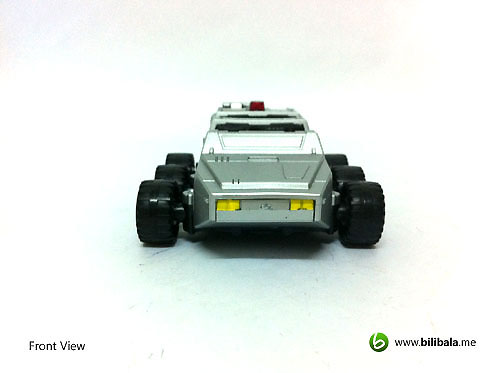 The translucent plastic roof siren light does add to detail. Oh yea, no matter how much I was hoping it to light up, it doesn't. Just mere aesthetic.
There are 3 pairs of wheels for the roller and no, it is not articulated like some of the rollers do (iGear's for instance).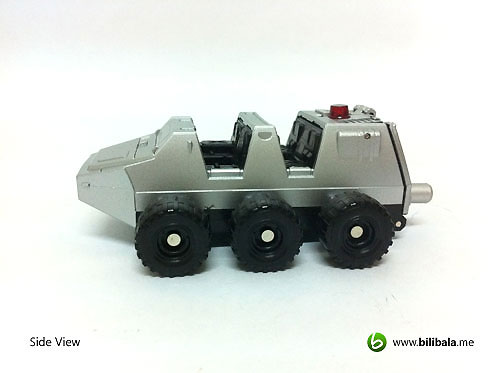 Plenty of seats to fit in for 4 (IF you have that much of Witwickys around). They are more than aesthetic and you can pretty much sit the small figure inside. But sorry to say, it is quite hard to fit in the human figures from the Human Alliances series.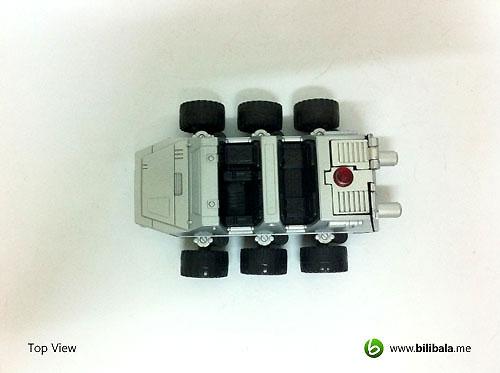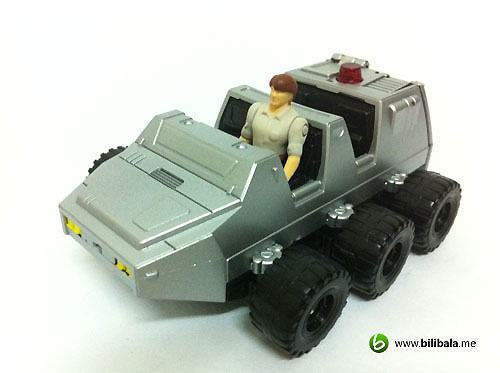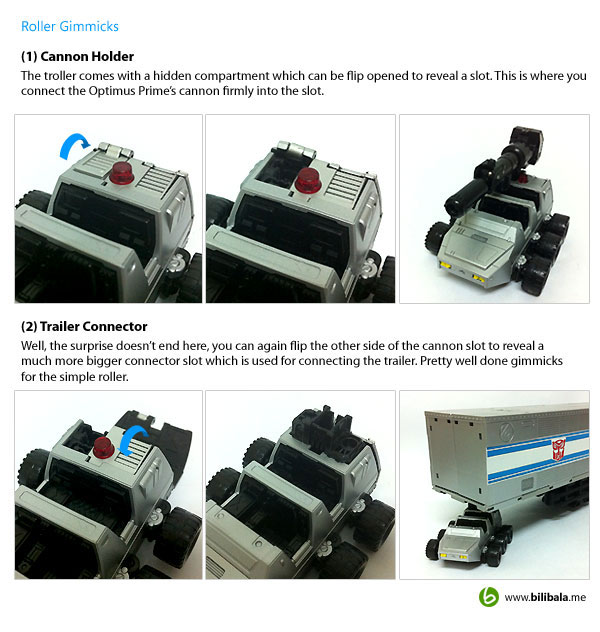 (D) Alt Mode
Personally i think the alt mode of this MP10 is very sleek and somehow has the blend of G1 look with a bit more modernized styling. I like how they redesign the headlights as they appeared in 4 squares with silver chrome plating now. If you have a MP01 and you definitely notice the difference over the headlights (MP01 has 4 rounded headlights instead). Moreover, the side mirrors are being redesigned as well, you can now flip out to reveal it.
Much die cast part has been replaced with chrome parts which can be observed at the exhaust smoke pipe, the petrol tank, front bumper and front grill.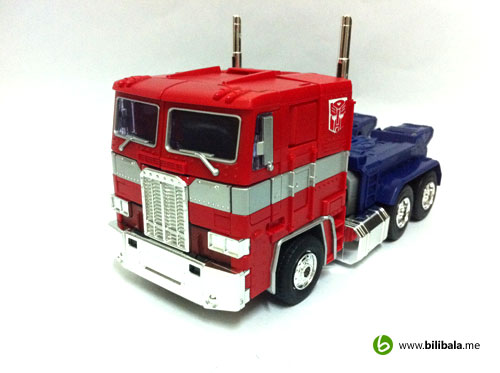 The chrome part does shine very well and looks very outstanding as compared with others.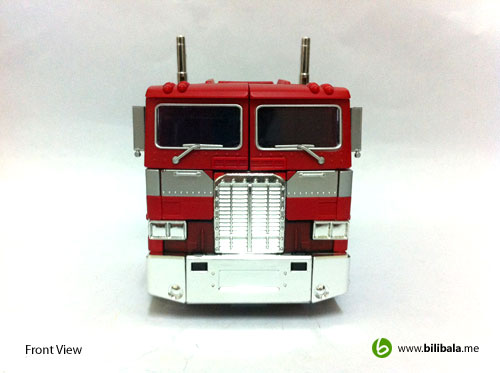 Another thing i like most is the treatment being done to all the rims. And yes, you are seeing shiny chrome rims there. Glad they have sacrificed the size and die cast but didn't scarify the details, especially the generous usage of chrome parts.
As for the tyres, they are made of soft rubber which you can actually take them out individually.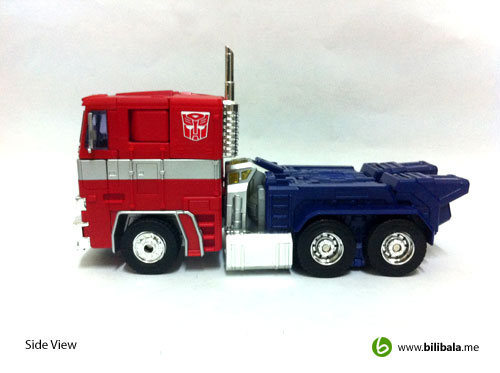 However, the rear light does not enjoy the same fate as their brother front lights do. They are just plain grey plastic, that's all. No special translucent plastic.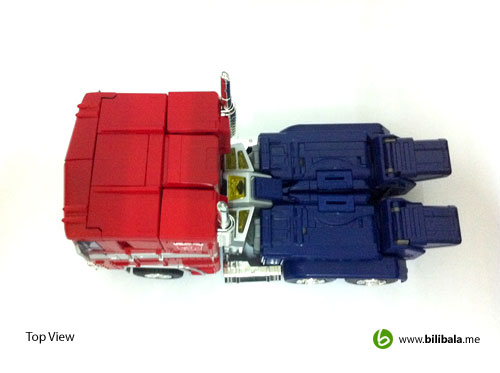 Size Comparison
The size of the robot between leader class and MP10 is quite near, and not surprisingly that the size of it in alt mode is also very similar. Frankly, if we take out the front protruding part of the new Freightliner truck, they actually have the same length.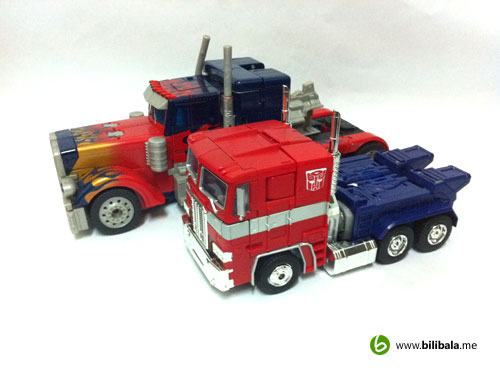 Besides that, it does look very much in scaled with my TFTM Ironhide.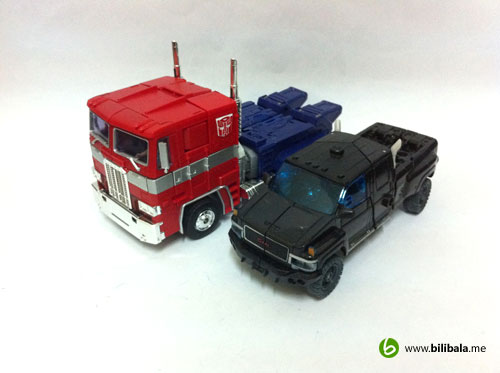 Here's some size comparison with the Alternity and the DOTM Topspin. Looks great and in scaled as well.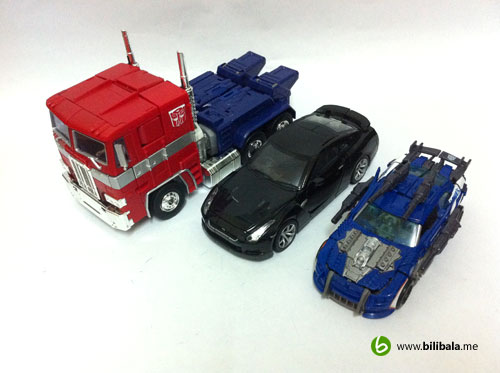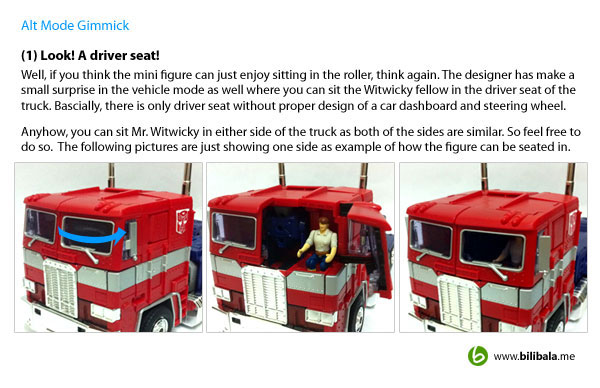 (E) Robot Mode
My first impression on MP10 Optimus Prime, he is very much more stylish as compared to MP01. The head sculpture is different and he now has a more streamlined body shape. However, if you expect to see die cast materials in him, you will be very much disappointed as most of the parts are of plastics and shiny chromes as replacements. As a result, it weights much more lighter and yield a better (yes far more better) pose-ability as compared to the previous.
I would describe MP01 as a display statue while MP10 is the walking, posing and alive packed with couples of extra articulations to play with. Believe me, the articulations are abundant to create a heroic leader pose of him.
A point to note though, those "ventilation" openings at the lower leg are pretty much static and there are no articulations for it. So, don't try to flip open and close them or you might end up opening up a much more ugly and bigger holes than it intended to.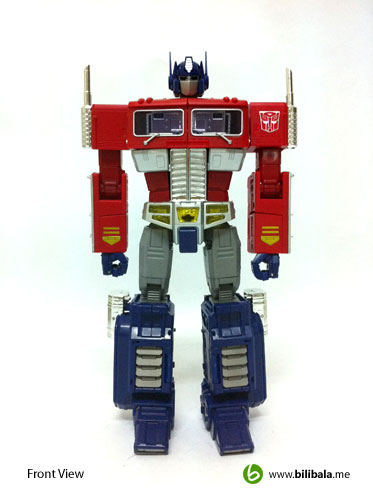 Overall there is quite minimum color paintings for him and quite some usage of chrome parts do add details to him.
And if you expect some ooo-la of electrical sounds & lights for the moolah you have "invested" in him, try to save it as he doesn't come with either. Maybe due to the smaller size of him, it is hard to fit in electrical parts. Well, i guess the other option is to mimic the sound manually. lol.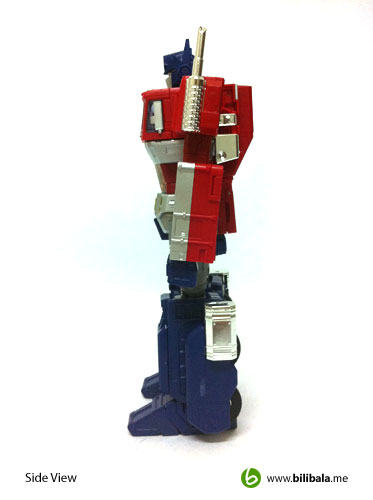 From the back, there's a big hole in the middle. Rest assure this is not a flaw of design but is something of a compartment for the plasma cannon he has. Will stress more on this part in the gimmick section below.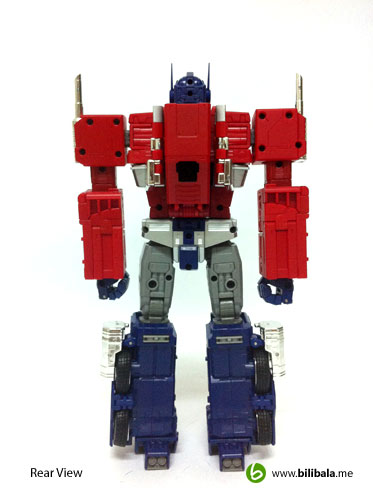 A nice re-sculpture of the head piece. Looks more decent and not so "blocky" now. There are no light piping for him though. Another thing to notice is, the 2 pieces of "antennas" at both sides can be turned for better reception posing.
The abdomen part of him is made of shiny chrome. And for those yellow colored deco at the lower abs of him is made of translucent yellow plastics which add to the details.
The overall plastic being used here is of matte surface plastic, just like the MP09 while you will see some shiny plastic around the waist area.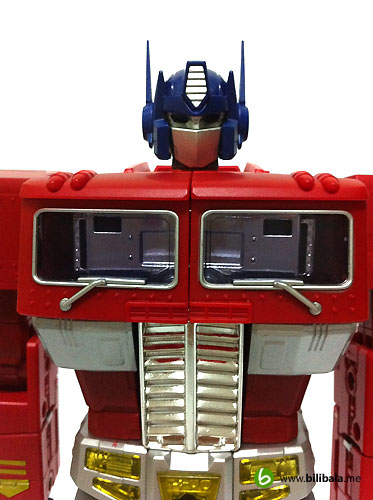 The figure is not entirely without die-cast. But least to say, it is being used in some lesser visible part which for instance, the solid connection joint between the upper and lower abdomen. And of course, the precious matrix of leadership (will touch more on this in the gimmick section).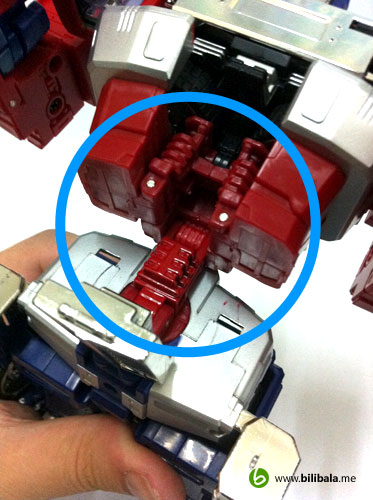 Size Comparison
Despite being the visually smaller MP10, if you compared side by side with a leaderclass, he doesn't seemed as small as he is. Well, taking off those much bulkier details from the movie version of Optimus Prime, i can pretty much say that the size is nearly the same.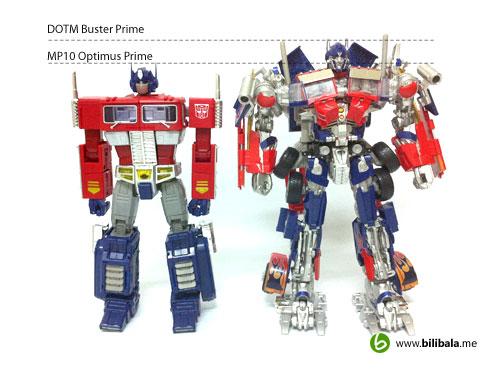 Another "selling point" of MP10 (and all coming MPs after him) will be the standardized size and scale with MP09. That's explain why the sudden shrinking of size. I guess partly due to cutting cost as well? :p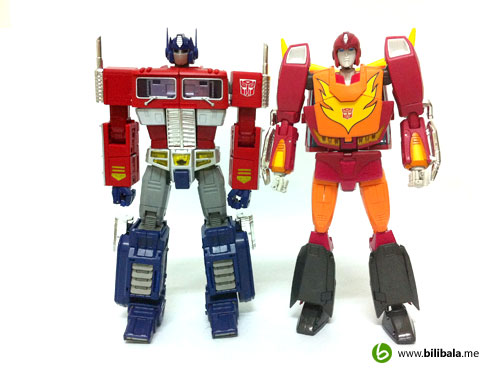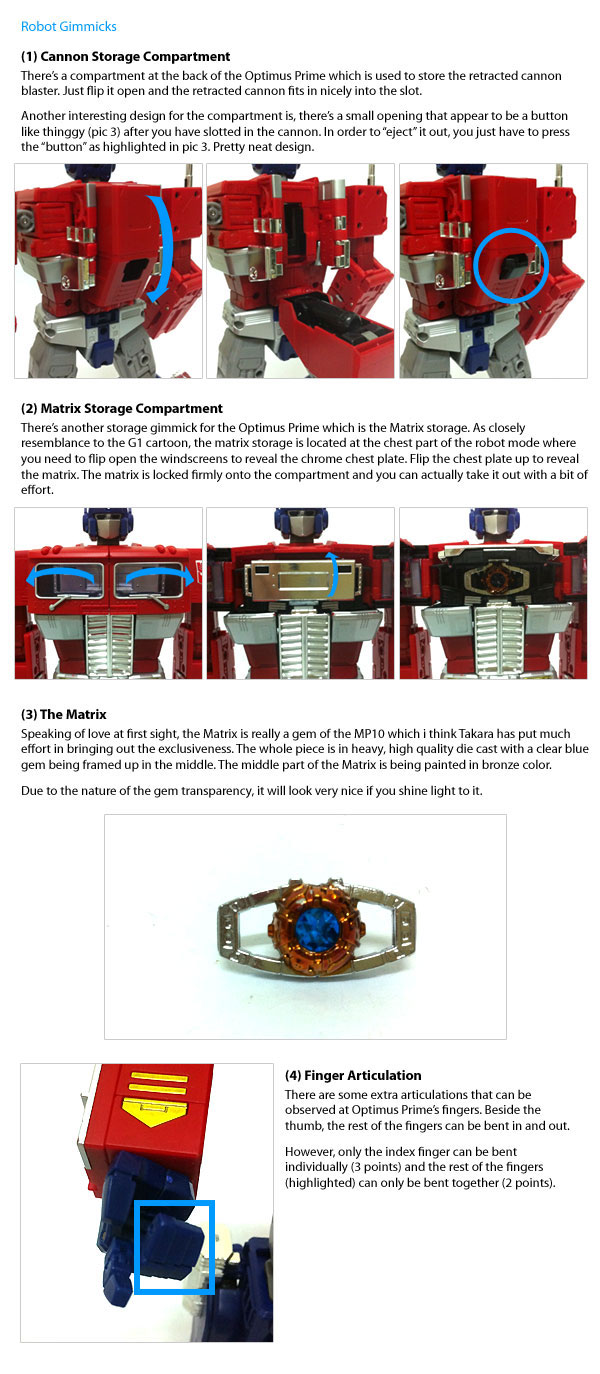 (F) Transformation
Seriously, the transformation of this Masterpiece isn't as difficult as it seemed and personally i think it is much more simpler than the ROTF Buster Prime. Much of the parts are very straightforward without mind blogging twist and turn.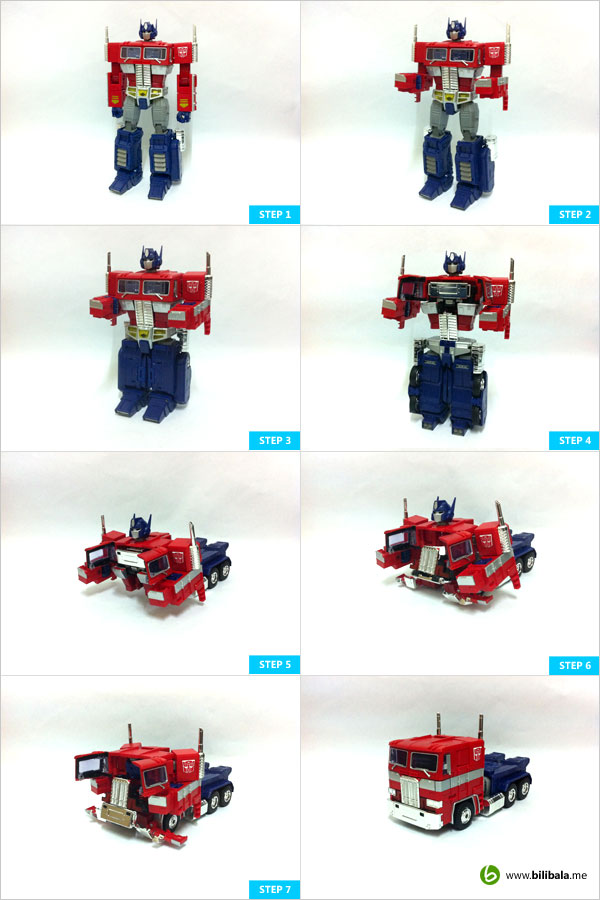 (G) Trailer
Personally i like any truck/vehicle with trailers and MP10 is definitely an irresistible attraction to me. Before that, i have read a lot about the redesigned trailer for MP10 and definitely is a piece worth checking out for.
For the new trailer, it comes with fully silver metallic color with striking blue and white stripe on both side. The Autobot emblem clearly embedded on both side of the trailer. Not much of a surprise as the old MP04 trailer has it too.
Other similar details such as the trailer stand and gas tank also can be seen.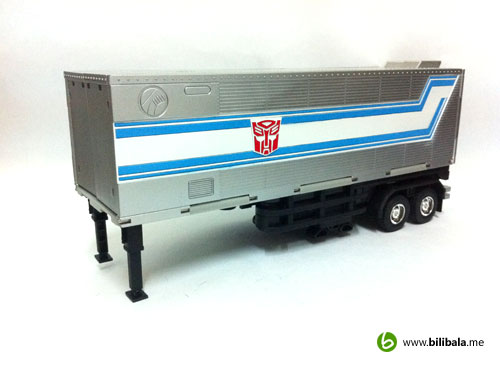 The rims also have the same treatment as the main truck. Yes, chrome plated rims which add to the realism details.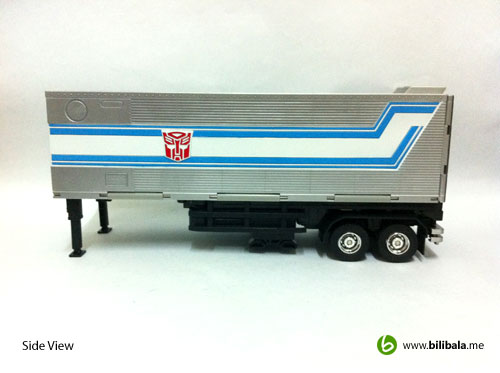 Smaller details you can see from the rear of the trailer are those door fringe and door shutter. What's more, the red translucent rear lights you won't see it in the truck itself will be placed here instead.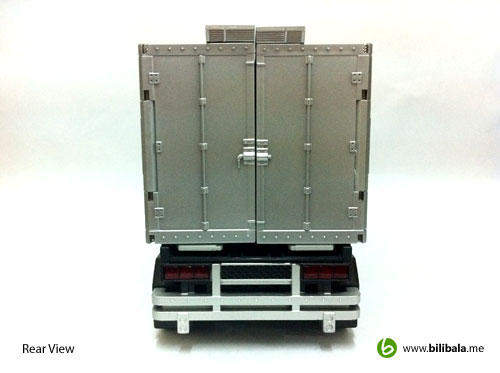 Beside the visible part of the trailer, the bottom part of it also exhibits much details as well.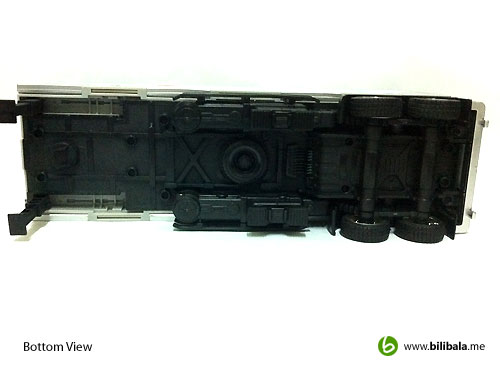 Details such as the spare tyre placement (in unmovable hard plastic) , gas compartment and some running wire can be seen as well.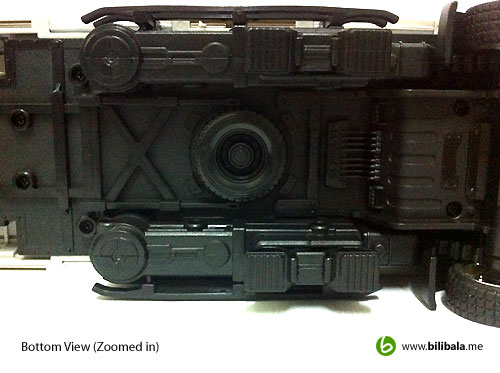 Although the exterior of the trailer doesn't seem to convince you of the term "redesign", once you open it up to convert it into a repair station, you might give it a second thought.
Well, you will still see the repair cramp in the middle but seriously it is not the same you will be seeing compared to MP04 trailer. And frankly 50% of the MP1o gimmicks come from this redesigned trailer (which i will elaborate more in the trailer gimmick section below).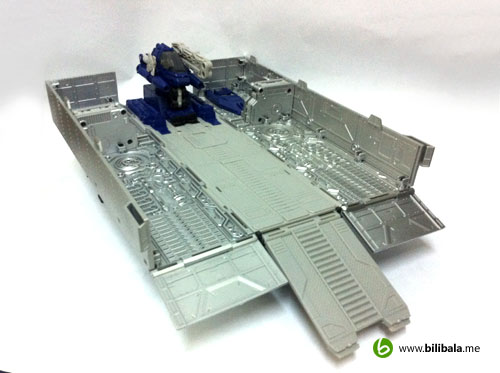 A very obvious make over of this new trailer is the details it offers to the collector. You won't be seeing flat running plastic lying at the wall of it enclosure. It is being replaced by silver metallic painted running circuit here and there. Yes, seem like they have invested a lot of in giving this piece as much silver metallic paints as much to justify the price tag. In contrast, those "interactive" parts will only appear in dark blue color. Speaking of monotonous color scheme.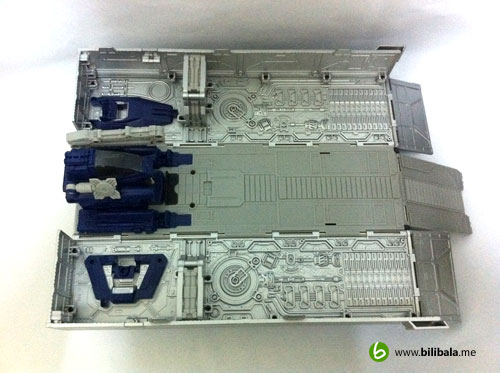 Here is a closed up of the details for trailer interior, painted in silver metallic color. Can't really make out of the "mechanism" here.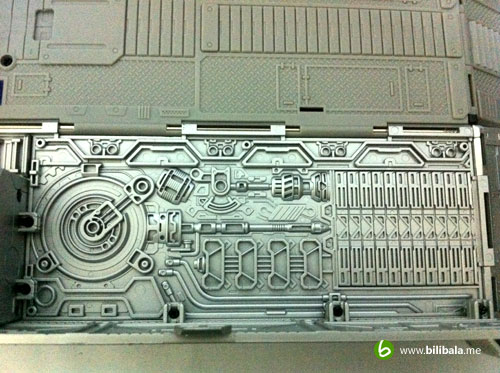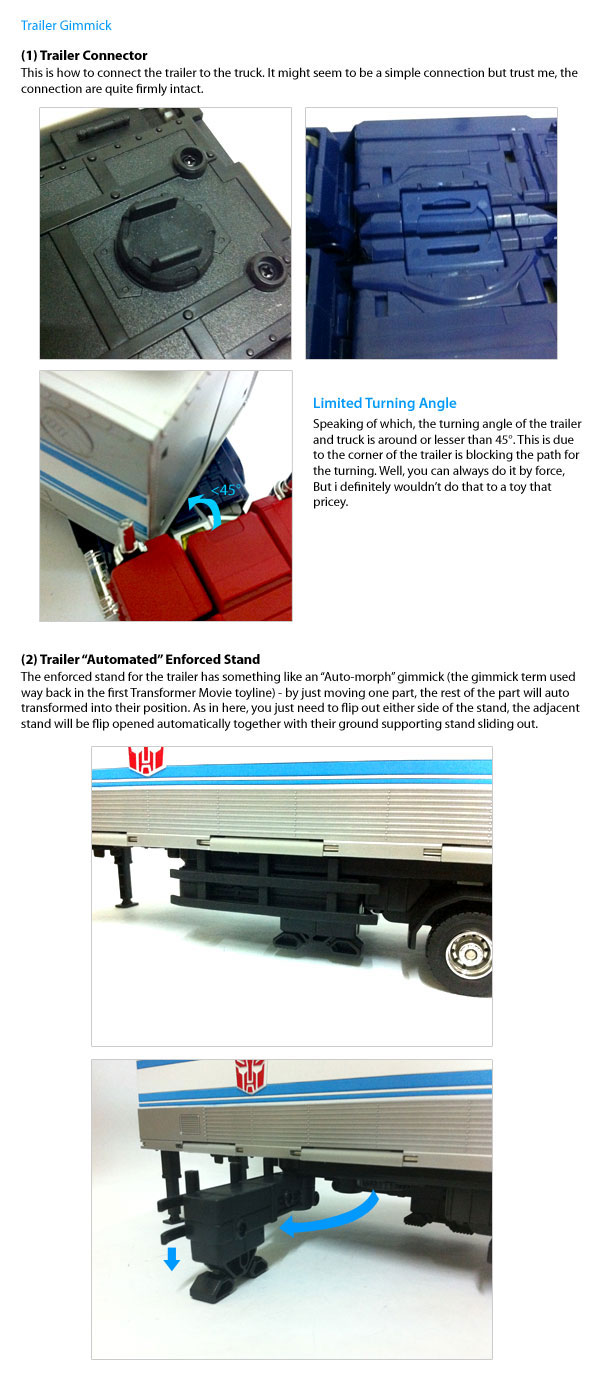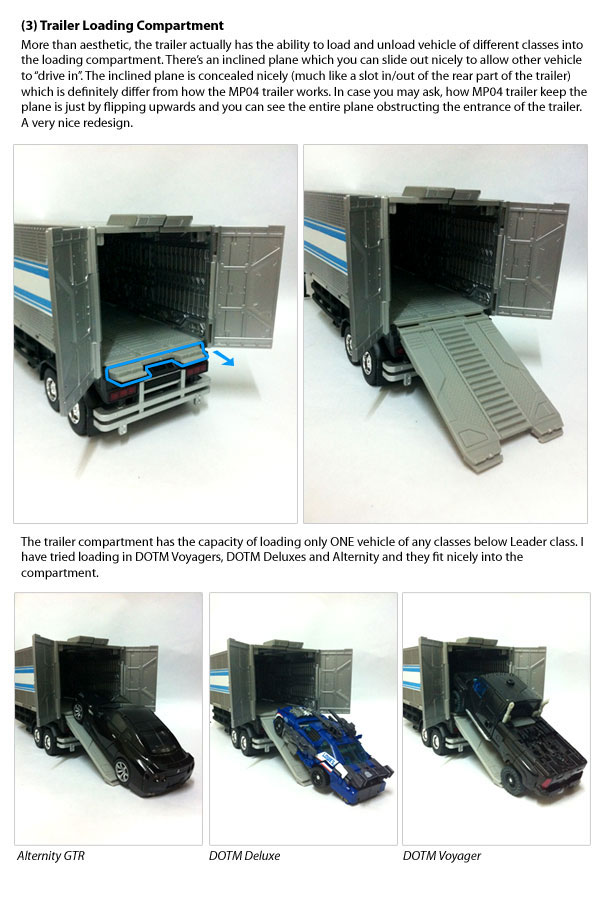 (H) The Bad & The Ugly
There's another reason that contributes to my dilemma of buying this piece: the defects and quality concern over this high priced collection. Frankly, what you have seen in this review, this is the 4th piece of the near 90% QC problemless collection which i managed to get hold. In other words, i have been exchanging and open up 4 boxes of MP10 and only to find this one of lesser QC problems. Disappointing enough, the 1st MP10 that i have is of unbearable substandard finishes which you would cry when you get hold of it using your hard earned money.
Well, before i highlight to you what happened to the 1st piece of MP10, let me show you some QC problem that i have encountered with this 4th piece.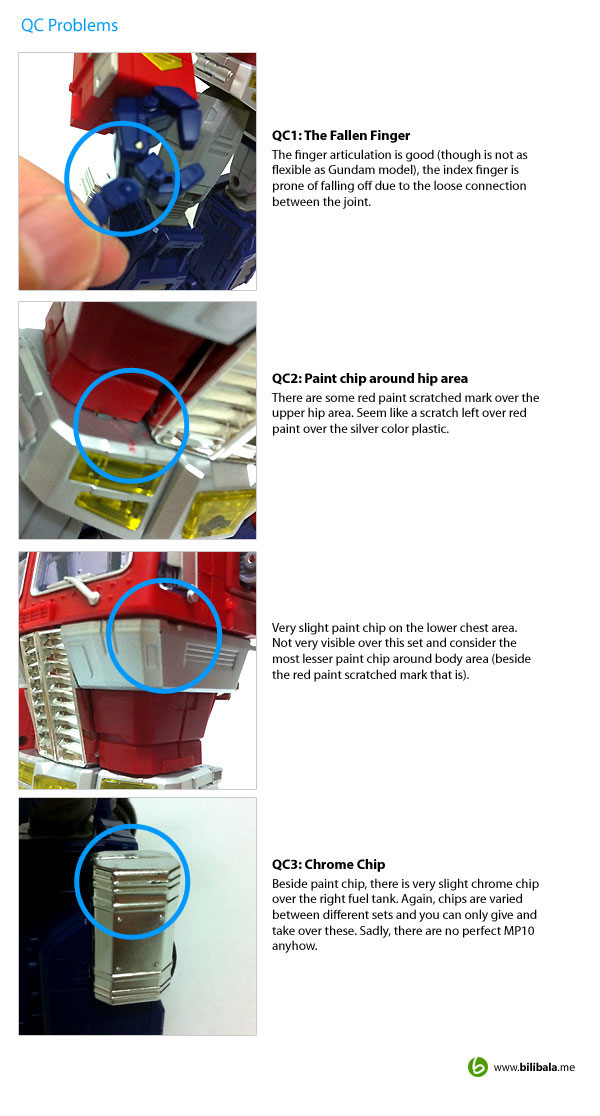 Oh ya, apparently the QC1 has been reported that almost all MP10s suffer the same fate. It only occurs to the right robot hand of him but the left one seem firmly intact.
Now, will quickly run down the 1st piece MP10's QC problem which i have faced and took the hassle of requesting for an exchange for a new one.
QC1: Someone really needs practising in cutting stuff!
The first one being the obvious one, you will get to see the disproportion cut over the rubber tyres. Although it doesn't occured to all tyres, it does have the possibility of 20 to 30% of occurrences in MP10. Seem like the worker are in the rush in getting these tyres cut out and fit in.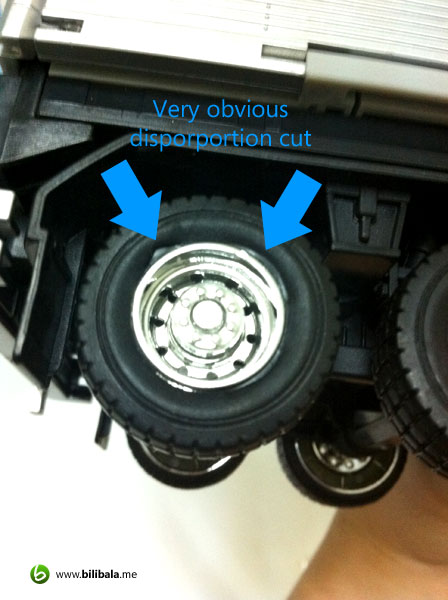 The trailer's tyres weren't only the unlucky one, the main truck also has suffered same fate as well. Oh ya, no worries on the Roller's wheel as they are hard plastic which is a relief. As much as i like to have soft rubber wheels like these, i really wouldn't like seeing them having such careless cuts which does spoil the word for being the "Perfect New Model".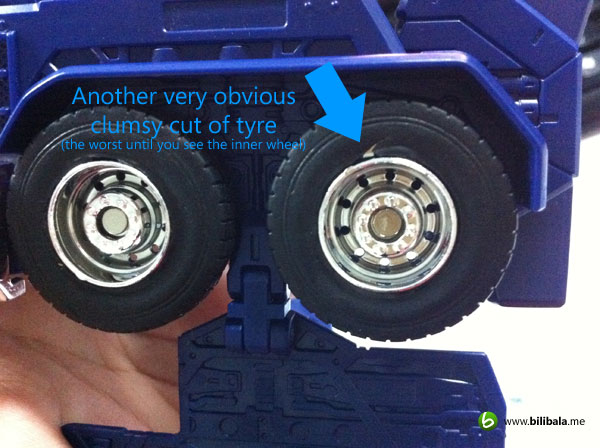 QC2: Chrome Cut!
If you said: "oh well, it just a cut on the tyre, i am still okay with it", Well, the next picture will not be as "acceptable" if you are paying the hefty price to own such an "exclusive" masterpiece.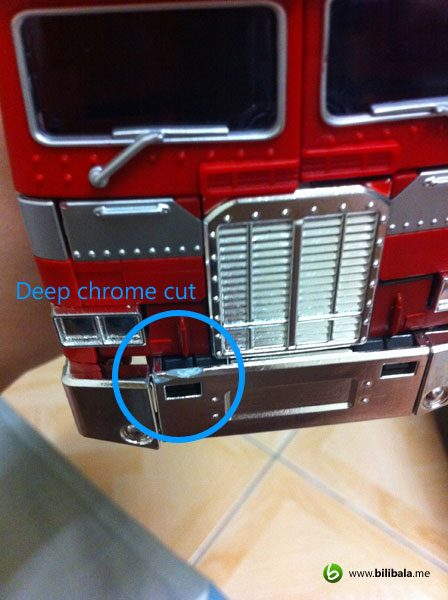 Yes, I can't really accept this kind of workmanship especially the very obvious position of this. And upon closely checking of all other boxes of MP10, i think this is the mold connector cutting point which EVERY MP10 will definitely have the mark. Whether it is as severe as the one in the picture or it is just a smaller and normal cut. But in all, this part is quite hard to trace especially when it is concealed inside the robot chest (the box comes with robot mode of Optimus Prime). You really have to take the hassle of opening the chest and look for it like treasure hunting.
QC3: Paint Chips!!!
Okay, beside the hideous ugly chrome cut and tyre cut, we have another problem: paint chips, especially around the obvious upper chest part of him. Well, not as "severe" as the chrome and tyre cut, but definitely is an annoying "bug" that you wouldn't like to see in your RM700 toy.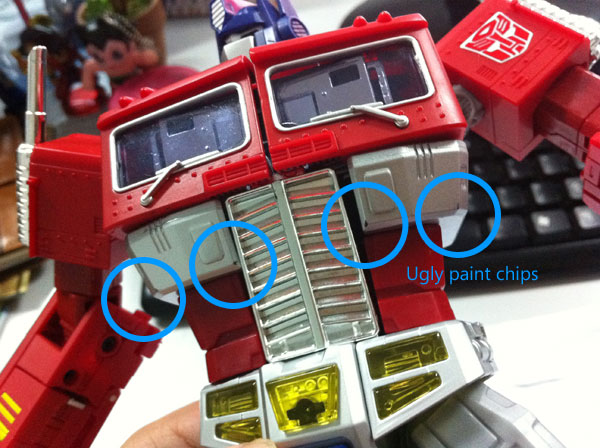 (I) Gallery of Goodies
You can't just have enough of him! So feast your eyes folks!
A majestic handsome pose as starter!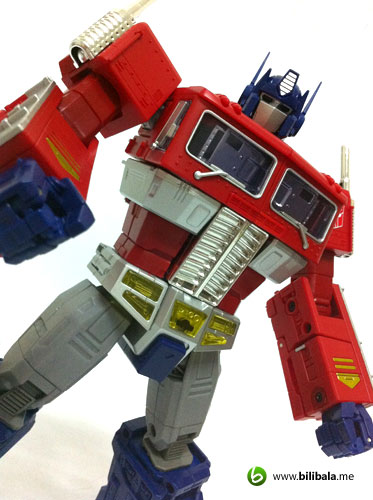 Nicely in scaled with MP09 Rodimus! Is great to see the 2 leaders making a hand shake!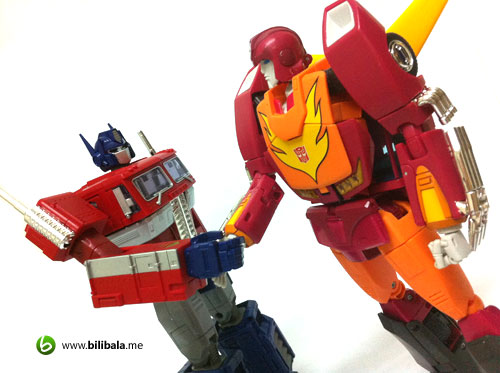 How about anyone?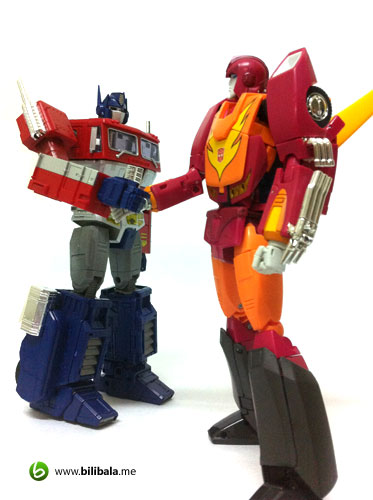 This picture shows how BIG is the Optimus Prime over the small Mr. Spike.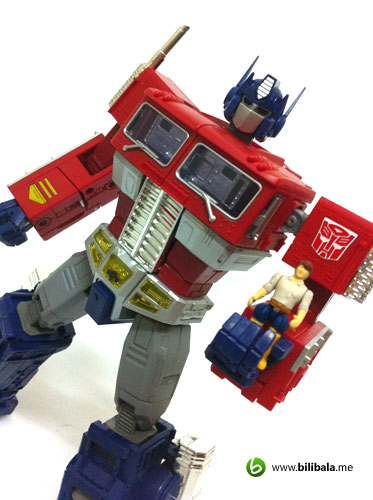 The small and the big.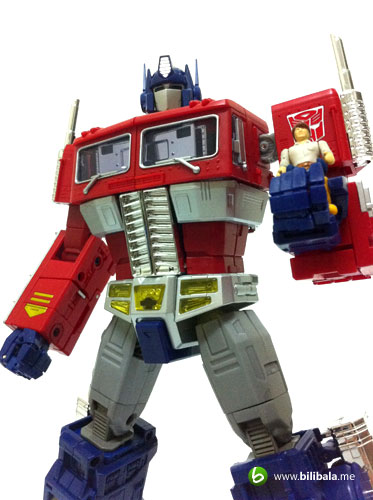 2 shots to show off the Matrix gimmicks from the chest of Optimus Prime. Too bad, there isn't any light emitting from there.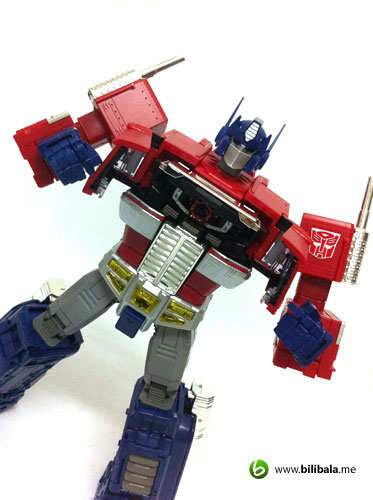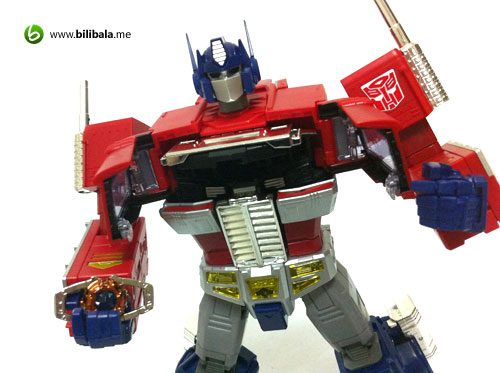 And now, let's do some free styling shots.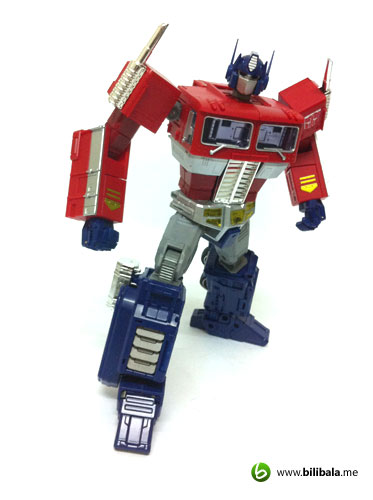 The figure is flexible and balanced enough to do a one leg kicking pose.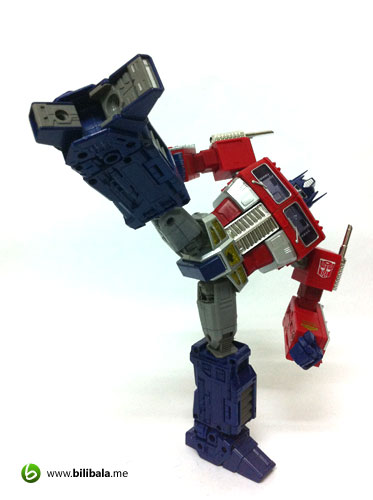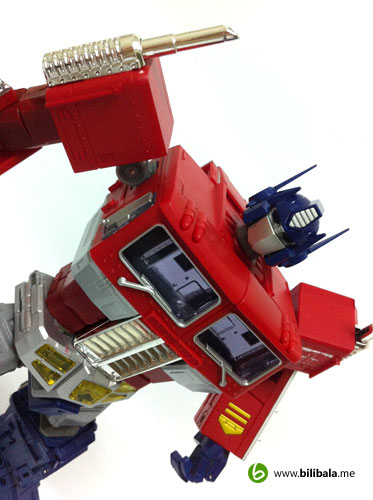 Now for some weapons shots with the energon axe and the plasma canmon rifle.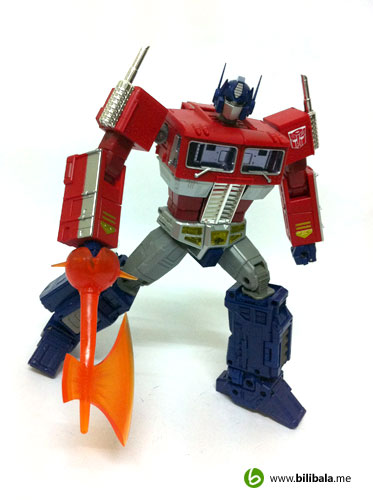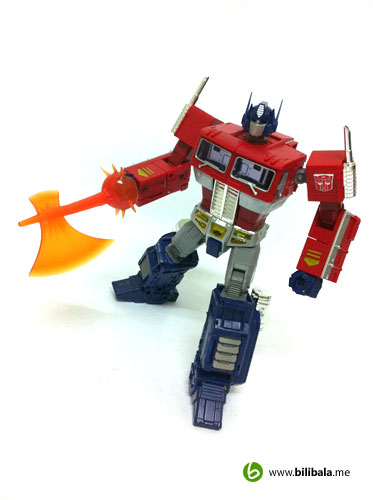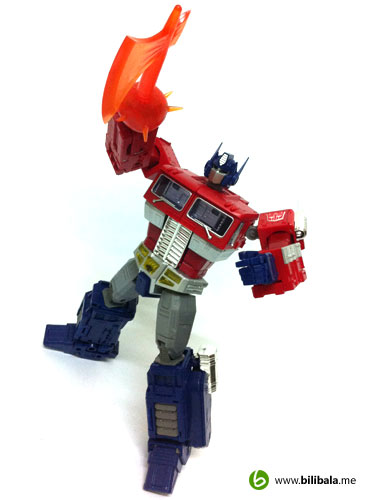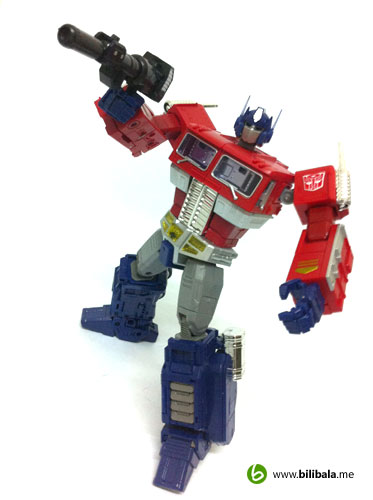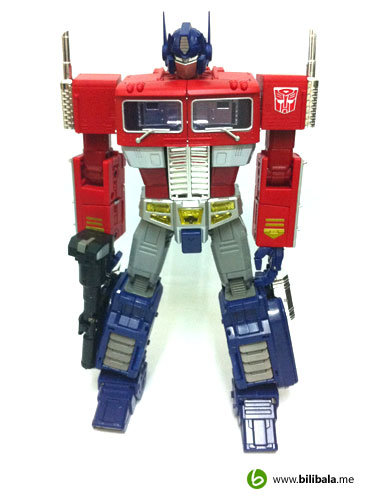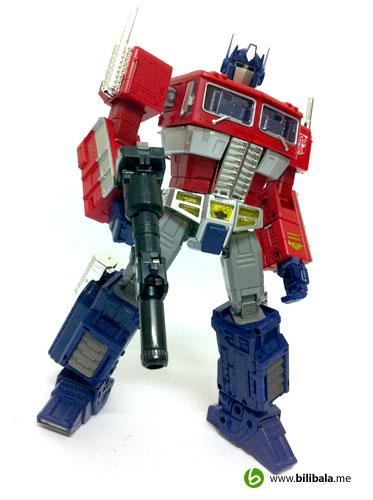 The one and only picture that is shot from the back of him.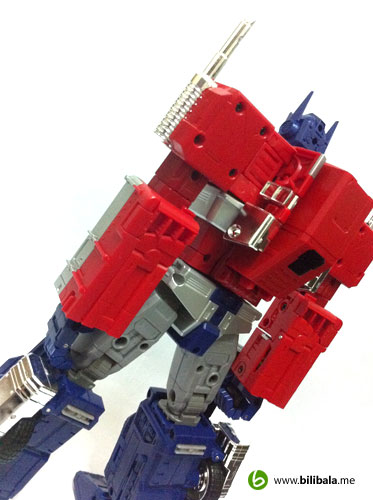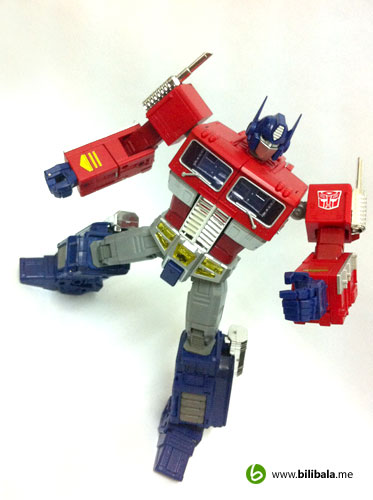 Well, some shots on the alt mode.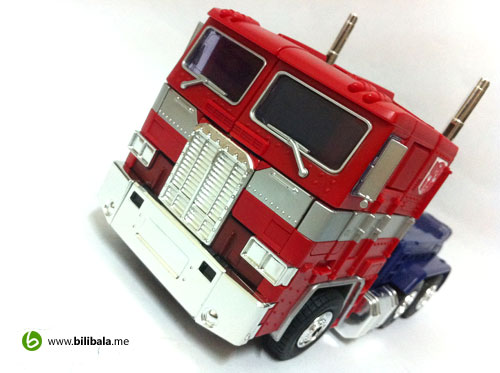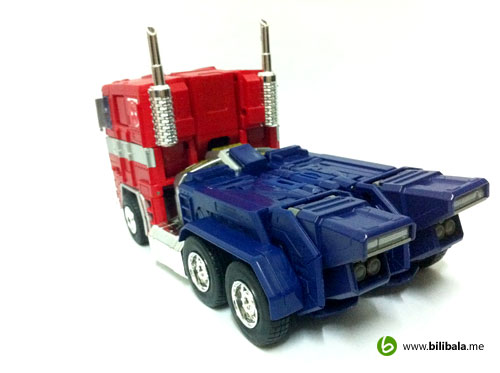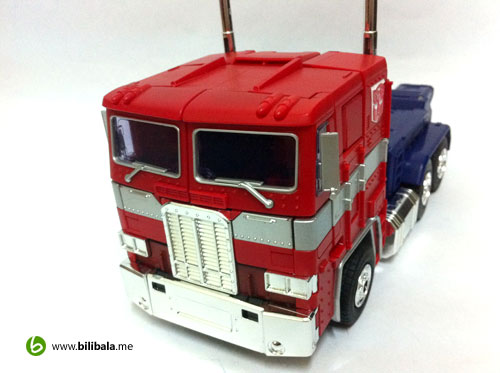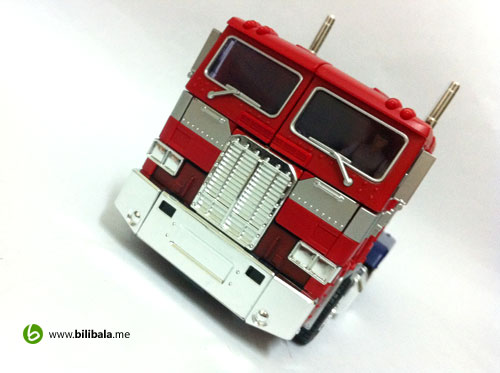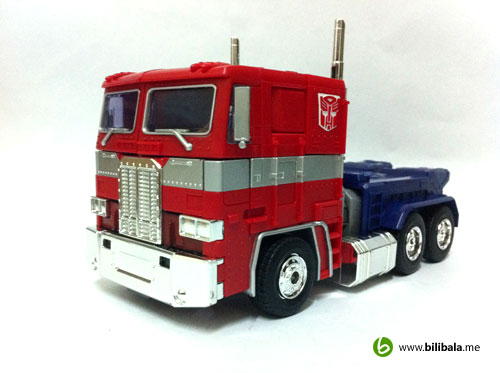 Trailer powered up!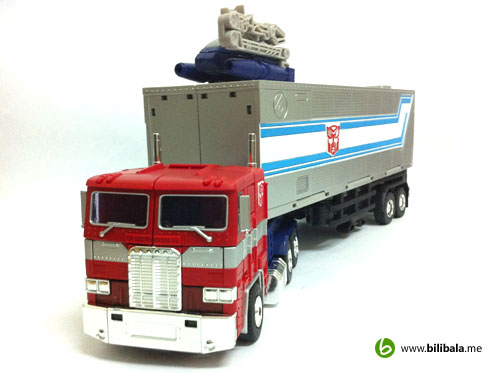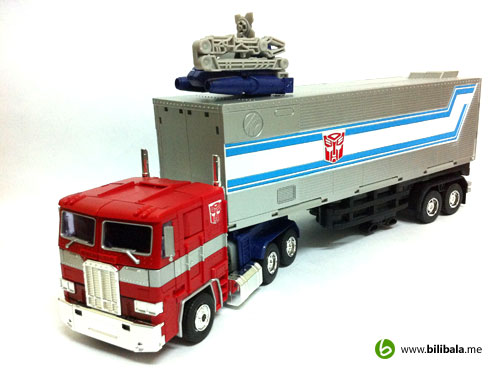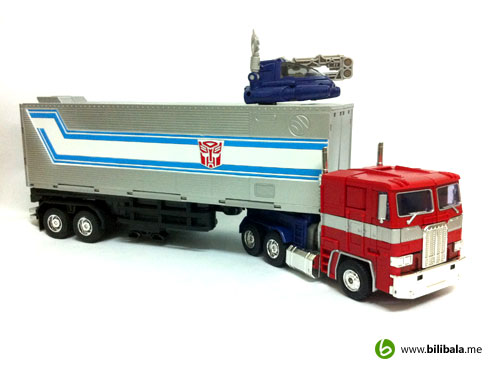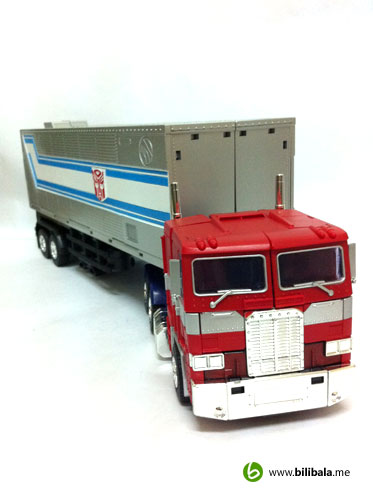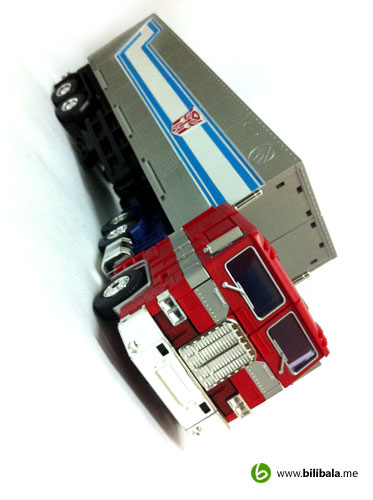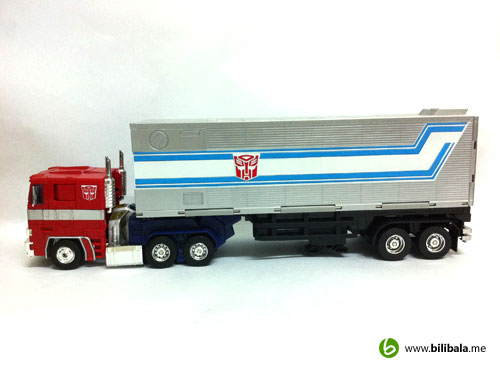 A shot from the back of the truck.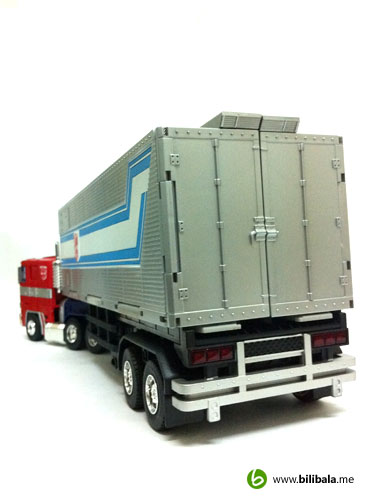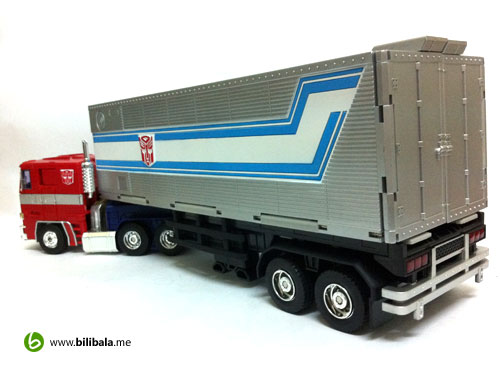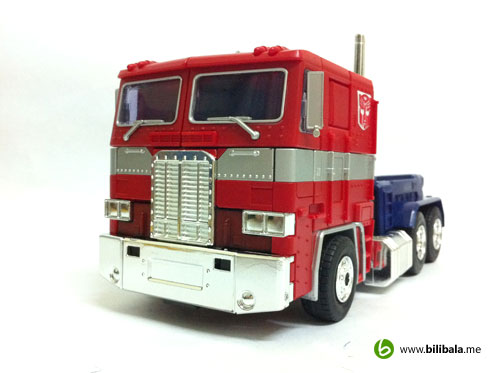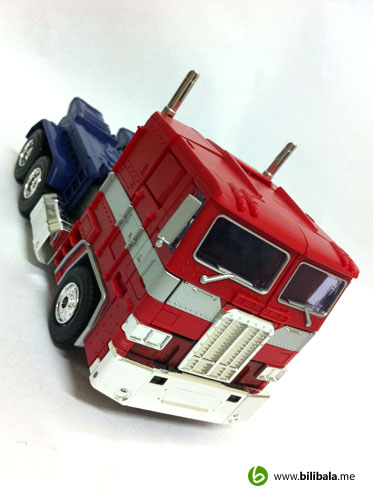 Finally, some shots with the repair/service bay of MP10!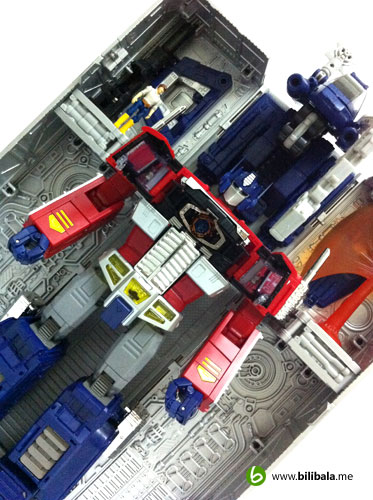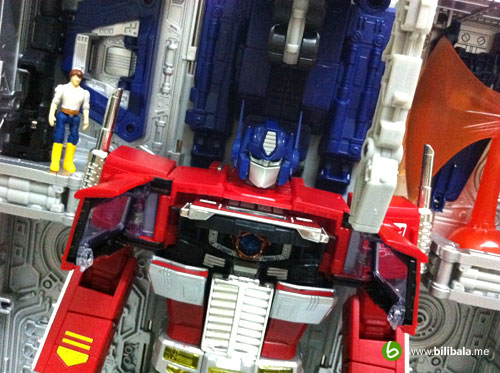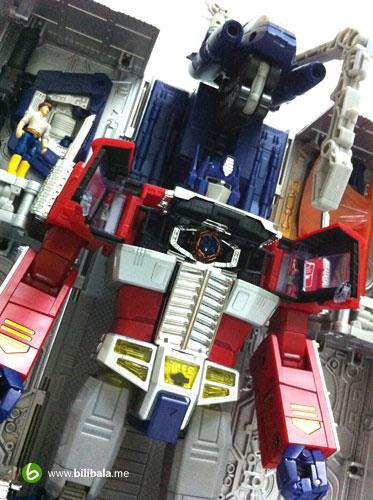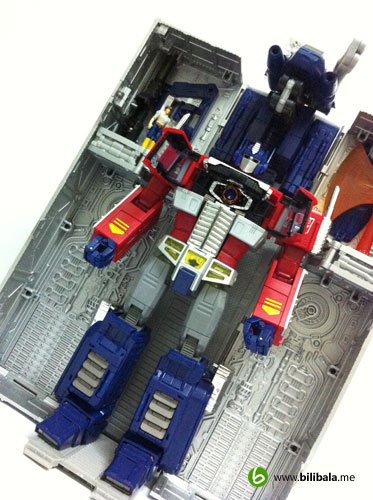 (J) Conclusion
If you asked me, did I ever regret buying this piece? Well, the answer is no. Frankly, there's a ton of gimmicks for this new MP10 which promises you hours of admiration and fun. Moreover, the articulations and pose-ability of this new MP10 is amazing as compared to his older brother MP01/04. If you have MP01, you might want to get an additional MP10 just for the fun of posing and play with him while the previous one you just putting it in stationary position (if you have the budget that is).
Well, MP10 is not as perfect as it seemed and definitely the QC is a big let down for fan forking out that amount of money to buy such problematic Masterpiece. The toy is fun and nice, just the QC problem is quite worrying especially if you are planing to keep it for MISB for resale later. My advise is, check properly and you can't really avoid opening up the box and check the contents inside. You might not be surprised to find a missing side mirror or tyres too (serious, i have a collector friend with missing side mirror MP10, bummer, rite?) SO, by all means, open up and check!
My PCR (Personal Collection Rating) for him: 8/10
What I like – Great pose-ability, much more greater than the big clumsy MP01; Sleek and fit body design; tons of gimmicks; Nice and generous use of chrome parts and silver metallic paintings.
What I dislike?– Very pricey for an almost 80% plastic made toy; A lot of QC problems; no die cast parts; no electrical lights and sound.
Until then, enjoy hunting and hauling! Be sure to like my post and page ya :p