Bilibala Certified DOTM Wishlist! [updated]
Read Time:
1 Minute, 29 Second
Finally, official prices and list of Transformer3 : Dark of the Moon toys have been released at e-toyz website for Malaysia. Judging from the listing (which has not specified which is of Wave 1 release or Wave 2), there are quite a number of tasty toys coming our way. Interested? Get a glimpse on the upcoming toys and price here.
As a collector of Transformers toys, i have already made a wishlist (more like a shopping cart) for the upcoming toys. Well, for those who want to buy me toys as birthday presents (which is on the 15/5), you have more choices now :p But do let me know in advance what to get for me as i scare there are redundant collection ya :p
Here's my wishlist and soon to be my collection 🙂
[UPDATED] BIG THANK YOU to my friends and colleagues! They are very generous in contributing to my Dark of the Moon collection as my birthday present!!  :p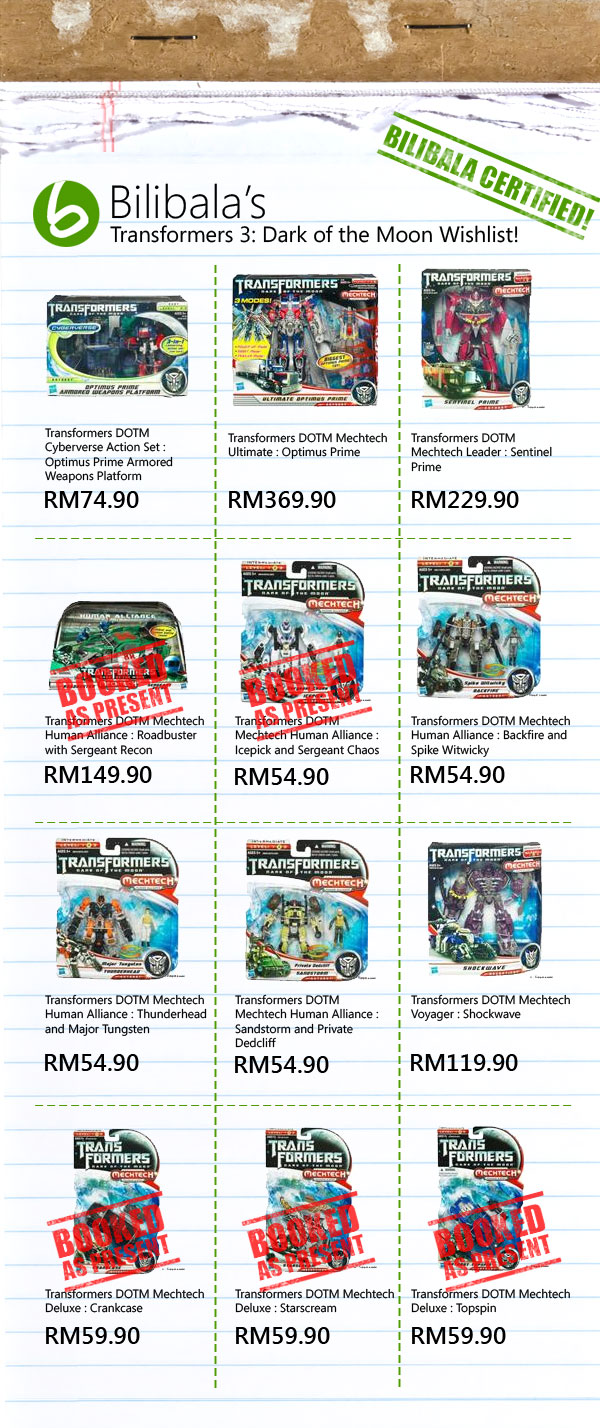 Well, it wont be too long for the wait as 1Toy has organized a midnight Transformers 3: Dark of the Moon launching event this coming Friday (13/5)  starting at 10pm and sales at 12am. The venue will be at Taman Jaya LRT station at A&W in Malaysia. Just remember to mark this event on your calendar and of course, GET READY YOUR BULLETS (ehm, i mean MONEY)!
[Update – 10/5, 3pm] Midnight sales has been canceled due to the stock can only be arrived on Saturday morning. Bummer…And not sure is it a postpone or a total cancel. Still KIV 🙂
[Update – 11/5, 7:30pm] Sales has been changed to Saturday morning at 8am. Some shops are having the same morning sales as well! Great!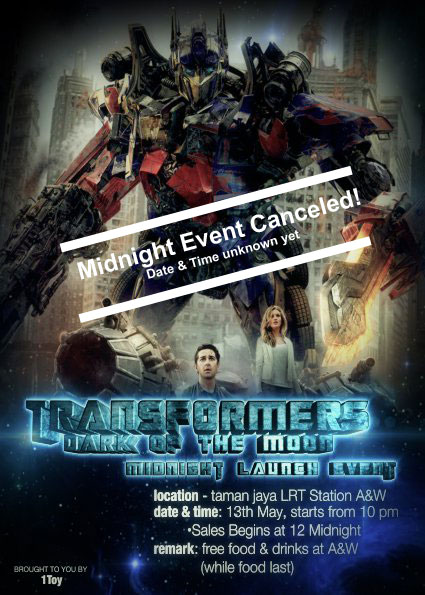 Happy hunting and waiting!