Atmosferian T-Shirt Design
Read Time:
2 Minute, 52 Second

I always like casual designing like designing T-shirts without the influence of clients. Normally clients do limit my creativity on certain ways and can't really explore and experiment it out freely. But seldom i got the chance of doing so in the office, so i have my chances working non-profitly for some of my friends :p like this one i am sharing here.
This 2010 personal project  is actually a t-shirt design required by my friend for his condominium neighborhood. He wanted some identity for the owner club to be shown in the t-shirt. The rest of the creativity lies to my free mind. Anyhow, the main identity and tagline for Atmosfera Condominium is actually a dandelion bearing the tagline "Lifting me higher". So, is a great start from there and to include that into 1 or 2 of my design.
I have managed to come out 7 designs with different unique and individual themes:
Design 1: Light and Easy
Overall design concept is light which you can see in lighter and featherlike line arts to bring out the concept "Lifting me higher".
The front only show 2 dandelions being flying and the back up show the "source" from the dandelion branch which are being symbolized / tagged with "atmosferians my-kondominium" wording on top of the back shirt.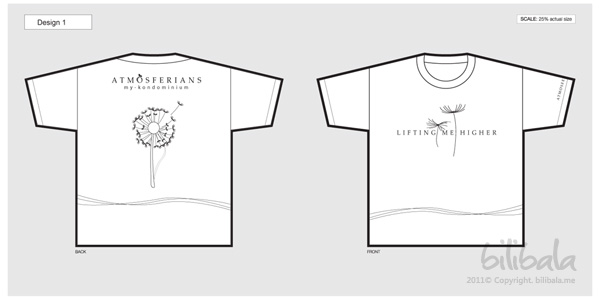 Design 2: The Stand-out!

Overall the whole design is to make the element standout by using more solid graphics and color contrast (color can be vice versa – white background and black element)
Similar concept with design 1 but using different art direction which plays more solid graphics and increasing more dandelion branches to give more standout presentation.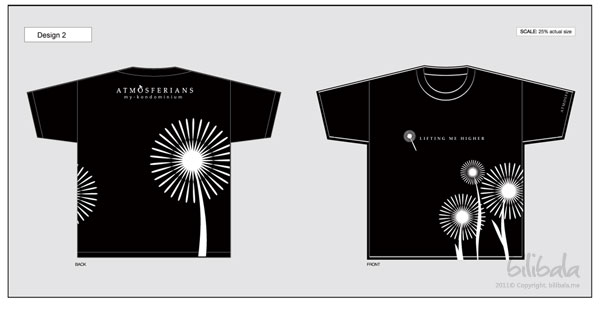 Design 3: That's me! An Atmosferian!
Overall concept is avatar based representation of atmosferians.
I was trying to blend human element into the dandelion to show the relatedness between 2 of them.
This is more straightforward approach that you ARE the dandelion ("atmosferians") .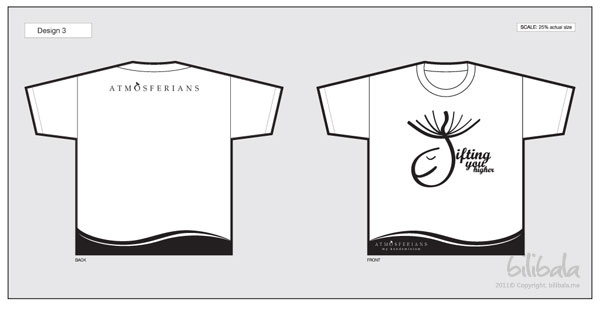 Design 4: Tribe Atmosferian!
Overall concept is just using a tribal/tattoo type to represent atmosferians. Very urban look.
Very standout "tribalized" of the dandelion, just as simple as that.
The tribal IS the logo for the atmosferians.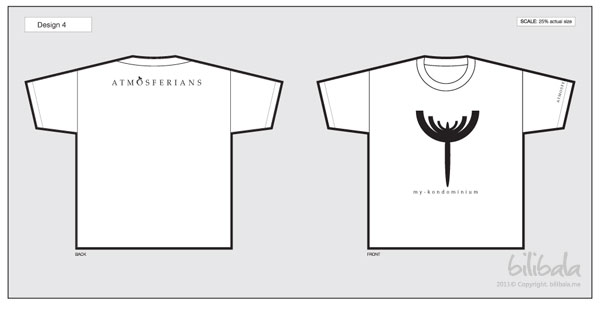 Design 5: Atmosferians Fun!
I was thinking of the fun of being atmosferians with the use of icons to symbolize the element:
Drink (yumcha) + Friends + Our Atmosfera condo + Chit chatting (having nice time chatting) + Sports = Atmosferians!
Overall, is just FUN!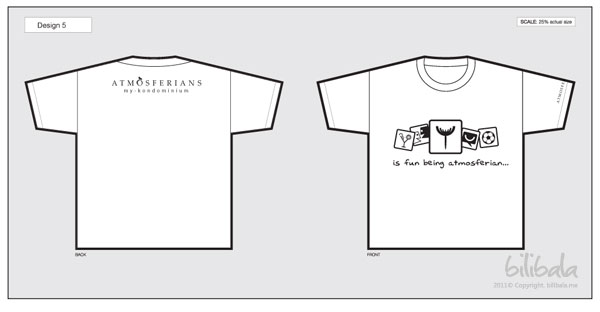 Design 6: A… Is Atmosfera!
If you can notice that, I am actually using all 26 facilities of atmosfera + some element of atmosferians to combine and become the initial of Atmosfera (i.e. A). Try to see whether you can guess which icons symbolize which facilities :p
Well, the fun of using this design is that you can remind yourself about the facilities we have for atmosfera and to tell others about it too :p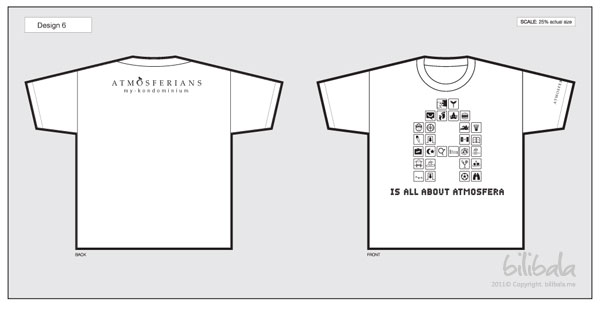 Design 7: Dandelion… is Atmosfera!
Concept is similar to design 6 (A… is atmosfera!) – having symbolized 26 facilities into the design.
But instead, I use it to combine into a big dandelion and a human raising hands :p. which of coz symbolizing atmosferians.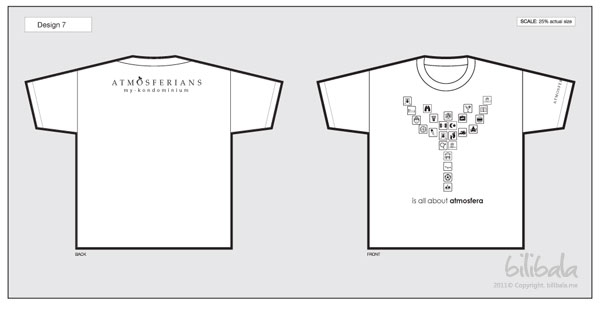 What's the result?
Well, which one you like? Anyhow, design is a very subjective matter, it is more of a personal preference.
In the end,  they didn't choose any of the design. It was a nice try though! 🙂  Another experience gained.
If you like to know more about Atmosfera Condominium, you can click here.