20,000 Leagues under Google
Read Time:
1 Minute, 16 Second
What a creative way to start the morning with today Google logo. And it is freaking awesome! In conjuction with the celebration of Jules Verne's birthday (Author of the famous 20,000 Leagues Under the Sea | Journey to the Center of the Earth | Around the world in 80 days), Google actually did an interactive logo design for him.
You can actually navigate the "logo" using the joystick at the right hand side of the screen. You can also notice the 2nd meter on the left is actually running when you descend horizontally into the "sea" (from height 1.15 to 10.30 in the meter) . The 3rd meter which is actually the Compass will also move when you navigate your "ship" vertically (from west to east) using the joystick. And if you just left it there for a while, the "ship" will slowly ascent back to the original position. Cool!
If you are interesting in knowing more about Jules Verne, click here.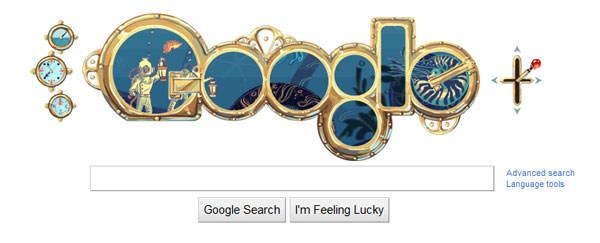 The idea and technology behind it is what intrigue me: getting this piece of animation to work didn't even use a single trace of flash. I guess the era of Ajax/Javascript to take over web animation is imminent. Try to think of the advent of CSS 3 and Html 5 as well, this will really change how we perceive web without flash!
Google, they never failed to surprise us with new technology and ideas! Way to go Google!