Ahoy there! Pirates of the Caribbean and Lego Fan!
Read Time:
4 Minute, 31 Second
[Updated] This Lego event has already ended. Just read on if you have missed this out 🙂
For those who are fan of the blockbuster Pirates of the Caribbean, this is a quite interesting "sightseeing" for you all. In conjunction of the newly released 4th sequel of the ever successful Pirates of the Caribbean movie, there are some cool activities and exhibition alike going on in Mid Valley Megamall, KL. If you are heading to Mid Valley Megamall this weekend, be sure to drop by and visit the huge movie event which is being held now. I bet you definitely won't miss it as it is too HUGE to slip out of your sight and owning to the fact the whole activities/exhibition is located at center court where you have to pass thru anyhow to get to either side of the mall.
Anyhow, i managed to snap a bit of photos on the events and display itself. Actually this post here is actually dedicated to those Lego fans, which there is a display case of Lego making up the scenes in Pirates of Caribbean. Before moving to that, let's just quickly browse thru those pictures from the main events.
There's a reason that why you can't really miss out this spot when you visit the mall. And this is the HUGE reason: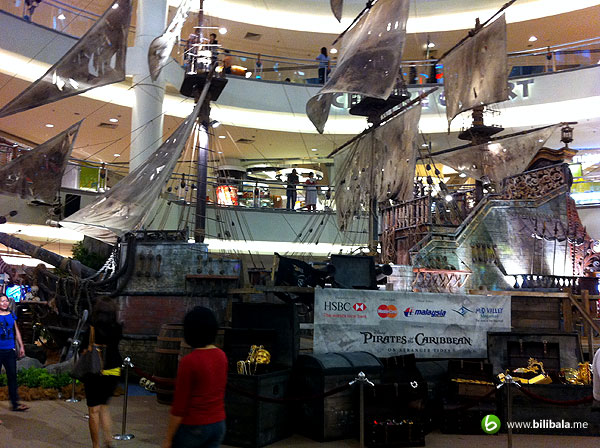 Spooky and wicked enough, there's a skeleton figure hanging at the bow of the ship.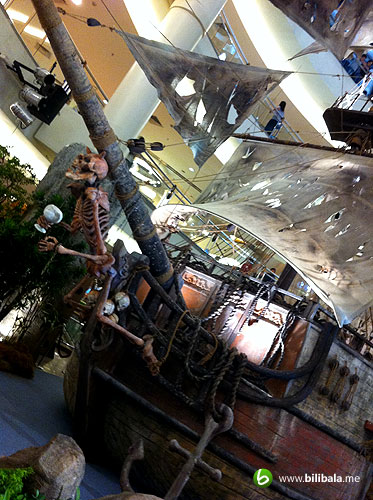 Yes, believe what you are seeing. They actually build up a pirate ship (or ghost ship i guess) at the center court of the mall. Of course, not only the ship is being displayed. There are a few of plots and gimmicks that are being exhibited around that area as well such as…. TREASURE!!…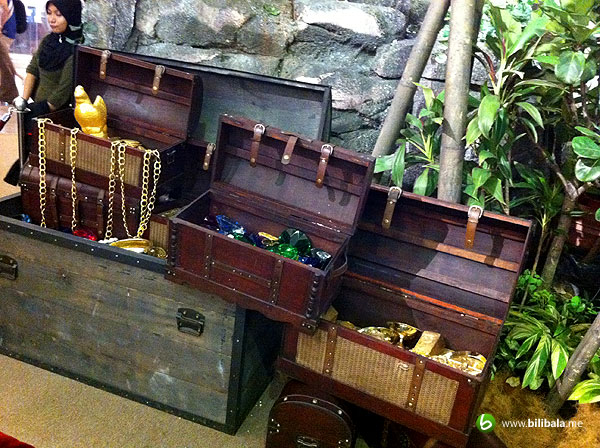 …which of course are fake jewels and gold alike put inside some treasure chests. Anyhow, there's another "booth" (which appear in a hut that is built on the aisle of the mall as well) showcasing those goodies from the movie. You will get to see the clothing of Jack Sparrow, weapons (such as below) and some gimmicks also being displayed. I won't go into so details on what is being shown, just a glimpse for you all :p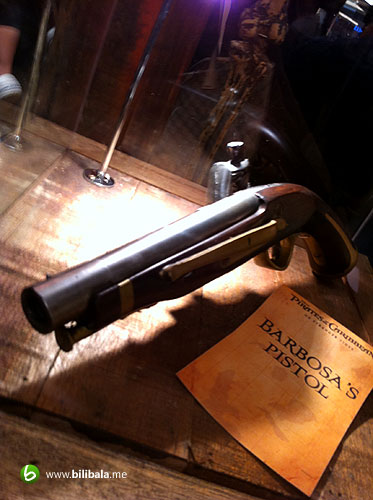 If you are interested in self experiencing the "Pirates of Caribbean", make a visit to Mid Valley megamall 🙂 Now, let's move to PART 2 of this post: The Pirates of Carribean LEGO display.
Quite surprised and really didn't expect to find such a gem in the event.  There's actually a quite medium sized Lego display near the MPH area. Took this picture at 1st floor and zoomed into it to give you the rough overview of the size and whole scene of how the Pirates of Caribbean Lego display set will look like.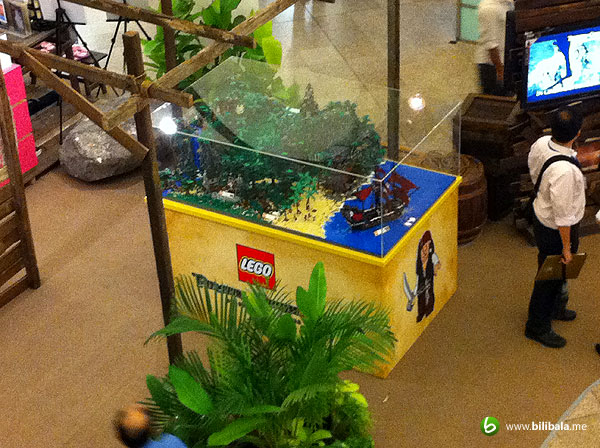 Now, let's move closer. The display itself is actually make up 65% of greeneries and another part of it being the sea. It is actually composed of a few separate smaller individual Lego sets which i will show you later one by one.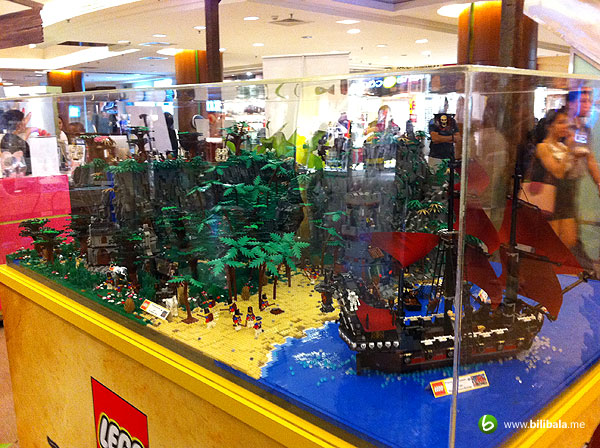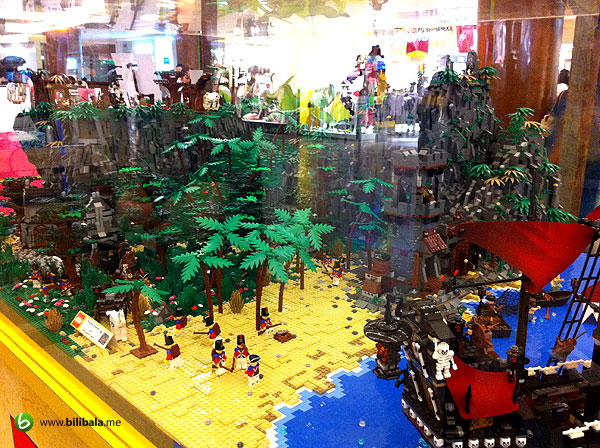 This is actually from the side view of the display case. Interesting to see the whole forest scene of the Pirates of Caribbean being remade in Lego blocks. See the amount of details in the display: trees, glass, soldiers, waterfall (YES, waterfall!) , mountains, etc.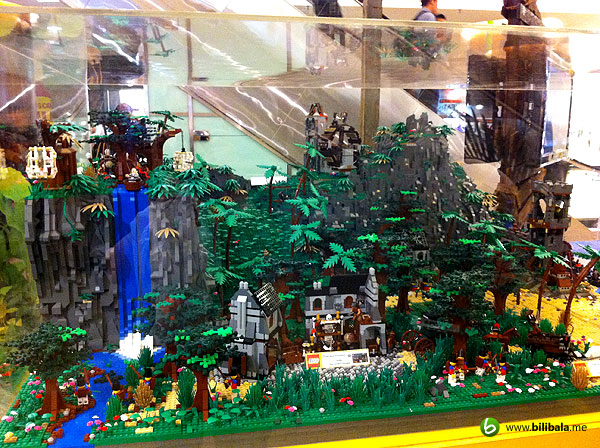 Beside seeing what is displayed on ground, there's a scene underground as well. Closed up shot will be showed later.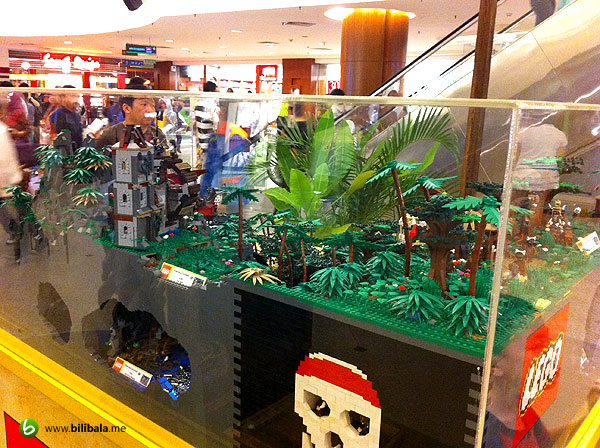 As mentioned earlier, the whole display is made of different smaller individual scene. Here's a scene with Captain Jack Sparrow being chased by guard. I can't actually remember whether this scene is actually in the movie or not anyhow. The label here said "Captain's Cabin".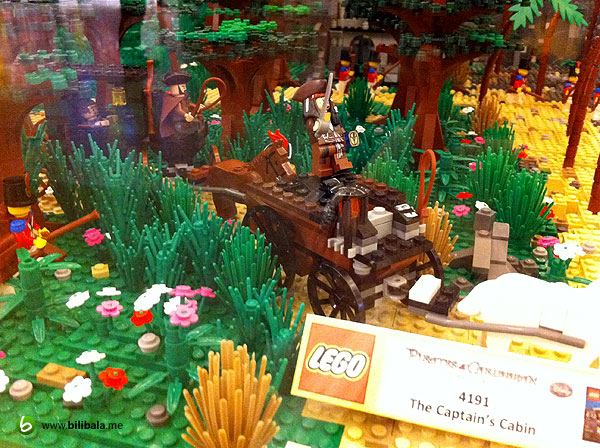 There's no particular scene here, i just took the picture for the sake of those 3 little soldier there. This scene is taken near the waterfall.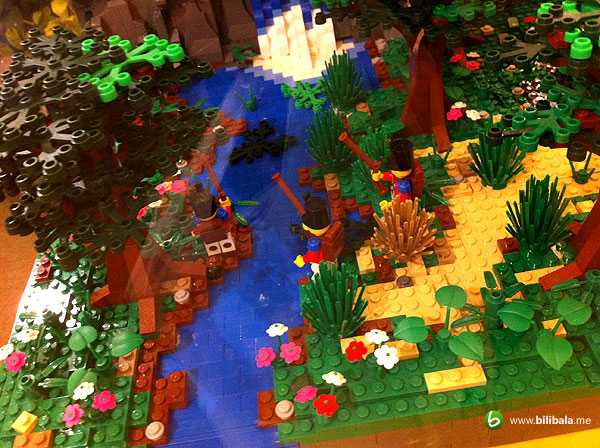 Here's another scene known as the "London escape". Finally get to see some city scene here.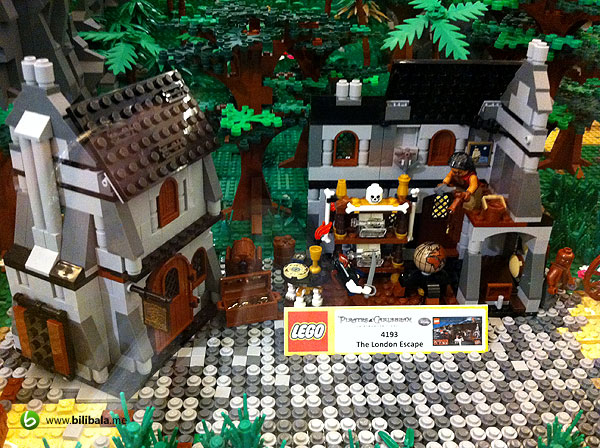 Here's the scene "The Cannibal Escape". I still remember this scene in the movie where Jack Sparrow pretend to be a god for a cannibal tribe. Funny as i recalled.
The extension of the previous scene where you get to see the human cage and some contraption here.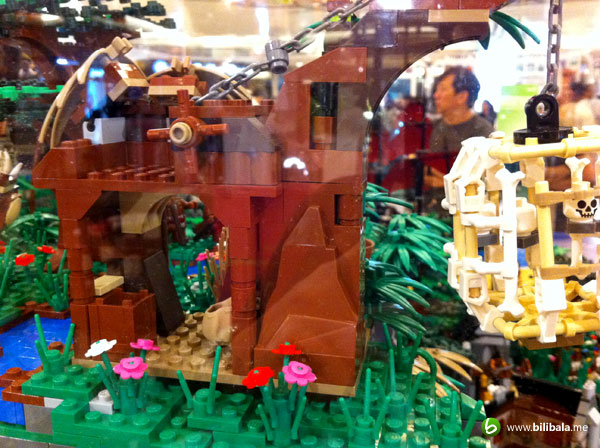 Another extension of the scene.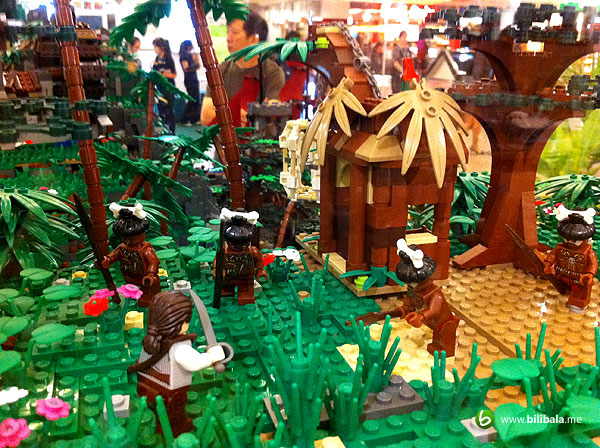 Here's the underground scene mentioned earlier. See the amount of details here and with the cool lighting. It does look visually appeasing.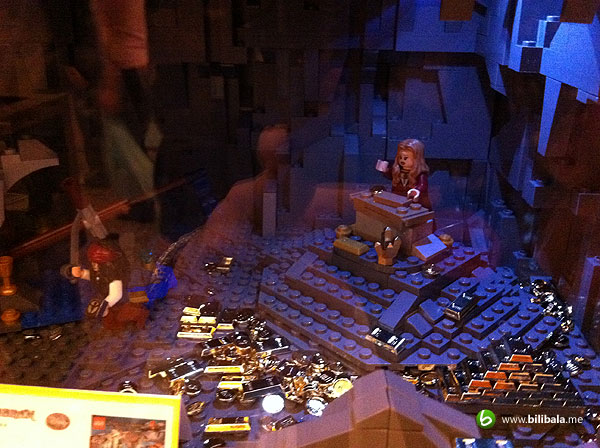 The whole scene is name "Isla De La Muerta"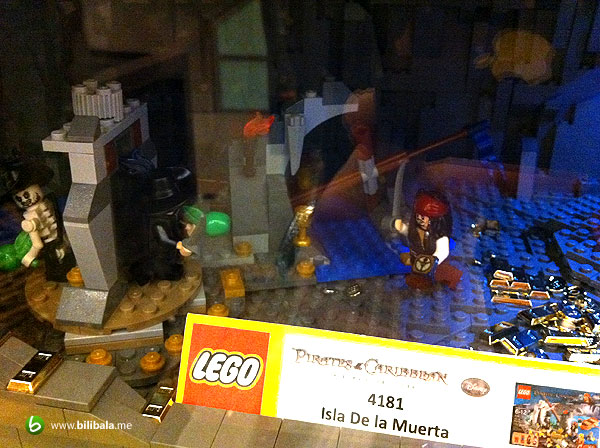 I like this part a lot where they use Lego to build a skull (which is the main logo for the Pirates of Caribbean movie). This cute skull is just located next to the underground scene.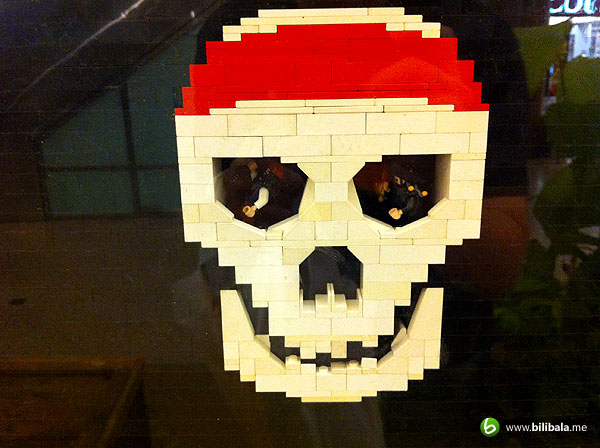 Here's the scene named "Whitecap bay". I saw mermaid here. hahaha.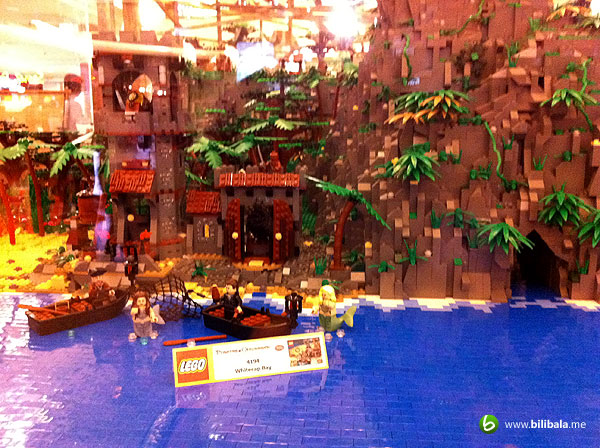 Here's another scene titled "Queen Anne's Revenge". Of all the scenes and individual Lego sets displayed here, this is the one i liked the most. I like this ship made of Lego actually and the amount of details on the ship is quite impressive as well. Anyhow, this isn't a cheap set as what i know. Guess is just a "look and enjoy" collection after all.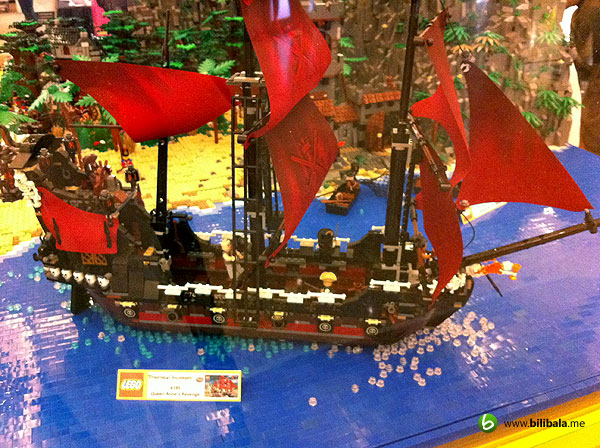 Well, that's all for the Lego display, if you are interested in knowing more about the Pirates of Caribbean Lego, you can visit here. And if you are interested in seeing the actual display along with the movie events, do remember to check out Mid Valley  🙂 Until then, enjoy!