With the Kre-O hitting the shore of Asian countries, slowly but surely you will get acquaint with what we so called Lego version of Transformers. For the newcomers, Kre-O is not Lego first of all. It is just another Lego-building blocks like branding to Hasbro latest invention. Of course, this isn't your normal building a car or city Lego, but instead, it is used to build your favorite Transformers characters, well, using bricks and blocks that is.
Now, i am for sure, as newcomers like me, everyone would ask the same 1st question. Can all these Kre-Os transform from alt mode to robot mode or vice versa? Disappointingly, the answer is NO. They can only be built in either forms. Kinda ironic to have a Transformer who cannot be transformed. Oh well, this might be because of they need to cater for smaller age group whereby a transforming Kre-O is not suitable? Either way, they do have some unique points of attractions that may or maybe of your interest. So read on for some highlights (and diorama) after the jump!

(A) Kre-O Diorama in Toysrus, Tsim Sha Tsui, HK.
Well, it has just reached the shore of Malaysia by the Christmas month, but as for Hong Kong, they already have their hands on them a month earlier. I was just in time for their so called "Soft launching" display in one of their biggest Toysrus in Tsim Sha Tsui. Though not intentionally (as I was there scouting for any good Transformer deals), I was fortunate enough to bump in such great display which made an eye opener.
First off, when entering the shop, all attentions were being caught by the 6 feet tall Optimus Prime statue built entirely in Kre-O blocks (or maybe Lego blocks? Didn't see that much in details). Pretty much a great sight to start your toy enthusiasm search for something more captivating. This would definitely put people mind in asking: "What is Kre-O? A Lego Transformers?"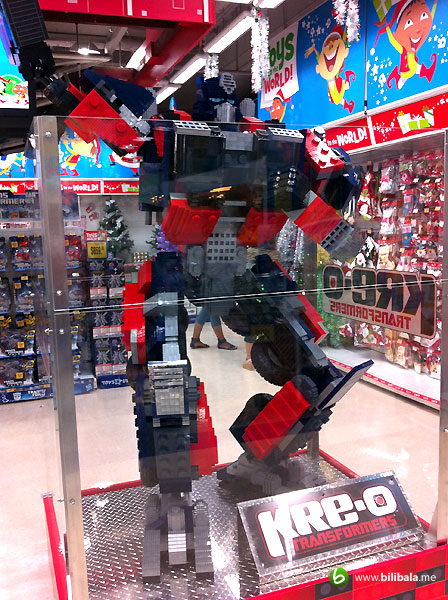 Upon digging down furhter, customers will be brought to the special Kre-O pyramid booth. This was where the introduction of what all the fuss were about.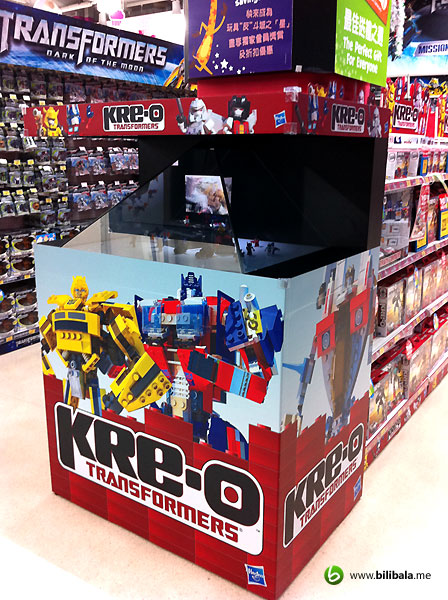 This isn't any normal pyramid you are seeing. It actually hosted a video clip that can be viewed from any angle outside the pyramid. Pretty neat sales marketing gimmicks i would say.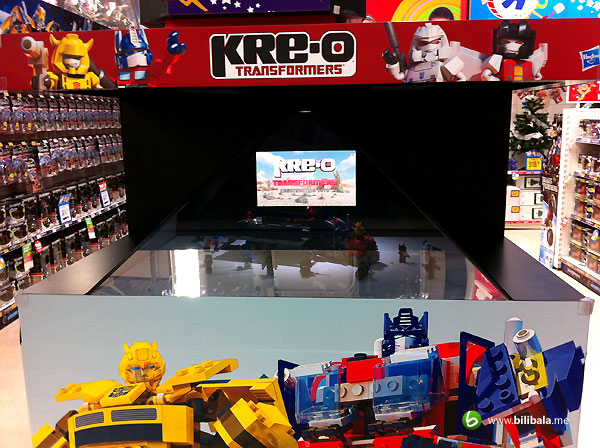 And of course, there was the Optimus Prime Kre-O set in alt mode together with the video itself.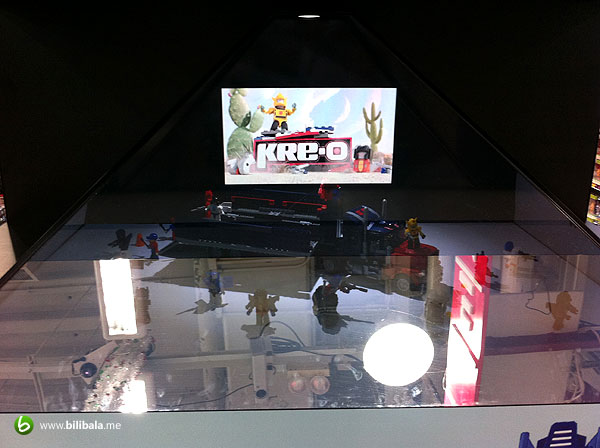 Here's a video capture i spent a minute standing there taking. (You have to excuse me of the coughing sound at the end of the video).
[youtube=http://www.youtube.com/watch?v=4727wxAHzYk&w=560&h=315]
There's more to come. Dioramas, that is. The 1st diorama i stumbled upon was with the same row as those Kre-Os being sold. This diorama only featured the larger scaled Bumbleebee and Optimus Prime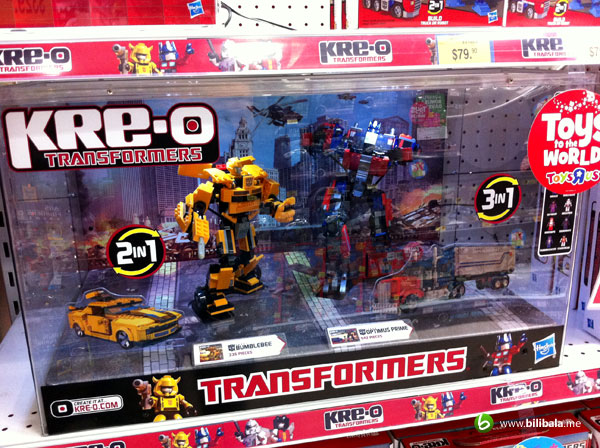 Then, there was another diorama at the center court of the Toysrus which featured almost all the Kre-O in both alt mode and bot mode.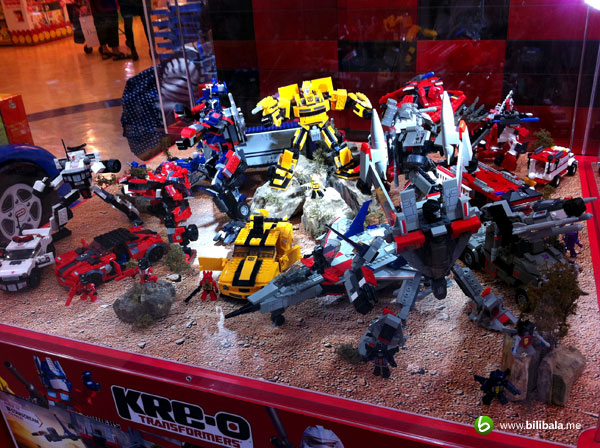 Well, you get to see the Starscream, Megatron, Sentinel Prime, Ratchet, Bumblee, Sideswipe and some other figures here. Too much to digest? I had done a closed up shots on all that were in this case after this.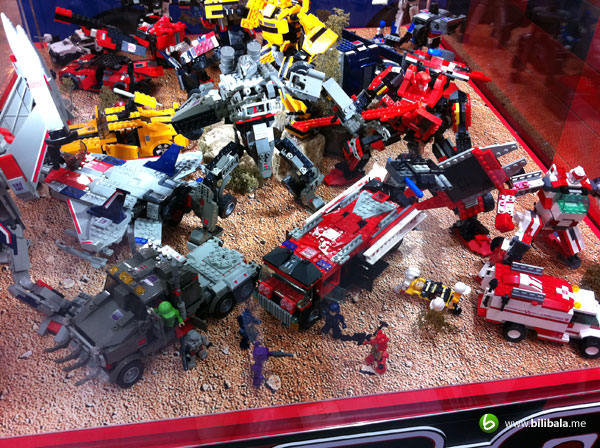 We have the smaller scaled Prowl in alt mode here. The fun of it, most Kre-O comes with 2″ figurines (much like those Lego human pieces), either 1 or 3 figurines per set depending on the sizes of the Kre-O, except those smallest scale with comes with none.  For this Prowl, it comes with the human counterpart and with Prowl himself as one of the cute figurines.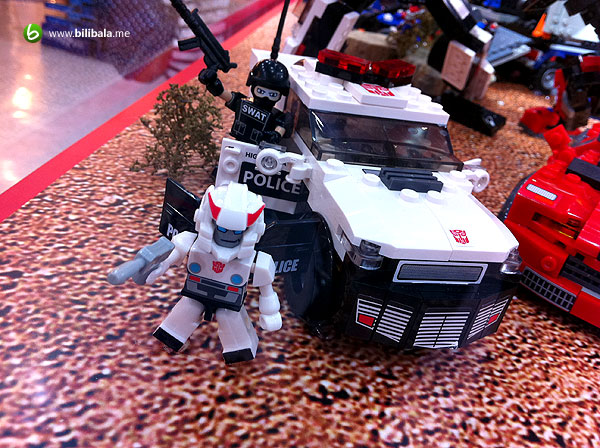 Then you will get to see Prowl in robot mode which is surprisingly taller than his alt mode. Oh ya, you will see the red hot fiery Sideswipe in both alt and robot mode. My most favorite Kre-O set (and the coolest) which i bought it straight without hesitation.
The medical specialist, Ratchet is here to rescue! Oh yes, there some smaller dudes rescuing humans too.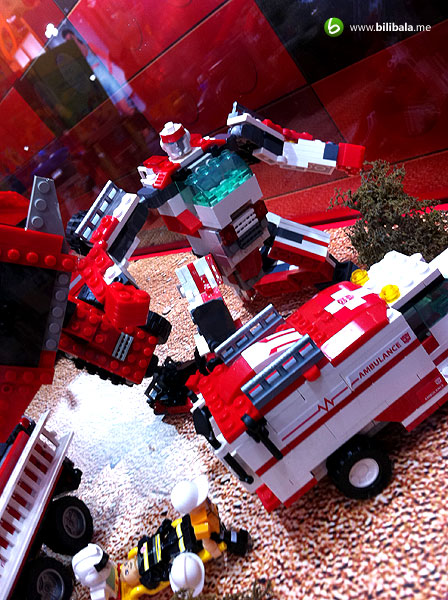 Now the evil Megatron in bot mode. Pretty much a sissy robot wearing a skirt imho. lol.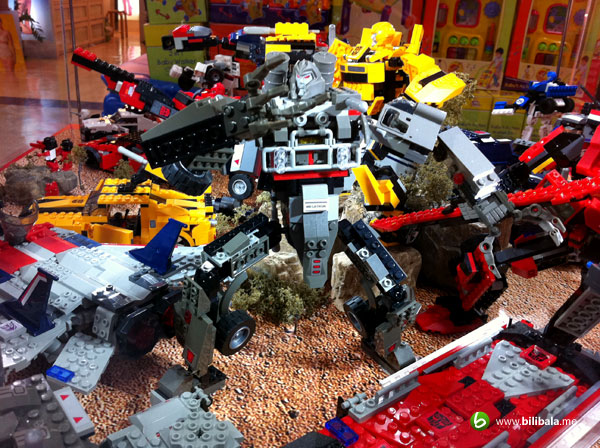 The Sentinel Prime. It does have cool robot mode which i missed out in taking a closer picture of him.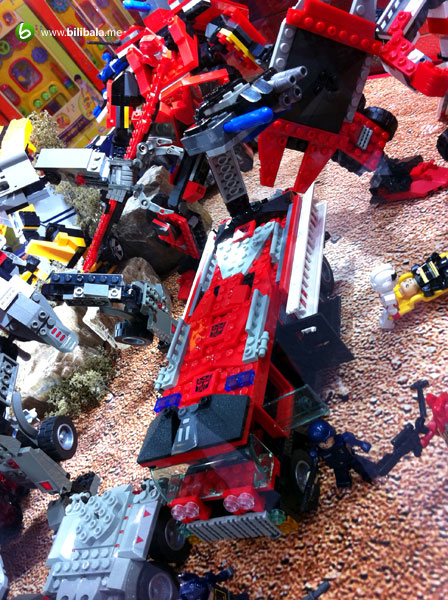 Now we have the Starscream in G1 color and robot mode. A very big set of him and quite worth the collection if you ask me. Though i decided to skip in buying him after that.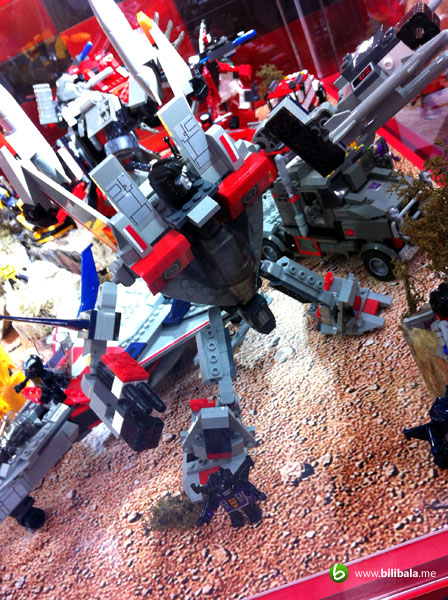 Here's Starscream in alt mode.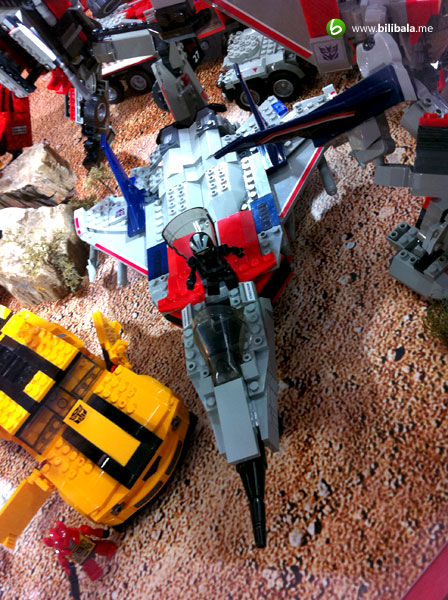 And of course, we can't leave Optimus Prime out of the picture. Another point to note here is, the trailer of his can be opened to view the content inside. Particularly used to store smaller units such as the motorbikes that came with the set.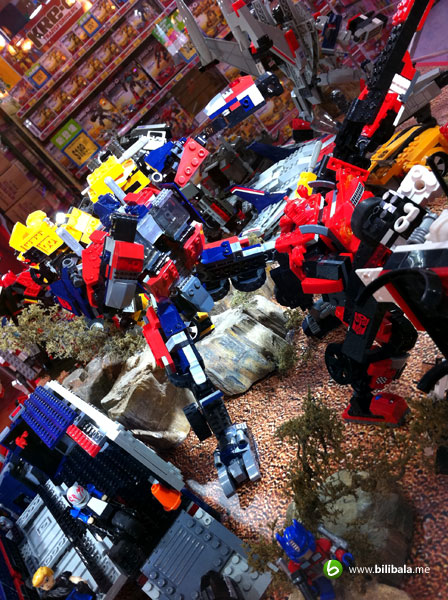 There we have the G1 Mirage and Jazz. And, not forgetting those smaller dudes around.
Mirage in alt mode.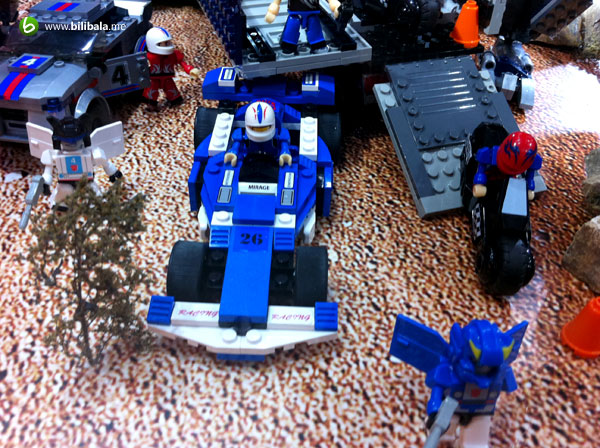 Now, don't you dare mess with this small Optimus dude. He got a cannon bigger than your finger. Okay, apparently, that's a joke 🙂
The 3rd part of the display was my most favourite visit. You will get to see 2 gigantic (almost around 30-40cm in height) Kre-O figures Bumblebee and Optimus Prime standing there. And in the middle, that's where all the smaller dudes were.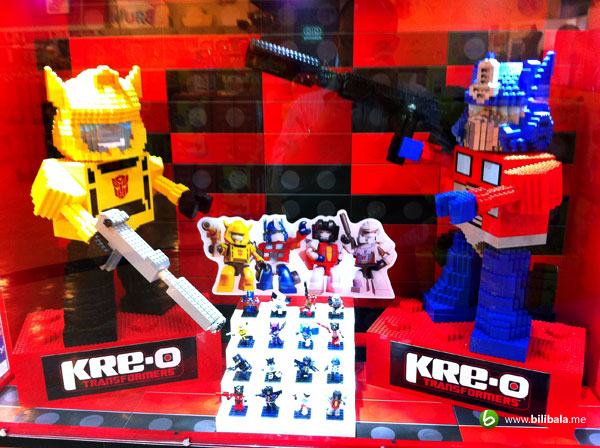 The small mean dudes…..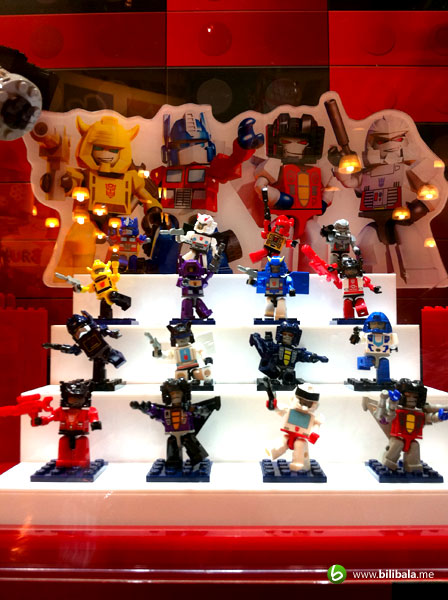 Closer look at these small mean dudes. I found them unbearable cuteness. And the good news about it, i heard RUMOURS saying that Hasbro has plans for selling these small dude separately.
Try to see which one you know of?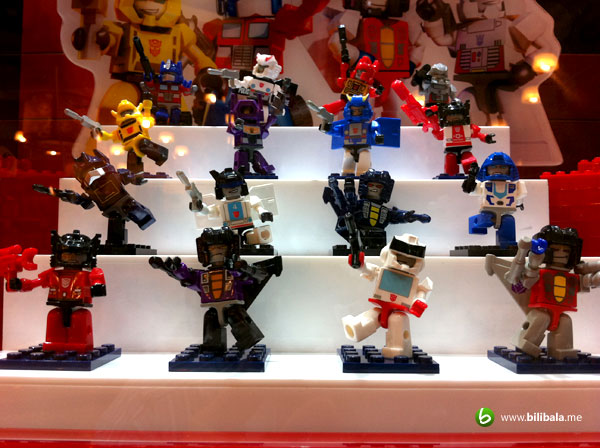 (B) The Hauls
Well, wouldn't like to go home empty handed (and since they are selling cheaper as compared to Malaysia). I grabbed the coolest Sideswipe along with a smaller scale Optimus for trial :p
Until then, enjoy hunting and hauling! They look cool even it is not transformable!
Be sure to like my post and page ya :p