Transformers Event @ Oval, 1 Utama Malaysia
Read Time:
11 Minute, 52 Second
[Updated] This event ended on 12/6/2011. If you missed out, just read on for the coverage OR pay a visit to First World, Genting Highlands from 14/6 to 26/6 for another Transformer Exhibition 🙂 More details at Transmy website.
In conjunction with the rolling out of Transformers: Dark of the Moon movie, 1 Utama is holding a Transformers exhibition at their Oval center court. Of course, this event is also flourished with collections of Transformer toys from collectors, an actual Chevrolet Camaro, and the limelight of the whole event: 22 feet life sized (almost) Optimus Prime! Okay, this is getting exciting, but before we proceed for more pictures, please be patient about loading them. Yes, there are over 80+ pictures here and tons of eye candies especially for you, Bilibala Blog reader and Transformer fan! AND, do prepare yourself some drinks and snacks before you move on, COZ this is a VERY long coverage. 🙂 Read on!
Oh ya, if you are interested in visiting the event itself, please do dropby 1 Utama Shopping Mall. But unfortunately, this event is only held for 6 days (stated from 7th June till 12th June). Kinda short period IMHO. Anyhow, if you get the chance, it is an event that you shouldn't be missing it (if you are from Kuala Lumpur/Selangor area that is). Let's move on!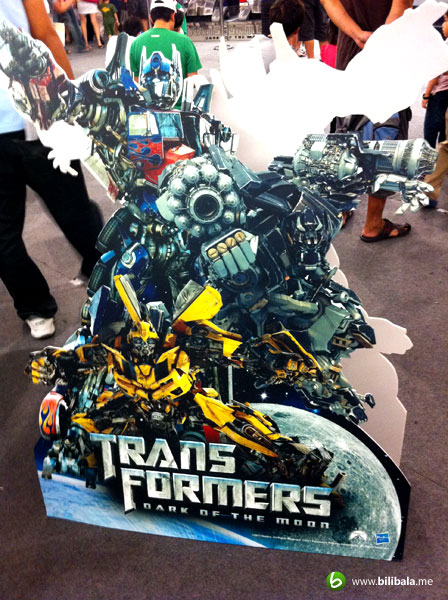 Quite a nice standee with Optimus Prime, Iron Hide and Bumblebee posting. Interesting enough, you only see a very handful of this standee around the exhibition area, 2 which i have noticed and which is in this picture. Anyhow, this is not the welcoming signage.
This picture below roughly let you know how big the event area is and you can make out the zone/area that is being displayed.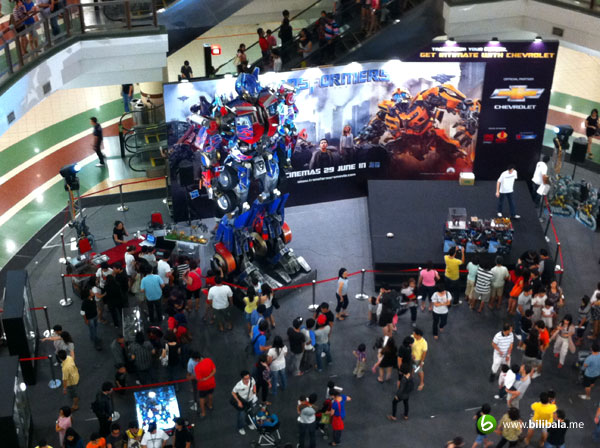 This is second part of the event area which focuses more on Chevrolet vehicles which includes 2nd limelight of the event: The Bumblebee Chevrolet Camaro car!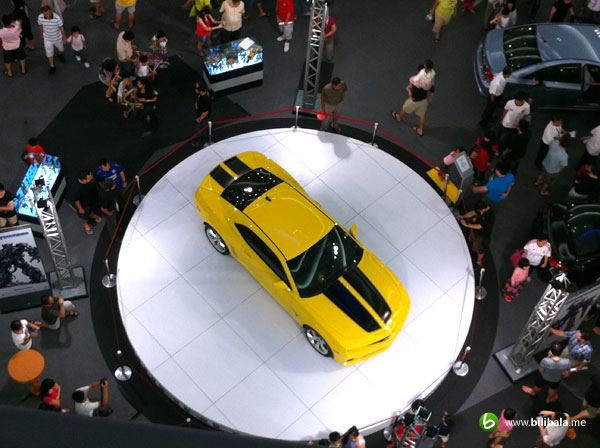 Here's a list of activities for the event starting from 7th June till 12th June. Too bad i was there around 9pm on 11th June which the day events have ended.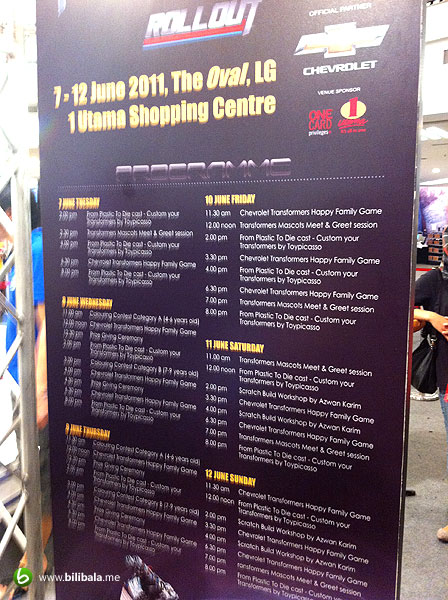 This event is also being held with support and contribution from Transmy. Transmy is a famous Malaysia Transformer fan club/forum and most of the Transformers collections that are being displayed in this event are from the collectors of Transmy Club. If you are interested in knowing more about Transmy, please click here. There's a standee showcasing the club and a general brief of  their collection in the exhibition. You can read it here :p (Hopefully it is not too small to read)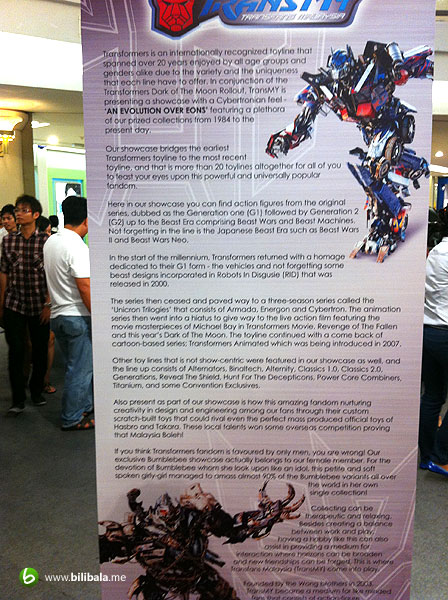 The exhibition actually has a theme called "An Evolution Over Eons" which features the evolution of the Transformers toys collection from way back 1984 to the present day. This holds around 20 toylines altogether ranging from Generation 1 to the present Dark of the Moon toys. So you will be expecting to feast your eyes on all these great masterpiece collections.
Okay, now let's move on to the exhibition. I have made out a rough schematic of the site plan for it. This is NOT official and those areas/zones name as highlighted here  is purely my personal naming for easier categorizing of the images that will be shown. Let's get going!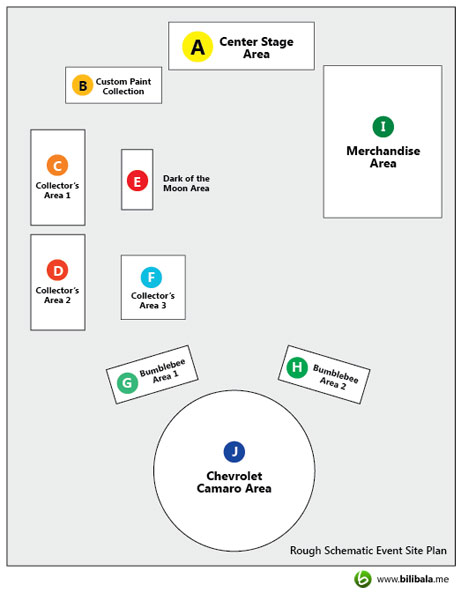 (A) Center Stage Area
Center stage area holds the 1st limelight of the event: The 22 feet life size Optimus Prime (which is 2 level tall in height). And of course, the main activities will be carried out here as well.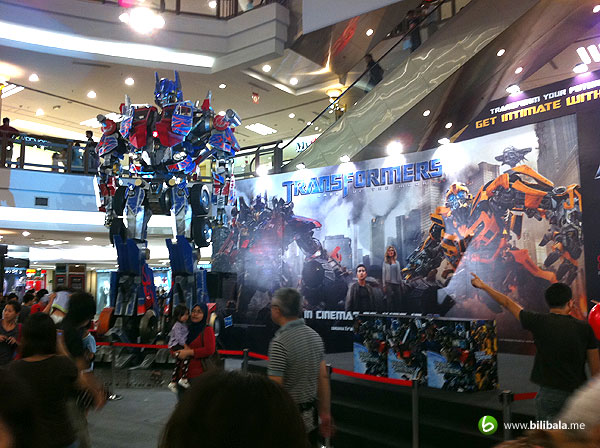 The stage showcasing the date for the release of Transformers: Dark of the Moon movie, i.e. 29th June 2011 in cinemas of Malaysia. Won't be too far off from today :p Really looking forward to that.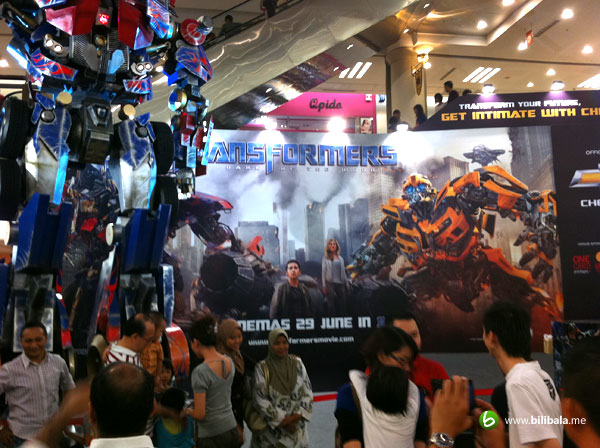 A closer view of the HUGE Optimus Prime. Oh ya, it can't move. It is just a pure statue with lights. A few shots on him before we move to the next zone.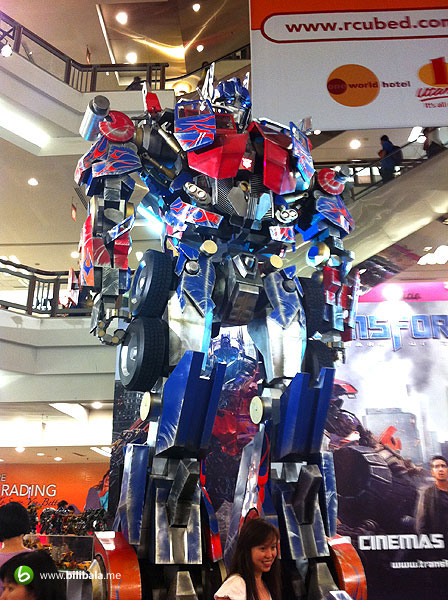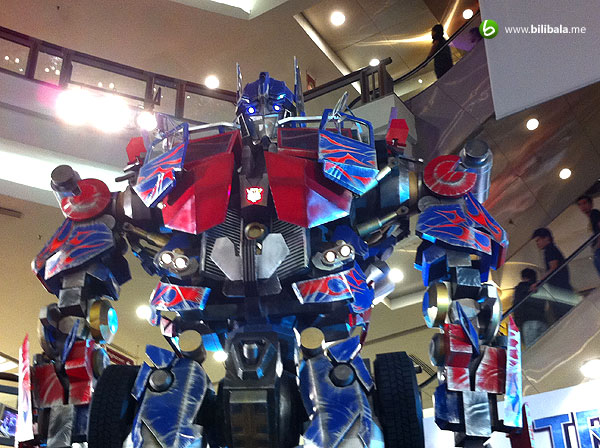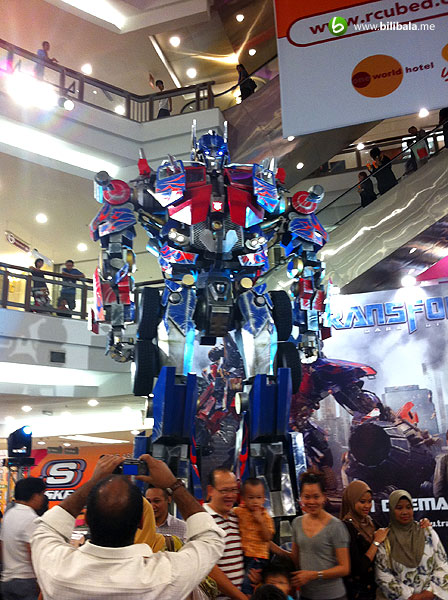 (B) Custom Painted Collection
The custom painted collection area is just next to the center stage which showcases those custom painted collections. These include some Bumblebee, Optimus Prime, Dark of the Moon Shockwave, etc.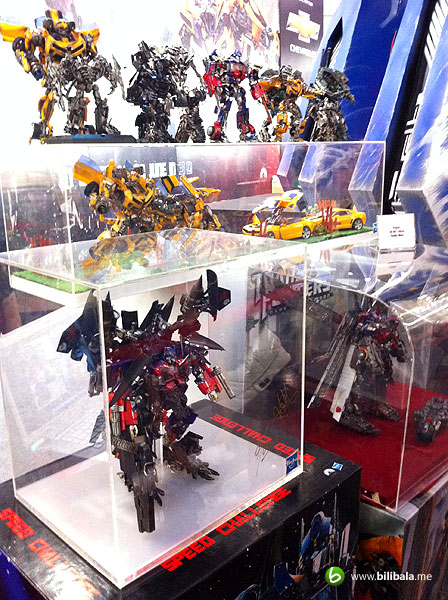 Nicely painted figure. There's another eye candy here which is the transforming sequence of Bumblebee being displayed using 4 individual leaderclass Bumblebees (if i am not wrong).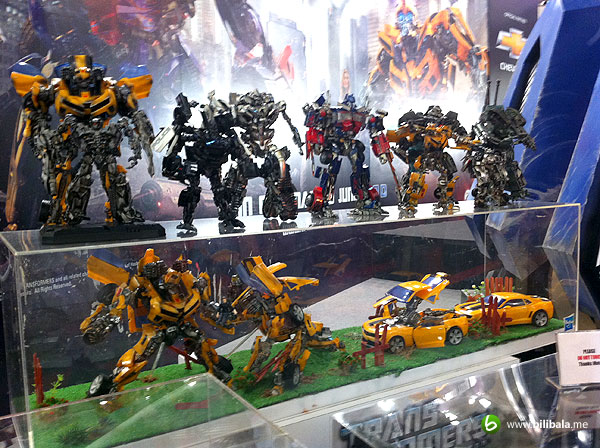 A very cool custom painted model of Jetfire powered Optimus Prime. See the details and the amount of repainting being done to the figures.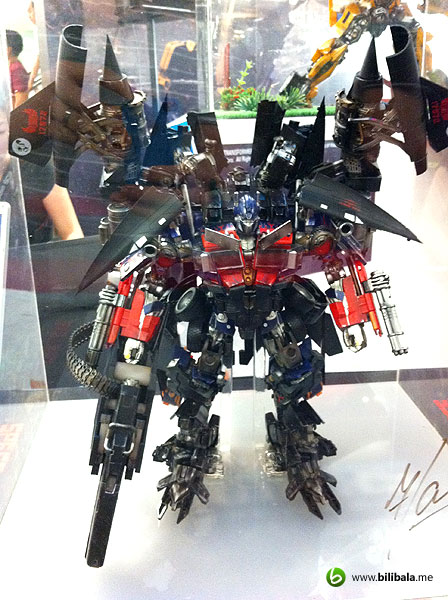 Tada! This is another eye candy which is the custom painted Ultimate Optimus Prime from the Dark of the Moon series. This is the FIRST time i have seen the actual Ultimate Optimus Prime and it is really a HUGE figure with HUGE Mechtech weapon. This figure is due to arrive in Malaysia by this month end (this is what i am being told). Looking forward to that.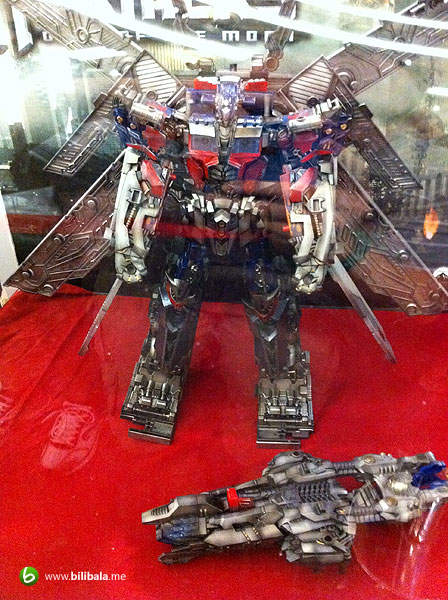 Another shot on him and see how BIG is the overall figure with the wide spanning butterfly wing .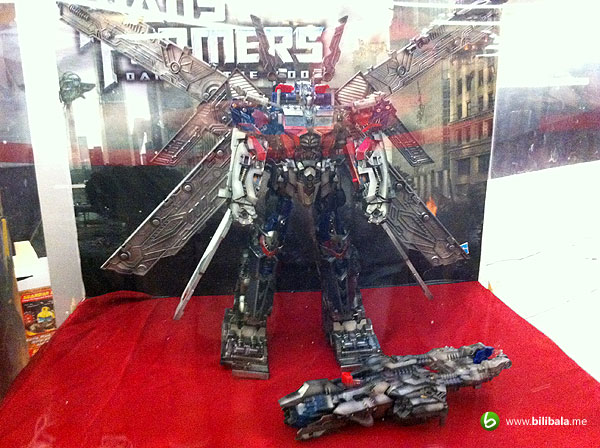 (C) Collector's Area 1
Let's move on to the Collector's area 1. There are actually 3 racks with 4 rows inside each of them. That makes around 12 compartments  with countless of Transformers toys inside. The toys are being displayed with 2 sides, meaning, you can view the collection from the back and the front. Due to time constraint, i can only manage to take shots on the front view of the rack and not the other side of it.  Anyhow, i have taken shots on each and every compartments of them.
The display here is actually displaying the different series of Transformers Movie/cartoon toys over the years. Anyhow, the way i taken the picture is based on their columns and row starting from the right to left.
i) Rack One
This is the right most column (which i call it Rack 1).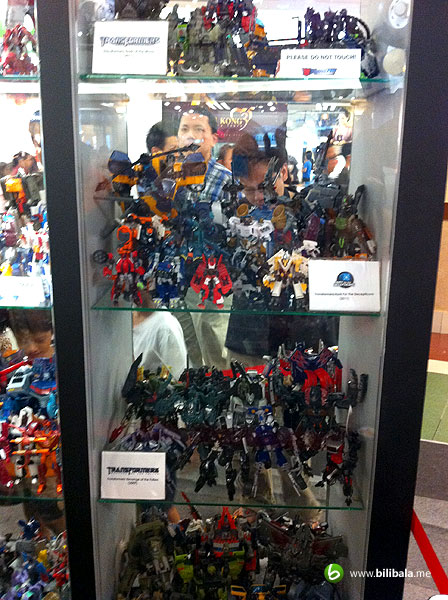 The 1st row of the rack 1 showcasing the latest Transformers toys from the Dark of the Moon movie (2011).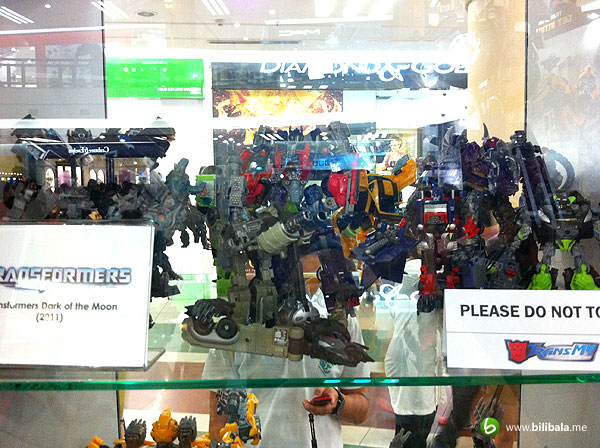 Moving on with the same year release: Transformers: Hunt for the Decepticons.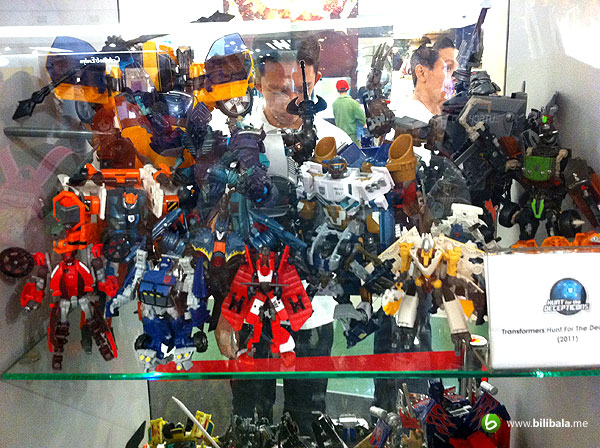 Moving back to 2009 with the release of Transformers: Revenge of the Fallen toyline.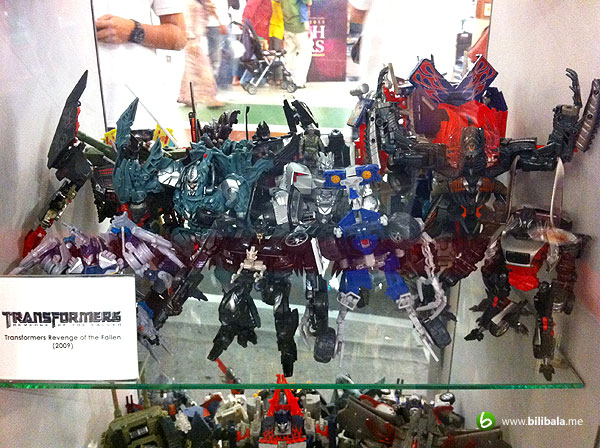 Now with the 1st movie of Transformers (2007) toyline. See how the toys evolve from 1st series to the latest.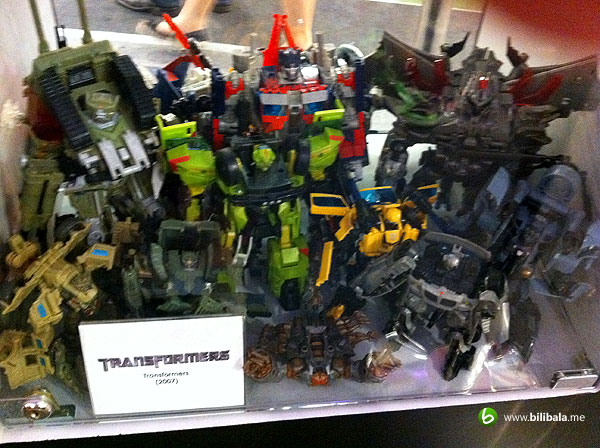 ii) Rack Two
Move to the middle column of the display.

The 1st row in this column showcases another sets of Dark of the Moon toys (2011).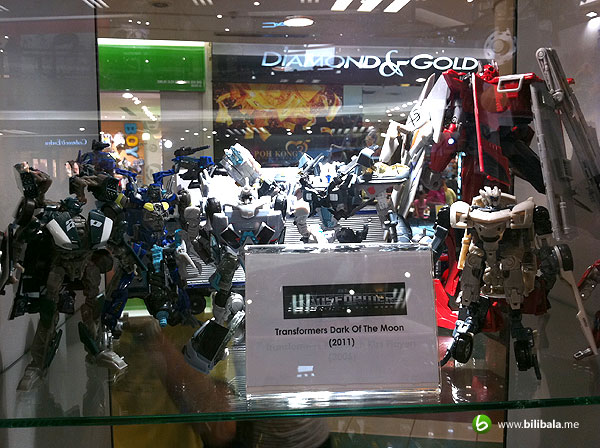 With Transformers Titanium Series (2007) in the 2nd row.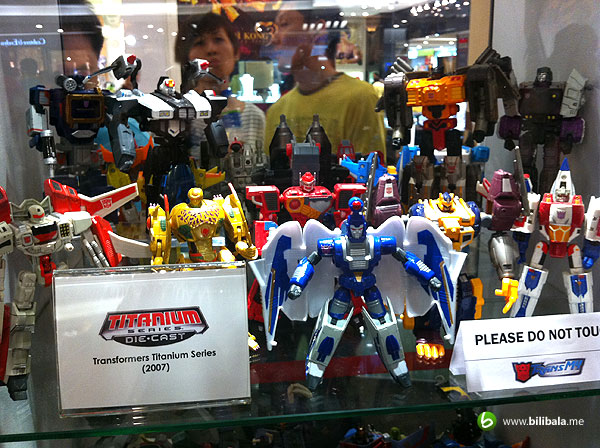 Oh yes! My most favorite Transformers series: The Animated (2007) coming in the 3rd row.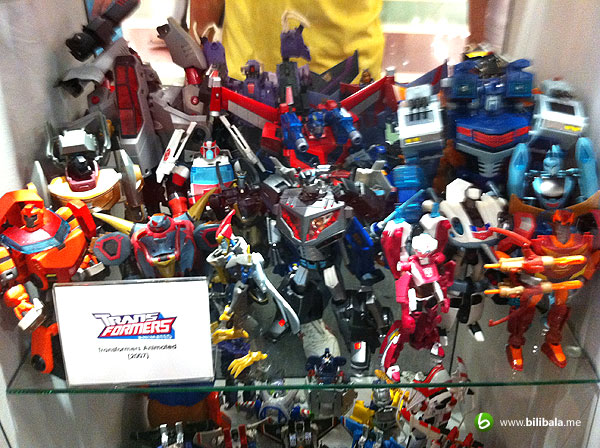 Moving to the last row of the 2nd column is the Transformers Robot Master (2004). Too bad i didn't take pictures on the other site of the rack, as you can see there are some other Transformers toylines at the other side: the Disney Transformer and some crossovers. Anyhow, let's move on.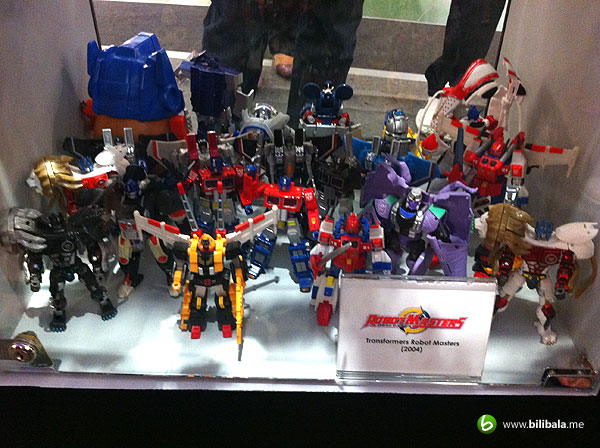 iii) Rack Three
The left most column.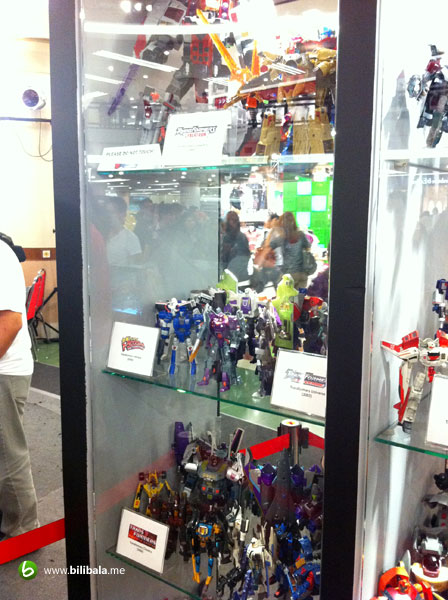 1st row is the Transformers Cybertron (2005).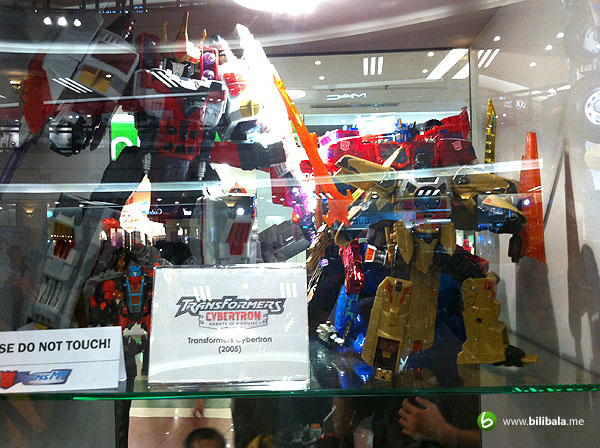 2nd row being the Henkei (2008) and Transformers Universe (2003). Hmm.. how come a Transformer Generation: Scourge is here i wonder.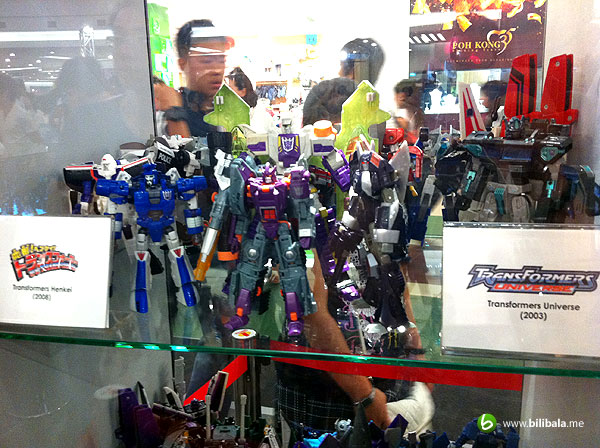 Transformer Classics (2004) is in the 3rd row. Again, you got to see the Dark Mount and the Thunderwing from the Transformer Generations here.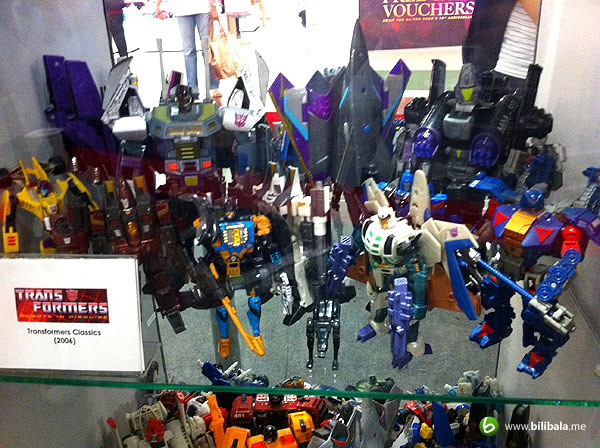 The last row featuring Transformer Reveal the Shield (2010) and Transformers Universe 2.0 (2008) here.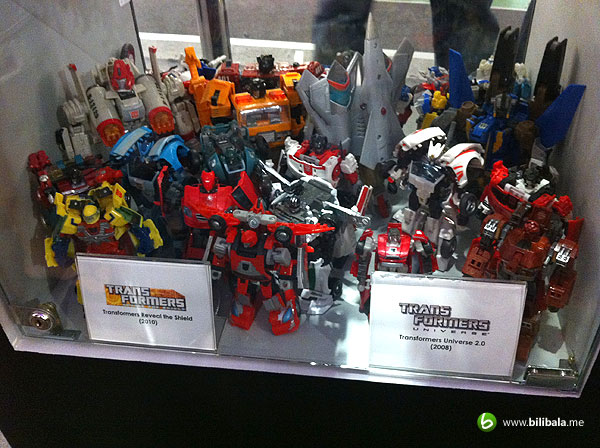 (D) Collector's Area 2
Here we go with another racks of Transformers collection located at the left hand side of the previous racks. The same 3 columns x 4 rows rack here.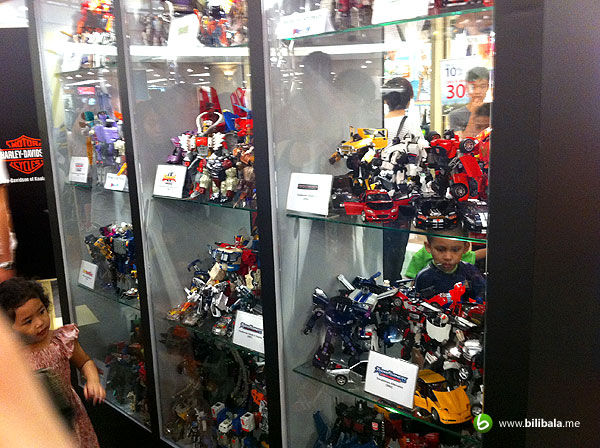 i) Rack One
Being the right most column row 1, featuring Transformers Amada (2002) toyline.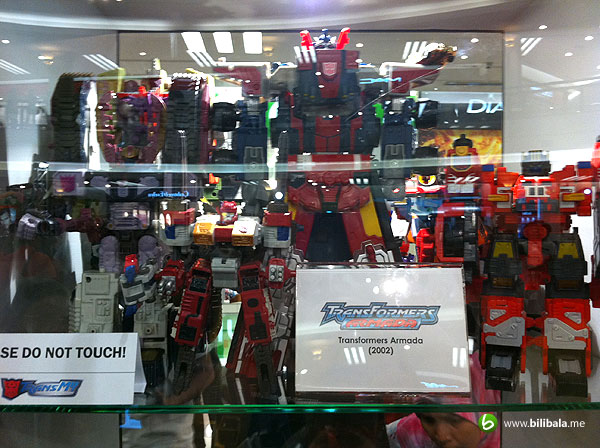 2nd row being the Binaltech (2003). This toyline is famous with their real life sport car alternate mode.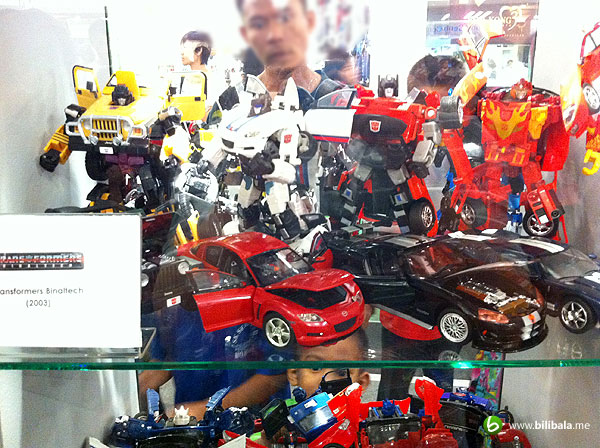 Well, with Binaltech, there will be Alternators (2003) as well!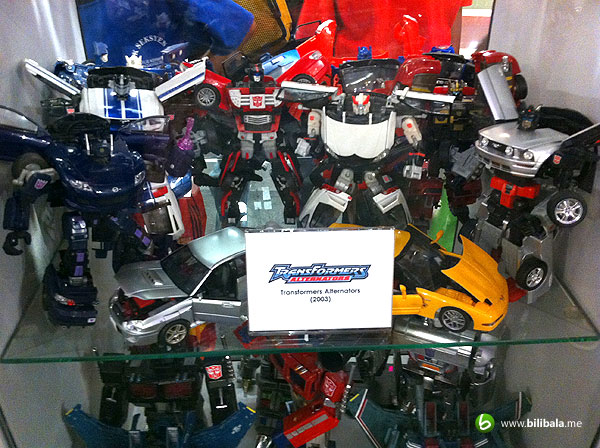 Some Transformer Masterpiece on the last row of 1st column.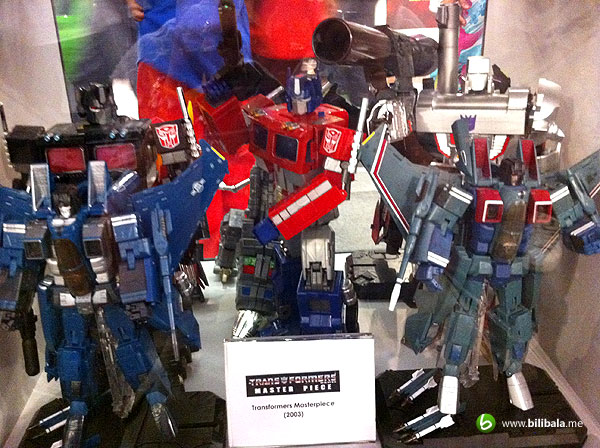 ii) Rack Two
Now moving on with 2nd column of 1st row featuring the Beast Wars (1996). I was never a fan of Beast Wars Transformers as i found that too "organic" for my liking.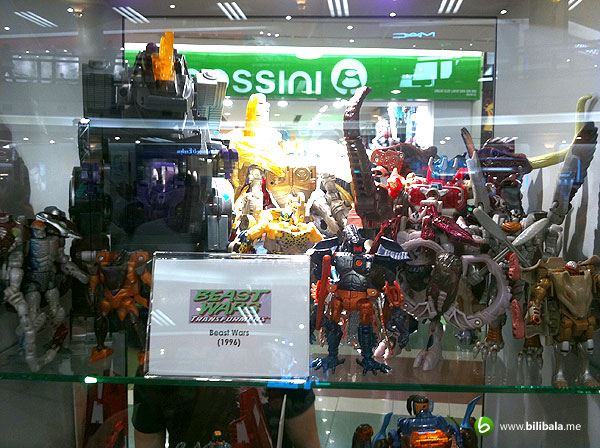 More Beastwars collection which is called the Beast Wars Second (1998).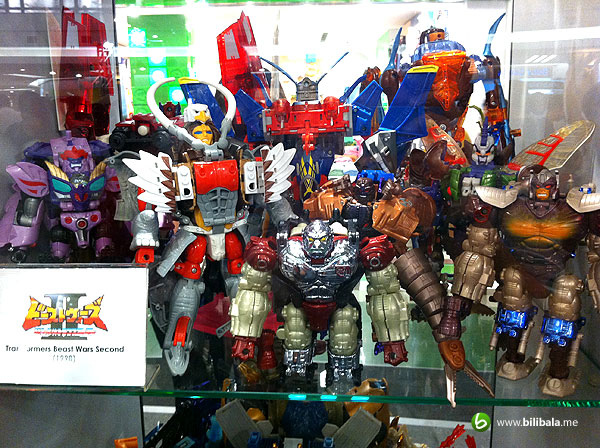 Moving next in the row is Robots in Disguise collection (2001).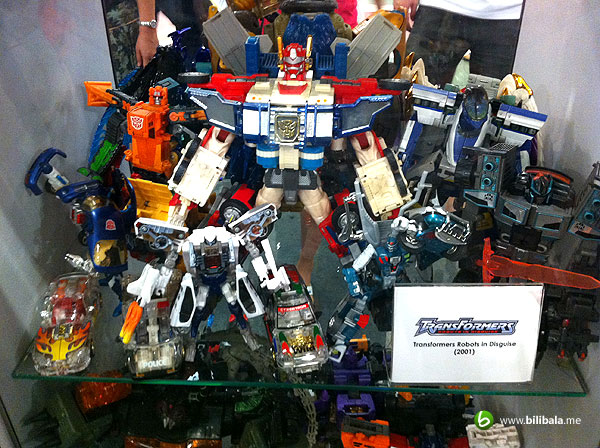 And Energon series (2004)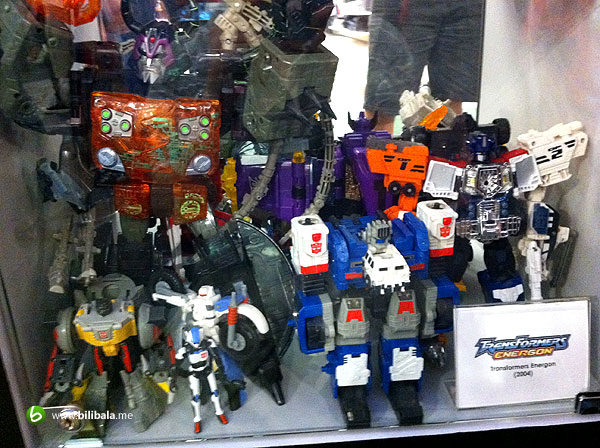 iii) Rack Three
The last column, row 1 featuring Transformers Collections (2002). Guess is mostly G1 stuff here which i am not a fan of :p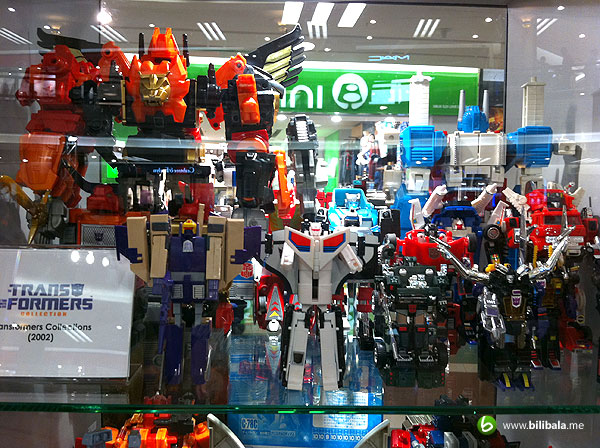 2nd row is the Super Robot Lifeform (1986) which is quite the earlier version of Transformers toys.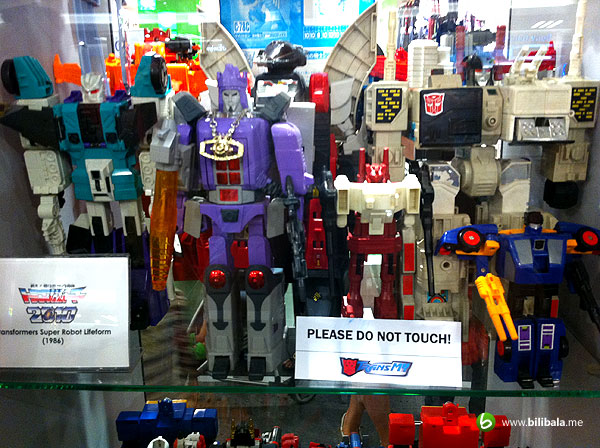 Well, let's move on with some more old Transformers toys with Transformers Masterforce (1988).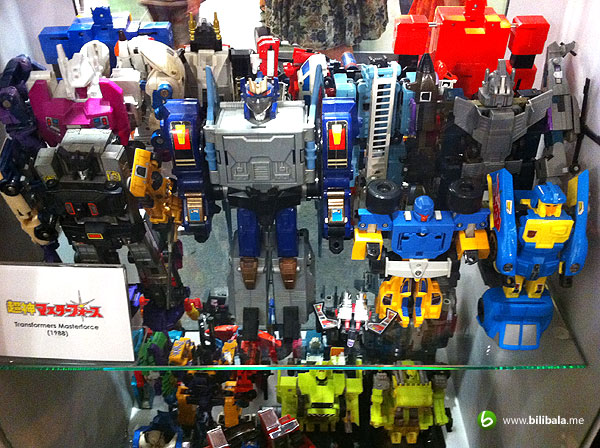 Well, the last row is featuring the Transformer Generation Two series (1995).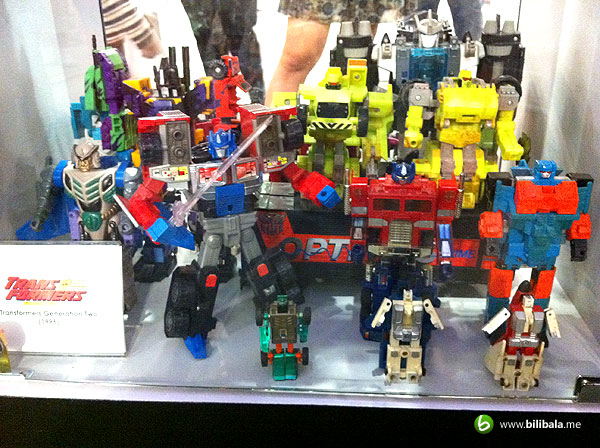 Phew, that's a lot of toys here and how many you have owned? And how many can you make out their name? Well, to be frank, i guess i can only recognize almost 30% of them (especially those newer Transformers). And to the fact that i only started my Transformers collection from 2007, the rest of the collections are really a mystery for me.
Anyhow, are you ready for even MORE Transformers goodies? Well, take a rest and grab a bite as I have more pictures to come. Let's move on!
(E) Dark of the Moon Area
Finally a diorama showcasing Dark of the Moon toys.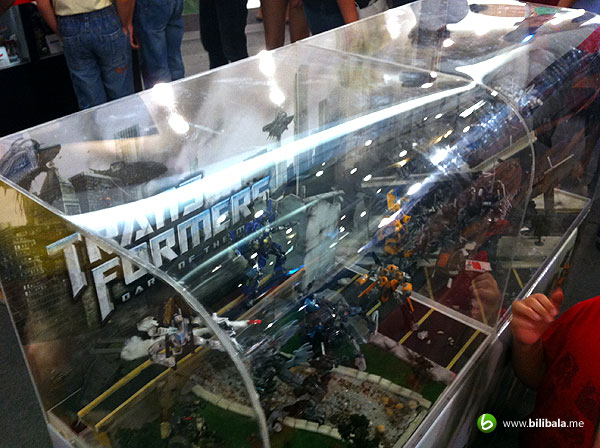 Seem like an epic battle between the Decepticons and Autobots.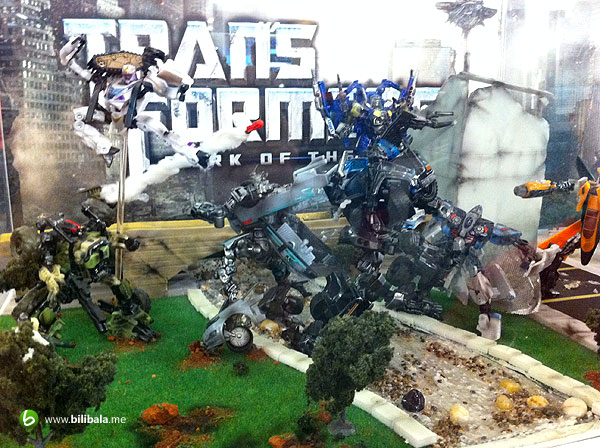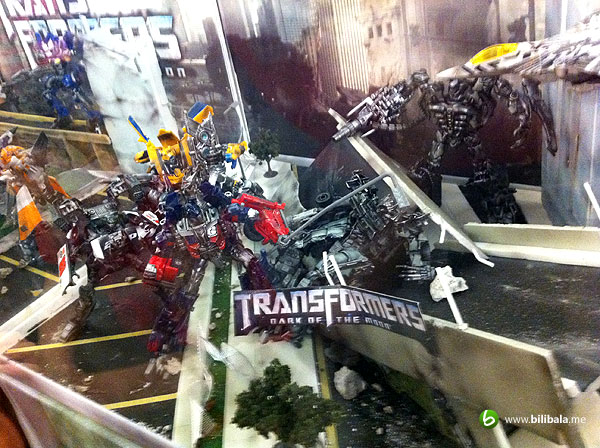 All the figures inside this diorama are actually being repainted with more realistic colors.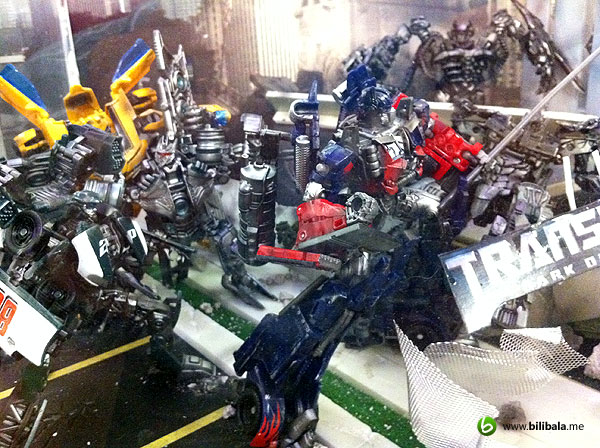 Here's Optimus Prime overthrowing Megatron on ground. What a heroic scene!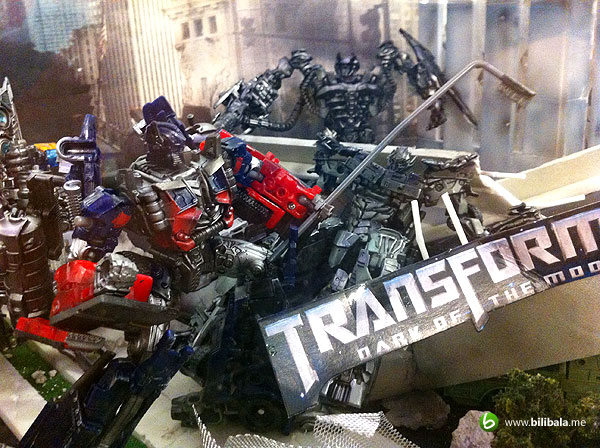 (F) Collector's Area 3
Now opposite the diorama is actually another display case of Transformers toys mixtures.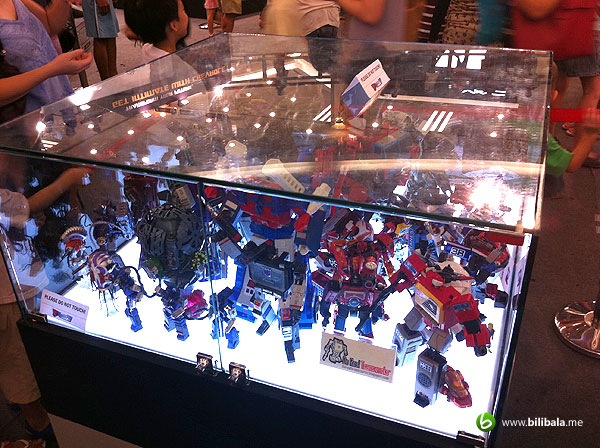 Here's Soundwave! And eh… okay, i give up, the rest i have no idea of who they are… Is that Ultra Magnus?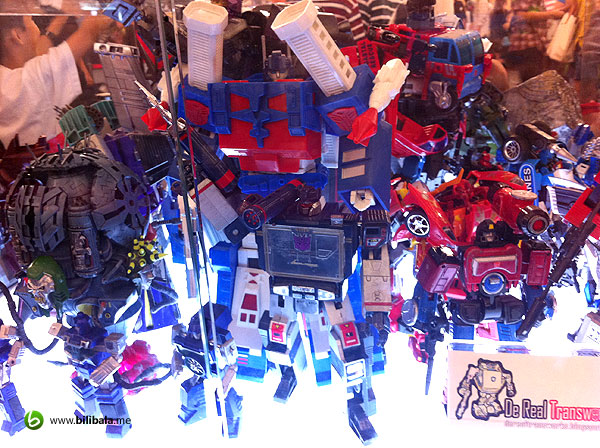 Hot rod, Jazz… hmm… who else?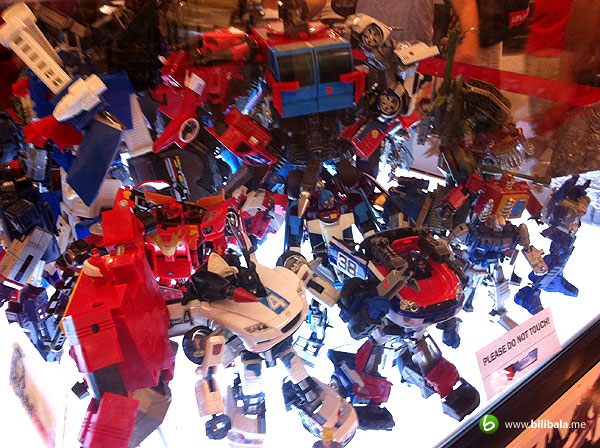 Here are some familiar faces, mostly from Transformers Movies series.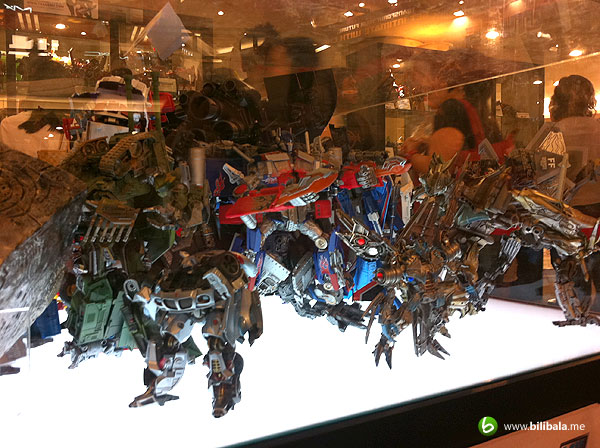 Hmm.. Seekers?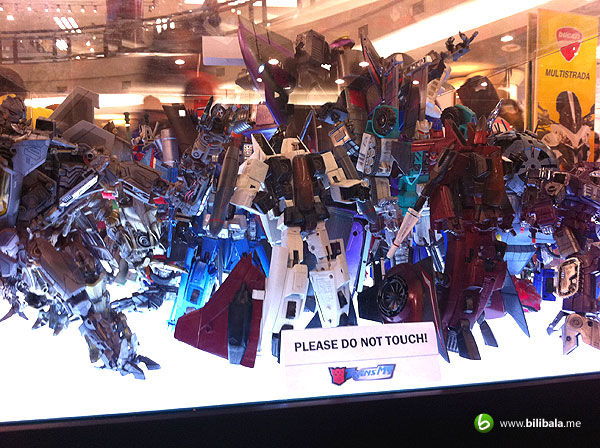 Here's the G1 Shockwave! Wow.. that's a rare collection indeed! And who's that Octopus robot in front of Shockwave?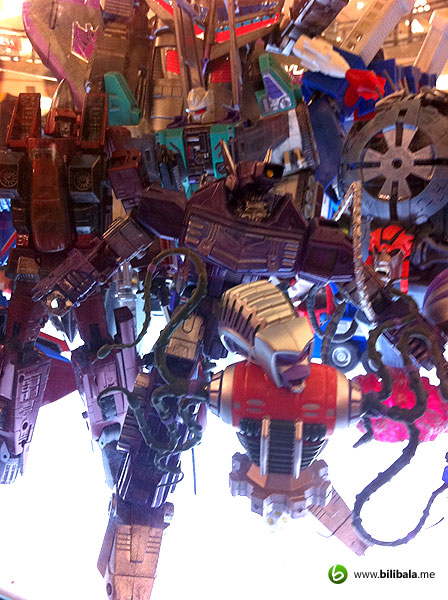 Here's another SPECIAL display which is not in the picture earlier. The exhibitor put them up suddenly :p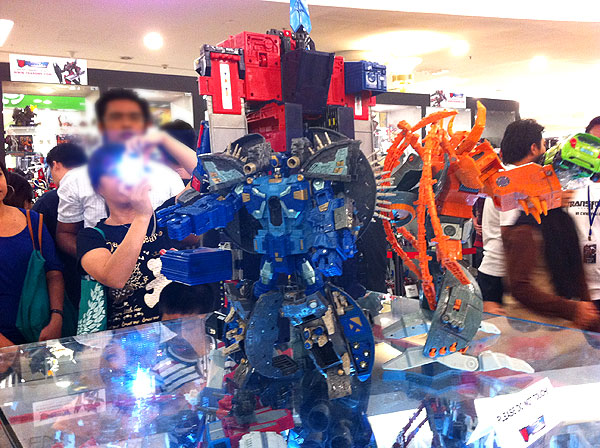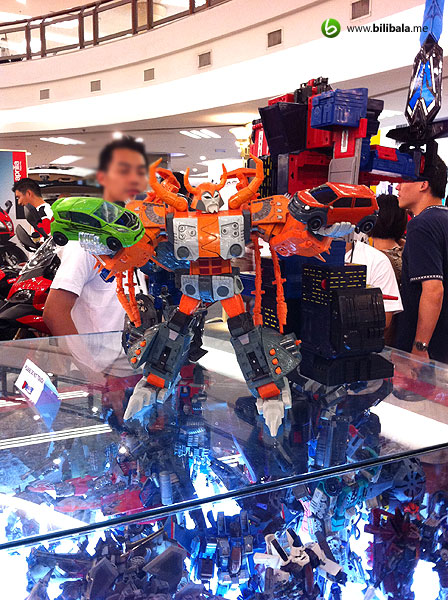 Wow… the squarish G1 Transformer. Really HUGE and MASSIVE. It must have cost a fortune with this masterpiece i guess!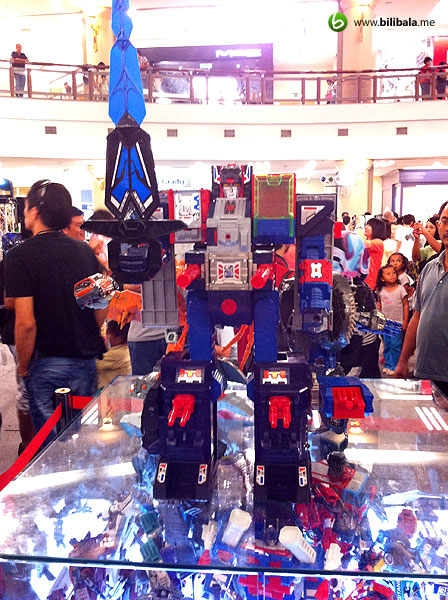 (G) Bumblebee Collection 1
Well, let's move on to the unique collection of, eh, just the yellow Bumblebee. According to Transmy, all these 2 display casings belong to a female collector. Wow! And i thought only guys like to collect Transformers :p Anyhow, she managed to collect around 90% variants of Bumblebees. Pretty neat and really a salute to her great enthusiasm.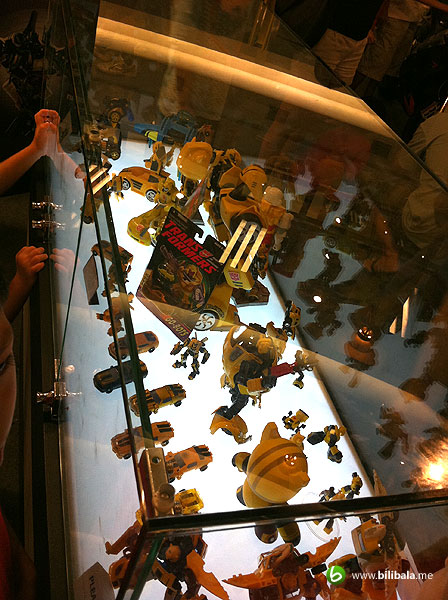 Lots and lots of yellow Bumblebee.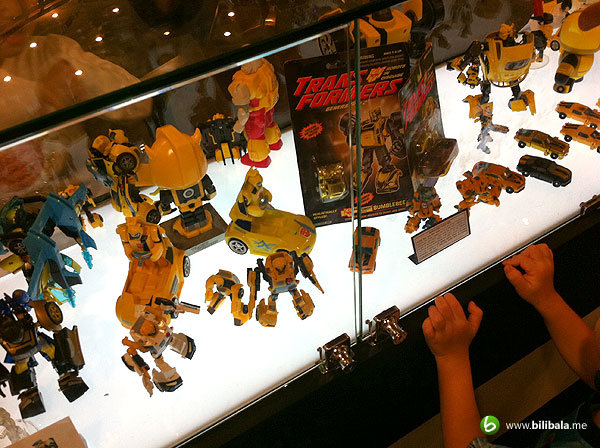 Bumblebee of different sizes and…. no different colors. 🙂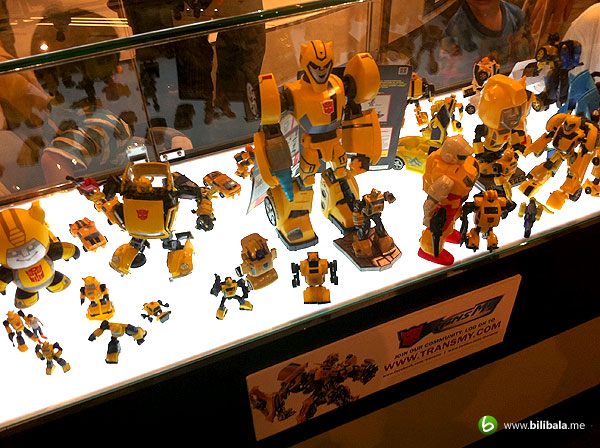 (H) Bumblebee Collection 2
Here's another display case just to showcase Bumblebee from the same female collector.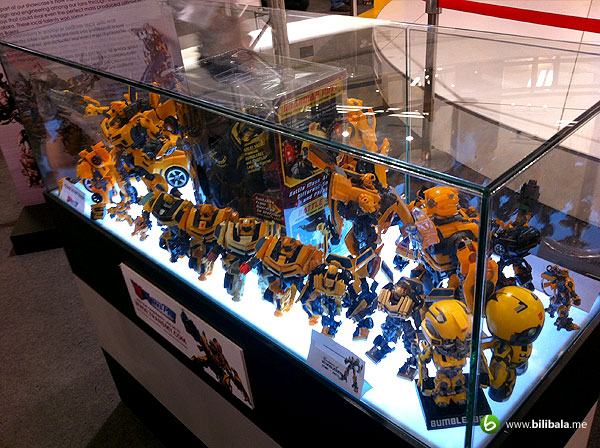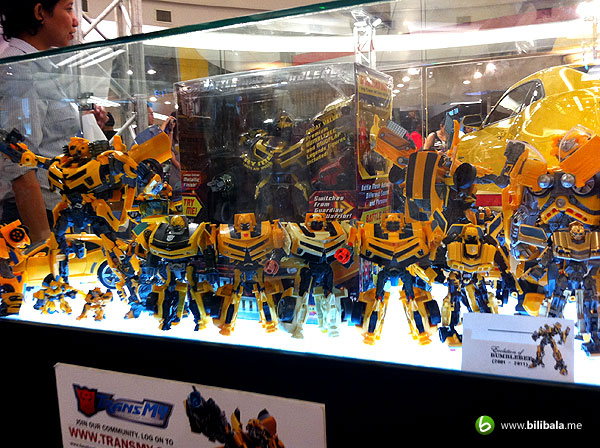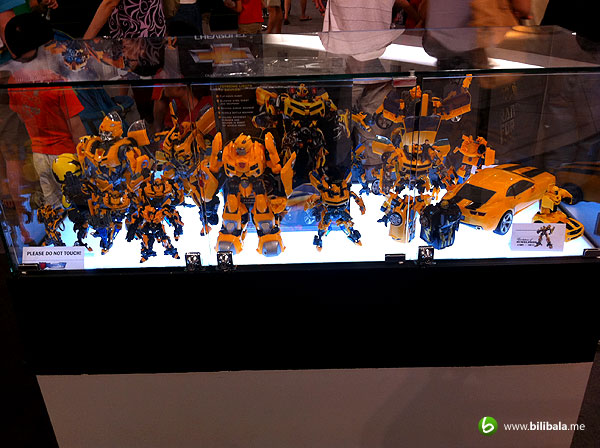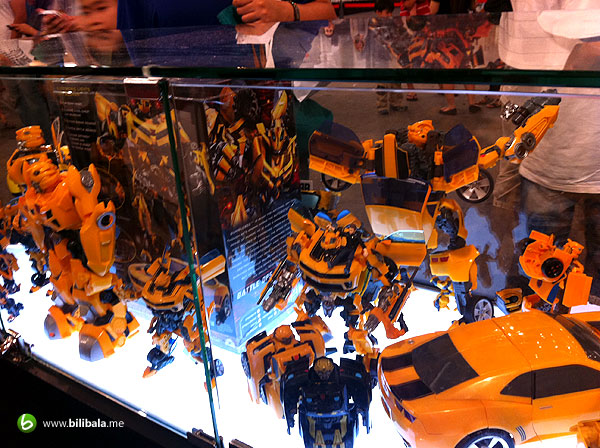 Well, that's the end of the collection area. Let's move on to the NON collectors area.
(I) Merchandise Area
With such events and exhibitions, there comes business opportunity (which is the ultimate goal of course). You can buy some of the latest Dark of the Moon toys here. And of course, after all the poisonous display of Transformer toys around, who can resist of NOT buying one of them? :p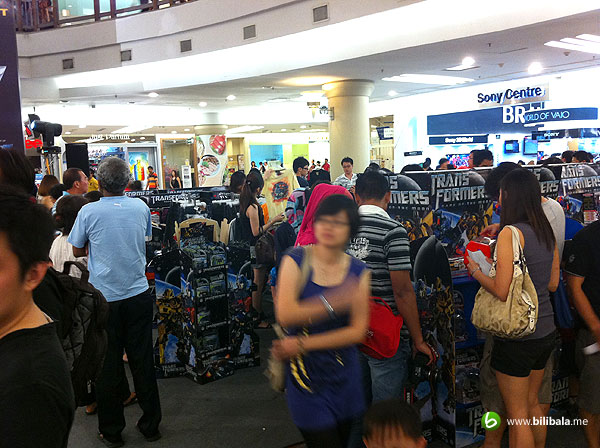 Some of the Wave 2 Deluxes and Cyberverses are being sold here. Oh ya. I managed to find a Cyberverse Blackout here (which is a seek after). The outcome? I bought one.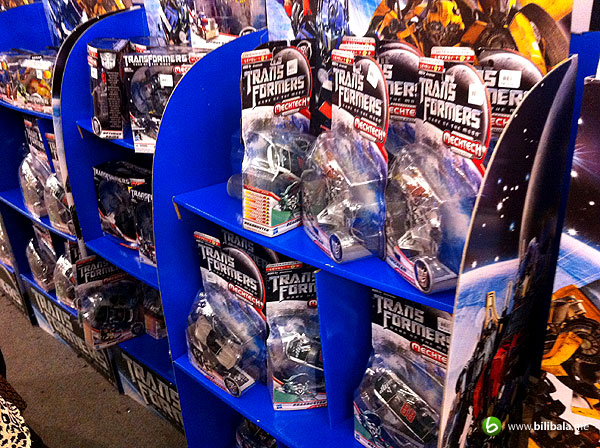 Surprised to see the voyager class Dark of the Moon Starscream here. Hmm… I don't even know there is a Voyager Starscream for Dark of the Moon movie. Until now.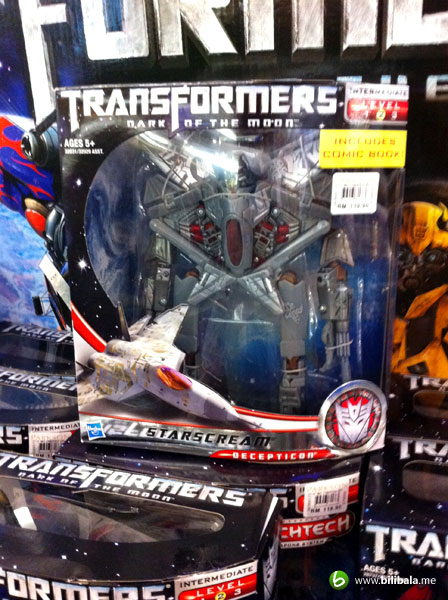 If you fancy wearing some Transformers identity, try the clothing section 🙂 It got lots and lots of cool Transformers T-shirt for you to choose with.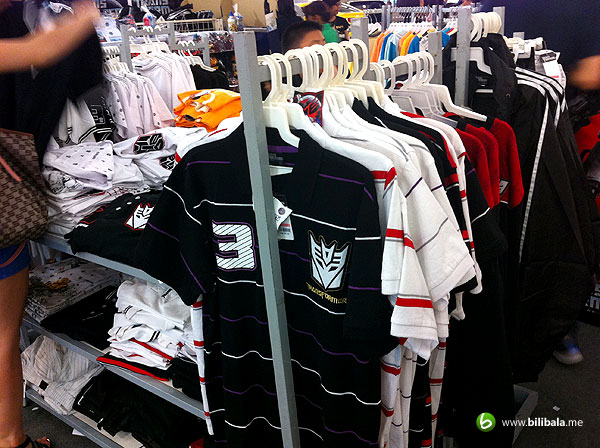 Oh ya, the merchandise area is actually held by Parkson Malaysia.
(J)Chevrolet Camaro Area
Now, this is the 1st time I actually see the ACTUAL Camaro car. 1st impression: it's very striking with the Bumblebee yellow color! And it does look awesomely cool!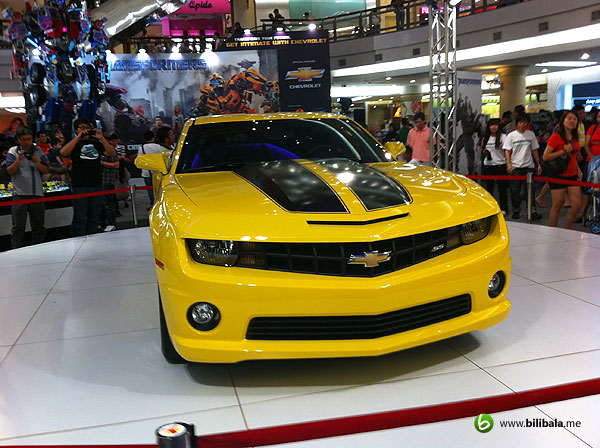 And this Camaro is actually a Transformer edition with the Autobot insignia at the side. And of course, it can't be transformed into Bumblebee.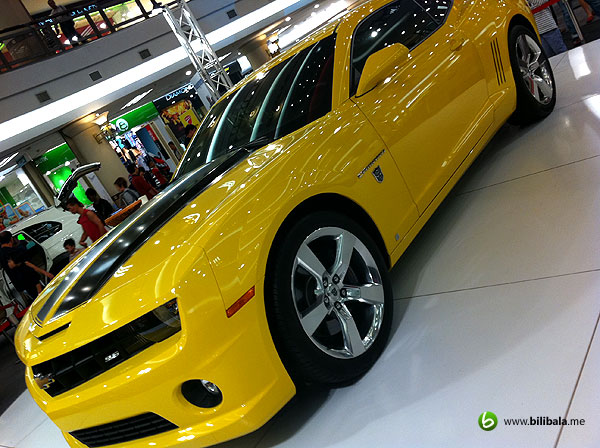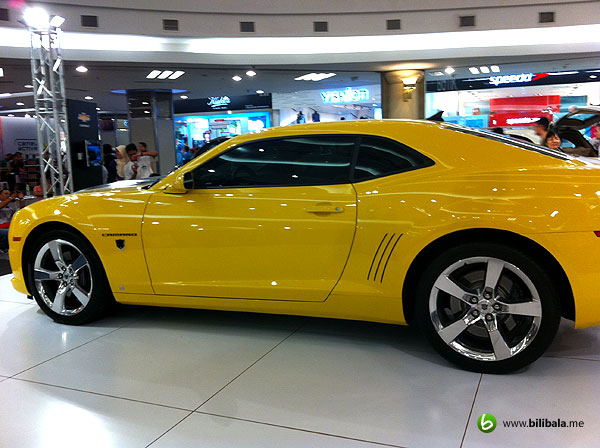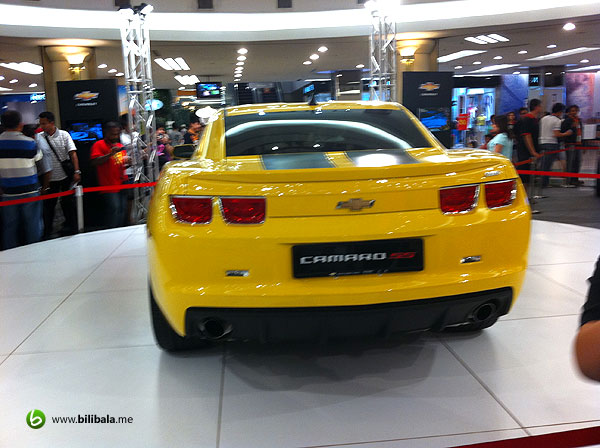 Well, few like owning one of it? Check out the price tag for it. Pretty cheap rite? :p Well, that's what it costs to be Sam Witwicky.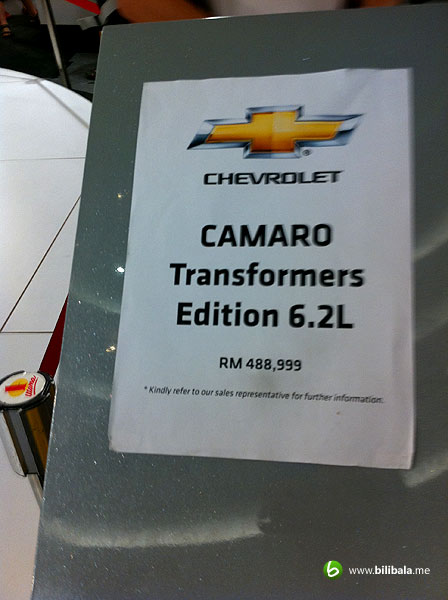 Dark of the Moon Buntings Around
Well, some of the cool Dark of the Moon buntings around the exhibition area. I only seen 4 of them: Bumblebee, Sentinel Prime, Shockwave and Megatron. I wonder where did i left Optimus Prime out (if there is any).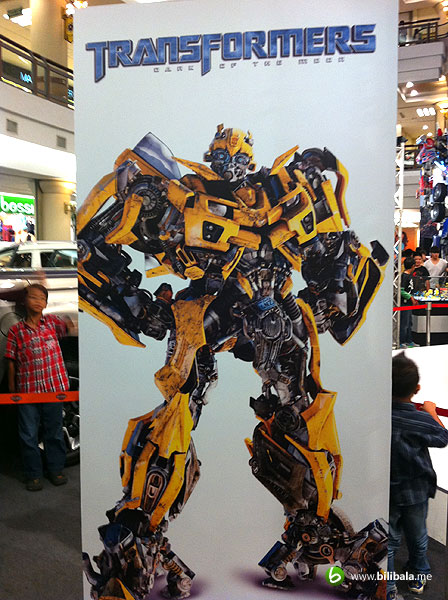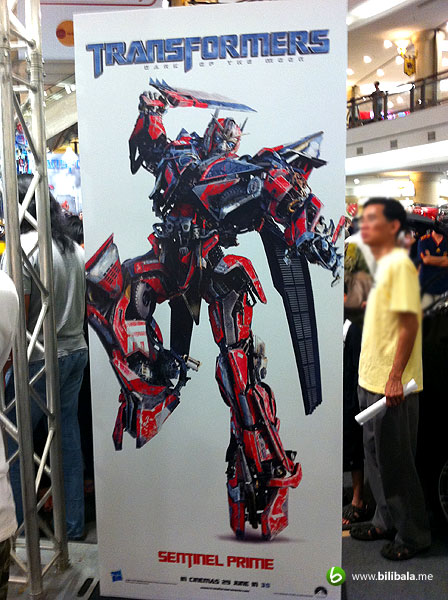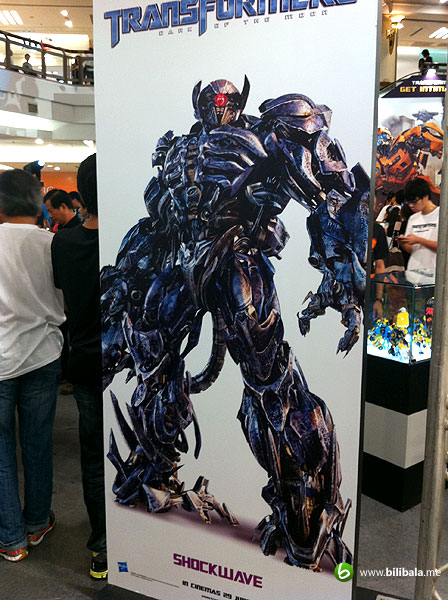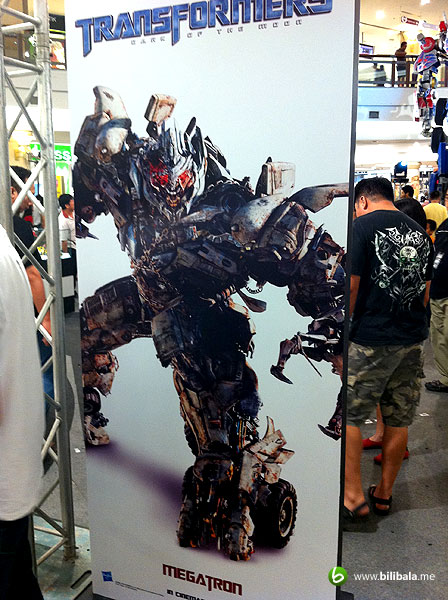 Phew… well, that's all for what is for the Transformers exhibition. Is really worth a visit! So, make sure you get the chance of visiting it!
Catch for the Day!
Before we wrap everything up. Let just see what i get from the same day i visited the exhibition.
First off, i bought the Transformers: Dark of the Moon themed Magazine from GameAxis and HWM. Both having 2 different covers of either an Autobots/Decepticons insignia HWM cover or Optimus/Shockwave GameAxis cover. Got this from MPH book store in 1 Utama.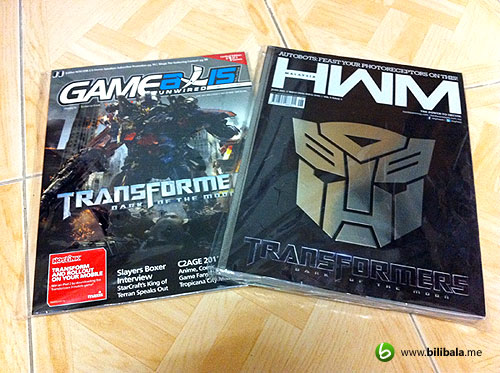 And of course, 1 Utama is also having a SPECIAL and LIMITED TIME Transformers: Dark of the Moon promotion. This promotion includes a limited edition Optimus Prime/Bumblebee themed 1 Utama card (with 3 years FREE subscription) and also a set of 4 Transformers: Dark of the Moon postcards! A must have for Transformers Fan! Oh ya, the promotion started on 7th June and it ends while stock lasts! So better be hurry to grab them!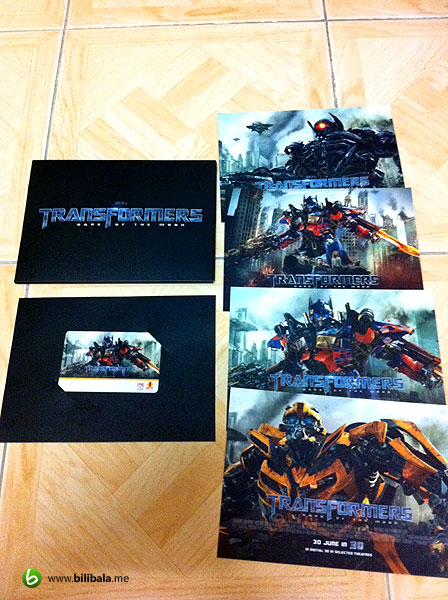 If you are interested in getting these, you just need to do this. IF you are an existing ONE card holder, you need to spend at least RM100 (with max 2 receipt combined or in a single receipt) from any ONE card participating stores (do take note, Parkson is NOT a participating store ya :p). IF you are NOT an existing ONE card holder, you can apply for a new one with RM200 purchase. Here's the promotion leaflet from 1 Utama Shopping Mall: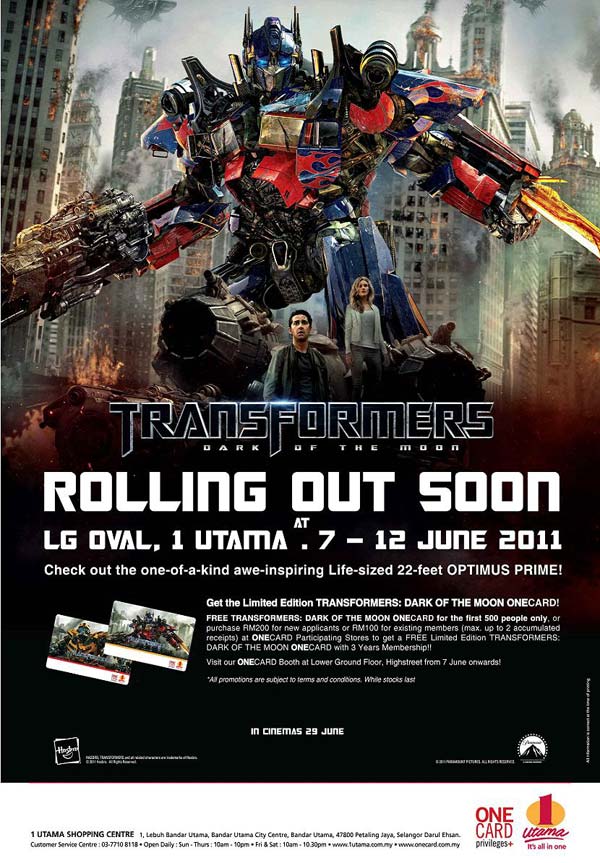 Lastly but not least, my haul for the day at the exhibition: The Cyberverse Blackout!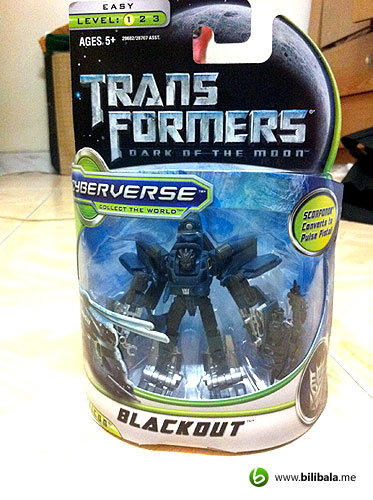 Well, that's all for the VERY LONG coverage of the Transformers event. Do click on "Like" if you like this entry. 🙂 Until then, happy hunting and hauling!