Read Time:
3 Minute, 21 Second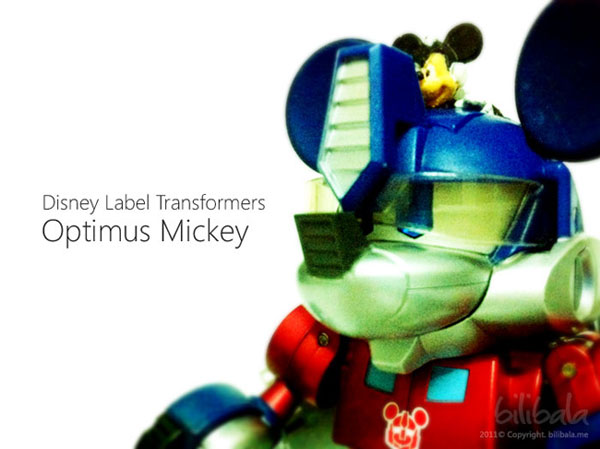 It is quite fascinating how a Disney character can blend with Transformers. Well, that's the concept of this line of Transformer toys: Disney Label Transformers. I got this cute little fellow a while back in 2010, but the actual release date i guess was on 2009. It was quite rare to find it nowadays. So if you have seen one, better grab it if the price is reasonable, i bought mine RM120 with a discount from the toy shop in Times Square ground floor (I dont know what's the name of the shop though).
Overall Build Quality
There's one good thing about Disney Label Transformer is that produced by Takara Tomy (TT). TT normally has higher QC and quality on their colors and building materials. So this little  Optimus Mickey has very nice metallic paintwork. It also poses glossiness in its painting and the overall feeling of holding it is very solid i must say.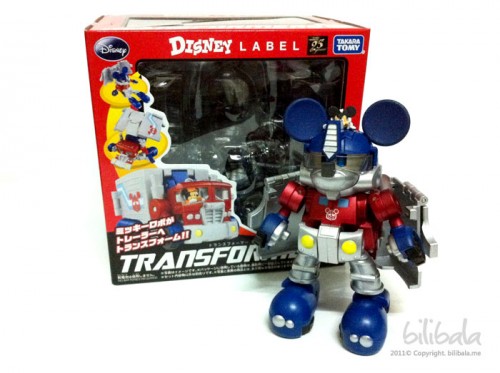 Alt Mode (Mickey Mouse Truck)
The alt mode of Optimus Mickey Prime is a very cute little truck with a trailer at the back. And you can see the driver (which is Mickey Mouse himself) driving the truck. It is a really cool gimmick that is being implemented in this toy!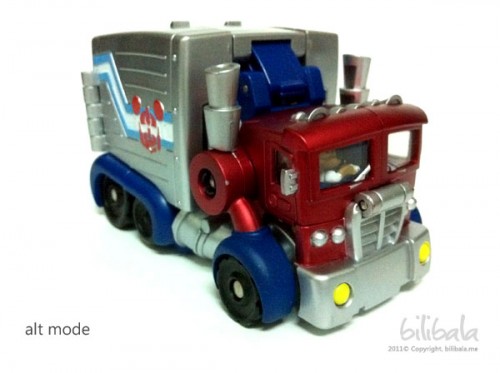 Articulation
There's one downside of this robot is that it really has limited articulation. You cant really do a lot of fancy pose with it. In all, there are only 4 points which can be turn around: head, left arm, right arm and both legs.
For the head, it is  quite difficult to turn as well due to the head and the back cover part is joined together. As for the arm, you can only move the whole arm (either left or right) up, down and a bit outwards. For the leg, the articulation is even limited as both legs are being joined together, i.e. you can't move individual leg freely up or down. They have to be in the same direction of moving which is quite a nuisance.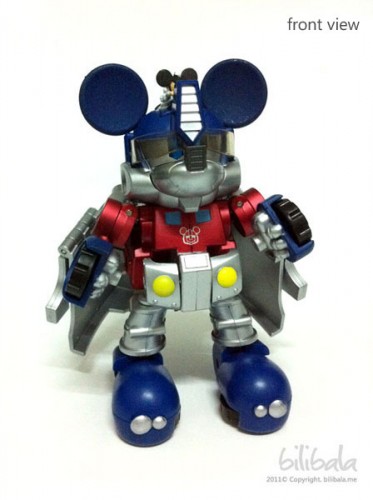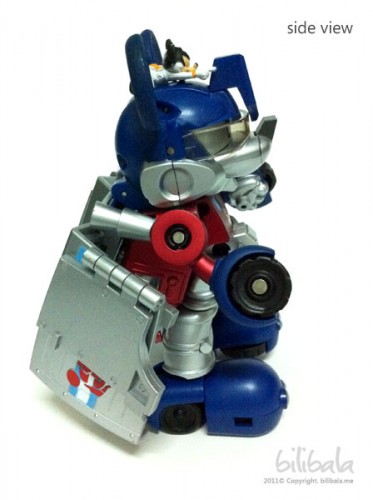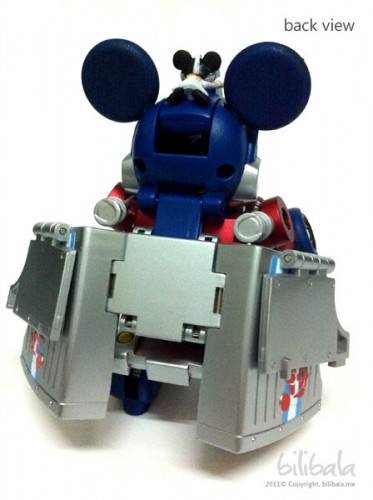 Transformation Process
The process of transforming into the alt mode is quite simple. It only took me 10 minutes for 1st time transforming it. Anyhow, it is quite an enjoyable process as you can see certain gimmick (see below for the robot gimmicks details) during the transformation and you will sure be very surprise of how they did the mechanics behind it's transformation.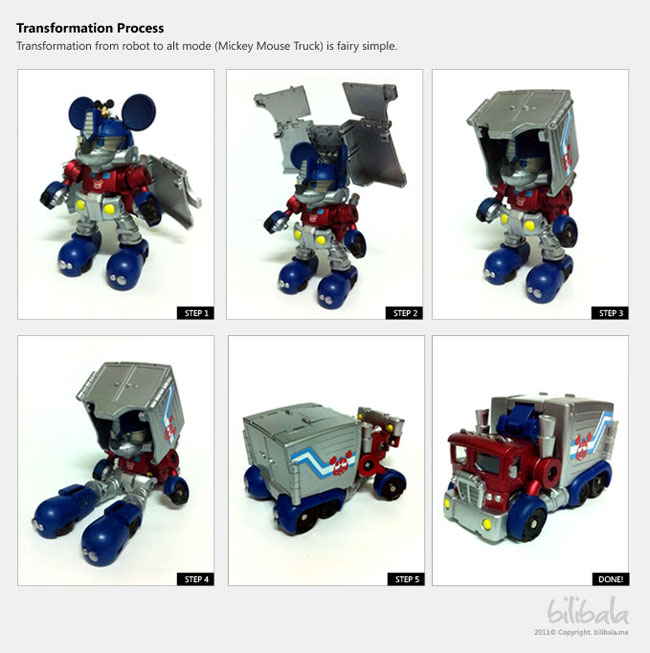 Autobot Emblem
The emblem of the Optimus Mickey is a cute emblem of a mouse which really brings out the identity 🙂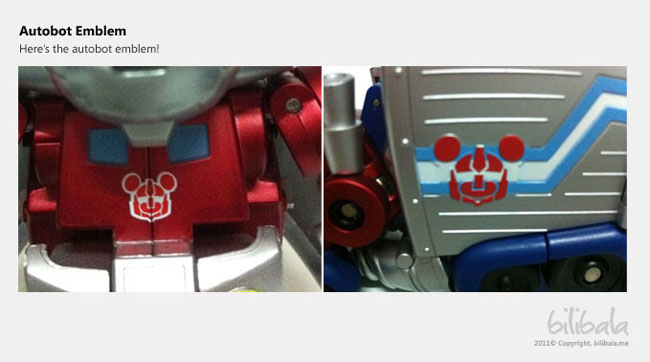 Robot Gimmicks
There's another thing about what i like this robot very much is the little Mickey mouse on top of the robot head. You can see him on top of the robot head and once it is being transformed into the vehicle mode, the driver is actually being "transferred" into the cockpit. This is a quite cool features which is a unique point of Disney Label Transformers.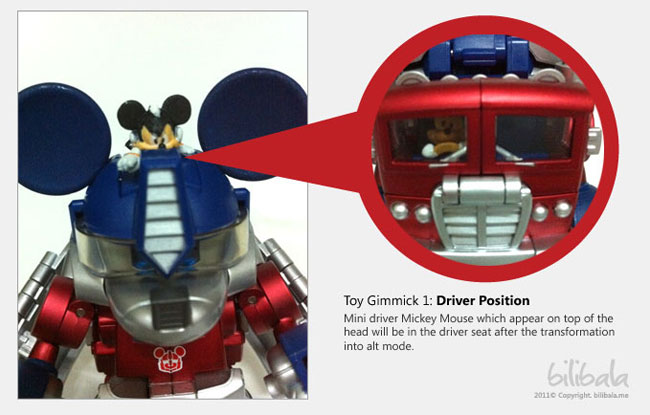 The 2nd gimmick is a simple feature: the transparent windscreen mask on top of the head can be moved up and down which is like a goggle to the robot. Quite nifty indeed.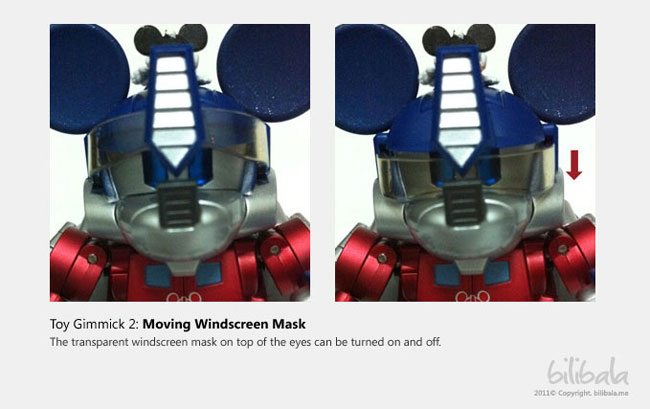 Conclusion
Optimus Mickey Prime is adorable with cool cute driver gimmick that adds to the value and mechanics of the transformation. The overall color and paintwork is really a plus point. But the downside of the robot is that of the limited articulation which is a turn off to people who likes to pose with their robots. But for me, it is stil very nice for it to stand there guarding my monitor in the office and accompanying me throughout the nite without fancy posture.
If you are a transformer fan and wanted to have a different and cute transformer, this is quite a cool toy 🙂 Even my colleague who is not a transformer fan also bought it and put on his table 🙂  It was me who poisoned him to get the Optimus Mickey Prime. hahaha….
So my personal rating for this cute little guy is 8/10.