Legacy Toy – MASK Thunderhawk
Read Time:
4 Minute, 59 Second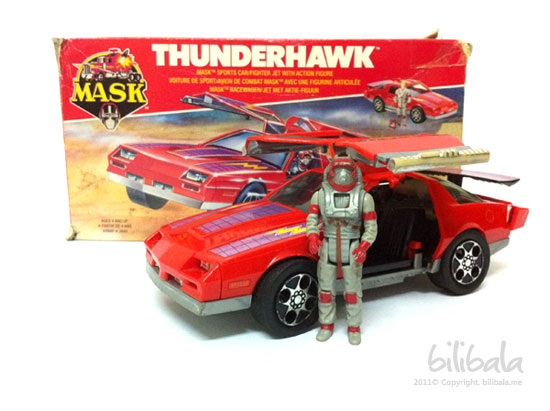 This is one of my most seek after toys in my childhood day. And of course, last time buying toys to me is like buying a luxury item. Can't really afford to buy these toys in those days which i really like. But after like 20 years later, i finally managed to get my hands on this precious and my long awaited toys since my childhood – The Thunderhawk from MASK cartoon. This is the ONLY mask toy i have at the moment as getting a legacy toys like MASK today is very pricey and some of the toys' condition might not be promising.
What is M.A.S.K?
Well, M.A.S.K is a 80's cartoon which i only manage to catch a few episode as what i can recall. But the impression on their line of toys really left a profound memory for me. I really like their toys as there is always a toy gimmick in each and every M.A.S.K Toys including the figurine that wears a mask which resembles something like a battle mode.
Actually M.A.S.K is a short form for the word Mobile Armored Strike Kommand. The vehicle itself is quite unique as it has 2 forms: a normal vehicle and with a touch of a button, it will "transform" into battle mode with different armor and weapon come out from it hidden state. It is really cool to see how they hide the weapon inside a normal car and being activated by a touch of button. Come to think of it, this is a 80's cartoon and the creativity and ideas of having such idea behind a toy is really cool and advanced.
The story is roughly a group of good guys (called M.A.S.K)  lead by Matt Trakker fighting with a bunch of enemy (call V.E.N.O.M – Vicious Evil Network of Mayhem) with Miles Mayhem being the overlord using their state-of-art armored vehicle ranging from cars, helicopter, bikes, airplane, almost any form of transportation. When they wear the mask, their vehicles will be switching to battle forms which protrudes out the hidden weapon.
If you like more reading on the M.A.S.K, you can refer to the wikipedia here.  Well, enough for the background, let's move on to the toy!
Overall
I got mine from Toy-worker at Subang SS15 with a price of RM200, which i think is a bit stiff considering there are 2 missing bomb from the vehicle and certain broken part to the rear bumper of the car. Overall condition is still acceptable and still in shape without major discoloring. Quite surprisingly, this toy already 30 years (the manufacturing date is on 1981 by Kenner) and the coloring and spring part is still workable and in fine condition. I guess the quality of the plastic being used in the old days have greater durability compared to now? :p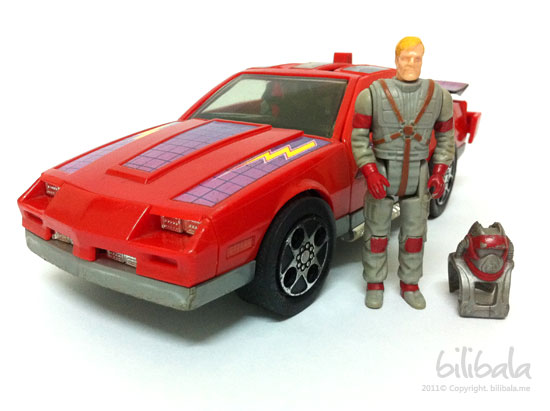 Well, the box comes with a vehicle (Thunderhawk) and a figure (Matt Trakker – Leader of M.A.S.K) with a mask as above. And you can have a look at how the box is: (the box is still in an acceptable condition)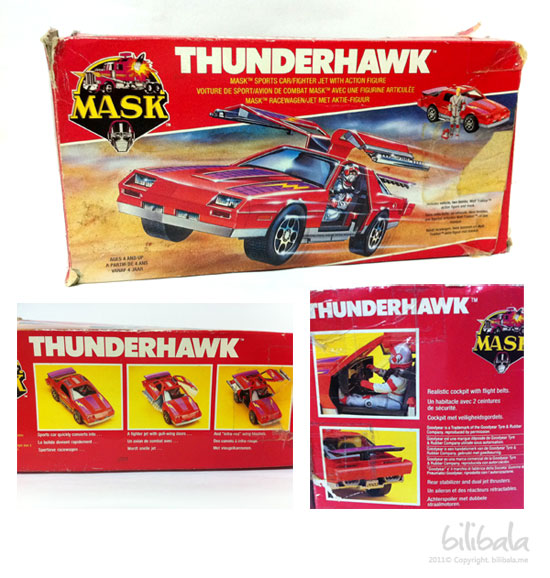 Thunderhawk
The vehicle is Thunderhawk which is actually a Chevrolet Camaro 1982. If you find this name sounds familiar, and yes, it is the same Camaro model used for Transformer Bumblebee which is the 2010 version. Here's a photo of how the camaro 1982 looks like:
But of course, they somehow tweak it with a bit of facelit on the Thunderhawk. As below is a full profiling of how the Thunderhawk is (in normal mode).
The battle mode is activated by pressing the button (the button which protrudes on top of the car) which you can see from above. Once activated, the both door will be swung open and the rear spoiler will be raised up to review the afterburner turbines and of coz the 2 bombs will be released from the bottom of the vehicle (which i didnt take picture due to the 2 bombs are missing).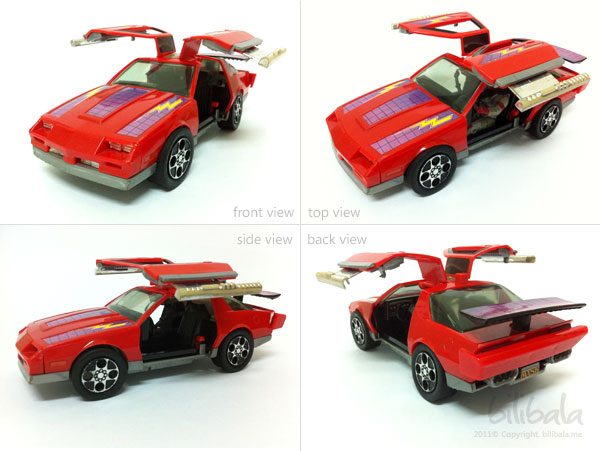 For the detailing of the vehicle, nothing much can be emphasized here beside mentioning about the detail at the driver dashboard (with meter sticker being stick on the plastic), seat belts for the driver and all the tires are actually GOODYEAR branded soft rubber-ed tire. The vehicle can actually fit in 2 figure, if you have another MASK figures, you can always sit them together 🙂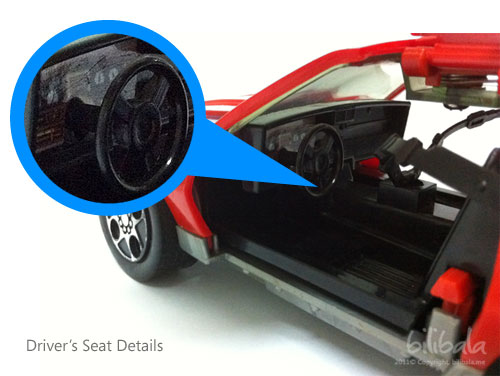 Figure-Matt Trakker
The Matt Trakker figure is a simple figure with very basic 7 body articulations (head-1, arm-2, leg-2 at each side). From the picture below, you can roughly know how the articulations work with the small figure: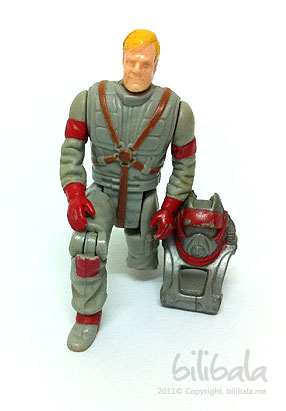 The detailing on the figure face is not as sharp or colored as figure nowadays (like the Human Alliance Transformer small figurine). It comes with a mask where you can help him to put on and look cool 🙂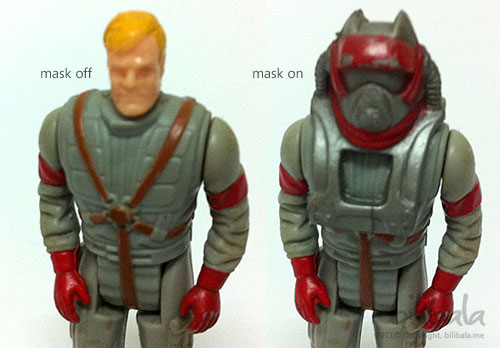 The figure sits nicely inside the vehicle and with the nifty seatbelt on, the figure will not easily detached when you play around with the vehicle either in normal or battle mode.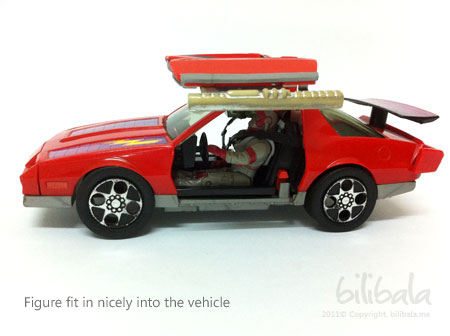 Conclusion
This is quite a cool toy and hardly believe it is 30 years old. However, the downside of it is the missing 2 bombs, the broken rear bumper and discolored chrome part at the door. If not, i will have the perfect Thunderhawk collection which i have been longing for.
So my personal rating for this collection is  7.5/10.
For those who are interested in getting one or any MASK toys and wouldn't mind the pricey tag, you can head towards Toy-Worker at Subang. But if you still want a collection but with limited budget, you can always try your luck in the flea market held in Amcorp Mall every sat and sun. You might eventually find a cheaper but more perfect collection selling there 🙂 Happy hunting !