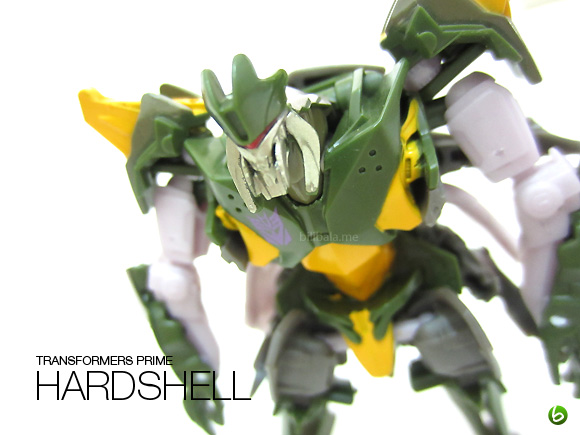 Hardshell: Transformer Prime
Read Time:
5 Minute, 2 Second
I am not much a fan of beastie Transformers. But when it comes to insecticons, I have this kind of unexplainable affection towards them. Of course, when Hardshell comes out of the shelves, without a doubt is a confirmed purchase. Hardshell, being one of the Insecticons trio (alongside with Kickback and Sharpshot), comes sadly in a cyberverse commander class. Was really expecting it to be at least a deluxe class so as to have the proportion size as Kickback. Anyhow, not to be mistaken with the earlier Fall of Cybertron Kickback which i have reviewed earlier, this Hardshell mold only exists in the Prime cartoon series having his own distinguished color.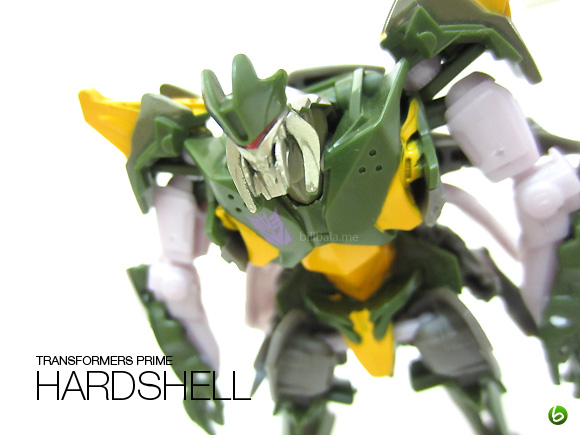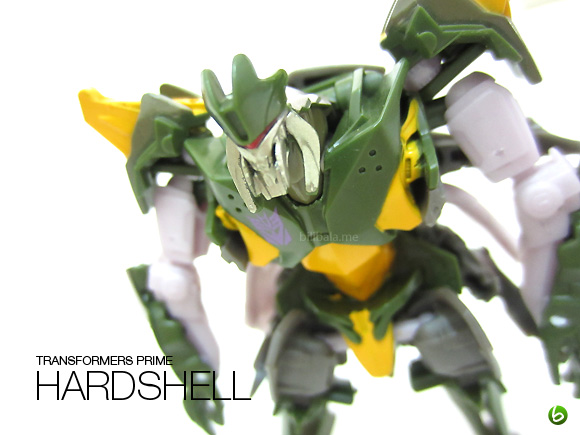 (A) Alternate Mode
The alt mode of Hardshell is a Rhinoceros beetle dipped in navy green color with a mixture of yellow. Though being a Commander class, this Hardshell has a solid mold and he is not cheaply built. I am very impressed of the details he has and the color treatment is of top notch despite it is a commander class.
The alt mode of Hardshell comes with a totally different head sculpt which is carefully painted and comes with a simple jaw articulation (refer 'Gimmick' section below for more info).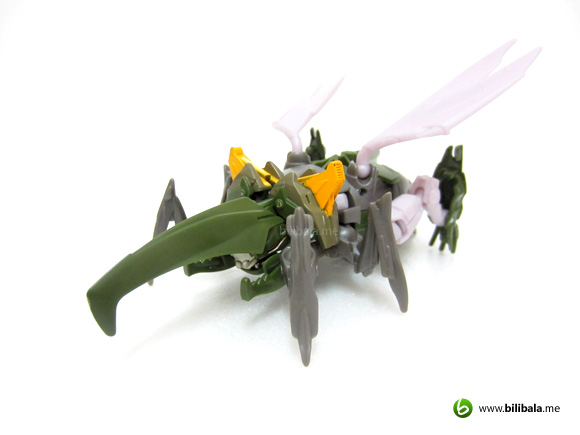 The overall mold is quite show accurate. However, the color itself is somewhere off as compared to the animated series (animated series will have a very dark green and lesser yellow) but this isn't a let down as he still have his own color of attraction IMHO. Overall plastic is of those matte plastic which are a bit more scratch resistant.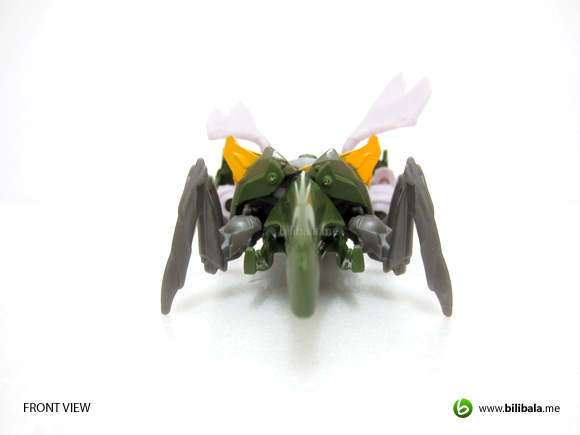 Despite you are getting 6 limbs for the alt mode, the front 2 pairs of soft-plastic limbs are actually aesthetic and not movable. Only the rear pair of the limbs are articulated (which in actual are Hardshell's hands in robot mode). Couldn't expect more for what you are paying for a commander class.
However, the wings are connected to the abdomen using ball joints. You can pretty much do some simple movements like spreading and closing of wings.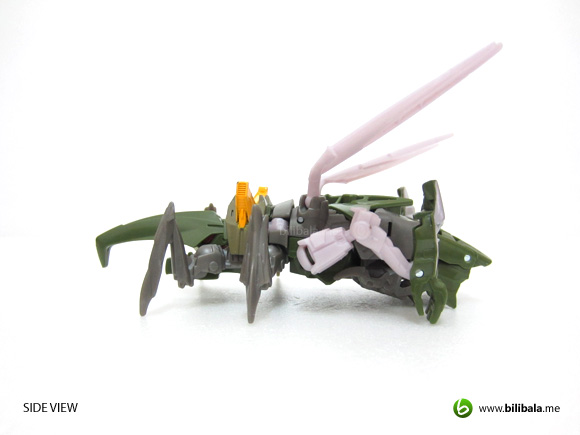 From here, you can notice both of the legs have some silver metallic painting on them. That's the few part of Hardshell having such exclusive treatment to highlight the details.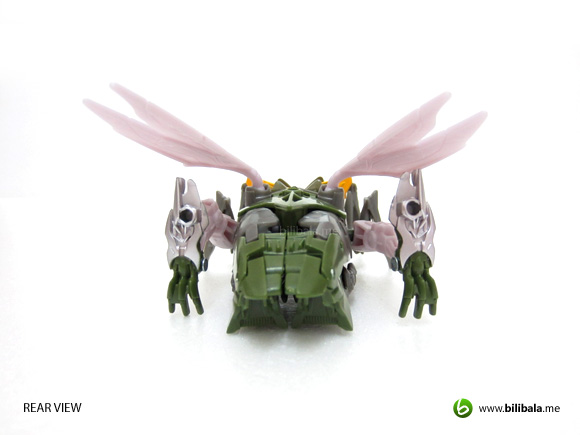 The yellow color does stand out from overall navy green. The only part which i don't much fancy are those light grey plastic parts which seem like an unfinished parts.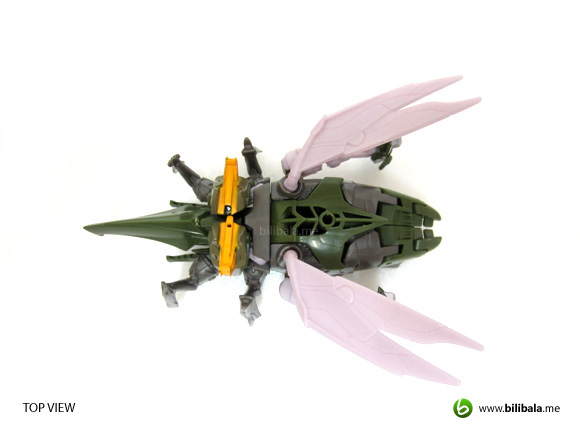 (B) Robot Mode
First impression of Hardshell, menacing and ferocious. Very true to the animated forms (except the colors) and details are great. The overall figure stands approximately 4.5 inch tall but it does weight like a deluxe.
In robot mode, you will have more of the yellow colors around the chest area. The overwhelming Decepticon icon appears now and located on the right chest of the figure.

The legs of Hardshell are designed with his knee bend inward instead of outward. This somehow mars the poseability of the figure.
There are much back kibbles (the very big alt insect head) for Hardshell. However, it doesn't contribute any weight in dragging the whole figure backwards. Luckily. I guess this is inevitable that the big insect head has to be there as there are no way of keeping it out of sight with such small mold.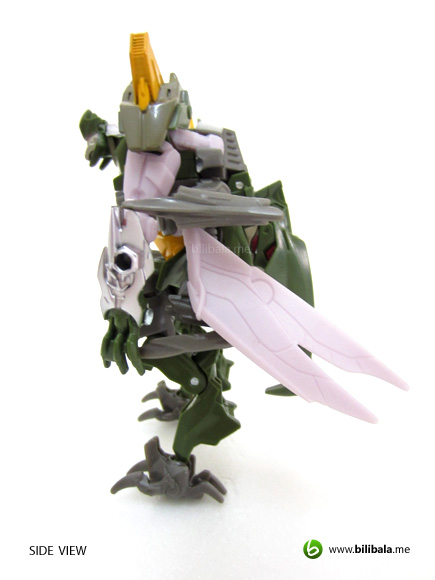 I find the insect head overwhelming big and it somehow occupies 95% sight of what Hardshell looks like from the rear. And the truth is, the tip of the horn itself exhibits much when you are looking at the figure from the front view.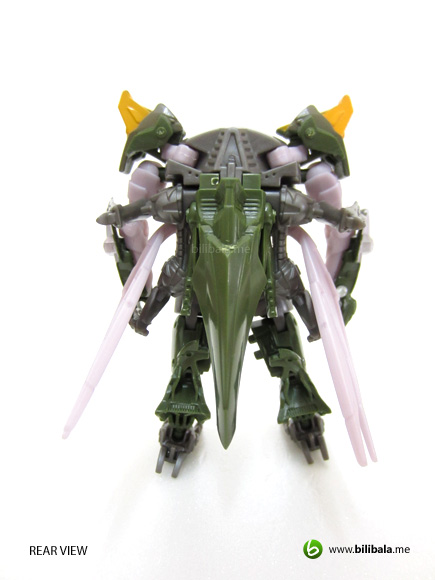 I like the head sculpture very much. Quite a detail with nicely painted metallic silver color. Even the V shaped eye of his is being painted with glossy red. Yes, it is painted as there is no light piping mechanism for him. Again, you can notice the very BIG Decepticon insignia. Well, so much of robot in disguise i guess.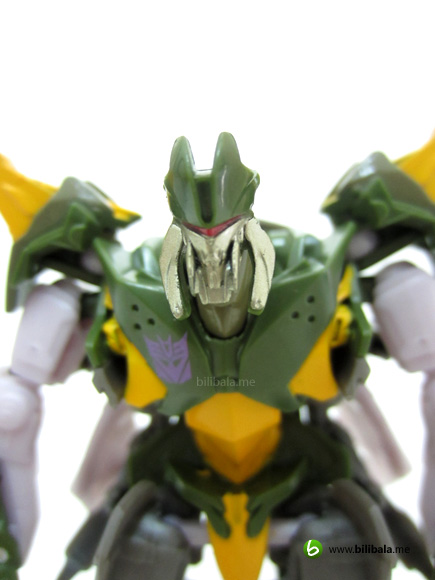 Articulation Mapping
Hardshell does come with set of standard articulations. However, the big letdown is that he doesn't have a head and waist joints which creates such a nuisances. Not sure why the left out of such important joints which just a simple ball or swivel joint will do the trick. I guess the cost is too much to sustain him for that extra 2 joints as he has already having other great features/color which adds up the production cost.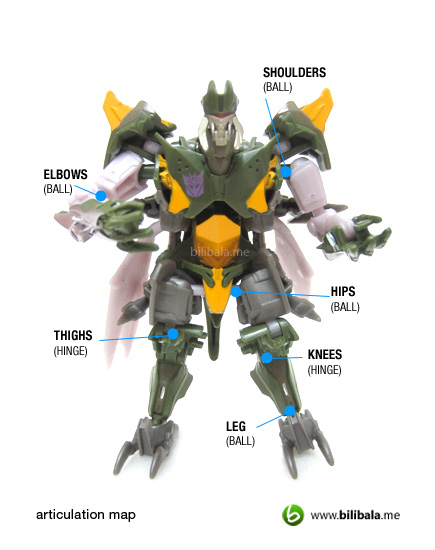 (C) Transformations
Being a commander class doesn't mean he has to sacrifice the joy of transformation. Hardshell has a transformation as complicated as a deluxe class should be. It took me around half an hour for the initial transformation and phew, the instruction manual is a long one. But as usual, I have simplified and summarized the transformation into 5 simple steps. Don't be deceived by these 5 steps though, the actual transformation takes more than 5 steps for this little commander class.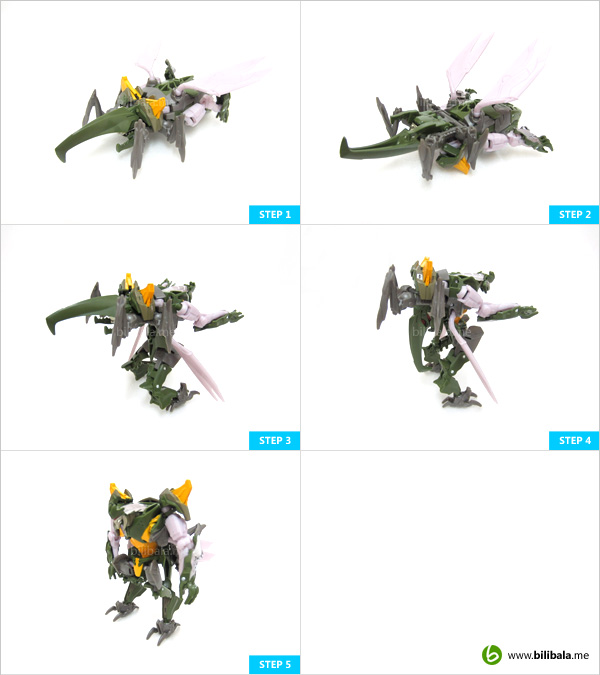 (D) Gimmicks


(E) Size Comparison
A very quick comparison between the 2 brothers….. from different line and class that is.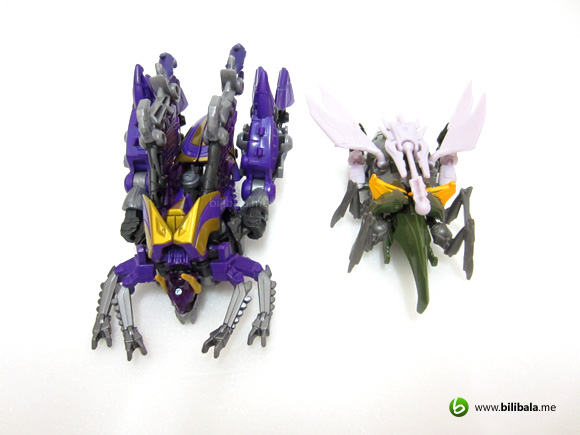 A commander class still a commander class. Hardshell is just half of the height of the deluxe kickback. Wished he was in deluxe class. Anyhow, both looks stunning and pretty much a seek after!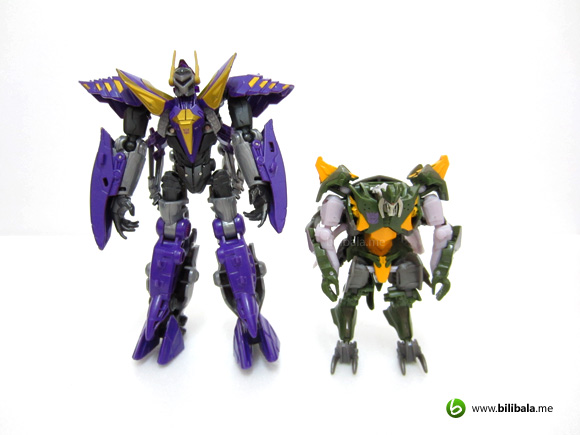 (F) Gallery of Goodies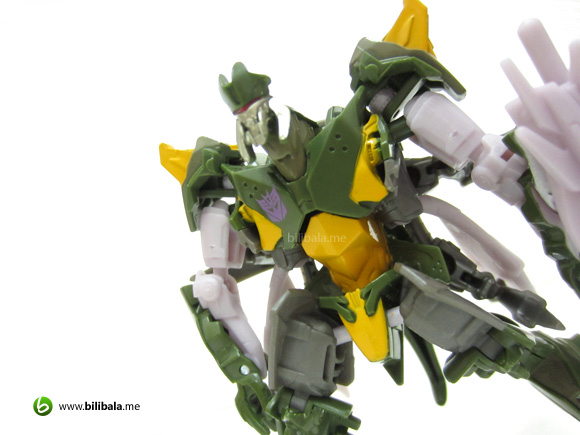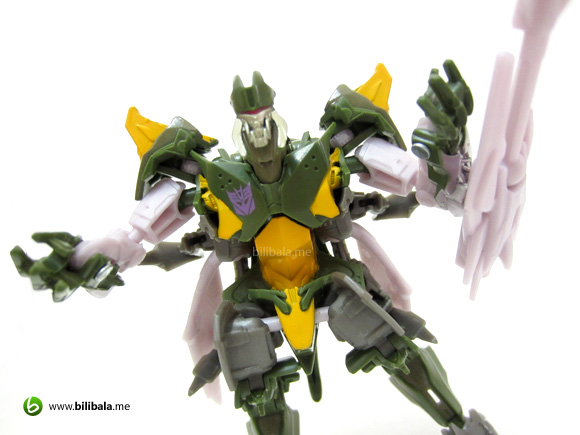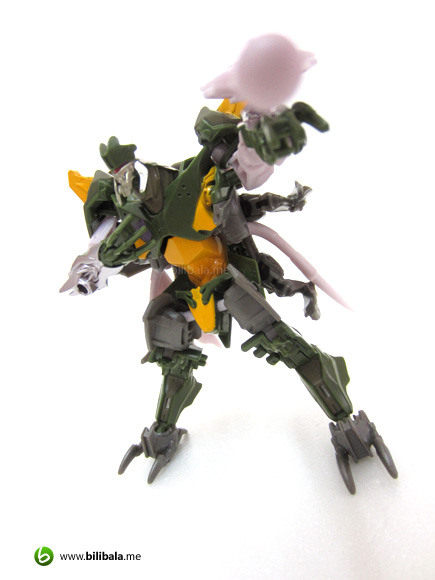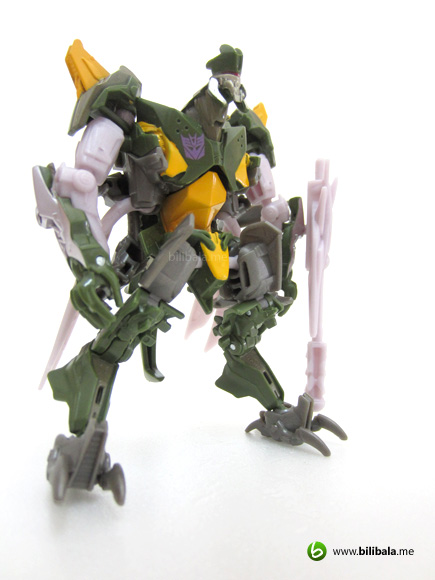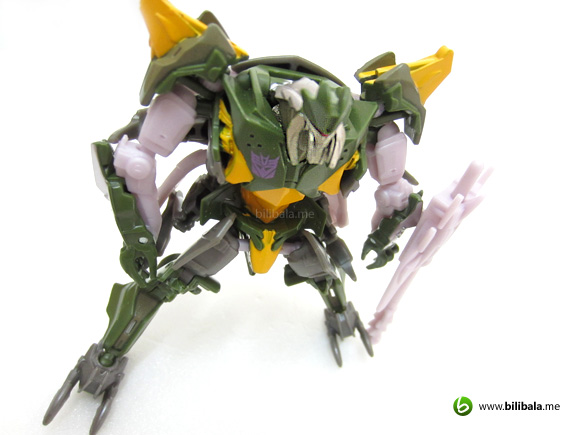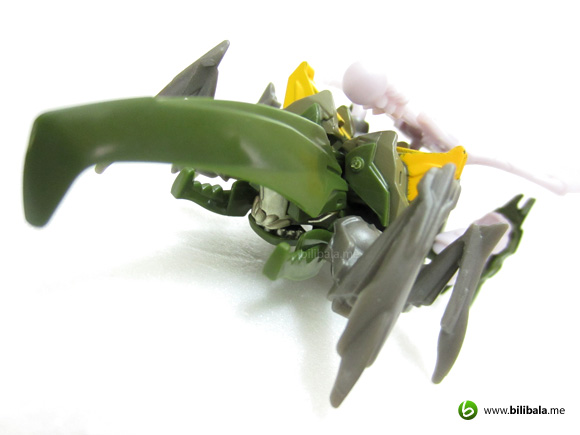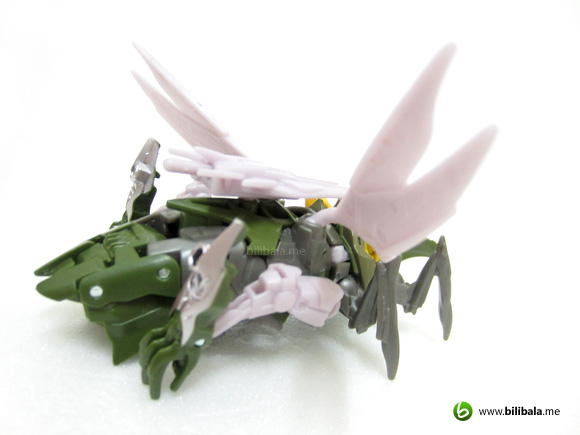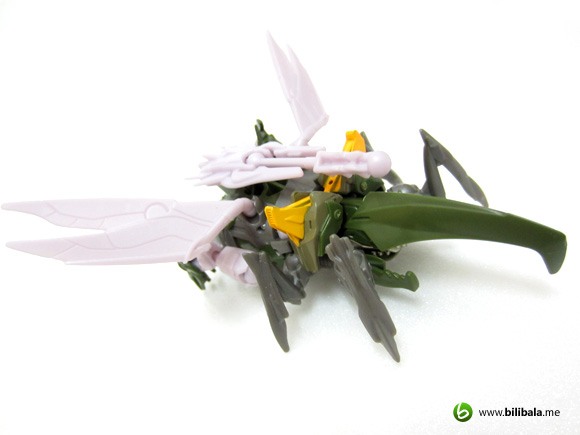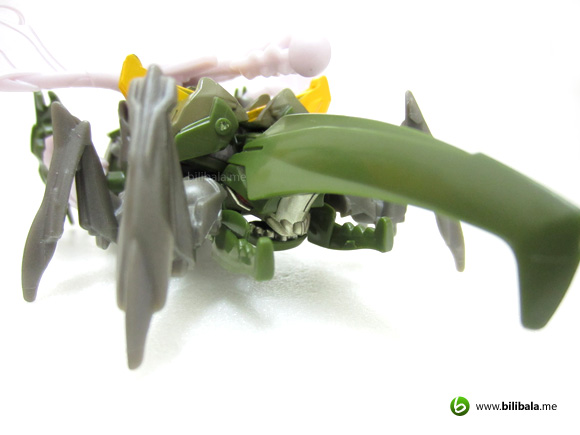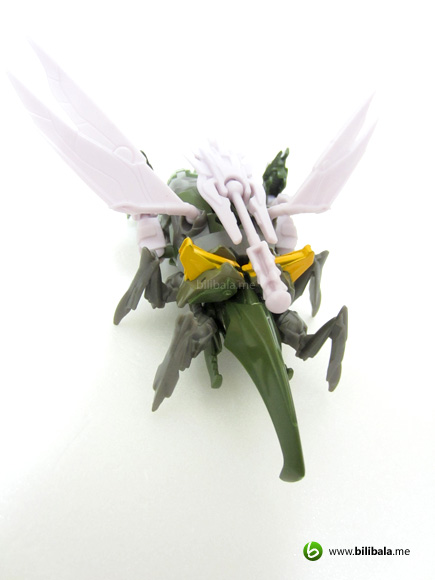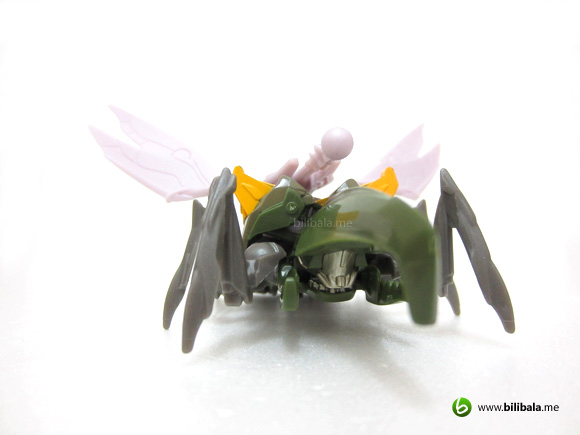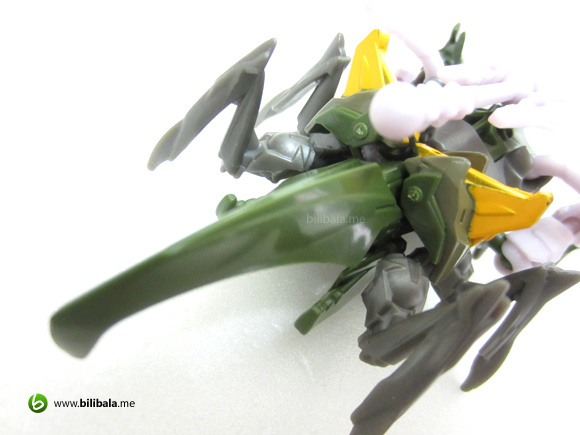 (G) Conclusion
Overall a must get figure among the new wave of Beast Hunter prime. Very nice mold, details and color. Transformation is as complicated as compared to a deluxe class despite it being the smaller one. Well, worth the money in short!
My PCR for him: 8.5/10
What I like – Good Details; nice color treatment; very nice transformation; a very nice head sculpt for both alt and robot mode (yes, there are 2 heads! )
What I dislike?– Lack of certain important articulations, the head especially; simple weapon gimmick with no springs.
Until then, enjoy hunting and hauling! Click the "Like" above or below the post to spread the poison around! Sharing is caring afterall! 🙂