First look at Transformers 3: Dark of the Moon Toys!
Read Time:
5 Minute, 30 Second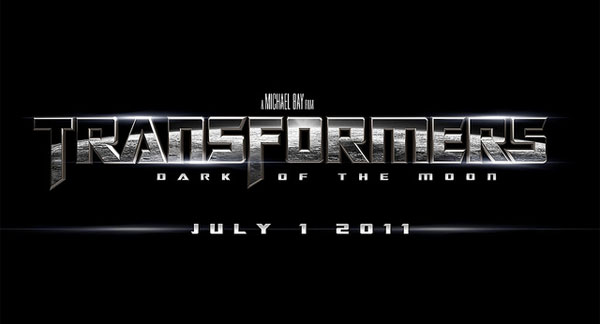 LATEST Update: Check out all my postings on the upcoming Transformers: Dark of the Moon toys here!

This is getting really exciting. Everyone knows Transformers 3: Dark of the Moon is coming in July. Everyone is curious about what new robots will be in. Everyone will like to grab one of the toy when they come out. Everyone including me of course! Well, after awhile mingling on the net surfing around seeking the 1st hand news (mostly from tformers.com) about how the new Dark Of The Moon (DOTM) toys will look like and roughly the pricing for them, i compiled them and put them in my blog and share it out here.
Well, i guess it will be a POISON to those who are into Transformers Movies toys, especially me. Really have to save money for this batch of toys when it launches on May…. That's roughly 4 months down the road and 2 months before the movie being released.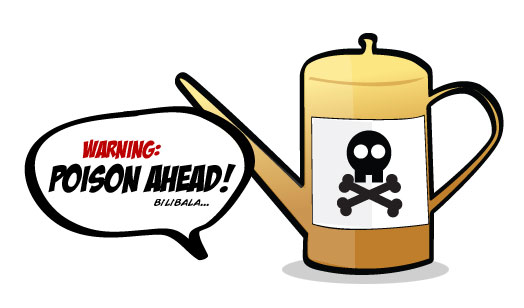 Anyhow, let's start peeking at the Dark Of the Moon figures lineup with their respective name, classes and prices from Takara Tomy. (Sources from Toywizard.net) Judging from the lineup we have here, there are around 2 Leader Class figures, 5 Voyager Class figures (with one of them Voyager + trailer), and 12 Deluxe Class figures which does really drain your wallet soon enough when they come out.
Released May 11, 2011 (Takara Tommy)
| | | | |
| --- | --- | --- | --- |
| Code | Name | Class | Price |
| DA-01 | BUMBLEBEE | Leader | RM249.90 |
| DA-02 | SENTINEL PRIME | Leader | RM249.90 |
| DA-03 | OPTIMUS PRIME WITH TRAILER | Voyager | RM229.90 |
| DA-04 | IRONHIDE | Voyager | RM139.90 |
| DA-05 | BUMBLEBEE WITH CARD | Deluxe | RM109.90 |
| DA-06 | AUTOBOT RATCHET | Deluxe | RM89.90 |
| DA-07 | AUTOBOT SKIDS | Deluxe | RM89.90 |
| DA-08 | SIDESWIPE | Deluxe | RM89.90 |
| DA-09 | RAODBUSTER | Deluxe | RM89.90 |
| DA-10 | SPONSORED CAR #2 (WRECKER) | Deluxe | RM89.90 |
| DA-11 | ARCEE | Deluxe | RM89.90 |
| DA-12 | AIR RIDE | Deluxe | RM89.90 |
| DA-13 | MILITARY HELICOPTER | Voyager | RM139.90 |
| DA-14 | JOLT | Deluxe | RM89.90 |
| DD-01 | MEGATRON | Voyager | RM139.90 |
| DD-02 | STARSCREAM | Deluxe | RM89.90 |
| DD-03 | BARRICADE | Deluxe | RM89.90 |
| DD-04 | CRANKCASE | Deluxe | RM89.90 |
| DD-05 | NEW VILLIAN | Voyager | RM139.90 |
Please take note that these prices are for Takara Tomy line which is normally RM10-20 more expensive from the Hasbro version. From Toywizard, they will carry out a pre-order soon for these goodies. I am pretty sure the rest of the toy shops will follow up as well.
More on Dark Of the Moon toys images….
Okay, after knowing the price, let's head over the "leak" pictures for the toys posted in tformers.com and actoys.net. They are all over the internet and what i am showing here is just a bit of compilation which i have done up till today 🙂
From the 1st picture here (tformers.com source) , i can only make out the Starscream character. The rest of the toys are pretty much the new characters appear in Dark Of the Moon. From the source, the robots shown here is Wreckers (a Chevrolet Impala), Human Alliance Dune Buggy, Deluxe Starscream (finally a deluxe class for the SS) and Dread/Crackcase.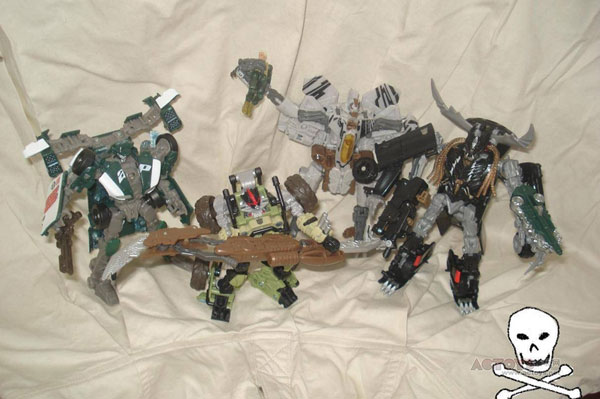 2nd off with the Dark of the Moon version of the Autobot Skids and a new mold as what has been told. Judging from the picture, you can pretty much see the color is black  (yes, the new Skids will appear in black color Chevrolet Beat with a new spoiler)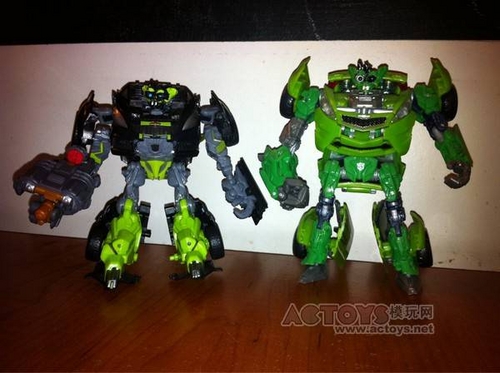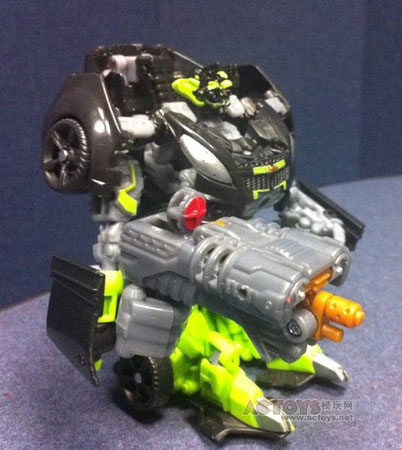 Source from: Actoys.net & Tformers.com
Move on with the new Starscream deluxe. Finally they came out the deluxe class for the starscream. But judging from the picture, the painting on the face is more or less like a crown and the overall feet design resembles a chicken feet. Funny. I wonder is this the final coloring?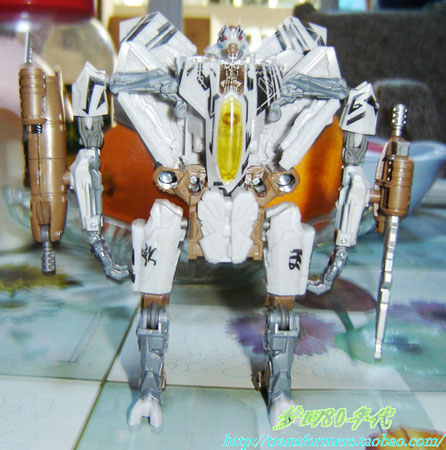 Source: tformers.com & taobao auction
Barricade is back again! Seem like they really like the American Muscle Mustang and it keep on coming back with bigger and meaner weapon for him. This time, he has a BIGGER (i mean REAL BIG) claw! Wow…. not sure how reliable this picture is for the upcoming Dark of the moon toy line, but the looks of it, the overall vehicle doesnt change much except for the, ahem, CLAW!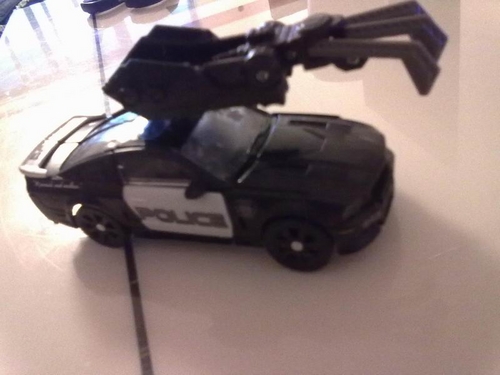 Source: tformers.com & TaoBao Auction
Geee.. now this is a NEW piece of toy i would like to buy. Is a new Decepticon robot named: Crankcase and its alternate mode is a black SUV which reminds me of the Ironhide GMC truck or a Toyota Hilux truck. Figures.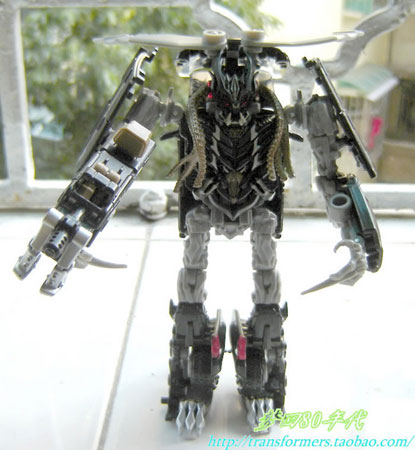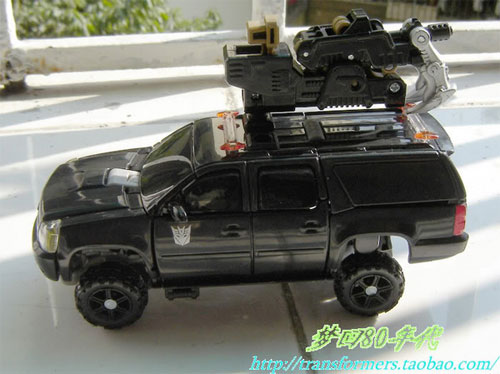 Source: tformers.com
Shockwave… now…. is NOT Soundwave.. I was confused previously between 2 of them coz of the similarity of their name. This apparently is a new character which might/might not be in the Dark of the Moon movie. But from the looks of it, he is MEAN and the cybertronian tank mode does look appealing. Cool, there's goes another budget of mine.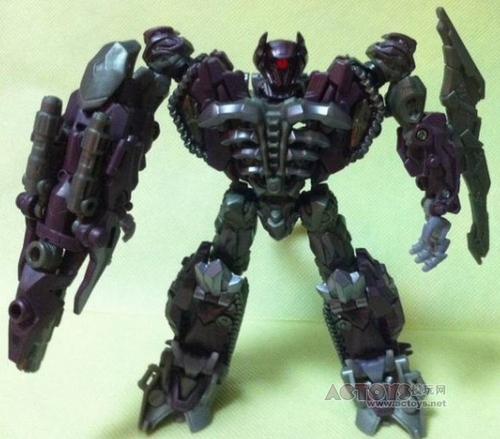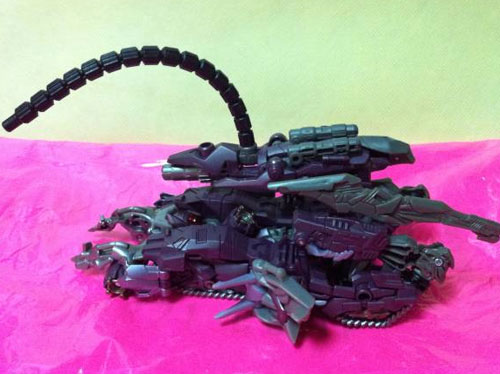 Source: tformers.com
Human Alliances make their way again!
Is always cool to have Human Alliances for Transformers as they come with a human figurine which you can "interact" with the robot and more stuff to play with. For the Dark of the Moon toy line comes 2 initial human alliances: a Dune Buggy and a Helicopter. Guess, i will have to have more budget 🙁
I personally like this Dune Buggy Human Alliance. The robot is cool and the alternate mode is something special from those ordinary sport car alike. Guess he is an Autobot which you can judge from the outlook.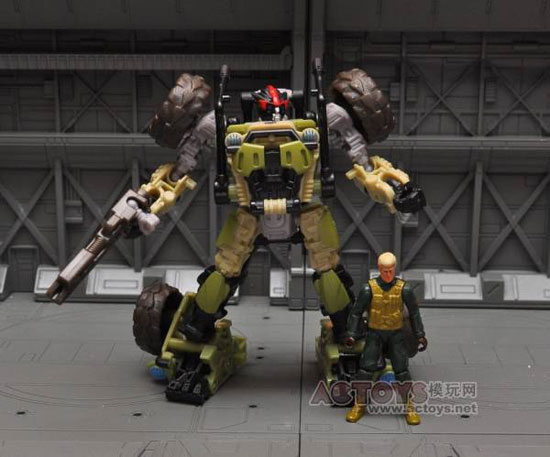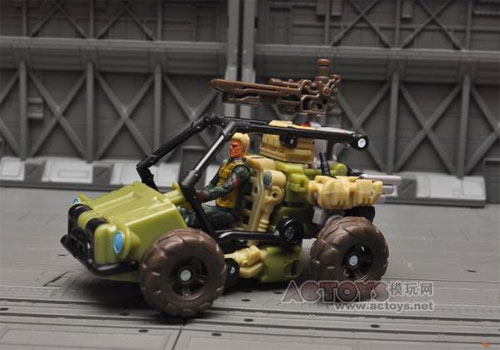 Source: tformers.com & Actoys.net
Now another cool piece of human alliance which are definitely in my wishlist.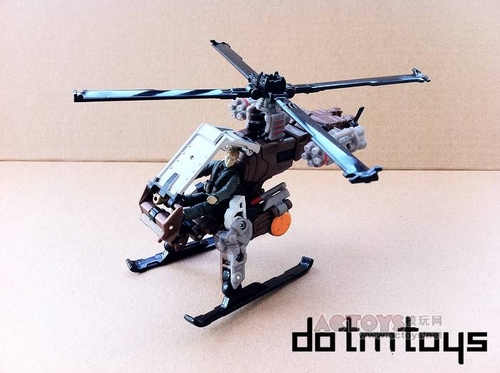 Source: Tformers.com & Actoys.net
That's all….. for now…
Guess it WILL be a poor year for me when all these toys come out. Have to start eating bread now :p Anyhow, if you want to know more and keep yourself abreast on all these updates, the tformers.com is always a cool place to visit and keep yourself updated with all sort of news on Transformers (all sort of Transformers other than the movie itself). If you know how to read Chinese, you can always visit the Actoys.net which is a cool community forum for up to date Transformers toys shared by user/insider.
For those Transformers Movie Toy collector like me, my advise, please get ready your bullet and happy shooting in the coming MAY! Happy collecting!
LATEST Update: Check out all my postings on the upcoming Transformers: Dark of the Moon toys here!