Read Time:
4 Minute, 13 Second
Slimy, deadly, ugly, dreadful and powerful lizard-like alien of all time: The Predator has finally laid his grip on Revoltech! Just arrived this month in Malaysia, this is really a must have piece for those Predator or Revoltech fan! I managed to grab mine last week and this is my 1st Predator toy ever!
There are actually quite a few Predator figures in the market so far. The best and most detailed (yet pricey, of course) so far will be the Hot Toys 12″ version. Of course, that is really for pure hardcore collector with the bucks as it does cost an arm or a leg for smaller collector like me for just one figure. A better or cheaper alternative would be the Neca Version which is quite detailed as well and is like 7 times cheaper than the Hot Toys Version. The downside of it being limited articulations and lesser gimmicks.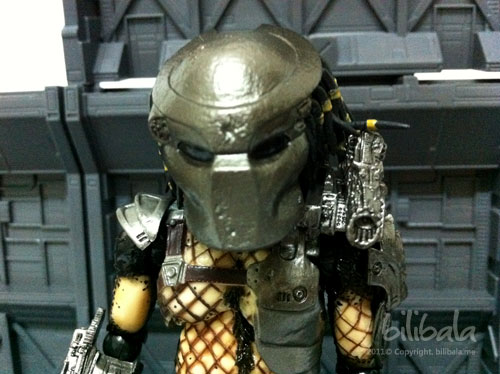 Anyhow, when Revoltech decided to launch the Predator, i guess my chance is here to grab one of it. What's good about this version? Well. As mentioned in my earlier post on Revoltech Yotsuba, their line of figures are famous of their revolving joints which allow maximum posing and articulations. Moreover, it does come with customized hands and limited accessories to play with as well. Read on!
The Box
Is the same box template as to other Revoltech Sci Fi series.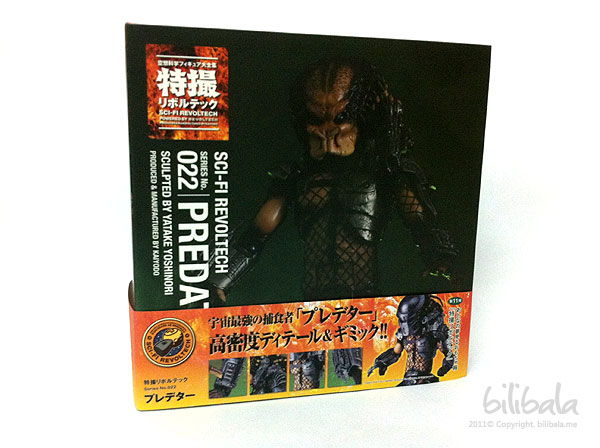 Some descriptions on the gimmicks/details for the figures are being highlighted on the back of the box. Too bad, is all alien language to me as i don't understand Japanese. 🙂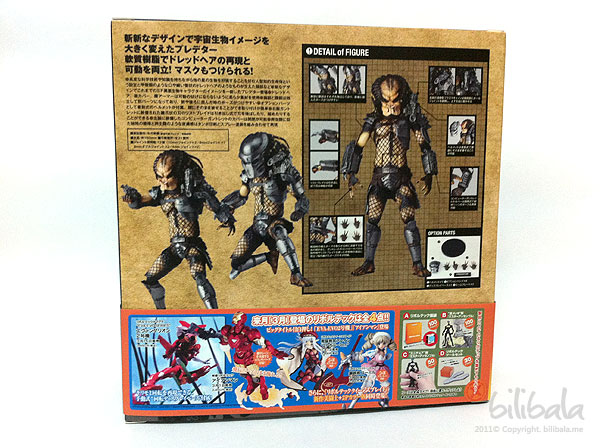 The box can be "opened" to have a sneak peak of what is the content of the box. Much different from all the previous Revoltech toys box that i have. And inside, it gives a long description on the history of Predator. Again, it is in Japanese.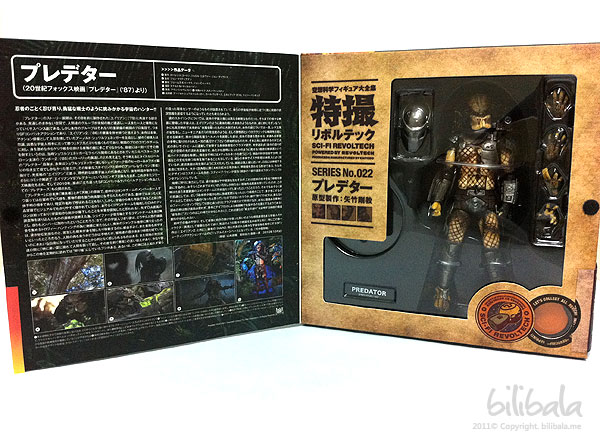 What's Inside?
Let's check out what's cooking inside.
You will have the Predator figure, a plastic box to hold all the accessories, the Predator Mask, 2 sets of hands with different fingers posture, a Revoltech coins (used to redeem merchandise from Revoltech website), a stand and the name plate for him.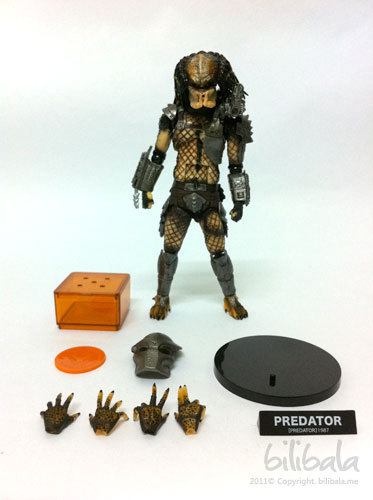 The Predator
The overall details, coloring and texture of the Predator is awesome. Especially on the slimy texture of the overall figure which really adds in the realistic details of Predator. I really like the coloring, very well done on every piece of the body armors and body parts as well. And of course, being a Revoltech, the articulations for this figure is a lot and you can really do a lot of fancy posing.
However, there's a very disappointing point about this figure: Very loose articulation on the waist to leg joints. Not really sure about other figure of the same batch, but mine is definitely loose which you really need some effort of posing it. I have to use blue tape to stick both of the leg to the stand in order to have proper posture of him. Too bad or else this would be a near perfect Predator figure.
Anyhow, putting this asides, let's move on with the details on the figure.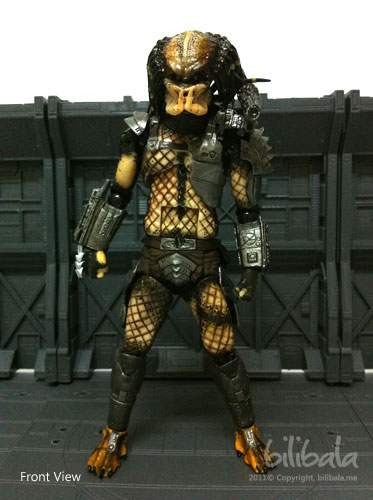 See all the armor parts of the Predator are being painted with rusty metallic silver.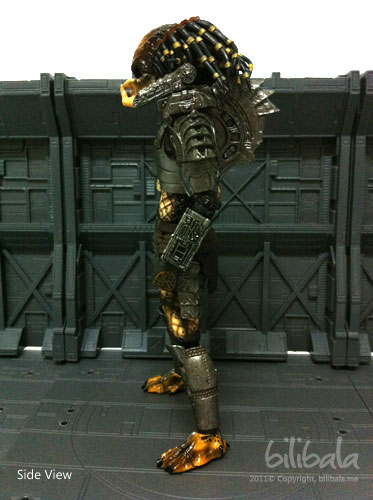 I personally like the individual movable tendrils he has on his head. Believe me, there's a lot to count and ALL of them are INDIVIDUALLY separated !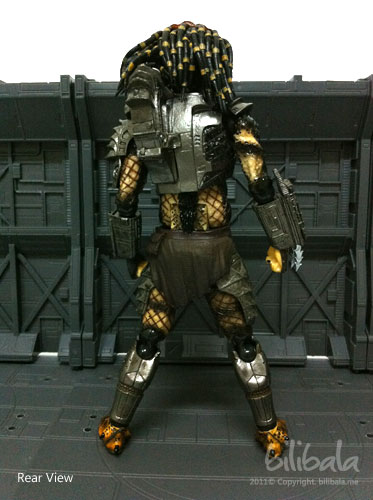 A close up on the ugly Predator head (i prefer to have mask on him anyhow). See the slimy and glossiness coloring on his forehead. The gruesome lips of his is made up of soft plastic which you can actually "open" it to reveal the smaller mouth of his inside.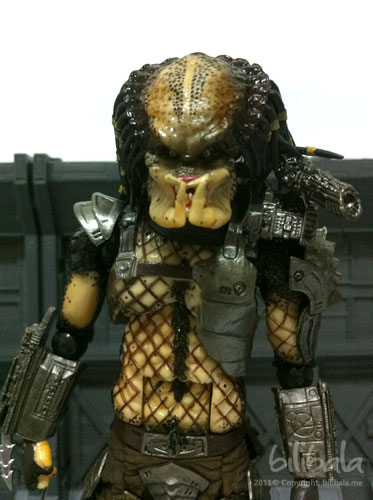 Another shot on the Predator head.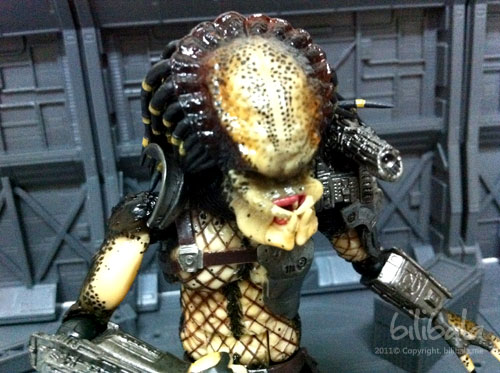 A close up on the head while he is wearing his Mask.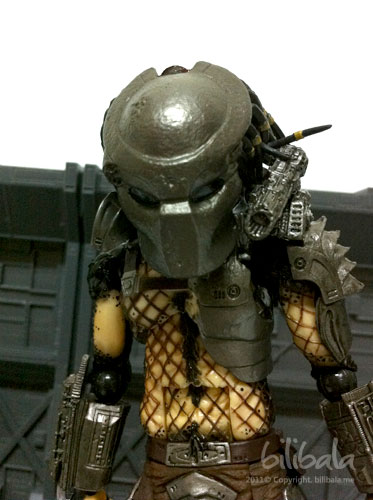 A close up on the bunch of stylish tendrils he has.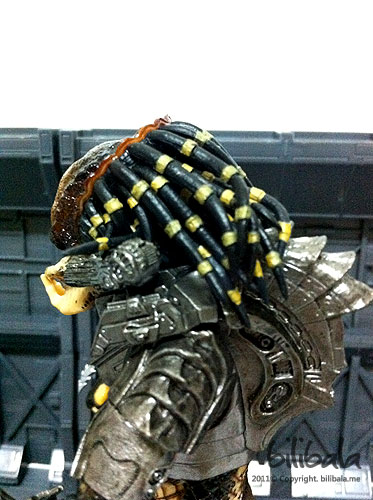 Gimmicks, gimmicks, gimmicks…
Beside having the mask for the predator as one of the prominent gimmicks. Here's a some finer details and gimmicks that comes with the Predator.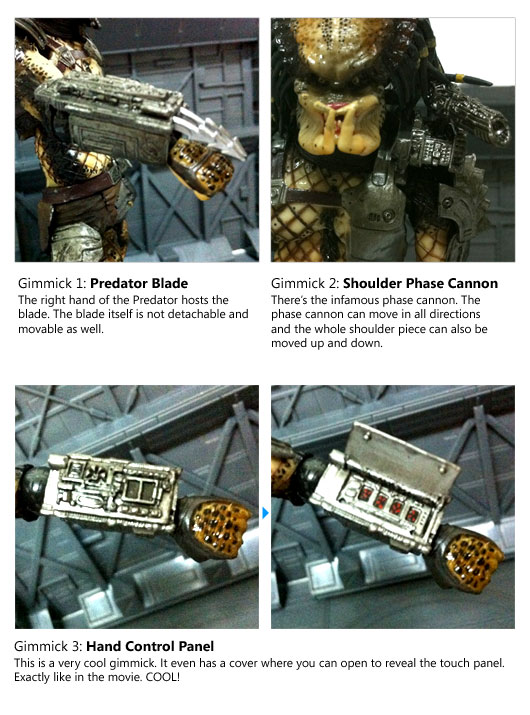 Some Posing!
Here's some posing i done for him. You can see how flexible  the Revoltech joints are.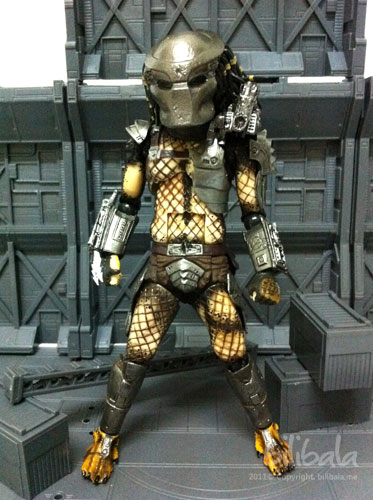 A famous screaming pose by Predator! ARGGHHHHH…..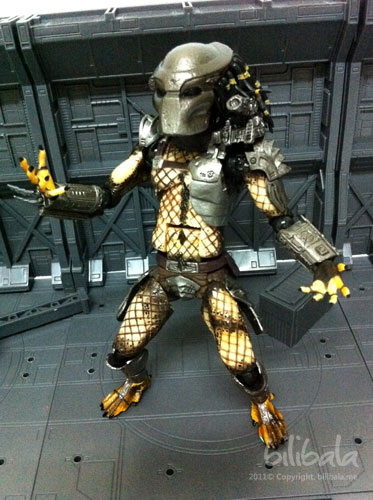 I am making him taking off his mask to reveal his true color of… PREDATOR!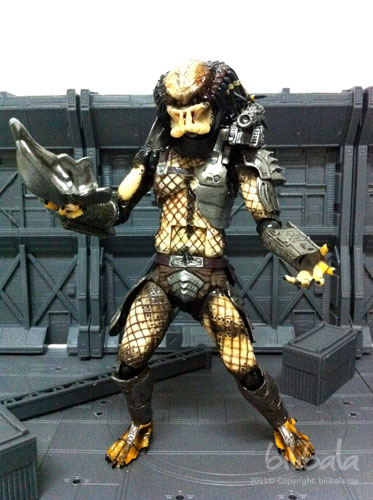 It always remind me of the self destruction mechanism on his touch panel.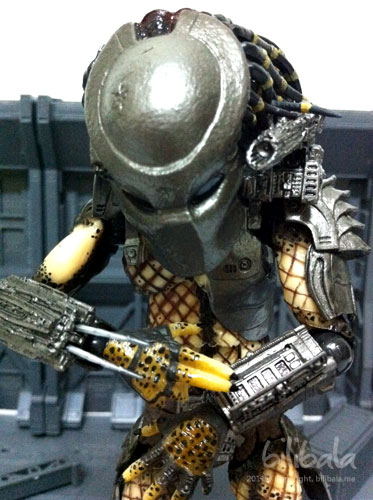 The Predator looking over for his prey on higher ground.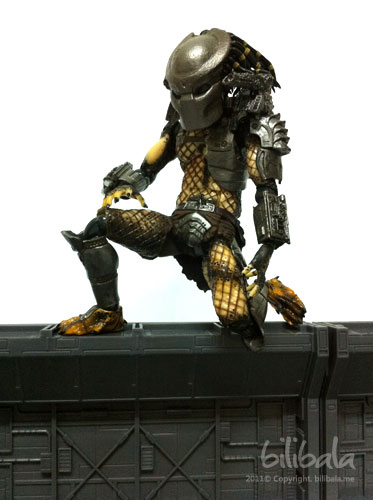 Ready to fight!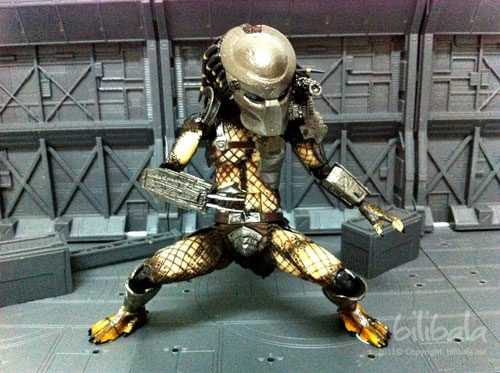 Phew… is time for a rest. 🙂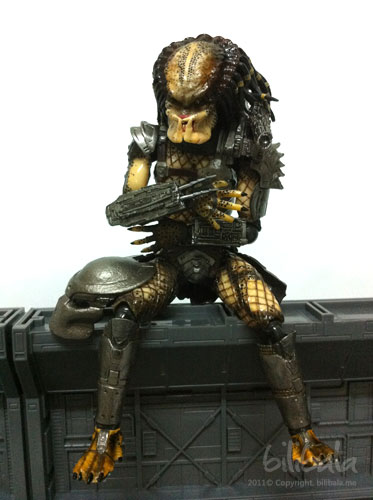 Conclusion
This is definitely a cool piece of Revoltech collection I have. Despite having the loose joints, the overall details and coloring does offset it. This make me thinking of getting the Alien from Revoltech as well so i can post them for a Aliens Vs Predators scene. Hmm… There's go another budget again.
And if you are interested in getting the Revoltech Predator, head to your nearest toy shop today while stock lasts. I got mine in Toy Wizard at Amcorp Mall.
My personal rating: 8.5/10 (mark deducted due to the loose joints).