Read Time:
6 Minute, 6 Second
I guess most of us are familiar with Monopoly since small and i bet some of them even grow up with them. I am actually one of them. I still remembered the 1st board game that i owned and played is actually a knock off china version of Monopoly. Okay, the name is definitely not Monopoly for that piece of KO version, i still remember it being called "Da Fu Weng". But then again, it has the same game play whereby you need to buy lands and build houses with an ultimate goal of ripping off assets and wealth from your opponents. It does bring back memory of mine and it is definitely my most enjoyable (and yet time fulfilling) piece of board game since childhood days.
There's another 2 pieces of board games which actually have a profound memory on me during secondary years which are Cluedo and Risk. Well, those who are board game fans will definitely won't be strangers to these 2 names. I particularly like them both as well. But to own them during that time, it is quite impossible as it does cost me a bomb during schooling day and not to mention buying an expensive toy like this will definitely a BIG no no from my financial controller that time i.e. my dad.
Well, i got my chances, of course, after 10 years in the making and dragging, finally i got the 2 favourites: Cluedo and Risk. Oh ya, there's a soon to be collected which will be my all time childhood board game: the Monopoly.
What i must say is, board games grow with time. They have changed to actually match the current trend which does really surprised me when i got these 2 comparing to those 2 in my memory. And not only that, they have actually evolved into card games as well. Have you thought of playing Monopoly using cards? How about Cluedo? or even the Game of Life? Scrabbles perhaps? All these mentioned have been evolved from board games into card games which do really spark back their lives and unique game plays. A really big kudos to those creative Hasbro and Parker Brothers guys behind the idea of the card games. It promises same enjoyable moment as playing them as compared to those bulky board games and not to mention about the handiness mobility of such. And moreover, it does have a much more faster game play as compared to the traditional board game and this is definitely a trend to those ever busy and everything-is-instant people nowadays.
Anyhow, here you go with my collection of the 2 board games and a few card games which i have collected. The list will definitely not stop there and i will keep on collecting those i like :p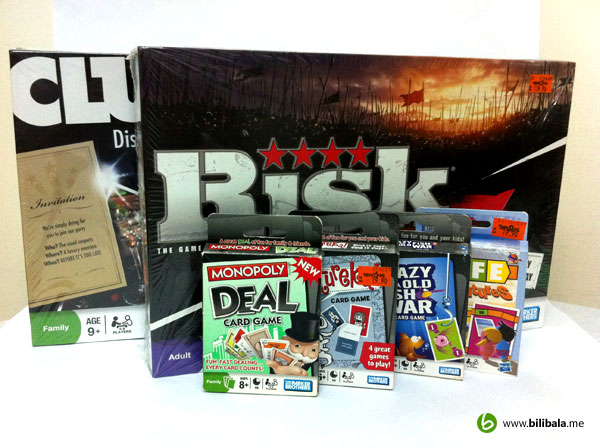 Speaking of Risk, if you are a previous Risk board game player, you will definitely remember them being those cannon, soldier and old time world 18-19th century warfare. Well, you have to change those prospective now for the all new Risk with, of course, a modern warfare, new miniatures, new game play (with up to 3!) and loads of new features. Okay. Speaking about the miniatures, guess you wont expect to see those small cannons or even soldiers any more. What is being replaced is, arrows. YES. Arrows. And it also introduces some of new game play. I wont go in details for those anyhow, if not, it will be a very long blog post here.
If you ask me, i will still choose the old time 18-19th century Risk board despite of its long and traditional game play. Reason why is they have the miniatures and NOT arrows. In my opinioin, arrows are like cheaper substitution of piece on play and i still like to see soldier on board instead of arrows….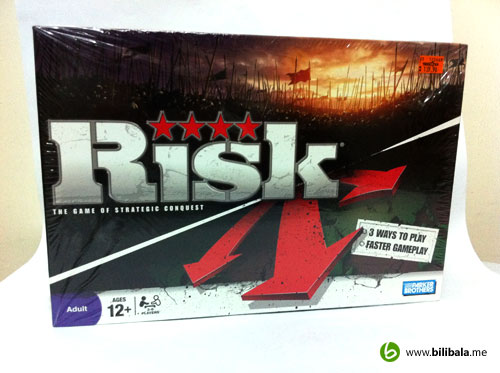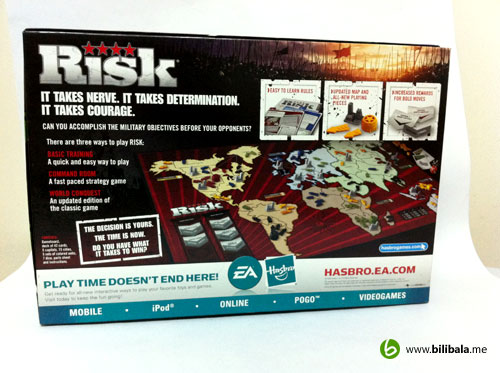 Cluedo. Which is a detective role playing board game. It's another old time favourite of mine. To be frank, i only played Cluedo for not more than 3 times since childhood till now. Is hard to get people playing board games nowadays and they are more prone to computer games and faster game play like those card games instead of them sticking to the chair for a 3 hours game play. Sigh.
Anyhow, Cluedo has "evolved" as well. You wont see the old time board with this new up to trend one. Heck, they even got Spa room now as a new venue in the mansion. Of course, those characters are also new and trendy as well, from stars, to IT engineer, etc. But one thing for sure, they still bear the "colorful" name as old time. One more thing about this new Cluedo is, all those characters come with new abilities now which you can use during game play. Neat.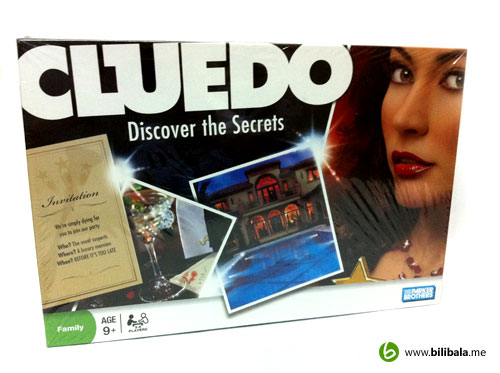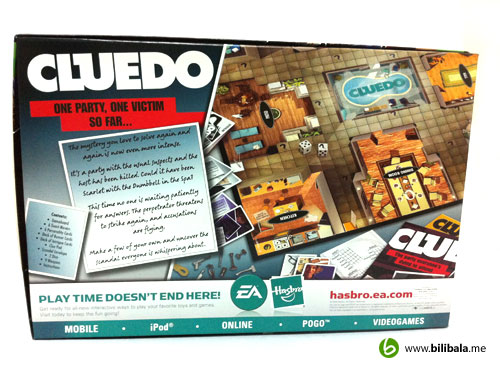 Okay, let's move to my collection of card games. Monopoly deal is really a very innovative and creative approach of playing Monopoly.I really like this new Monopoly card games and it guarantees hours of fun with your friends and families. Guaranteed.
In this game of Monopoly, you still see those properties, money and houses around and the objective is fair simple enough: to collect all 3 full sets of property (of the same color) on hand. If you are interested in playing this, be sure to grab a pack and experience the all new Monopoly Deal. Take my words, you wont regret that you have played it! Give it a try and you will sure enjoy the fun and excitement with your friends and families. Oh ya… beware of the DEAL BREAKER. muahahahahah… Want to know what's that? Play it then you will know what i meant.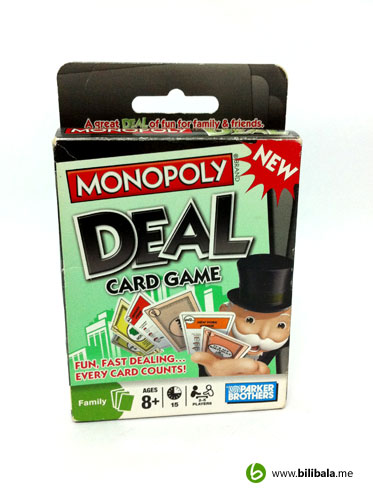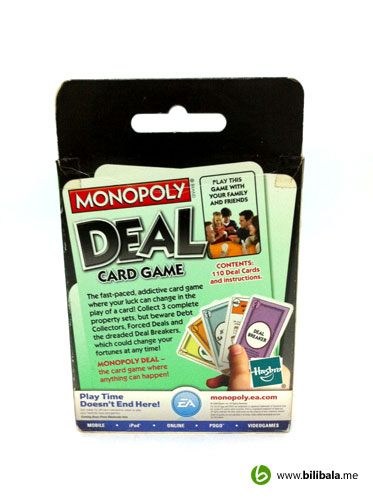 Next in my card game is the Pictureka. Playing about pictures. To be frank, i have never played the original Pictureka and the reason of buying this is purely attracted by their cute drawings. Haha.. Well, i seldom play this card game too and i just roughly know it is a finding picture game with tips. Skipped. :p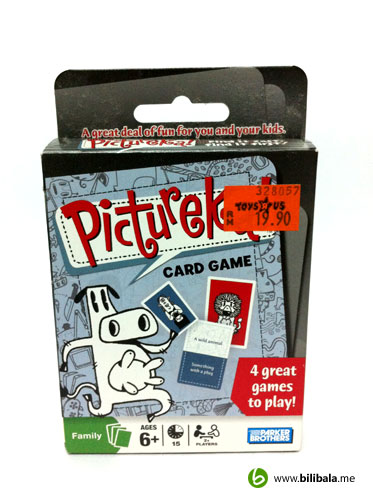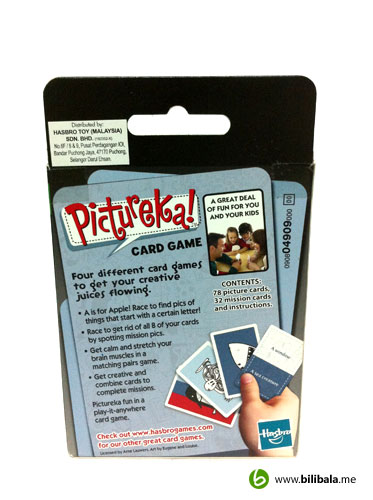 Now. Crazy old fish war card game. Don't really fancy about this game either. I bought it just to try it out with my friends. And be honest, i only played it once and after which i keep it in the wardrobe for long (long until i forgot how to play it) . So i will skip for this as well. Pass!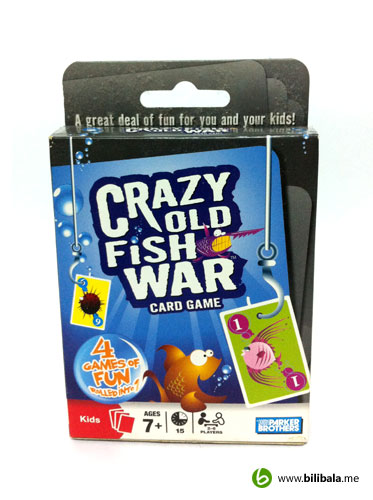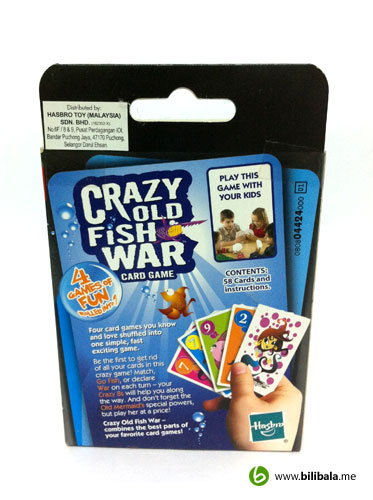 Here's a latest addition to my card collection: The Game of Life Adventures. This is an interesting card game as well and it is my 2nd most favourite card game after Monopoly. The objective of the game is to achieve as much as "life points" as possible. How to earn all these life points is by gaining and using those life aspect cards ranging from wealth, career, adventurous and family. Quite a fun game as well but not as challenging and mind compelling as compared to the Monopoly, but it definitely is a time killer as well.  Give it a try and experience the new way of playing The Game of Life! 🙂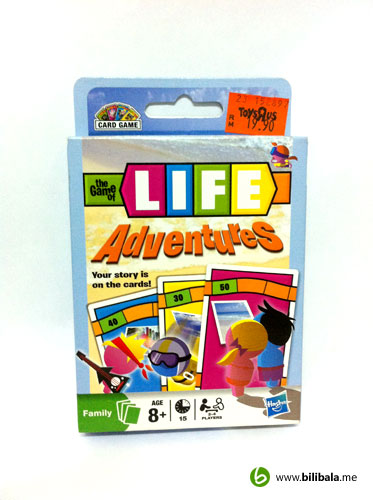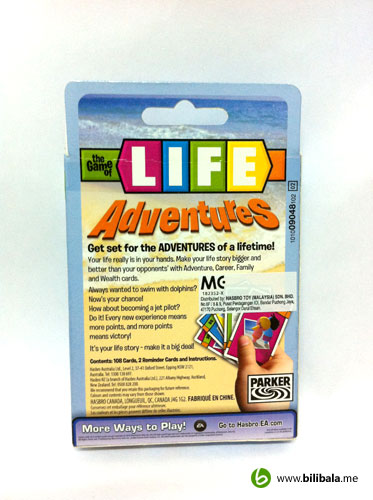 There are still 3 new card games in the market which i have not yet bought: Boogle, Scrabble and Cluedo Suspect! Well, will definitely get them soon. In the meantime, enjoy your past time with them!