Read Time:
5 Minute, 9 Second
This is my 1st ever Figma figure and one of my most favorite figurine of all time. This Kanu Unchou is a fiction character from the anime/manga Ikkitousen (or known as Great Guardian/Battle Vixens). I guess you might relate her name with the historical hero, Guan Yu from the Legend of the Three Kingdom. Well, that's a great start and you are correct half way. This anime is actually redefining how the historical characters and stories of Three Kingdoms go. Instead of muscular male hero in the original Three Kingdom story, you will now see them in totally sexy and deadly female form. And moreover, instead of ancient time of battle, they are having their war in secondary school instead.
Each of the hero will have a piece of emblem/gem that possess the mysterious power from the Three Kingdom Heroes. Well, this is getting interesting as you can see girl fighting in school with weapons instead of seeing the original heroes fighting alongside with soldiers in a much bigger battlefield. If you are interested in reading more about the background about this anime, you can click here or if you are interested in knowing more of Kanu, click here.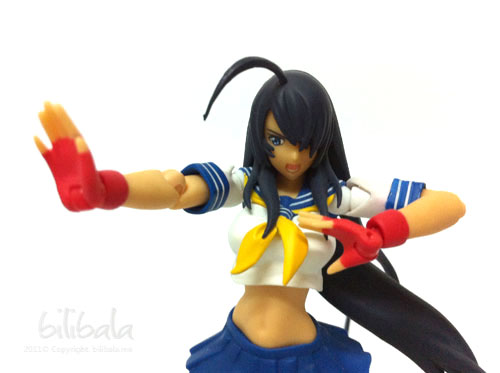 As compared to other bigger sizes Kanu Unchou from different toy manufacturer (try searching for Kanu Unchou in the Google images), i particular fancy this Figma version of her due to the flexibility to pose, details and gimmicks to play with despite the smaller size.
The Packaging
Well, nothing fancy about the packaging. Quite standard for a Figma figure. One thing to note that is, the box is particularly bigger than most of my Revoltech toys.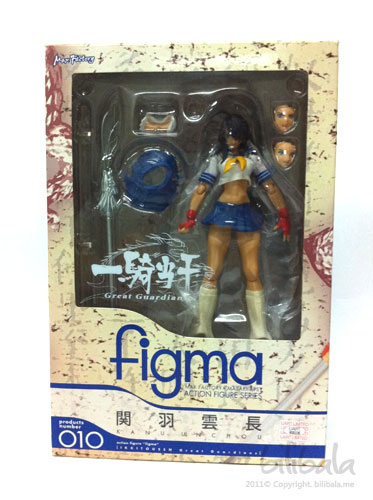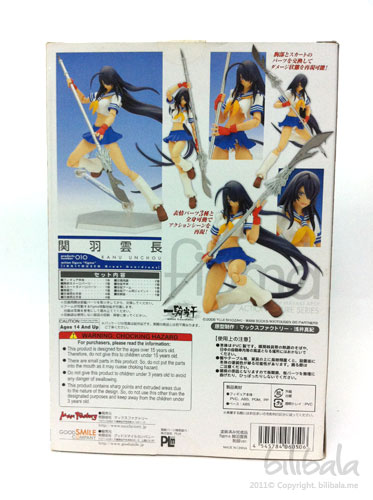 What's inside the Package?
Here's what inside the package. Beside having the standard figure Kanu Unchou, it also comes with 4 pairs of extra hand, 2 extra faces, battle damaged chest part/skirt and the famous weapon of Guan Yu: the Green Dragon Crescent Blade.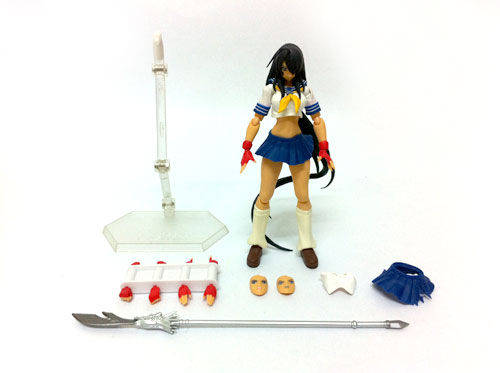 Here's a close up on the extra hands and faces. One thing which definitely better compared to all my Revoltech toys, the extra hands came in a handy apparatus where those extras are being plugged into it. This make storing much more convenient and portable. More over, the extra face which is quite common in Figma line of figurine as compared to Revoltech which seldom has such gimmick.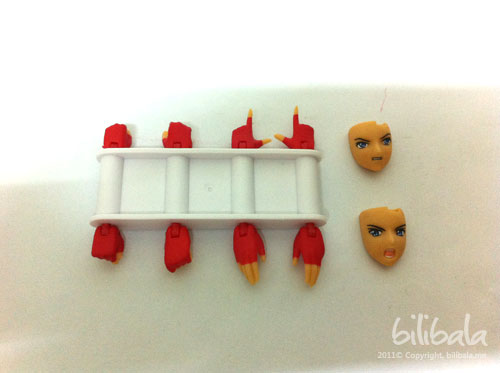 Another thing to play with your Figma Kanu Unchou is the ability to switch into a battle damaged sexy mode. I have taken some pictures on this to compare how different is normal and battle damaged mode.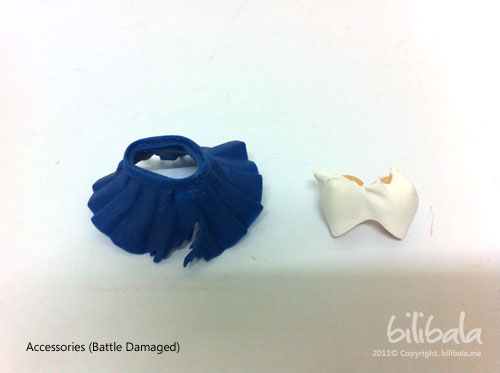 The legendary Green Dragon Crescent Blade is now in you hand! Speaking of which, the metallic coloring for it is really well done. And of course, you can lift this miniature blade easily as opposed to what is in the story where 5-6 people also cannot lift it up :p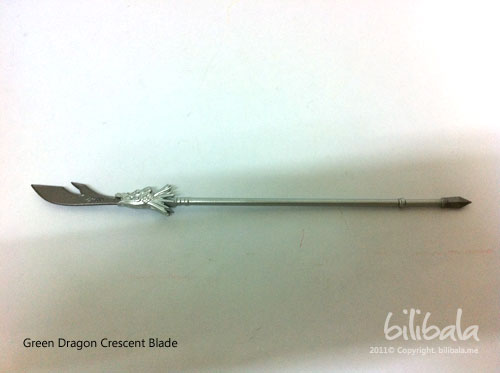 Despite being small and light, the details of the blade is not to be underestimated. You can see quite detailed carvings of the dragon head as well as some textures on the blade itself. Pretty neat.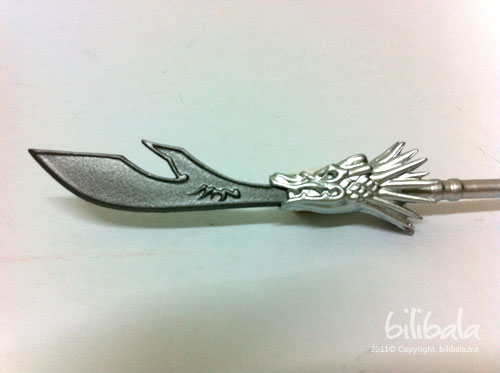 Kanu Unchou
Now, let's move on to the starring, the almighty sexy Kanu Unchou. Instead of seeing a long beard, red faced Guan Yu, you will see a very long hair (which replacing the beard imho) and tall figure in typical Japanese school uniforms (like those worn by Sakura in Street Fighter).
Overall, the figure is quite anime accurate and i really like the overall color composition for the whole figure. In addition, the articulations for her is quite a lot and you can really do a lot of fancy pose with her as well.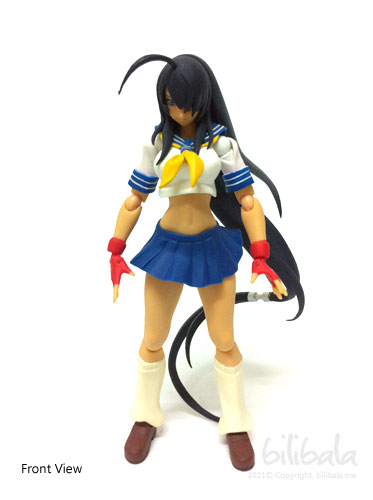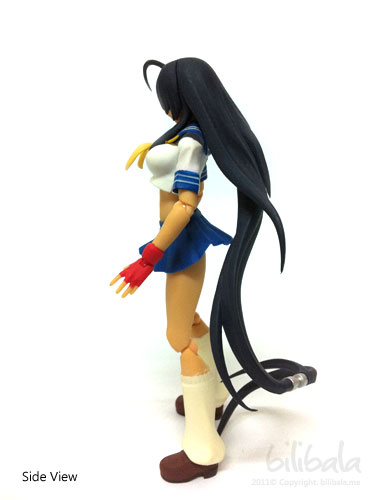 There's a middle articulation for her long hair. See how long her hair can go till her feet 🙂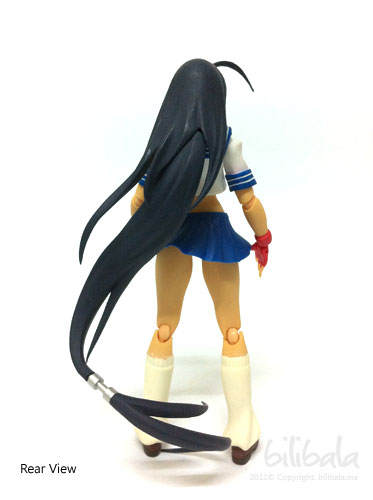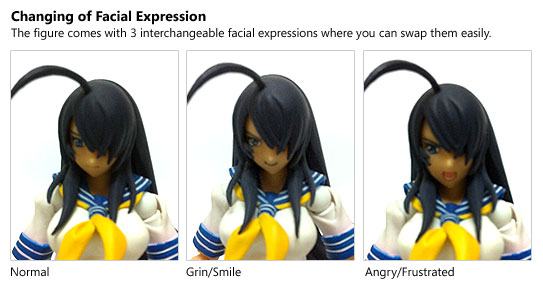 Battle Damaged Mode
For most of the pictures above are of normal mode. Here are 2 pictures below with the battle damaged part being replaced with the normal ones (basically the chest part and the damaged skirt).
Hmm.. i personally wont be changing to battle damaged mode often as i find it quite tedious of changing the battle damaged skirt. In order to do so, you have to go through a tedious process of removing both the legs and taking out the under garment (yes, which i didn't show in all my pictures here). By then, you can only pull out the elastic skirt and replaced it with the battle damaged one and put back everything.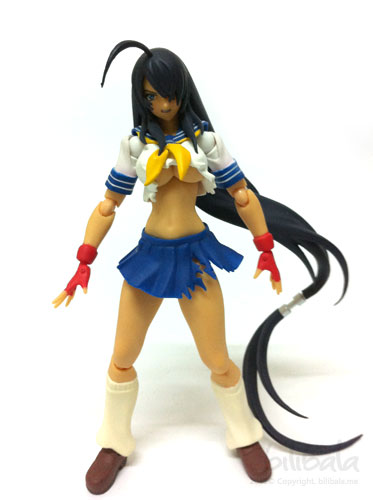 Here's a post with her blade in battle damaged form.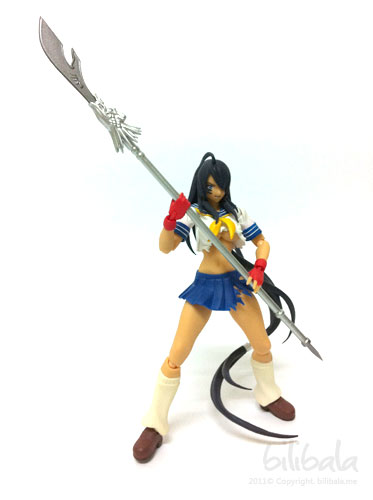 Go Crazy with Poses!
Okay, now is time to go wild and crazy with posing! Hmm.. really have to apologize for my lousy skill of posing 🙂 I am not very much a great poser.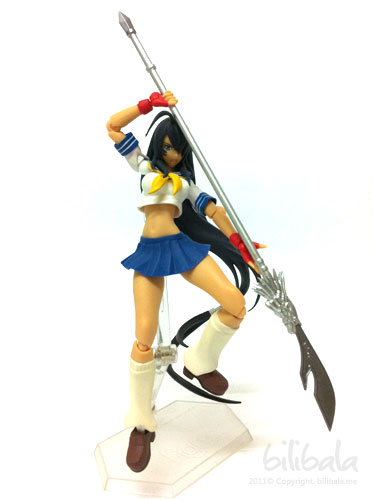 A great expression with great pose.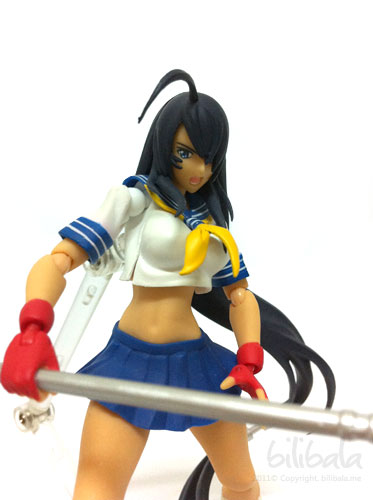 A kneeling down pose.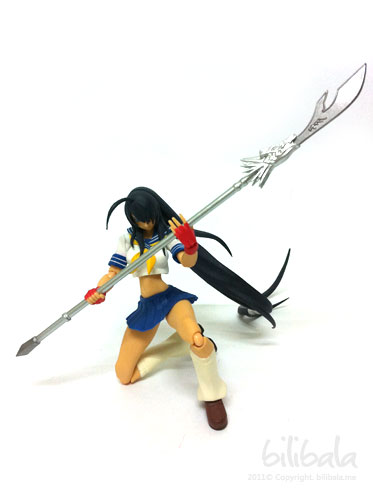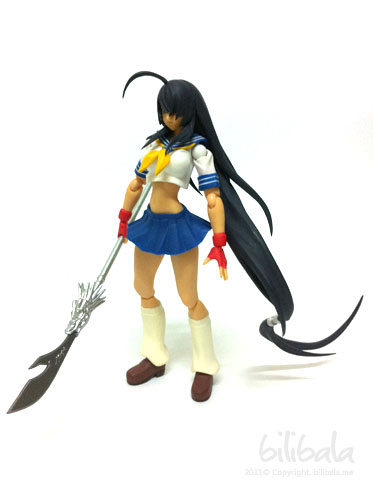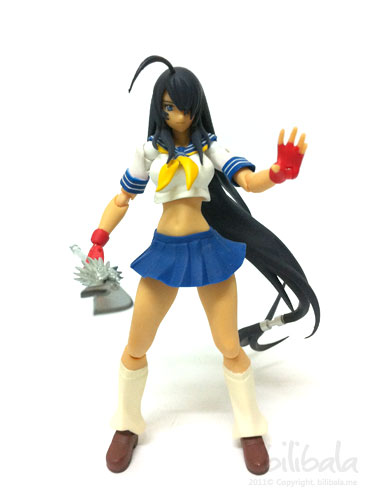 I particular like this pose. She is like taunting her enemy. Quite cool and what i can say is a job well done for Figma in coming out the different set of hands gesture together with the extra faces.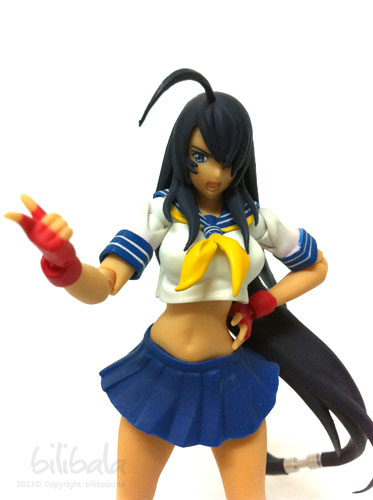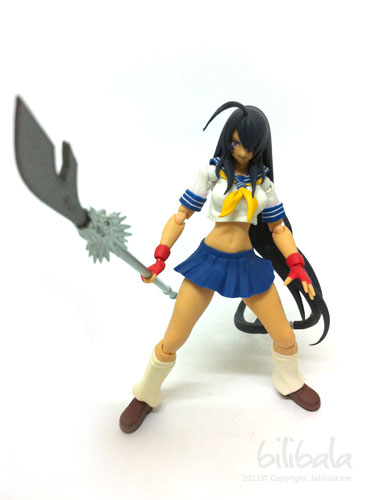 I like this pose as well, an innocent looking pose.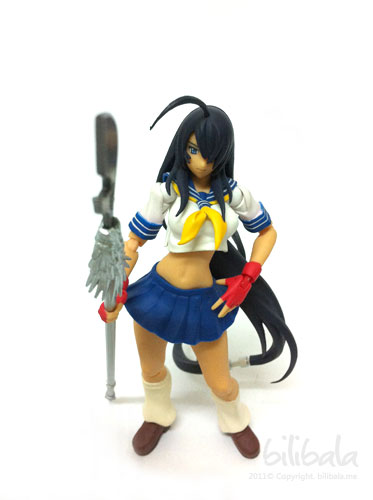 Favorite Poses for Figma Kanu Unchou
Well, that's not all. I have picked my most favorite poses and shots and make it as an exclusive photos for this blog! Here you go and hope you enjoy them as much as i do!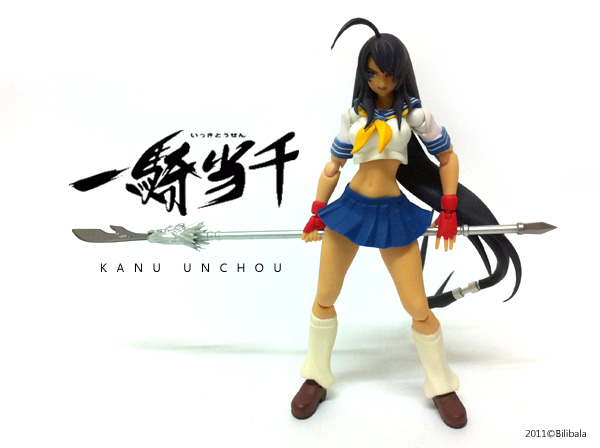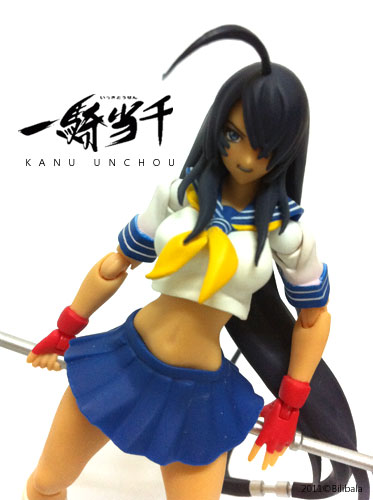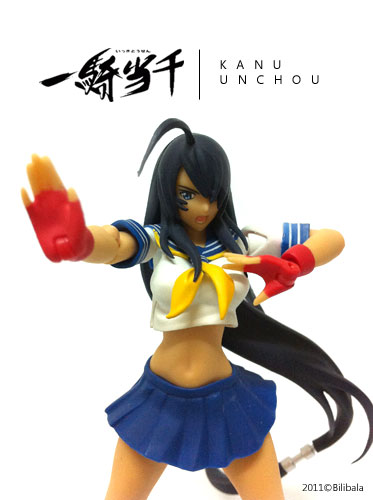 Conclusion
I personally like this Figma Kanu Unchou for her colors, gimmicks (especially the Green Dragon Crescent Blade) , joints and definitely the overall sculpture which is anime accurate. And frankly, I personally felt that the joints from Figma is much more sturdy and way better than my Revoltechs (especially the latest Predator which is a really GREAT disappointment on the joints) . My personal rating for this collection of mine is a perfect 10/10. (despite the tedious part of changing the skirt for battle damage mode)
Oh ya, i forgot to mention that i bought this figure 3 years back and up till today, there is NO color discoloration (as compared to the Yotsuba i have). Anyhow, if you really interested in getting one, i guess you can try scouting online as it has become such a rare and valuable collection afterall.