After a long break away from my blog, i have picked up the time to write again (thanks to my busy workload and busy time with my personal big project of the year). Anyhow, what i am going to share today is the Malaysia International Toys Fair (MITF) 2011 which held on 9th Sept to 11 Sept (that's few weeks back). Let's see what this event has to offer!
(A) The Prelude
Well, there's not a lot of toy fair in Malaysia (sadly!) and for once a while such toys fair will definitely catch many toy collectors (ahem, I am one of them) to pay a visit for such events. For those newcomers, Malaysia International Toys Fair (MITF) is an annual event which hosts toys exhibition that normally tag along with toys marketplace (where you can get cheaper toys offering there) and surprisingly, gaming exhibition as well. The "gaming" exhibition here is very well narrowed down to online gaming like MMORPG, etc. To the fact, the gaming exhibition here is more to online gaming company promoting their games and giving away freebies (such as the gameplay cds, cute merchandise as such), and, well, not to mention those sexy hot cosplay promoter passing away those leaflets and acts as eye candy for the visitor to come.
Anyhow, as usual, you need to pay for the entrance to visit this event which is RM3 to catch up all the toys and gaming craze it has to offer. Below is a sample of how the ticket looks like.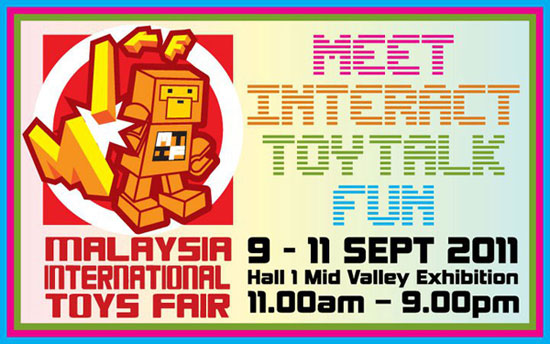 Well, the entrance to the amazement. I went on the 1st day of the event (which was 9/9/2011) at night time 7pm and definitely the crowd was lesser due to still a working weekday afterall.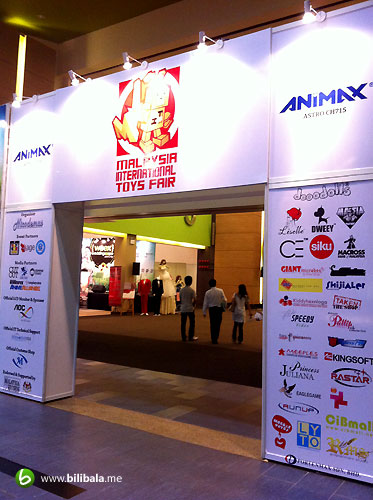 Well, nothing much fancy to talk about here. I was greeted and welcomed by the big monkey logo 🙂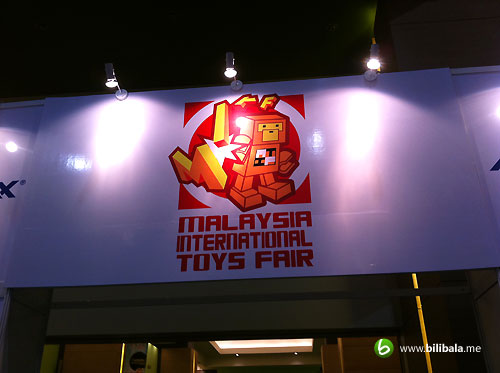 Now, there were 2 parts of the MITF 2011 fair which could be summarized into 2 sections. On the left side of the hall was the toys section and while the right side of it was the gaming section. My sharing here today will put more focus on the toys section as i didn't really visit the booths in the game section. And what is in this post is more to those collections which are more unique and interesting (at least for myself) for the whole exhibition. It is not a full coverage as i have skipped quite a few marketplace booths and those interactive events going around (due to time limitation).
(B) AHWC – Asian HotWheel Collectors
So the 1st booth to visit on the toys section was "AHWC" – Asian HotWheel Collectors. This stop showcased collectors item for HotWheels and some customized diecast miniature car models.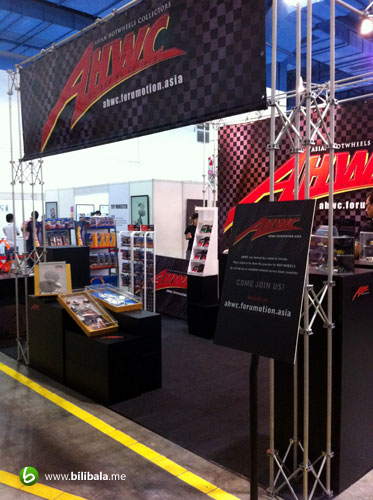 Some of the customization you could see here.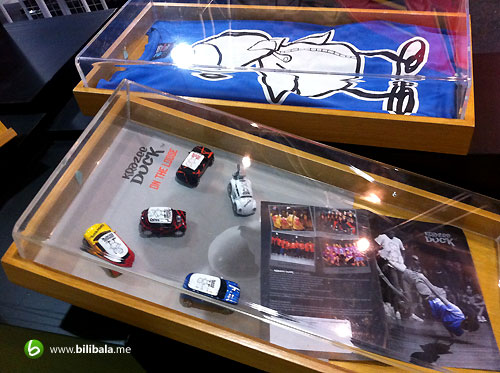 And more here.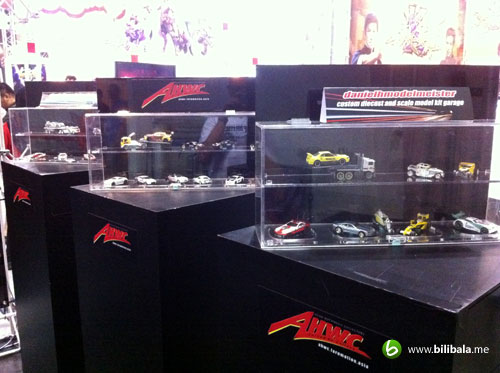 (B) Toy Minister
The 2nd stop would be the Toy Minister. My 1st impression on Toy Minister, wow, since when our local authority has set up a minster for Toys? lol. Well, Toy minister is actually a local toy design and production company and does not bear any relationship with our local authorities. For those newcomers like me, i was happy to check out what they were exhibiting.
Before moving into the small exhibiting room, you will be greeted by 2 signature toys and designs: a picture of Dweey (the cow like customizable designer toy) and Liselle standee. Allow me to do a very brief introduction to these 2 signatures display. Frankly, i have no knowledge over these 2 creations until i did this coverage and did some researchs over the internet with my guru, Mr. Google. Here's what i can dig out.
Dweey which is the cute cow-like customizable toys. Well, in actual fact, he is not a cow. He is actually a short-necked giraffe. And this vinyl figure allows you to paint and customize what-ever you like on him. Pretty much like a blank android mascot toys where you can do the same customization over the colors over his body.
Liselle is another creative character based brand by Lisa Lee (ranging from fashion to other creative collectibles) which has more appeal and approach to the feminine market.
CE (known as "Zee") in the other hand, is also a customizable toy like Dweey created by a Thailand based company, Expertise Partner Internatonal (EPI). However, this vinyl figure also allows some degree of customization over the head feature.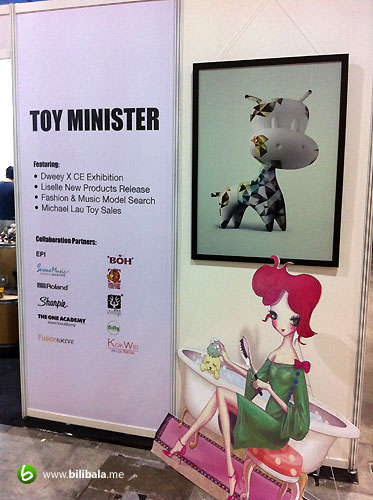 Well, here was the showcase of Dweey X CE toys design. Quite a lot of interesting customization here. I didn't really take all picture of them and i just took some interesting characters of my liking and put them here.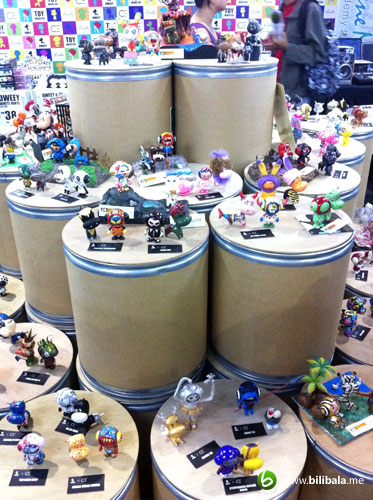 One of which was the Captain America CE…
and the Naruto CE and Dweey figure.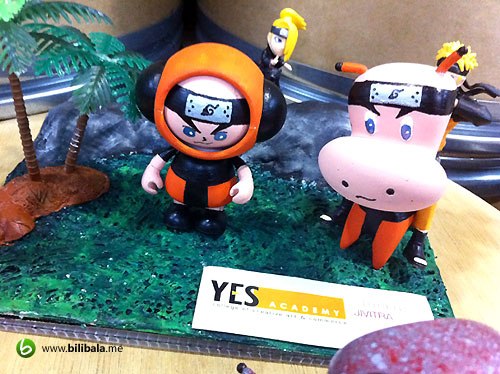 (C) Urban Cr3atures
Moving next was also another local creative company called the Urban-Cr3atures. Here were some nicely designed name cards which i managed to grab on the "tour" to their humble booths.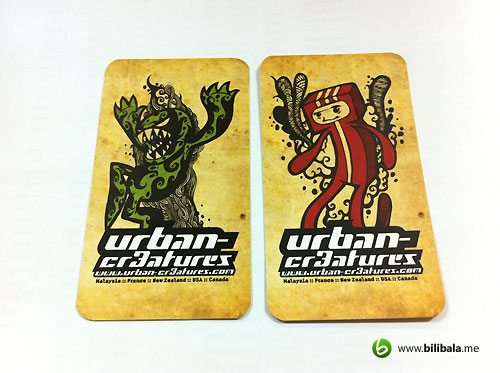 Something which caught my eyes. A cute paper cut figure created by them (with dozens of customize-able inner heads).
Much like the famous Cubee Craft which hosts thousands of downloadable paper craft cut out DIY toy figure. If you are interested in trying out this kind of paper craft, try visiting the Cubee Craft and let your cutting skills run wild!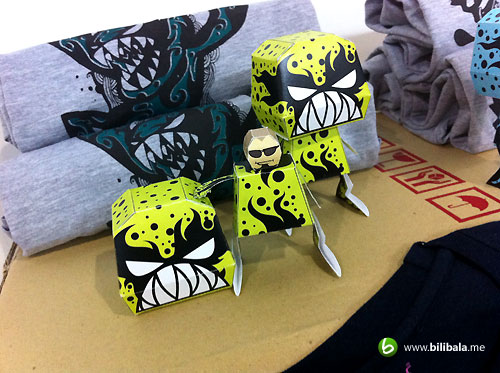 Besides some paper craft, you can see other creative merchandises done by them such as specially designed t-shirts and some more figures.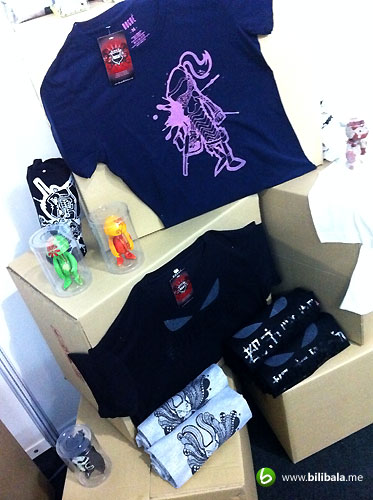 (D) Mongar Toys
Beside the Urban Cr3atures toy booth, was Mongar Toys created by Erwin Cahyono aka theMongar from Indonesia. Featuring quite a few toys such as their signature figure: Toaster Boy along with some self created figures as well.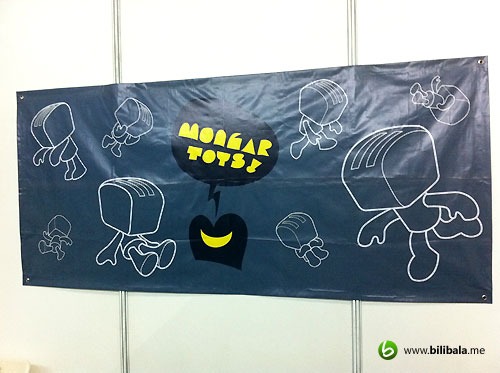 A bloody Mario figure being displayed at the booth. Kinda violent figure and surely not your average clumsy old Mario.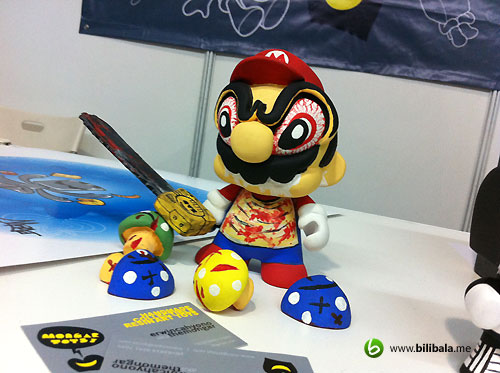 The limelight of their toys: The Toaster boy which allows customized painting to be done (similar concept like Dweey and CE mentioned earlier) . What so special about this Toaster boy is that, it has 2 breads sticking out of his head, which apparently his head IS the toaster, and this is how he get the name from.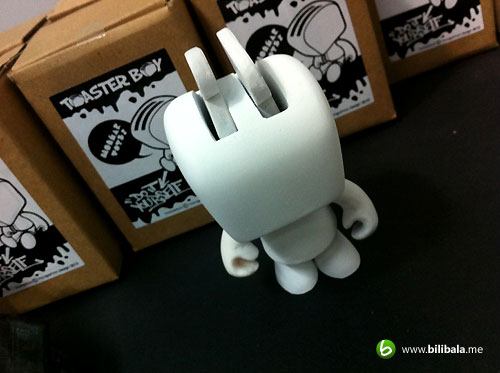 Here's the instruction manual on how to "customise" and assemble your own Toaster Boy. If you ever wondered what this bread boy can be customized into? well, you will be surprised with the different characters the designers had come out with.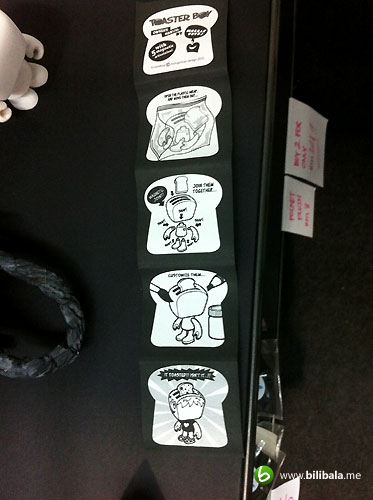 Here were some of the customized Toaster Boys featured in the booth. I personally like the storm trooper :p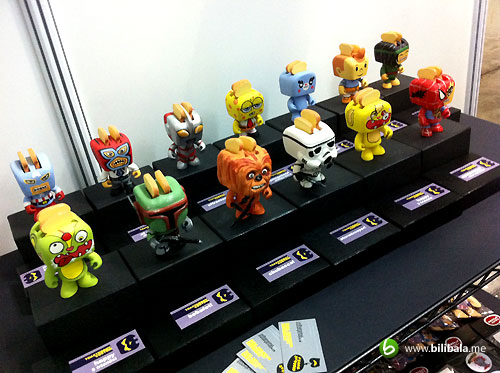 Well, Storm trooper in closed up with a twist of, eh, bread on his head.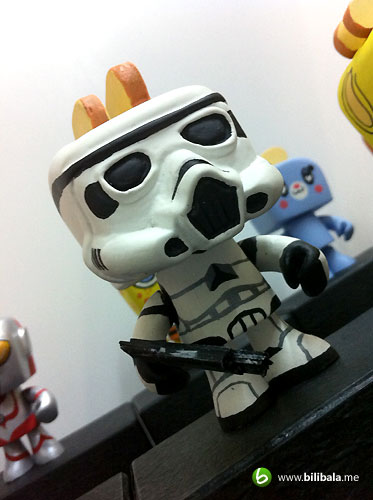 Or even Ultraman with extra breads as his weapons (to throw to godzilla, perhaps?) . Cute and much creative!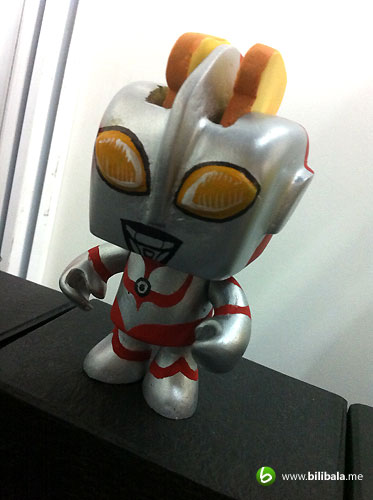 A nice painting in booth featuring the original Toaster Boy.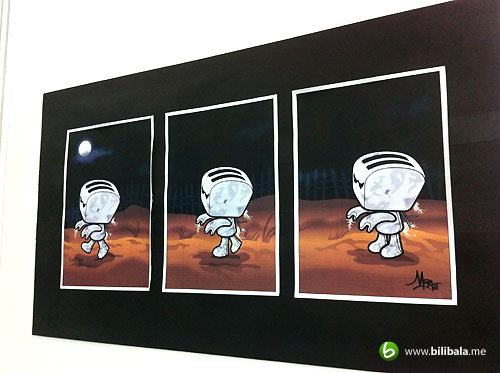 (E) Mafia Factory
Didn't take much of photo in this one and quickly snapped a limited edition CE figure by Mafia Factory.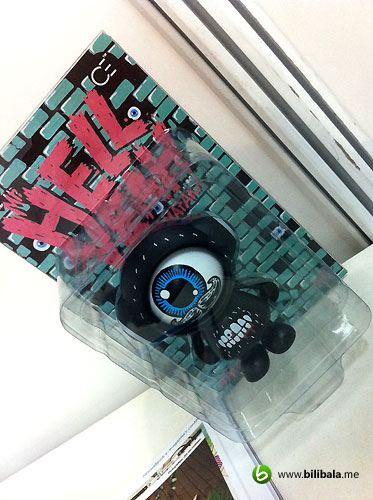 (F) Sembang Toys
Just opposite the Mafia Factory booth, lied the biggest exhibition area by Sembang Toys. Sembang Toys is one of the local toys forum which shares various toy collections ranging from Macross, 12″ figures, etc.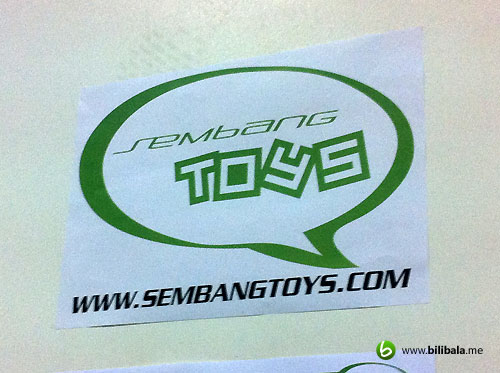 A quick overview on the booth before we toured around the booth in anti clockwise direction.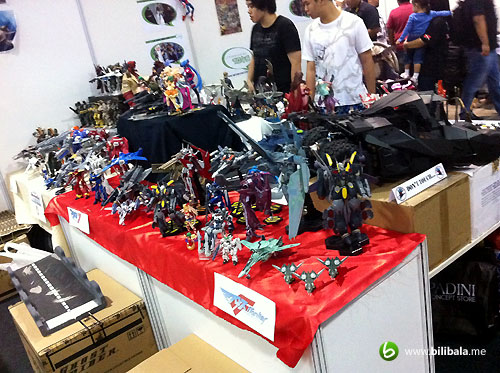 Some Macross figures which included some Bandai version and some Yamato's one.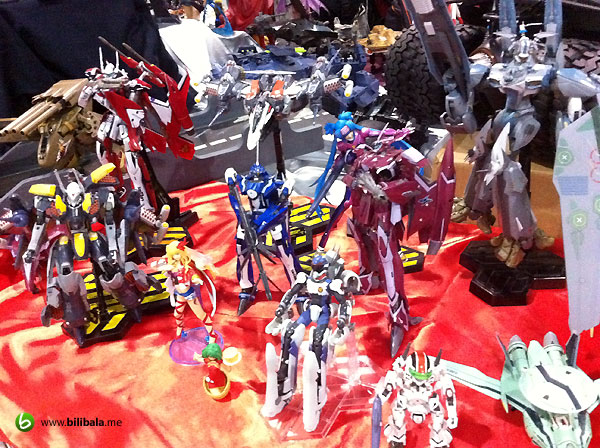 Loads and loads of Macross.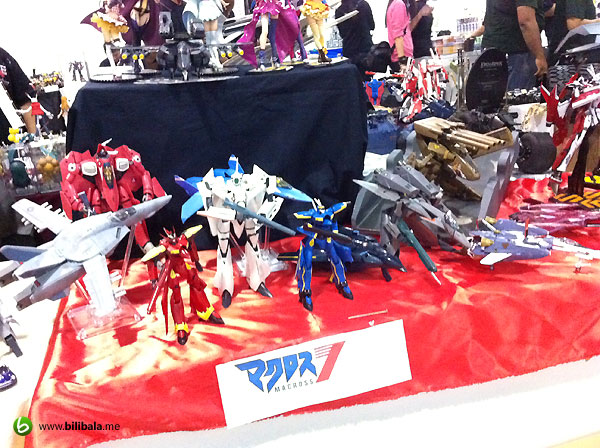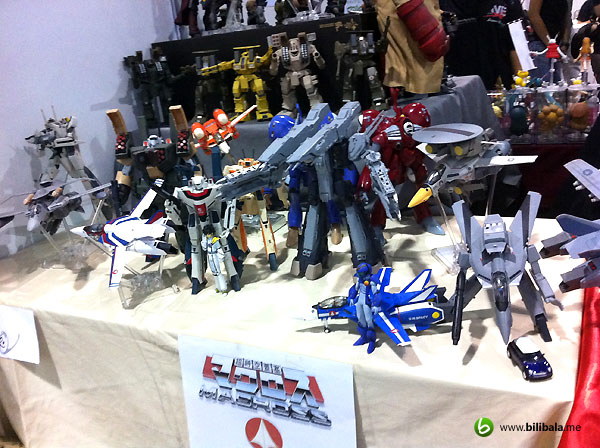 The biggest collection on the table: The Bat Mobile (The Dark Knight Series) from Hot Toys! I wanted this baby last time but too costly to get one. Anyhow, the price had gone up like crazy now for such humongous toy.
For those Starwars toy fan, here were something that you couldn't miss out. A full set of light sabers held by Jedi knights. To be frank, i had never seen so many light sabers in my life before and the details on these small light sabers were incredibly done. Well, apart from being able to light up and doing a light saber duel with them, they pretty much resembled the actual thing in the movie.
Guess which light sabers belong to whose. I can't really make them out. The only light saber i know off is the one at the bottom which has 2 ends, that's belongs to Darth Maul! :p Guess everybody knows that.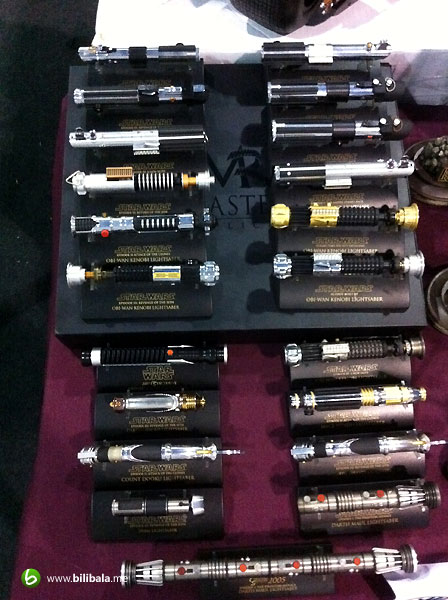 Apart from the sci-fi light saber, let's move into some medieval weapons collection, namely: Lords of the Rings. Though not much, but it still pose quite an eye opener for a 1st timer like myself.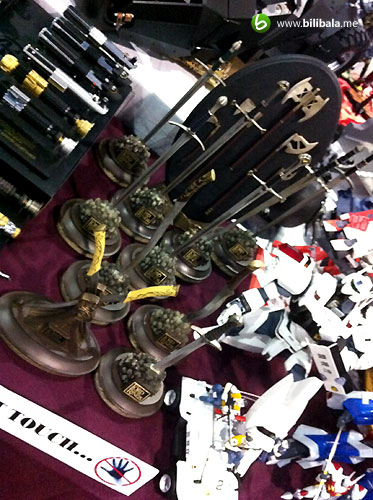 A bit of robotic figures here.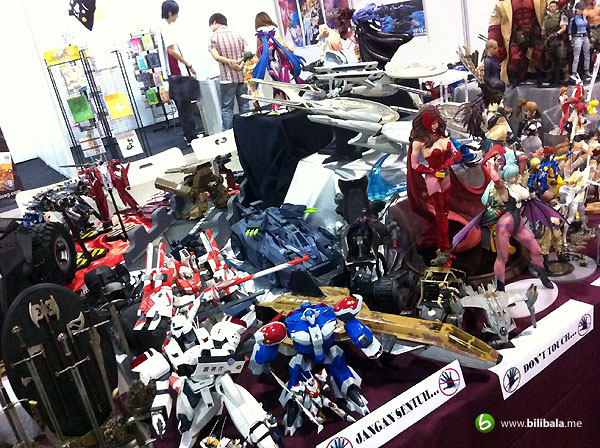 Marvel collections with some mixtures of DC characters and Kamen Rider as well.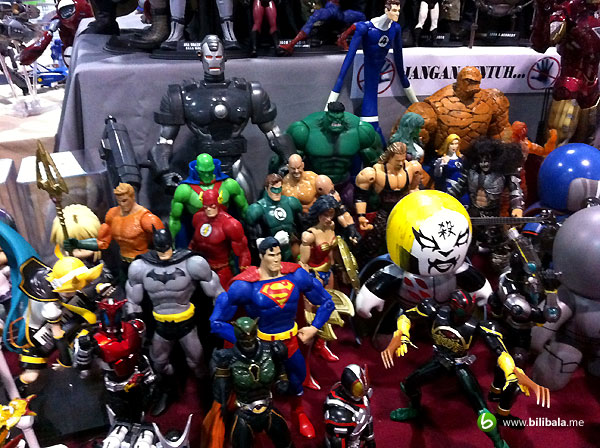 12″ figures on display with Resident Evil as the main display here. I can't make out those figures on top of the RE. Looks like Halo?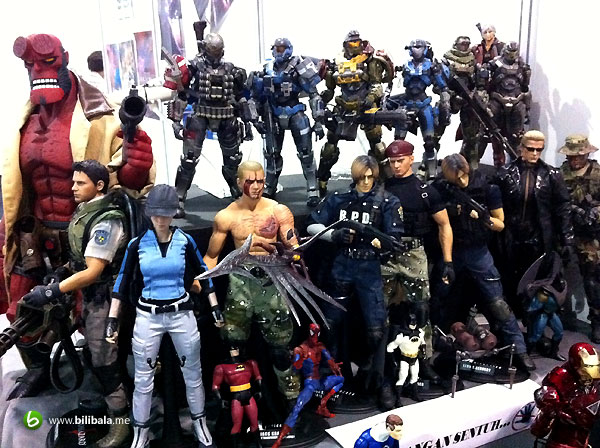 (G) Transmy.com
Of course, my favorite stop of all time. 🙂 None other than the official Transformers Malaysia booth! What i wanted to say is, though the booth was relatively smaller, the items being displayed were considered the most in the entire hall (apart from those marketplace booth). Okay, i might be exaggerated :p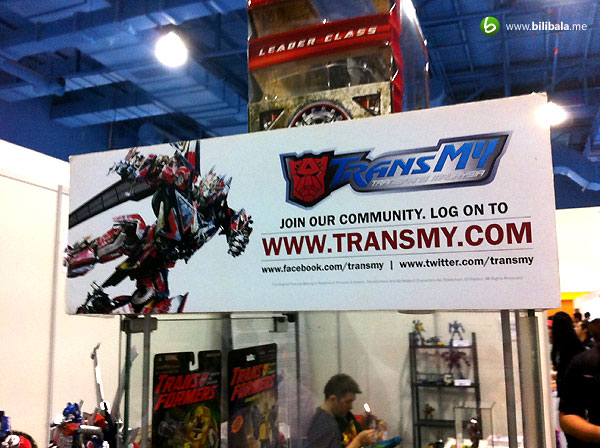 A quick snap on what this booth was exhibiting. Quite a few ranges of Transformers toys being displayed here and i guessed roughly there are over 300+ items here? Or more than that? :p Anyhow, let's do anti clockwise virtual touring on the booth.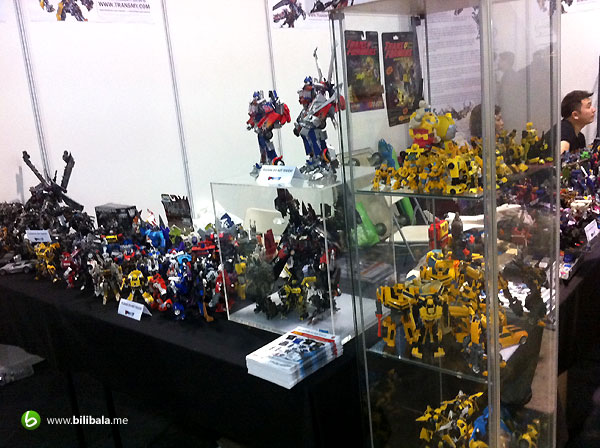 Starting from the leftmost of the booth were the latest Transformers:Dark of the Moon toys. These were NOT normal DOTM toys which you could get from the shelves. Instead, they were the custom painted.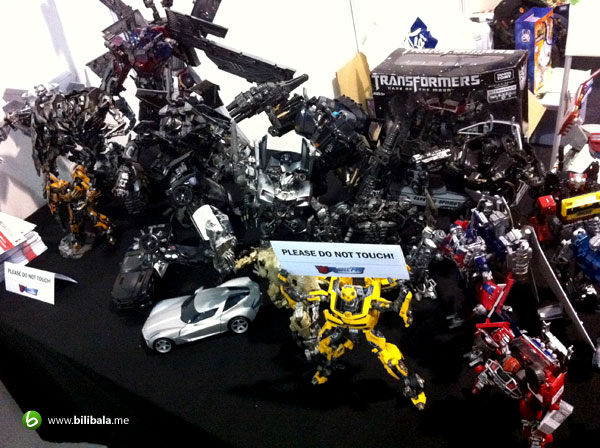 A closed up with the custom painted leader classes.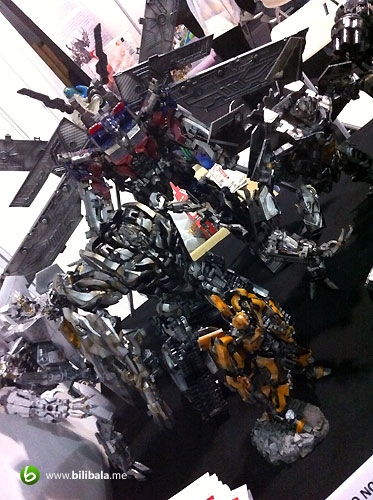 The Bumblebee and the Megatron as well.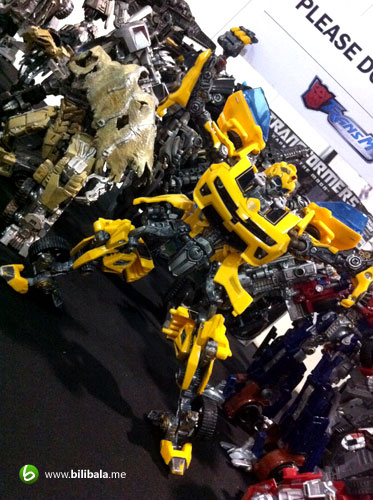 Oh well, here was the Ratchet with customized head of the G1. Nifty.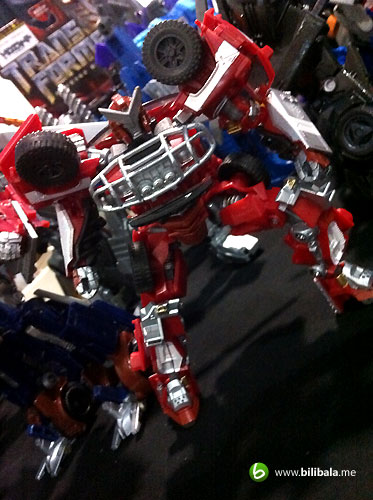 This was not your normal Voyager Optimus Prime. See the custom paint job with the custom wing. Great job.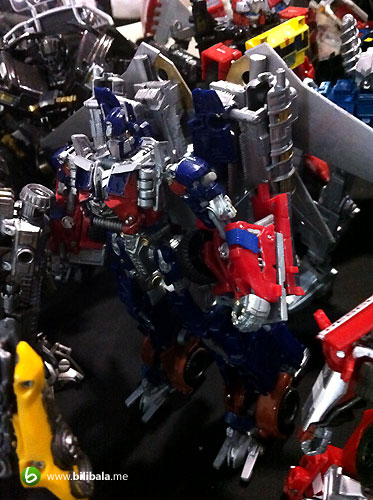 Moving on the right was some of the mixtures of Transformers Generations/Henkei, etc toys.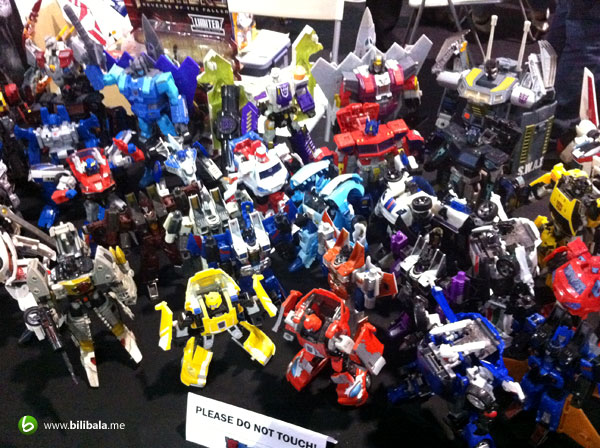 A massive display on the custom painted/made Jetfire + Optimus Prime combination along with some custom painted figures as well.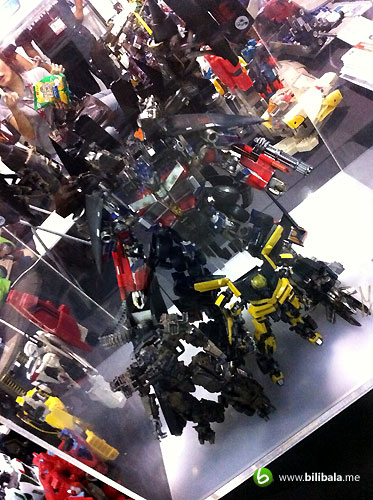 A close up on the custom painted Megatron and Bumblebee.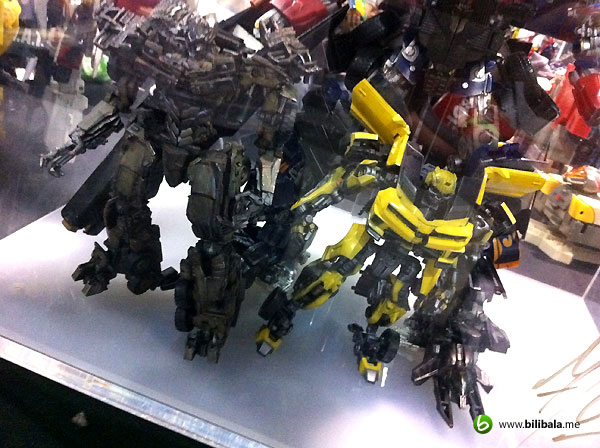 On top of the display, there was a customised Optimus prime. From what you were seeing here, the arm and leg parts of it were actually from the Ultimate Optimus Prime (with modification) while the main body figure was the original leader class Optimus Prime. Quite a lot of modifications you can observe here.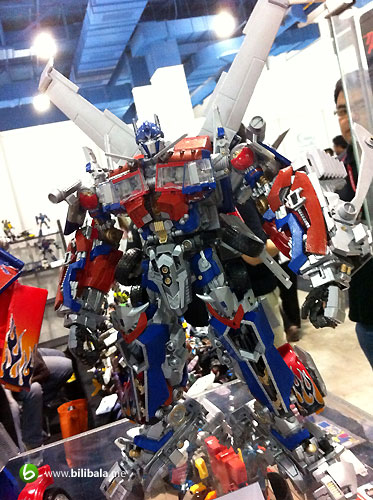 Still remember the hardcore Bumblebee female collector from my earlier coverage on the Transformer Events at 1Utama? Well, she is back with her avid collections. Okay, my sights suddenly went yellow.
There were 4 levels in this display cabinet. Let's go level by level.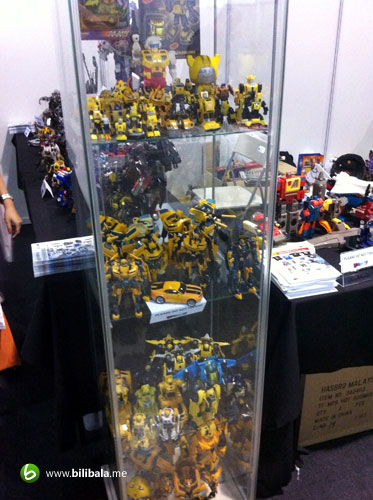 Much of the earlier/smaller version of Bumblebee.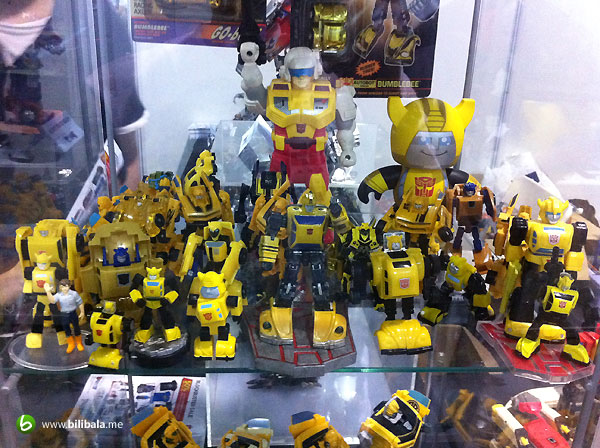 The deluxes.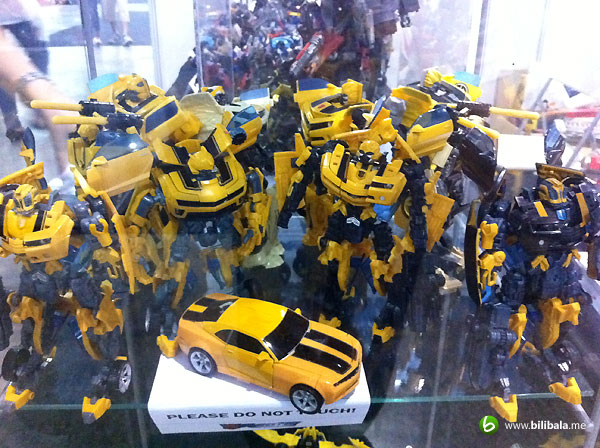 The animated with mixtures of Henkei.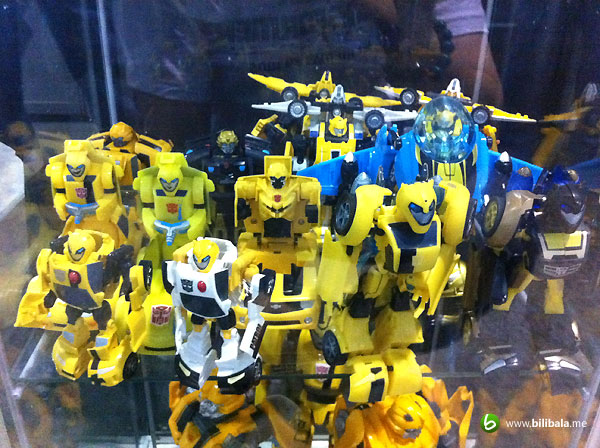 Bigger size Bumblebee.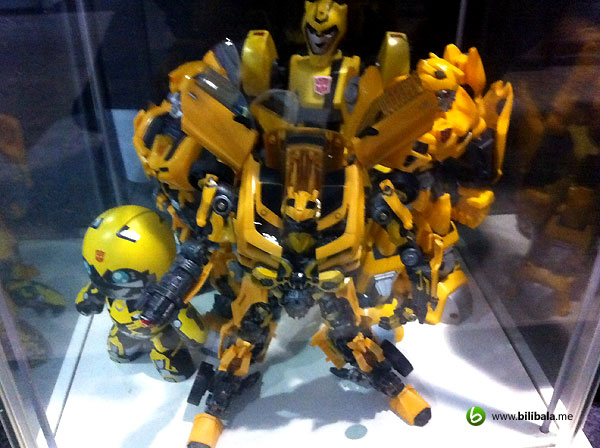 Moving on to the right of the booth. Here was a glimpse of what you could expect from this side of the booth.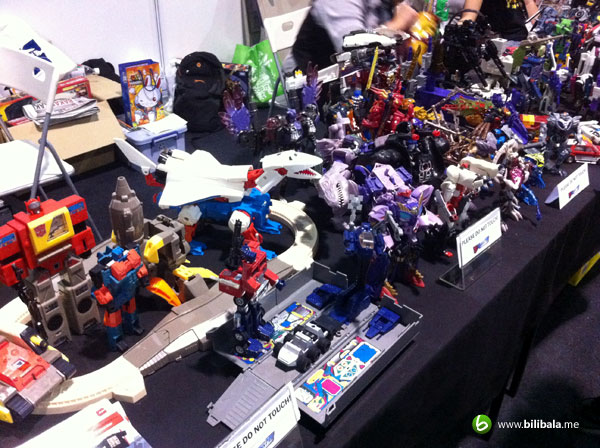 The old days. Very classic and rare of course.
The Beastwars which i didn't really fancy in :p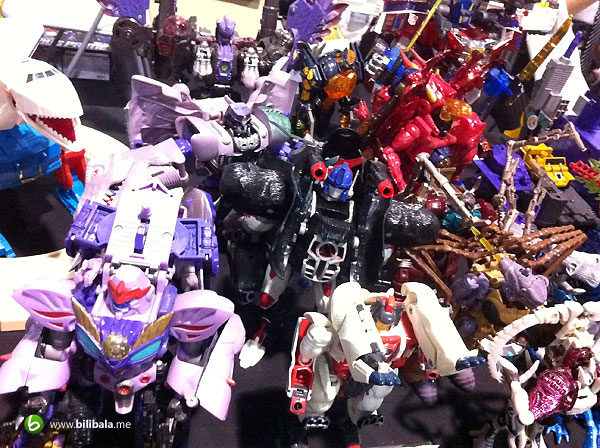 Some of the classic Transformers Headmasters and some G1s.
The Headmasters. For those newcomers, Headmaster is NOT  referring to your typical primary/secondary school principal. It is referring to the Transformer toyline where the head of the robot itself is detachable and has the ability to transform into a smaller robot by itself. Yet, the gimmick doesn't stop here. When you plug in the head into the body of the robot, you can open up his chest part to review a graph representation of the robot abilities. Too hard to visualize? Well, here's youtube (just scroll to 5:10 of the video and you will see the graph. Apart from being the head, the small robot figure can actually sit in the alt mode of the figure as pilot! You can call them the Robot Alliance Transformer if you wanna put it that way :p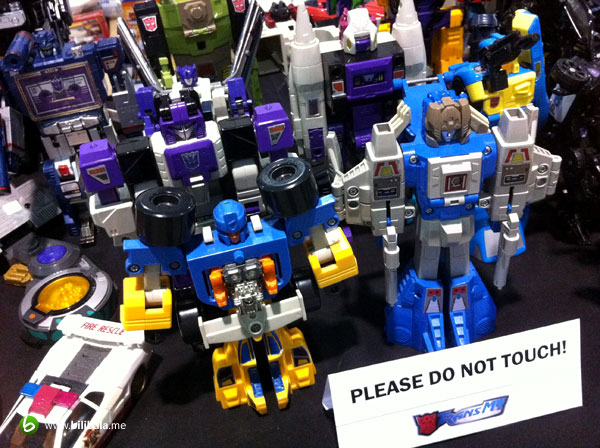 More to the Bayformers toys – Tranformers toys from the movie.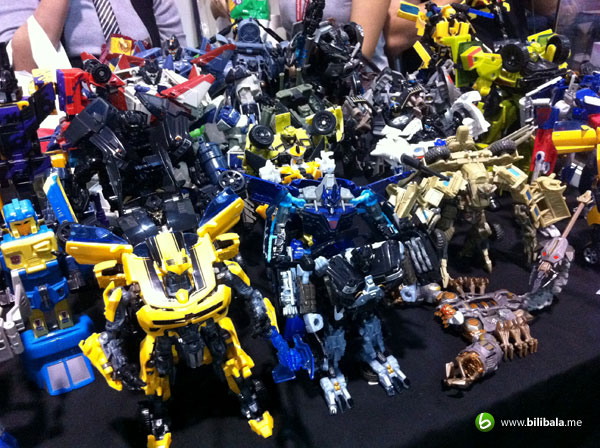 Well, this was the limelight of Transmy booth (at least for me). The custom repaint of the DMK Optimus Prime. See the amount of details. Really hard to believe it WAS a plastic before. Anyhow, apart from display their custom painted figures, the booth also provide FREE custom repaint of your deluxe figures as well. Too bad, i didn't bring any deluxes when headed over to the booth. Oh well.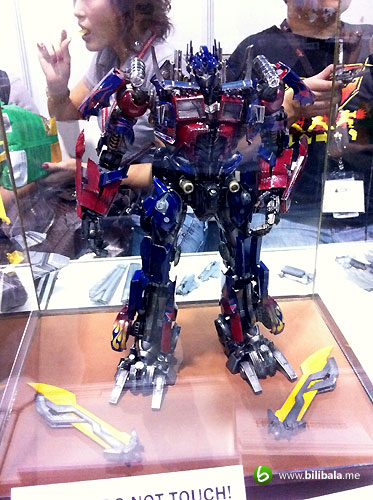 Another limelight to mention here was the Lego Transformers created by one of the forummer, Alan Yap (check out his awesome Lego creation of Transformer here).  This is not like those Kre-O which your robot cannot be transformed into alt mode. His creation can actually be transformed into alt mode back and forth. Really awesome creation! Couldn't help just to amaze the great creation from him.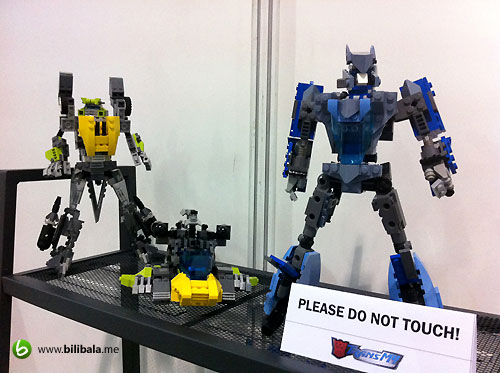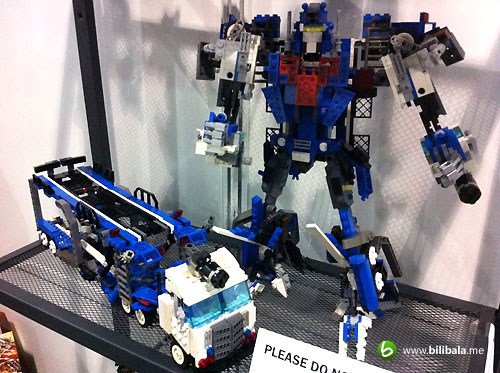 (H) Malaysian Customisers
Moving out of the Transmy booth. Let's go into the the booth where all toys were custom painted/made being displayed. First off with Transformers (which i guessed there were quite a lot being seen in the Transmy booth).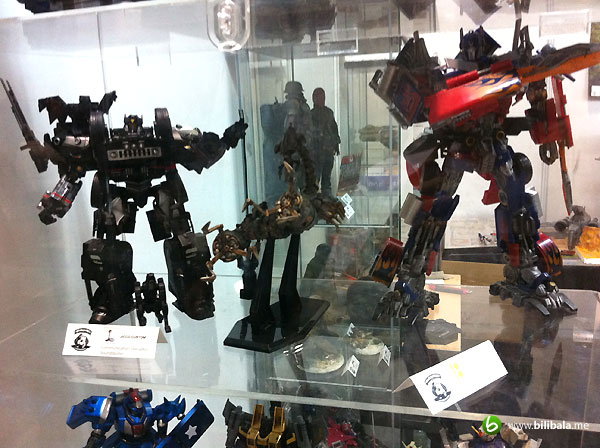 A spooky figure but i really liked the details of the painting. Very realistic!
A custom repainted rusty AT-ST (All Terrain Scout Transport) from Starwars.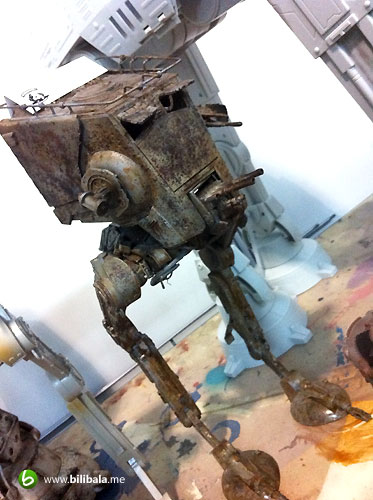 More Starwars custom vehicles such as AAT (Armoured Assault Tank) could be seen.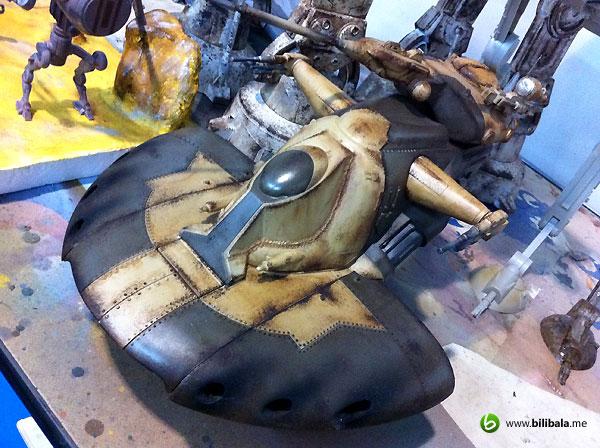 Custom painted ARC-170 (Aggressive ReConnaissance-170) Star fighter.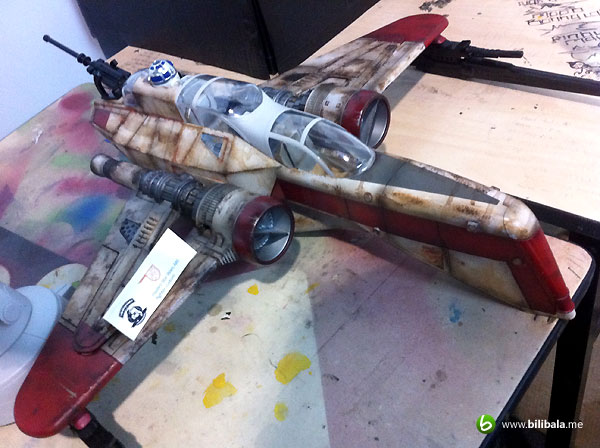 Really great detail of painting.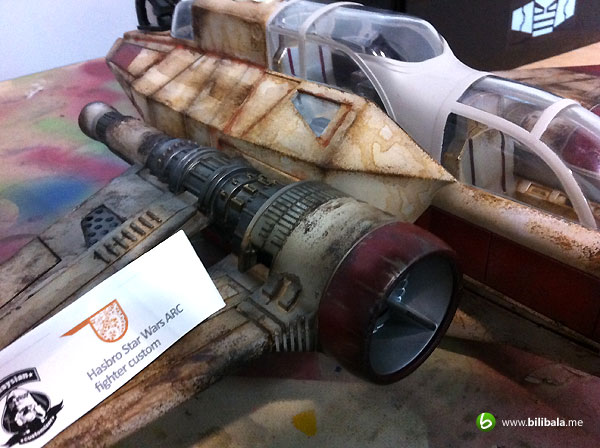 And of course, the all time favourite giant AT-AT (All Terrain Armoured Transport) in his glorious repaint.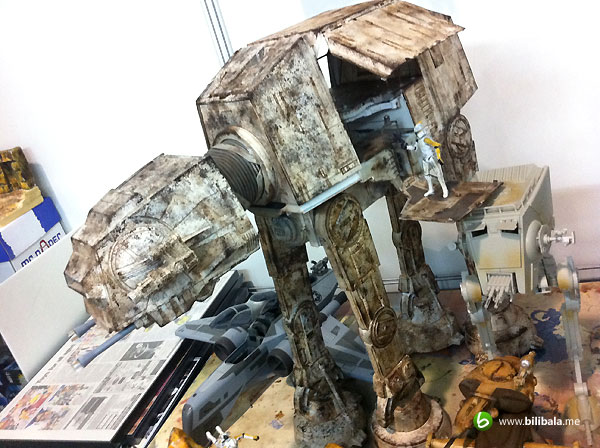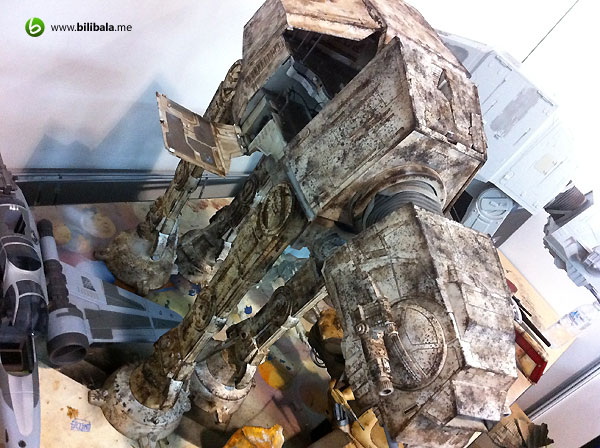 Very detailed rusty and metallic touch.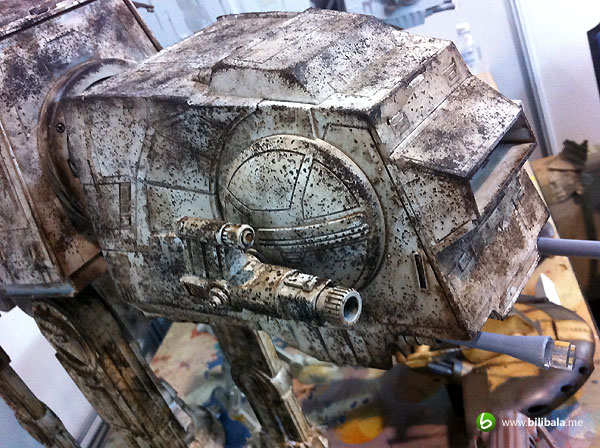 (I) Dooodolls
You will be greeted by a cute big red Dooodolls (in specific, the Reddish Twin) when you first stepped into the Dooodolls booth. How friendly a smile he had.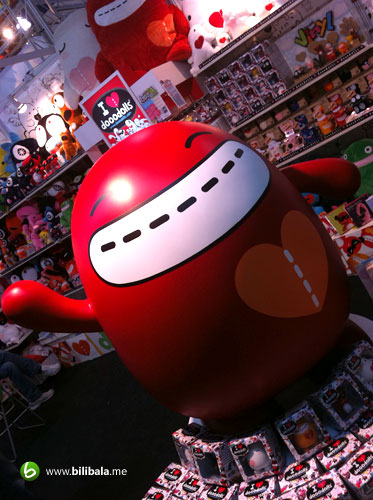 Along the dolls and merchandise, they came with a new toyline which they called the Dooodolls Vinyl. Different from being those soft plushies, this new toyline is  featured in a 3 inches plastic standing figure where you can pose with them. 🙂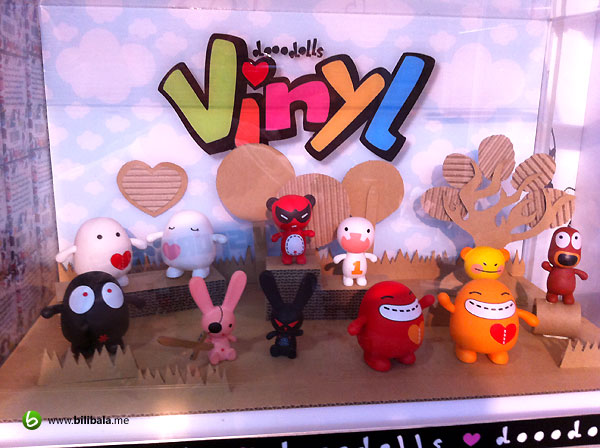 (J) Androidssssssss…….
The last booth near the exit which was where the Android collectibles figures were. Greeted by 2 exclusive designed Android standee when you first step foot into the booth.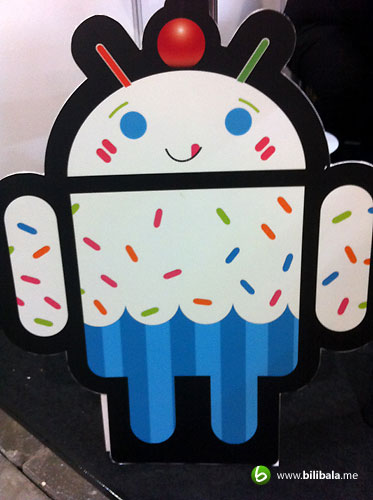 The booth got 2 display cabinets with multiple levels and a display case to showcase the different season of the Android. Here was the display cabinet no.1 which featured mixture of series 1 & 2 design of Android mascot.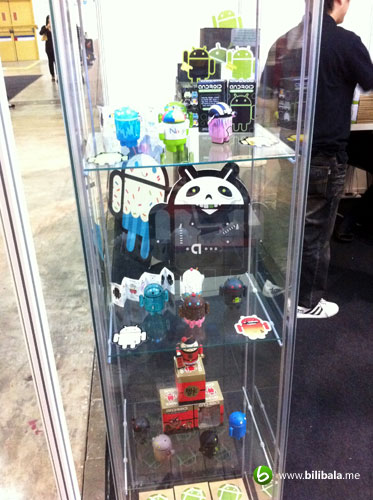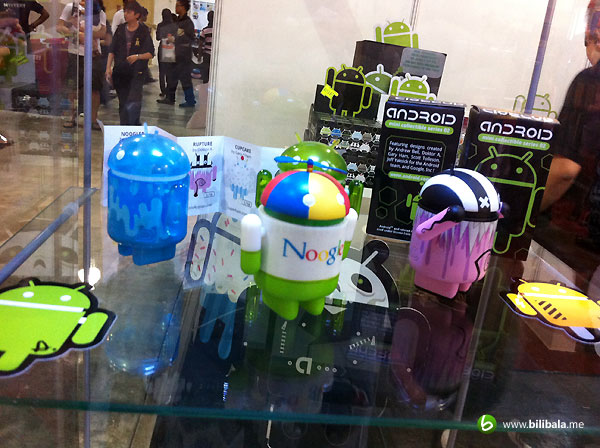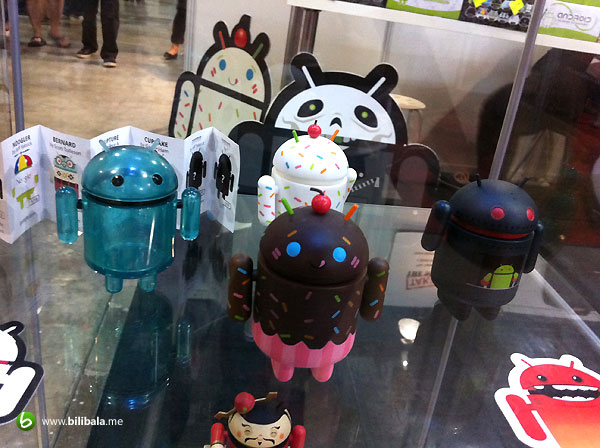 Still remember the Choi San Android (God of Wealth) ?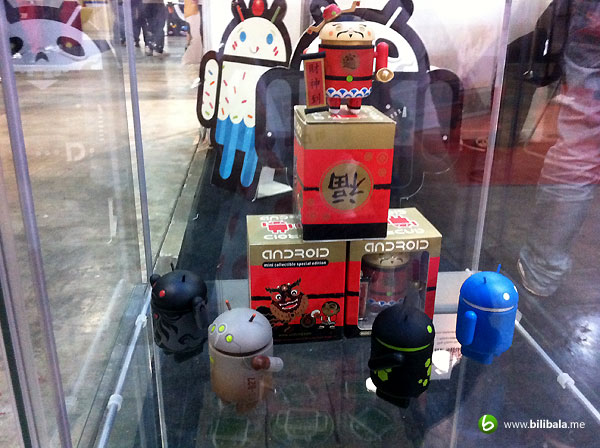 Another display case featuring series 2 collectibles.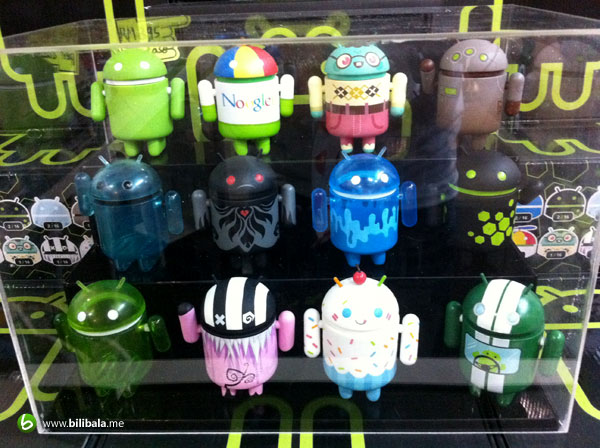 The below pictures were taken from display cabinet no.2 which showcased the latest Android collectibles. The latest 4 limited edition of Android collectibles which sadly you could only buy them in set of 4.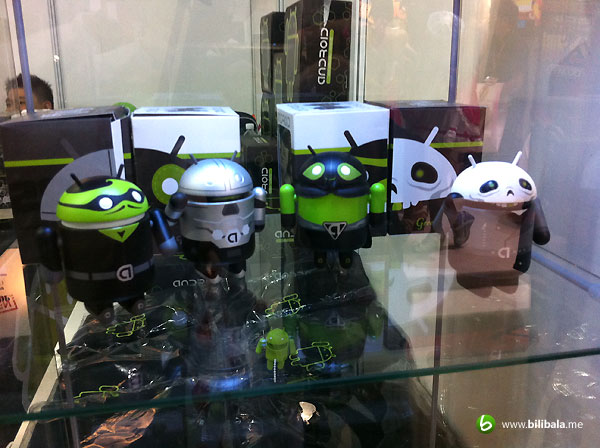 This is my favourite Android customizable figure which allows infinite transformation of the "normal" Android cutie! And best of all, you can buy this in the fair itself at RM30 per box! Well, despite my love towards it, i didn't buy it at that moment which i wondered why. Geez… maybe i wanted to save more to get myself more Transformers stuff instead of non-transformers :p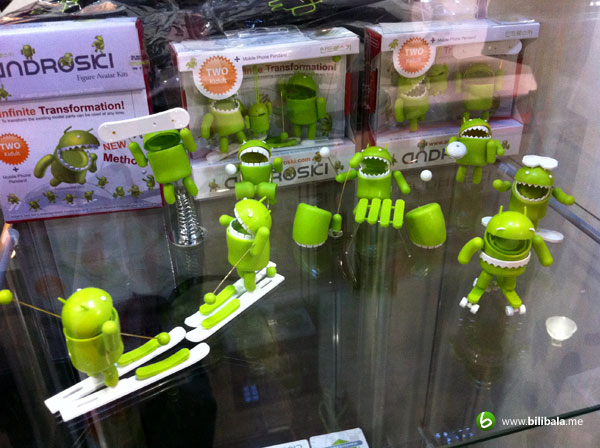 Well, if you don't like those fancy design done by them, you could always opt for the blank one or the original green Android which were being sold in the booth as well.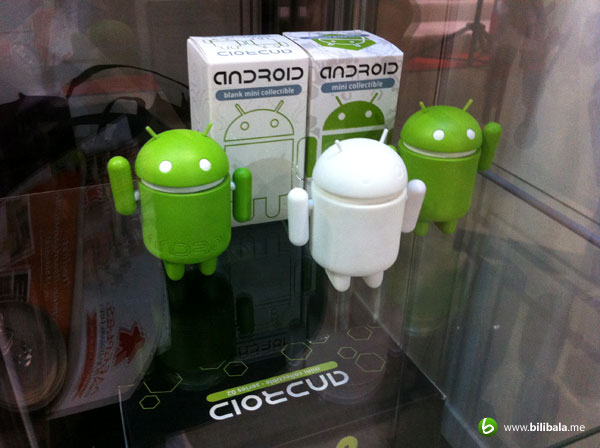 Hmm.. another series 2 showcase which was being repeatedly showcase in the booth. Yawn.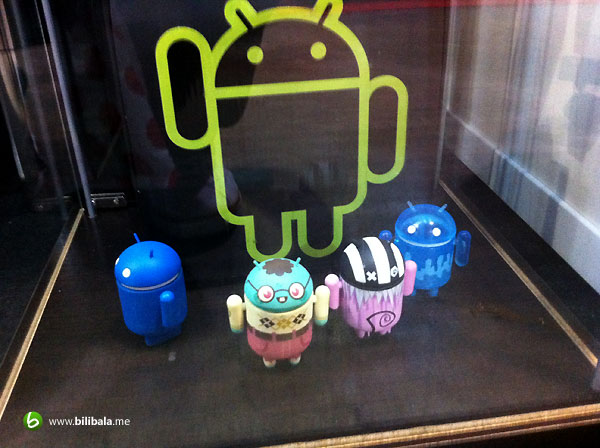 (K) Conclusion
As i mentioned, i was there the 1st day and there were a lot of things or booth which were not ready then (such as the big diorama of Transformers, some fancy cosplay and events) which i missed out. Anyhow, it was quite a fun visit to the fair but personally, don't expect too much to get cheaper toys there and expect to see loads more toy display like compared to overseas toy exhibition. To me, it is quite similar to last year's and i personally think only certain booth which is worth visiting. But is more to personal preference. And if you are really into online gaming, this is a fair which you shouldn't be missed out as there are quite a lot of gaming booth around to spice you up too. As for me, i went there was just for the purpose of seeing toy collectibles 🙂
I managed to buy myself some cheap collectibles though. RM10 for these 3 keychains :p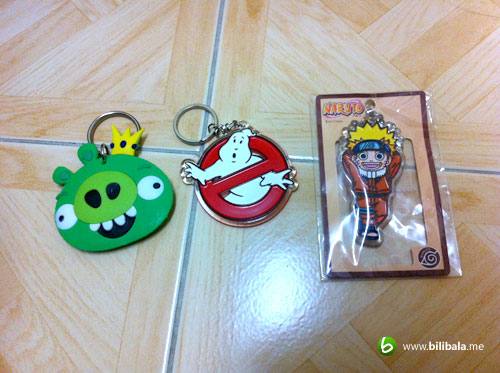 Until then! Enjoy hunting and hauling!